I seem to go in spurts with my menu planning. One week it will be all about the chicken. The next week, I find myself buying pounds of beef. I haven't had a seafood spurt in quite some time (I really need to change that), but lately, I keep finding pork on my menu plan. I feel like I went quite a few months there without ever really buying pork (except bacon. You must always have bacon.) But lately, I have been going crazy.
Most of the recipes I've been making have been from my archives, but a time or two a new recipe has made the cut. And today is one of those days.
This is a spin off of a popular slow cooker recipe that most our moms have probably made. But instead of cans of condensed soup, a from scratch sauce is made. I'm not a food snob – I promise – but making your own sauce not only tastes 100x better, but it really is super simple. It takes a little bit longer than opening up a can, but believe me – it's worth it!!
And since I love it when the side dish comes with the main dish, this one is cooked with some potatoes. The sauce not only coats the pork chops, but the potatoes as well, making for a delicious meal. Throw some easy fresh veggies on the side, and dinner is done!!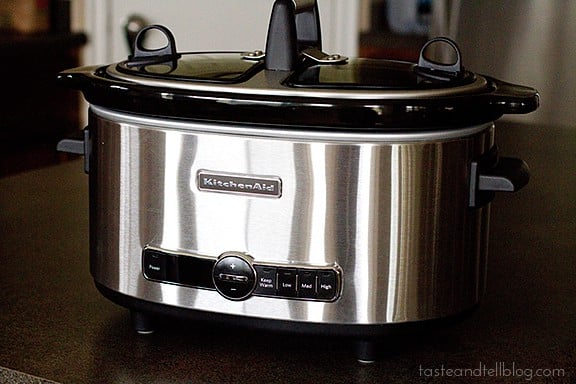 Now, let's talk slow cookers. If you have been reading Taste and Tell, you'll know that I haven't always been the biggest slow cooker fan. And I'm now starting to wonder if one reason is because I haven't had a good one. My friends at KitchenAid recently sent me this 6-quart Slow Cooker with the Easy Serve Lid, and let me tell you. I didn't think these words would ever leave my lips, but – I'm in love with my slow cooker. My old slow cooker cooked really hot, so things were always done too quickly. This one cooked perfectly. Some other things I love about this slow cooker? It has 4 temperature settings – warm, low, medium and high. I love that it has a medium setting – I've never seen that before! I also love the hinged lid design. This way, if you take it somewhere or if you are entertaining with it, you don't have to take the lid off. The sides lift up for easy serving. And this may seem like something little or insignificant, but I love that you can wind the cord on the bottom for easy storage. Seriously – I don't know if you could find a better slow cooker!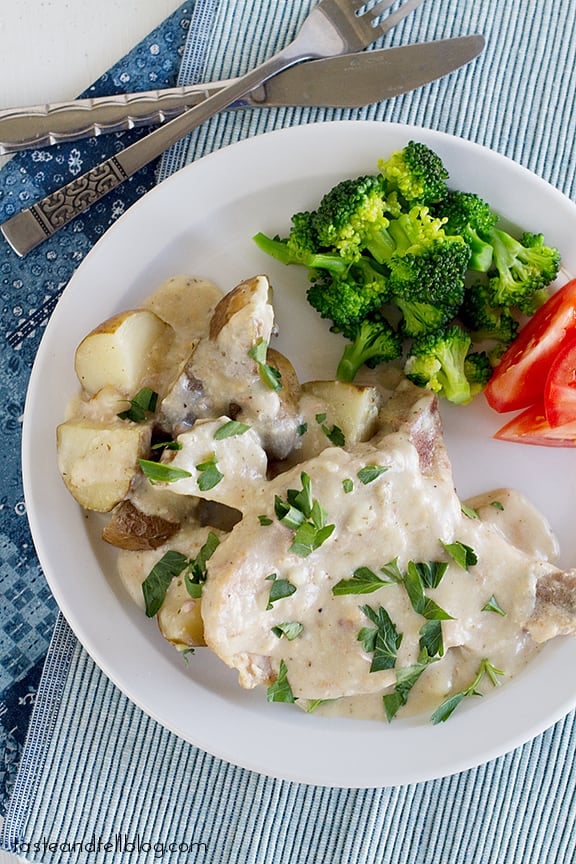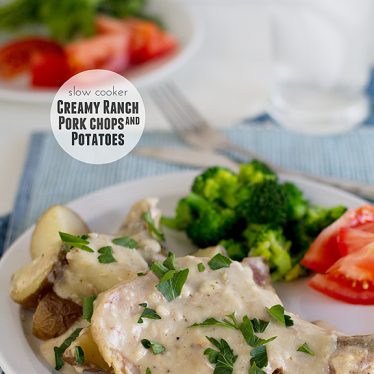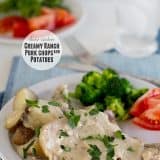 Slow Cooker Creamy Ranch Pork Chops and Potatoes
---
Prep Time: 15 minutes
Cook Time: 8 hours
Total Time: 8 hours 20 minutes
Yield: 4-6 servings 1x
Description
Pork chops and potatoes are covered in a homemade cream sauce, then cooked all day in the slow cooker.
---
Scale
Ingredients
1 1/2 lbs baby potatoes, scrubbed and cut into halves or fourths
2 lbs bone-in pork chops
3 tablespoons butter
4 tablespoons flour
1 cup chicken broth
2 cups milk
salt and pepper
1 1/2 tablespoons dry ranch seasoning
---
Instructions
Place the potatoes in the bottom of a 6 quart slow cooker. Lay the pork chops on top of the potatoes.
In a large skillet, melt the butter. Whisk in the flour and cook for a minute or two. Slowly whisk in the broth, followed by the milk. Cook, stirring, until the mixture starts to thicken. Stir in the ranch seasoning and cook for a few more minutes, until the mixture is thick like gravy.
Pour the sauce over the pork chops. Cook on low for 6-8 hours, or until the potatoes are tender.
Sprinkle on chopped fresh parsley before serving.
**If your sauce isn't as thick as you would like it for serving, remove the lid and turn the slow cooker to high. Let it sit for 30 minutes.
**KitchenAid provided me with the slow cooker for review purposes, but no compensation was given.  All views, thoughts and opinions are my own.**