Recipe for chicken thighs in a soy sauce, honey, garlic and sauce made in the slow cooker.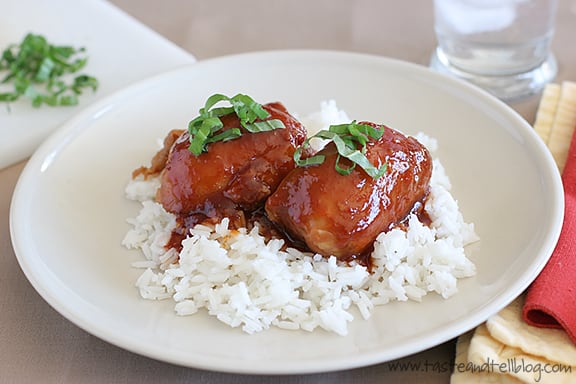 I have admitted in the past that I'm not always the biggest fan of slow cooker meals.  I love the concept, but the results are usually hit or miss for me.  I think that slow cooking sometimes gives meat a strange texture, everything gets watery, and a lot of times, the flavor comes out pretty muted for me.  But this recipe, right here, made me fall in love with the slow cooker all over again!!
I actually took a tip that I learned from Rachael Ray to adapt this recipe just a little bit. The original recipe called for dried basil, and for some reason, I never have dried basil among my spices and herbs.  But I remember a few months back, Rachael Ray did a slow cooker week on her talk show.  The biggest tip I came away with after watching those episodes is to add something fresh to a slow cooker meal before serving to brighten things up a bit.  So I scratched the dried basil, and I added on some fresh basil before serving.  To me, it totally made a huge difference. I also reduced down the sauce to thicken it up a bit.  This makes it so that the sauce is a little more potent, so remember that a small amount goes a long way.
But really, this recipe is so easy, and so packed with flavor – it is one of the best things that I have made lately.  If all of the recipes from this book are this good, bring on the slow cooker!!
Recipe Rating:  9.5 out of 10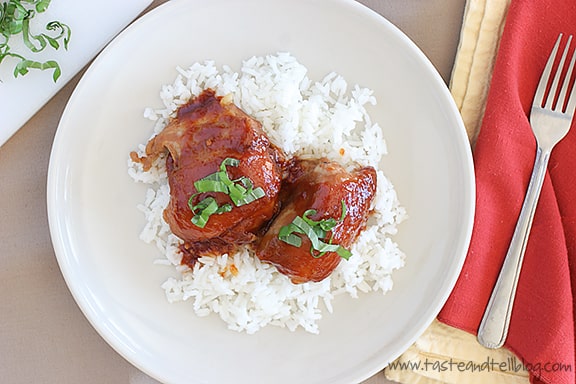 **Recipe update – Some people have said that the cooking time is too long.  Note that different slow cookers cook at different heats.  If cooking on low, start checking the chicken at 4 hours and cook according to your desired doneness.  If cooking on high, start checking at 2 hours.**


Honey Garlic Chicken
Recipe for chicken thighs in a soy sauce, honey, garlic and sauce made in the slow cooker.
Ingredients
1½ pounds boneless, skinless chicken thighs
3 garlic cloves, chopped or grated
½ cup soy sauce
½ cup ketchup
½ cup honey
fresh basil, shredded, for garnish
Instructions
Place the chicken in the bottom of a 4-quart slow cooker. In a small bowl, whisk together the garlic, soy sauce, ketchup and honey. Pour over the chicken and cover.
Cook on low for 6 to 8 hours or high for 3 to 4 hours. Remove chicken, place on a plate and tent with foil to keep warm. Transfer the remaining sauce to a saucepan and reduce down over medium heat until desired consistency is reached. Serve over the chicken and garnish with fresh basil.
Serve over rice.
*Note - different slow cookers cook differently. If cooking on low, start checking the chicken at 4 hours and cook according to your desired doneness. If cooking on high, start checking at 2 hours.*
---------------------------
slightly adapted from More Make it Fast, Cook it Slow