Pork chops are breaded in Italian breadcrumbs and served with a creamy mushroom sauce in this delicious dinner idea. These Italian Pork Chops with Creamy Mushroom Sauce will become an instant favorite!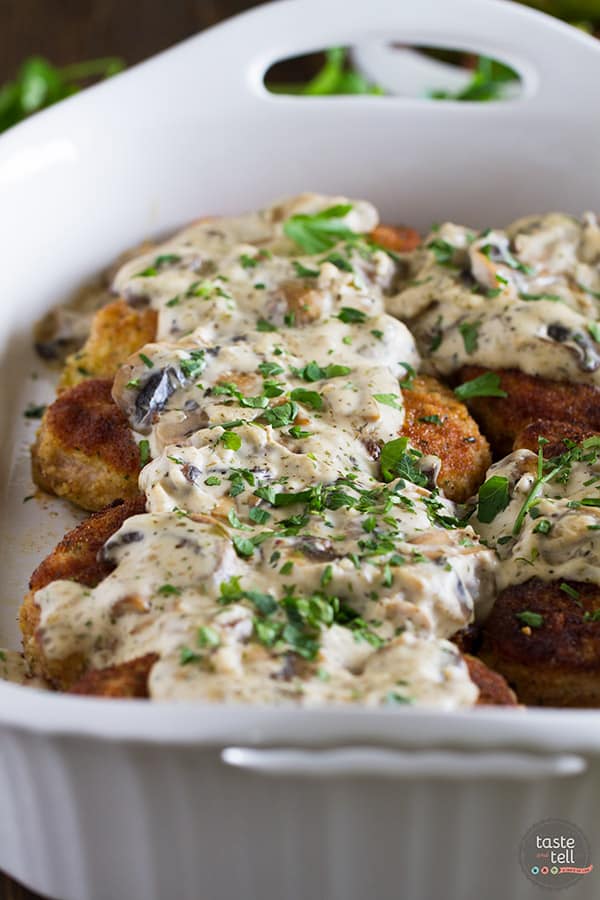 Originally posted January 26, 2009 – I have been going back through the archives here on Taste and Tell and finding recipes that I didn't totally love, but still posted about, and have been giving them a makeover. If you read the original post below, you'll see that I wasn't crazy for the original recipe that I posted. Well, happily, I have reworked the recipe (minus the canned soup) and came up with a recipe that I could easily say we loved. These Italian Pork Chops with Creamy Mushroom Sauce are easy and flavorful and perfect for a weeknight.
I did love re-reading this post, though. I can't believe it's been over 7 years since I first wrote it. In fact, my daughter was born the day after I posted this original post. Time really does fly. 🙂
The original post from 2009 follows: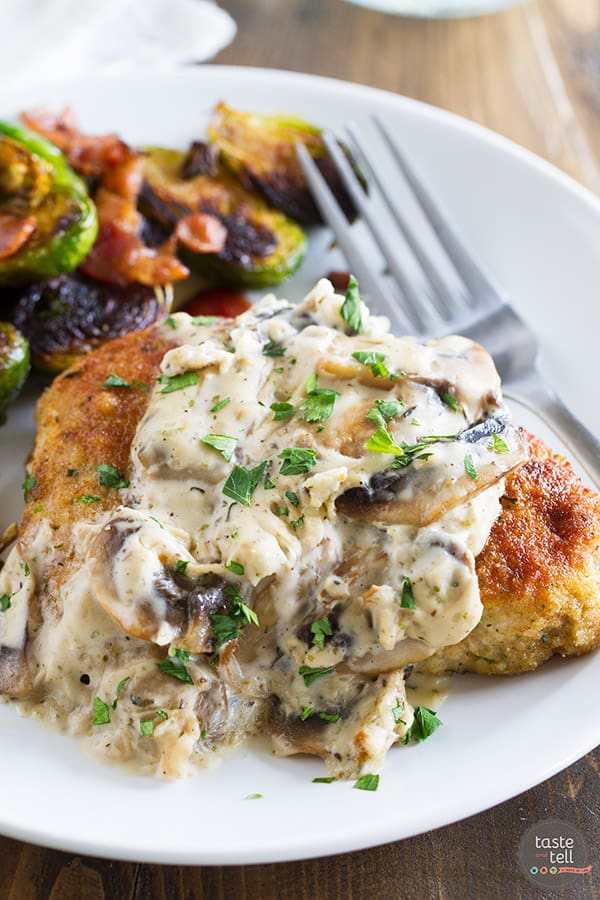 I want to thank all of you for your well wishes with this pregnancy and baby – and I've had a few people asking updates, so I thought I'd give you one! As of today, I am officially overdue. Yeah, not so fun when I was sure I'd have her early. But really, there is nothing much I can do about it to hurry her along. All is still well – we're just patiently awaiting her arrival.
One good thing about her not being here yet is that I still get to post, although I'm quickly running out of recipes since there hasn't been much cooking going on around here lately!! In my dream world, I would have had a lot of posts already written up and ready to go, but that hasn't happened!!
I've been trying to clean out the pantry (maybe it's nesting??!!) and I still have quite a few cans of condensed soups in my pantry that are quickly reaching their expiration dates. I know many of you aren't fans, and really, I'm not usually a big fan either, but with the price of groceries today, I'm trying not to waste anything. Plus, this recipe sounded so easy that I just had to give it a try.
I was worth trying. Maybe not worth trying again, but it got dinner on the table and left us with full bellies. One thing I didn't understand about this recipe is that the original has you baking the pork chops for 1 1/2 hours. Thank goodness I have my thermometer, because mine only took about half that long. (*see note above about the new recipe!)
Hopefully I'll have news of a baby soon!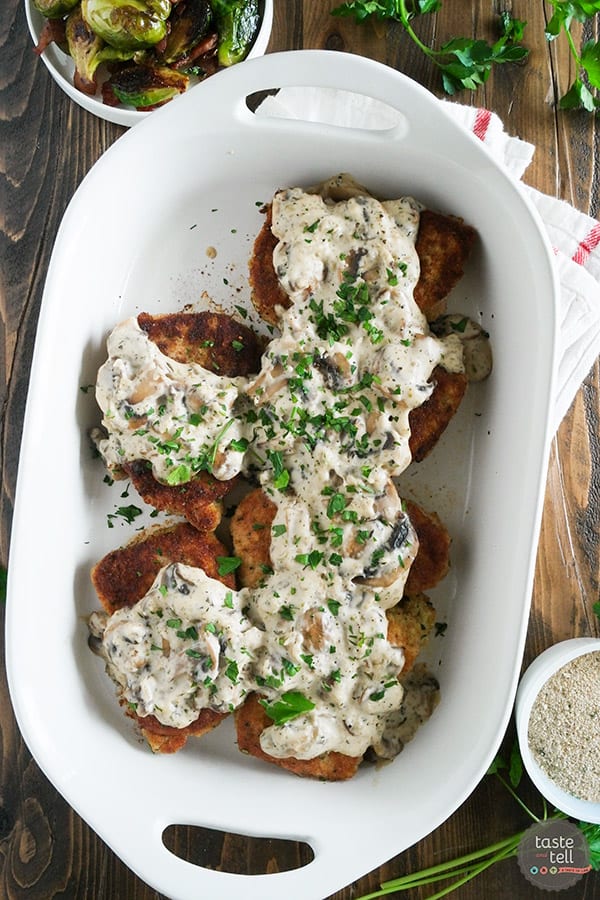 Like what you see here? Make sure you are following Taste and Tell for more recipes and ideas!
Facebook | Pinterest | Instagram | Twitter | Google+ | Weekly Newsletter | Feedly | Bloglovin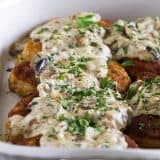 Italian Pork Chops with Creamy Mushroom Sauce
---
Author:
Prep Time: 10 mins
Cook Time: 35 mins
Total Time: 45 mins
Yield: 6 servings 1x
Description
Pork chops are breaded in Italian breadcrumbs and served with a creamy mushroom sauce in this delicious dinner idea. These Italian Pork Chops with Creamy Mushroom Sauce will become an instant favorite!
---
Scale
Ingredients
1/4 cup flour
1 teaspoon garlic powder
1 teaspoon seasoning salt
1/4 teaspoon pepper
2 eggs
3/4 cup Italian bread crumbs
2 tablespoons olive oil
6 boneless pork chops, about 1-inch thick
2 tablespoons butter
8 oz mushrooms, sliced
1 clove garlic, minced
2 tablespoons flour
1 1/2 cups half and half
1 teaspoon Italian seasoning
salt and pepper
---
Instructions
Preheat the oven to 350ºF. Spray a 9×13-inch baking dish with nonstick cooking spray.
Combine the flour, garlic powder, seasoning salt and pepper in a shallow dish or plate. In another dish, lightly whisk the eggs. Place the breadcrumbs in a third bowl.
Heat the olive oil in a large skillet over medium-high heat. Working in 2 batches if needed, dip each of the pork chops into the flour, then shake to remove any excess. Coat in the egg, then dip in the breadcrumbs to coat. Place the pork chops in the skillet and cook until browned, 1-2 minutes per side. Transfer to the baking dish. When all of the pork chops are browned, place the dish in the oven and bake for 15 minutes.
While the pork is cooking, wipe the skillet out with a towel or paper towel. Return to the stove, reducing the heat to medium. Melt the butter, then add the mushrooms and cook until the mushrooms cook down, 5-7 minutes. Stir in the garlic and cook for 1 minute. Sprinkle the flour over the mushrooms, then stir to coat and cook for another minute. Slowly stir in the half and half. Season with the Italian seasoning and with salt and pepper. Continue to cook until slightly thickened, 5-7 more minutes.
Remove the pork chops from the oven and pour the mushroom sauce over the top. Return to the oven and bake for another 5-10 minutes, or until the pork registers 145ºF. Remove from the oven and let sit for 5 minutes before serving.

And if you're looking for the original recipe, this is the one I used!

SHOP THIS POST:
More Pork Chop Recipes: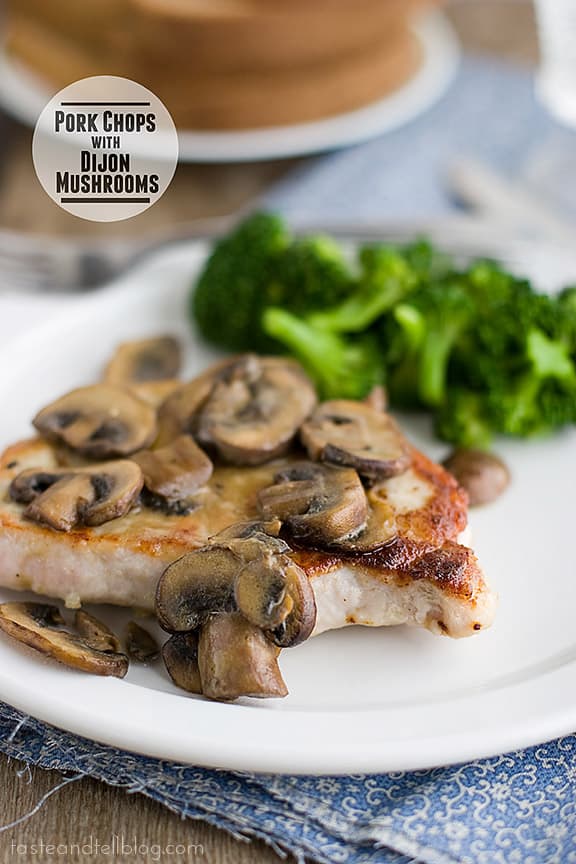 Pork Chops with Dijon Mushrooms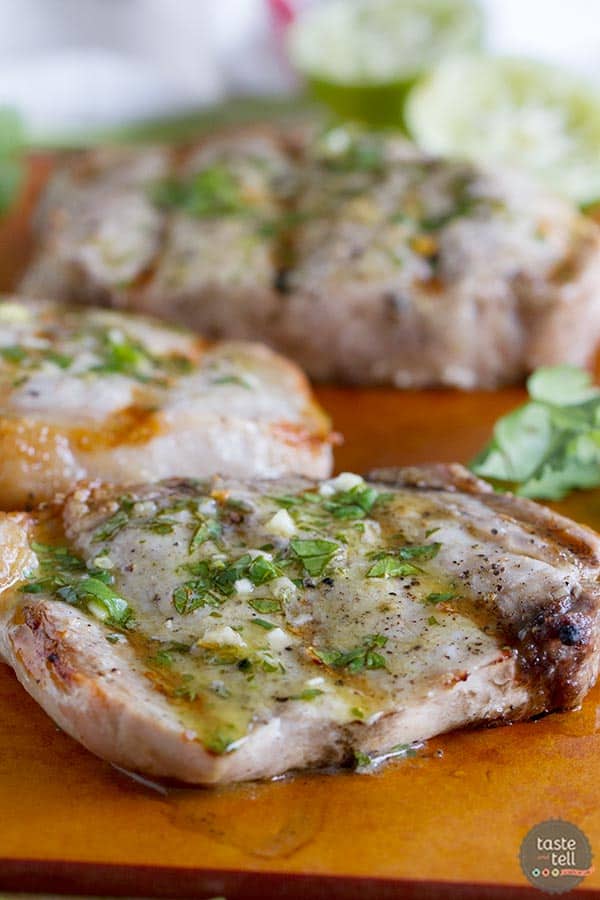 Grilled Pork Chops with Cilantro Lime Sauce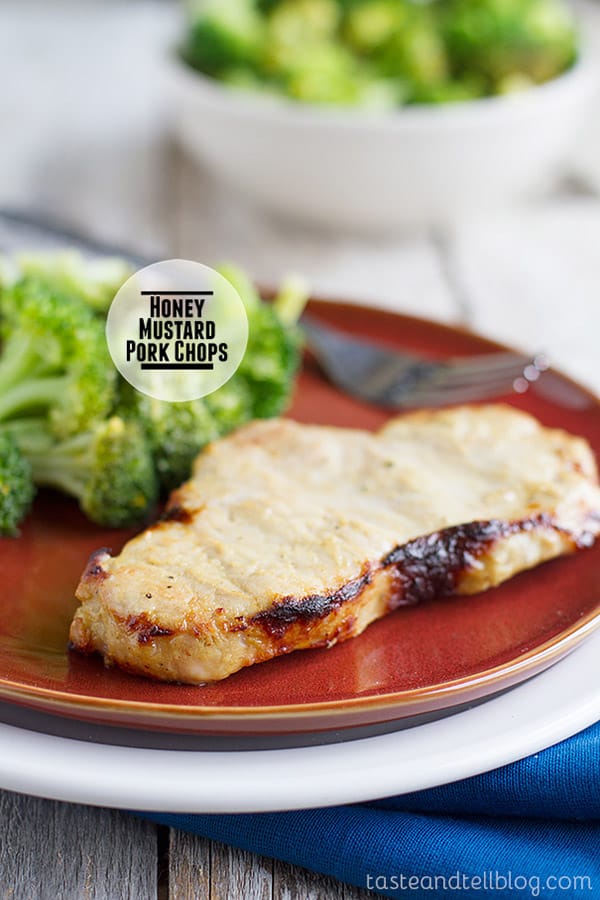 Around the Web:
Herbed Pork Chops with Garlic and Butter from Cookin' Canuck
Korean Style Pork Chops from Mother Thyme
Slow Cooker Smothered Pork Chops from Your Homebased Mom
Don't miss a thing! Follow me on Pinterest to see what I'm pinning!
Visit Taste and Tell's profile on Pinterest.