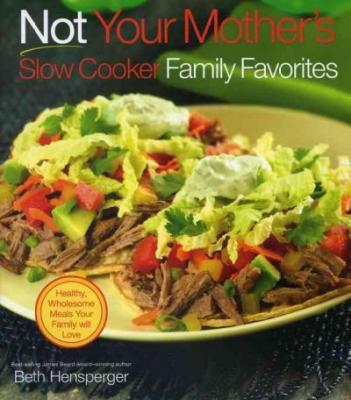 I meant to review this cookbook weeks ago, but it kept getting pushed to the side. I've had the recipes made and photographed for some time now, but to be honest – these reviews take a little bit more time than a regular blog post, and I got lazy! But it has been sitting on my counter for a long time now, and I decided to take the plunge and blog about it. And really, I should have blogged about it a long time ago, because it is a good cookbook. I didn't like it as much as I liked the Weeknight Cooking from the same author and series, but it was still good!
Cooking Times Listed in Recipes: yes
This is a yes/no answer, actually. The time for the slow cooker is listed, but not the prep time. And since most of these recipes aren't your drop-it-all-in-the-slow-cooker kind of recipes, I think the prep time is important.
Number of Photos: 0
Unless you count the 3 that are on the front and back covers, there are no photos in this cookbook. I don't really understand why tons of photographs aren't in every cookbook. I think that is the #1 thing all of you have told me that is important to you in a cookbook. But honestly – food that has been made in the slow cooker isn't always easy to photograph! But some photos would have been nice.
Difficulty Level of Recipes: easy
Every recipe I made was quite simple, and I didn't run across any recipes that seemed complicated or drawn out.

Availability of Ingredients: high
From every recipe that I looked through, all the ingredients are normal ingredients that anyone should be able to find at just about any grocery store. I love that!
Here's a sampling of what I made from the book!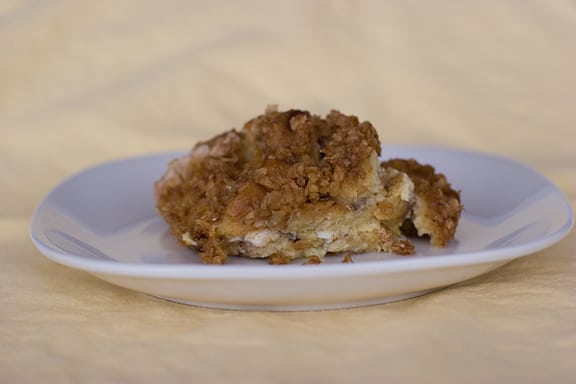 "Brinner" Cinnamon French Toast Casserole
This is an example of how I said slow cooker food is hard to photograph! My husband liked this one a lot more than I did. I really loved the idea of it, because I love a good breakfast casserole. It was just a little too eggy for me, but I think it's just a preference thing.
This was the one total strike out I had from the book. Now, I really don't know if it was the recipe or one of my ingredients, but my husband had one bite, and I had two, and the rest all went down the drain. The ingredient list is so simple, though, I'm not sure why it didn't work out. I keep thinking maybe my spinach was off, but whatever it was, the end result was not good.
This was delicious!! It was quite a bit of prep, so if you use your slow cooker simply because you like to just throw everything in and turn it on, this recipe wouldn't be for you. But I loved that I could do all the prep in the afternoon, then put it all in the slow cooker, and dinner was cooking away for that night. I love baked pastas, and this one was delicious!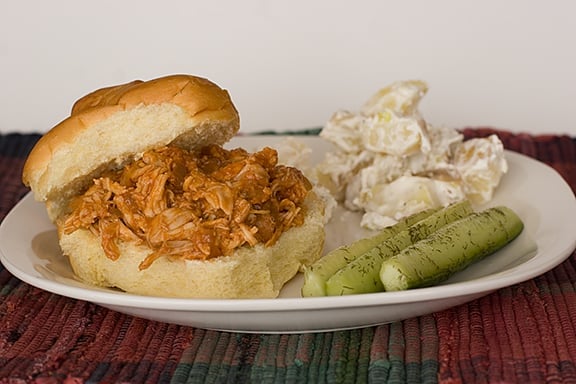 Meg's Shredded Barbecue Chicken Sandwiches with Sour Cream Potato Salad and Dill Cucumber Spears
This was the best shredded chicken I've ever had out of a slow cooker. And I've tried quite a few recipes in my life. I know a lot of people throw some chicken into the slow cooker and cover it with a bottle of store bought barbecue sauce. This might take 7 minutes longer than that, but it is so worth it. The potato salad and cucumber spears were ok, but nothing great. So I'm including the recipe for the chicken, (but skipping the potato salad and cucumbers!)
Overall, I did like this cookbook. It's not my favorite on my shelf, but then again, slow cooker recipes usually aren't my very favorite. There is a wide variety of recipes, though, and they really are different from most slow cooker recipes you see out there. So if you are a slow cooker fanatic, I would recommend this to you!
Meg's Shredded Barbecue Chicken Sandwiches
Chicken is cooked in the slow cooker with a homemade barbecue sauce, then shredded and served on a bun.
Ingredients
Barbecue Sauce
2 tablespoons unsalted butter
1 medium yellow onion, diced
2 tablespoons Worcestershire sauce
¼ cup freshly squeezed lemon juice
1½ teaspoons dry mustard
⅛ teaspoon red pepper flakes
1½ cups ketchup
1 tablespoon cider vinegar
6 tablespoons firmly packed brown sugar
1 teaspoon salt
Chicken
1½ pounds boneless, skinless chicken breasts
1½ pounds boneless, skinless chicken thighs
To Serve
8 soft sesame-seed sandwich rolls
Instructions
Make the barbecue sauce: In a medium saucepan, melt the butter over medium heat until sizzling, then add the onion and cook until softened, about 5 minutes. Add the Worcestershire sauce, lemon juice, mustard, red pepper flakes, ketchup, vinegar, brown sugar and salt; stir well to combine.
Coat the inside of the crock with nonstick cooking spray. Place the chicken in the crock and pour the barbecue sauce over. Cover and cook on low for 4 to 6 hours, until the chicken is cooked through and is no longer pink inside.
Using two forks, shred the chicken right in the crock, then stir the mixture to thoroughly combine the sauce and the chicken. Cover and continue to cook on low for another hour.
Serve the chicken spooned onto the sandwich rolls.
Disclosure: I received a free copy for this review. No monetary compensation was offered or accepted. The opinions above are my own. Others experience may vary.