This Pork Stir Fry is an easy homemade stir-fry filled with chunks of pork, vegetables, and rice noodles. Top it with crushed peanuts and cilantro for the perfect Asian-inspired dinner.
We love a good pork recipe! Some of our other favorites are Pork Carnitas and these Braised Country Style Ribs.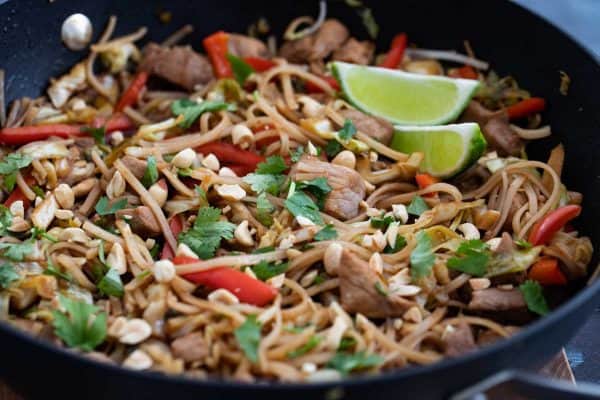 If there is one thing I talk about over and over again is that I aim for easy, family friendly recipes. And this recipe is a perfect example of that.
I found the original recipe for this Pork Stir Fry in an old family cookbook. It caught my eye because it was a stir fry that was not served over rice, which is different than what I usually have. Plus, I had some rice noodles left over in my cupboard from another dish, so I thought this would be a perfect way to use them up. I'm pretty sure that this recipe convinced me that a stir fry with noodles is the way to go!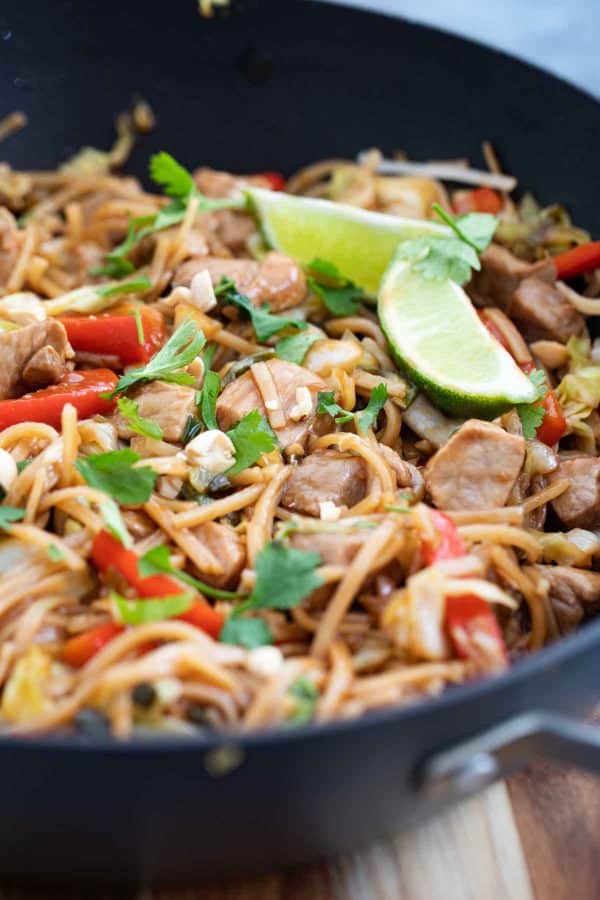 Ingredients for Pork Stir Fry
This recipe is actually pretty adaptable, but here is what I use:
For the sauce:
Soy Sauce – I only ever buy lite – aka low sodium. Otherwise it's too salty. You could also use tamari or coconut aminos.
Chicken Broth – If you use water, the flavor of the sauce will be diluted a bit. Feel free to use a different broth, but the chicken broth tends to work well here.
Rice Vinegar – I don't use a seasoned rice vinegar for this recipe, just a plain rice vinegar. A good sub for this is apple cider vinegar.
Dark Sesame Oil – This brings a lot of flavor, so I don't suggest skipping it!
Sugar – This sauce is a little bit sweet, which I love!
Cornstarch – This will thicken up your sauce and help it to stick to the noodles and the pork.
For the Stir Fry:
Pork Roast – I like the roast because it has enough fat to give it some flavor. You could probably use a tenderloin, as well – just make sure you don't overcook the pork.
Rice Stir Fry Noodles – I will admit to using whatever I have on hand at the time. These are the ones I usually keep on hand.
Vegetable Oil – Vegetable oil is my oil of choice, but you can use any neutral cooking oil that does well with high temps.
Green Onions – Don't underestimate the flavor green onions can bring! I love that their flavor isn't as in your face as a yellow onion, but still enough onion flavor to taste it.
Ginger – I love, love, love ginger in a stir fry. Fresh is best, and remember you can freeze ginger, as well.
Garlic – If I was making this just for myself, I'd probably add more than just the 1 tablespoon of garlic. 🙂
The veggies – I used sliced green cabbage and red bell peppers. I think mushrooms would be amazing, as well as broccoli or zucchini or carrots.
The garnish – I used crushed peanuts and cilantro, plus fresh lime juice.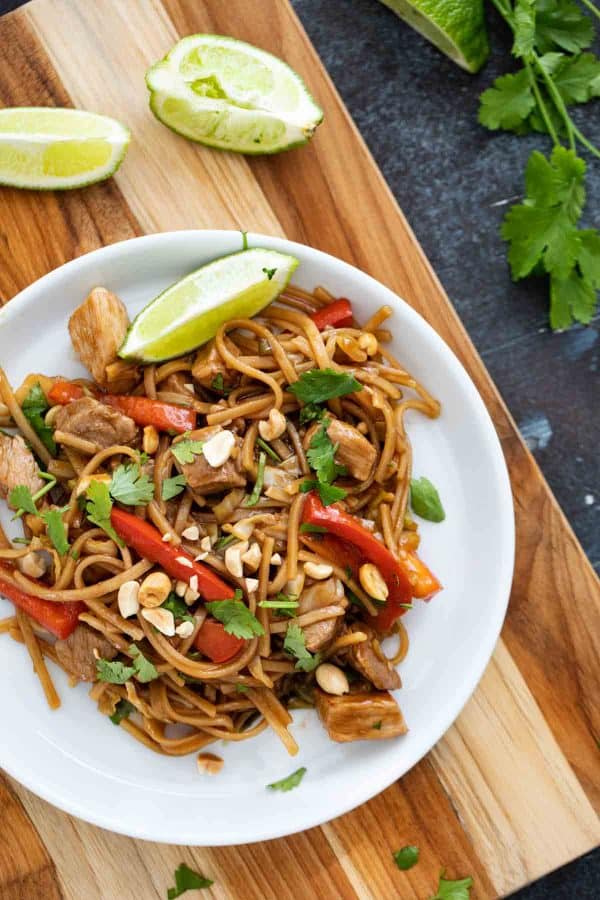 How to Make Pork Stir Fry
This recipe comes together pretty quickly. The only downtime you have is the time it takes to marinate the pork, and that only has to marinate for about 20 minutes.
Here are the basic steps:
Make the sauce – just whisk together all of the sauce ingredients.
Marinate the pork – you'll combine some of the cornstarch with some of the sauce for the pork marinade. This only has to marinate for 20 minutes!
Cook the noodles – see the note below about preparing your noodles. Basically make sure you read the instructions!
Cook the pork – Cook the marinated pork over high heat.
Cook the veggies – Next cook the veggies – also over high heat. You don't want them soggy – just cook until crisp tender.
Add the sauce – Add the pork back in and add in the reserved sauce. Then you'll make a slurry from the remaining cornstarch and add that to thicken up the sauce.
Add the noodles – Stir in the drained noodles.
Serve!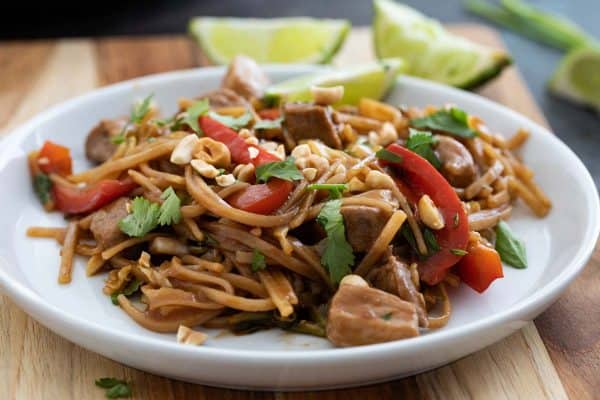 Tips and Tricks
First, read the package on how to prepare your rice noodles. Mine had to soak for 30 minutes, while in the original recipe, it said to soak them for 5 minutes. Needless to say, once I found out mine had to soak longer, dinner was a little bit delayed. I've had rice noodles that just needed to be soaked, and I've had some that needed to be boiled. They are all different, so read the package so that you can have the noodles ready for when you need them.
Also make sure to prep everything before you start cooking. This can go together pretty quickly, so having everything ready is important.
I like to serve it with a squeeze of fresh lime juice, so I'll put out some lime wedges for whoever wants one.
You can also serve a hot sauce alongside the stir fry – like sriracha or garlic chili sauce. This is a great way to give individual portions a little bit of heat.
I'm also a fan of topping mine with crushed peanuts and lots of cilantro.
More Stir Fry Recipes
Stir Fry Sesame Chicken
Steak Stir Fry Recipe with Peppers
Asian Rice and Beef Stir Fry Recipe
Peanut Chicken Stir Fry
Stir Fry Chicken with Sesame and Leek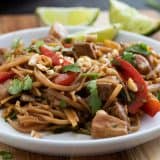 Pork Stir-Fry
---
Author:
Prep Time: 30 mins
Cook Time: 20 mins
Total Time: 50 minutes
Yield: 4 servings 1x
Category: Main Dish
Method: Stove Top
Cuisine: Asian
Description
This Pork Stir Fry is an easy homemade stir-fry filled with chunks of pork, vegetables, and rice noodles. Top it with crushed peanuts and cilantro for the perfect Asian-inspired dinner.
---
Scale
Ingredients
1/2 cup low-sodium soy sauce
1/2 cup chicken broth
3 tablespoons natural rice vinegar
2 teaspoons dark sesame oil
2 teaspoon sugar
4 teaspoons cornstarch, divided
1 pound pork roast, cut into bite-sized pieces
8 oz stir fry rice noodles
2 tablespoons vegetable oil, divided
1/2 cup thinly sliced green onions
1 tablespoon finely chopped ginger
1 tablespoon minced garlic
3 cups thinly sliced cabbage
1 red bell pepper, cored, seeded, and thinly sliced
Chopped peanuts and chopped cilantro, optional
---
Instructions
In a small bowl (or I just use a liquid measuring cup), combine the soy sauce, chicken broth, rice vinegar, sesame oil and sugar. Whisk to combine.
Transfer 1/4 cup of the sauce to a small bowl. Whisk in 2 teaspoons of the cornstarch, then add the pork and stir to coat. Let it sit to marinade for 20 minutes.
Meanwhile, cook the noodles according to the package directions, then drain.
Heat 1 tablespoon of the vegetable oil in a large skillet or wok over high heat. Add the pork and cook until cooked through, stirring as needed. Remove the pork from the skillet to a bowl and wipe the skillet clean with a paper towel.
Add the remaining tablespoon of oil to the skillet. When the oil is hot, add the green onion and garlic and cook, stirring constantly, for about a minute. Add the garlic and cook for another 30 seconds. Add the cabbage and the bell pepper and cook, stirring until the vegetables have started to soften, about 1-2 minutes.
Stir the pork back into the skillet, then the remaining sauce mixture. Bring it to a boil.
In a small bowl, combine the remaining 2 teaspoons of cornstarch with about 1 tablespoon of water and whisk to combine. Pour into the skillet and stir until the mixture has started to thicken.
Stir the drained noodles into the skillet and cook until everything is heated through and combined, 1-2 minutes.
Before serving, squeeze fresh lime juice over the top. Serve topped with cilantro and crushed peanuts, if desired.
Recipe Notes:
Nutrition information provided as an estimate only. Various brands and products can change the counts. Any nutritional information should only be used as a general guideline. Nutrition information does not include any optional ingredients.
Nutrition
Serving Size: 1/4 of recipe
Calories: 473
Sugar: 5 g
Sodium: 1911 mg
Fat: 27 g
Saturated Fat: 7 g
Unsaturated Fat: 7 g
Trans Fat: 0 g
Carbohydrates: 27 g
Fiber: 3 g
Protein: 26 g
Cholesterol: 69 mg