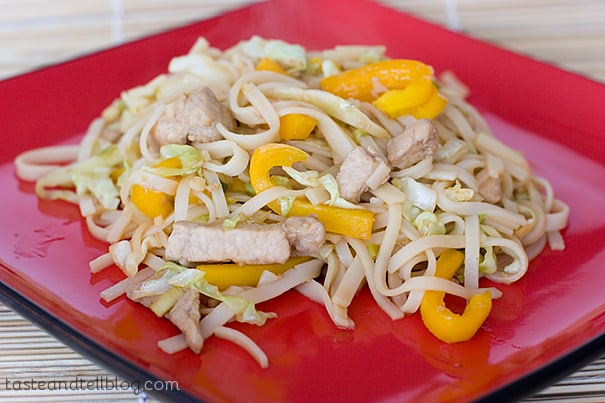 Do you ever do or say something, and then look back a day or two later and have to laugh at yourself? That is what I'm doing right now. Last Thursday, I posted about how I have a million recipes to blog about, and how I don't know if I'll ever catch up. Then what do I do?? I don't post for 3 days. Maybe that's why I can't keep up!
The truth of the matter is that I usually post my Cookbook of the Month recipes on Fridays, I hadn't made the recipe yet. I had intended to all week, but things just didn't work out. Then I was going to make it for dinner on Friday night, then just post about it later that night, but I got home after 5 from an exhausting day and from spending too long in traffic, so I just didn't have the energy to cook dinner. Or even blog for that matter. So here it is – Monday – and I'm posting what should have been on Friday. And now you all get 2 Cookbook of the Month recipes this week!
This recipe originally caught my eye because it was a stir fry that was not served over rice, which is different than what I usually have. Plus, I had some rice noodles left over in my cupboard from another dish, so I thought this would be a perfect way to use them up. This was a delicious, easy and fast dinner – the 3 things I usually look for! Once you have everything prepped, this goes together super fast. Just make sure and prep everything first, as the cooking time really is quick. Another hint – read the package on how to prepare your rice noodles. Mine had to soak for 30 minutes, while in the original recipe, it said to soak them for 5 minutes. Needless to say, once I found out mine had to soak longer, dinner was a little bit delayed. But it all worked our for a delicious dinner!
Recipe rating: 4.25 out of 5
Pork Stir-Fry
adapted from Family Circle All Time Favorite Recipes
Serves 6
1/2 cup soy sauce
1/2 cup chicken broth
2 teaspoons dark Asian sesame oil
3 tablespoons rice wine vinegar
2 teaspoons sugar
2 teaspoons cornstarch
1 pound pork roast, cut into 2 x 1/2 x 1/4-inch strips
1 bag (8 ounces) rice noodles
2 tablespoons vegetable oil
1/2 cup thinly sliced green onion
1 tablespoon finely chopped garlic
1 tablespoon finely chopped fresh ginger
3 cups thinly sliced cabbage (about 1/4 head cabbage)
1 sweet pepper, red or yellow, cored, seeded and cut into small strips
Stir together soy sauce, broth, sesame oil, vinegar and sugar in a small bowl. Pour 1/4 cup of the marinade into a medium-size bowl; stir in cornstarch. Add pork; toss to coat. Set aside to marinade 20 minutes. Reserve remaining marinade in the small bowl.
Prepare rice noodles according to package directions. Drain.
Meanwhile, heat 1 tablespoon oil in a wok or large skillet over high heat. Add marinated pork; cook, stirring constantly, until pork is no longer pink, 2 to 3 minutes. With a slotted spoon, remove pork to a bowl.Wipe any residue from wok. Heat remaining tablespoon oil in wok. Add green onion, garlic and ginger; cook, stirring, 1 to 2 minutes. Add cabbage and pepper strips; cook 1 minute. Return pork to wok. Pour in reserved marinade. Add noodles; toss to combine and heat through.