Traditional meatloaf takes a healthy turn with this Slow Cooker Turkey Meatloaf. It's tender and flavorful and the perfect way to have a comforting meal on the table after work!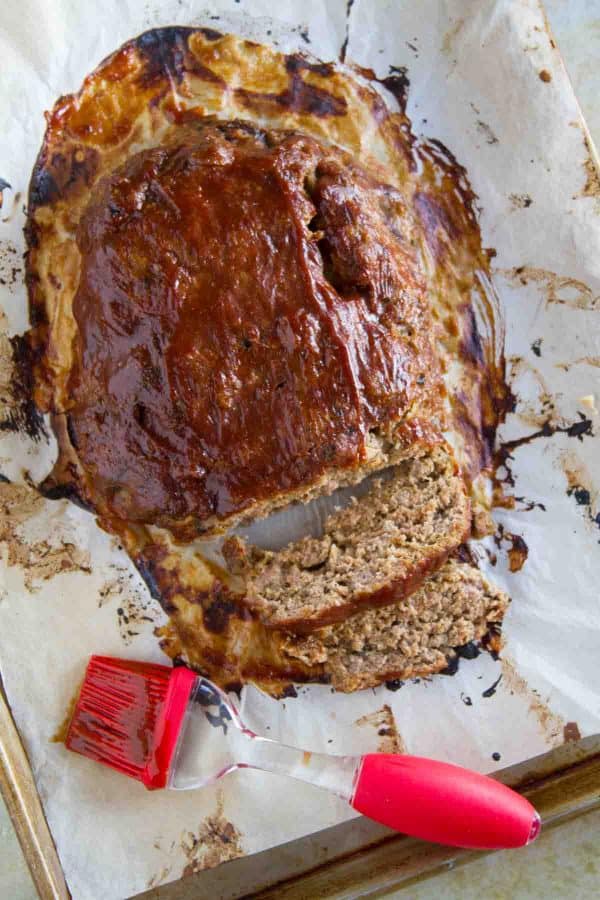 So… how are everyone's New Year's resolutions to eat better holding up? 😂 I will completely admit that healthier eating was not on my list of New Year's resolutions. But it is something that I am always striving to do more. Sometimes I'm good, and sometimes I'm not so good.
But the thing that I think helps me the most is having resources at my hands to make those decisions a little easier. I'm not very good at "diet" food. But if I can find a recipe or a cookbook with better for you recipes that taste like normal, every day recipes? You can count me in.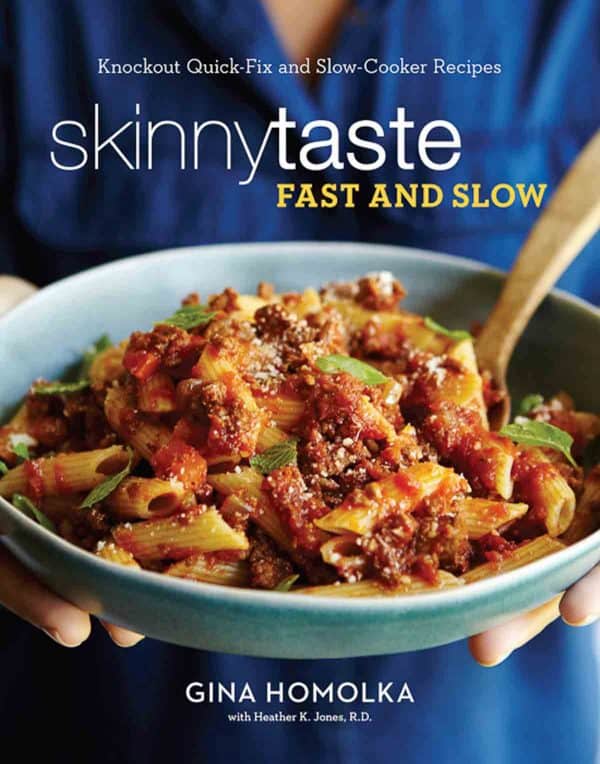 This is why I just love Gina at Skinnytaste. Her recipes are regular recipes that I would choose for everyday, but made a little bit healthier. If you've been following for awhile, you'll remember when I reviewed her first book, The Skinnytaste Cookbook. And I'm super excited to be sharing her newest book – Skinnytaste Fast and Slow.
I was so excited to get my hands on this cookbook. It has such and interesting a different approach. Each chapter contains recipes that take very little hands on time. In each section, you get recipes that can be on the table very quickly, or recipes that can be left to slow cook. And there's a whole chapter on tacos, so right there proves that this book is a winner.
Here are the details:
Number of Photos: lots Almost all of the recipes have a photo, but a handful do not. The photography is absolutely beautiful, though, and makes me want to make every single recipe!

Difficulty Level of Recipes: Easy. I think that most of the recipes could be made by even a beginner in the kitchen. None of the recipes are labor intensive.
Availability of Ingredients: Easy One of the things I love about this book is that many of the ingredients are pantry staples for me. But any of the ingredients should be easy to find at a well stocked grocery store.
Other recipes I want to make:
Brussels Sprout Hash with Bacon and Eggs
Dad's Cauliflower Soup
Slow Cooker Chicken and Dumpling Soup
Egg Roll Bowls
Butternut Squash Noodles with Pancetta and Poached Egg
Slow Cooker Beef Ragu with Pappardelle
Slow Cooker Chicken Tikka Masala
Slow Cooker Stuffed Cabbage Rolls
Baked Fish and Chips
Slow Cooker Loaded "Baked" Sweet Potatoes
Banana Pudding Cups
Buy Skinnytaste Fast and Slow on Amazon.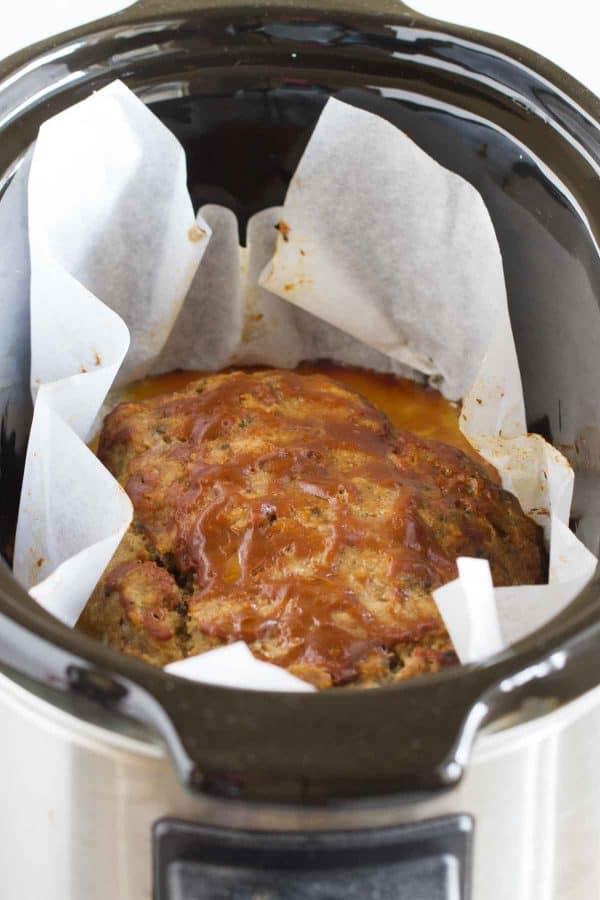 So, one of the few foods that my husband just doesn't like is meatloaf. Which is probably the reason I have very few meatloaf recipes here on Taste and Tell. I think it's silly, because he like meatballs, and isn't meatloaf practically the same thing, but in loaf form?
Anyway, I saw this Slow Cooker Turkey Meatloaf and I really wanted to make it. Maybe it's the fact that nothing sayS comfort food like meatloaf, and with the endless days of snow that we've been having, comfort food has been on the menu over and over again Plus, I had never made a meatloaf in the slow cooker, and I was intrigued.
I loved how you put down a piece of parchment paper first, which makes it easy to transfer your meatloaf out of the slow cooker. That tip alone was worth the price of the cookbook to me.
Let me just tell you – this Slow Cooker Turkey Meatloaf was probably the most tender, moist meatloaf that I have made at home. I used an instant read thermometer to keep tabs on when it was up to temp, and I hit that at about 5 1/2 hours. Just remember that all slow cooker cook a little differently, so a thermometer has become an indispensable tool for me.
My husband didn't even want to try this, but honestly – it was his loss. Because I ate it, and then enjoyed the leftovers over and over again. I will definitely be making more meatloaf in the slow cooker after this!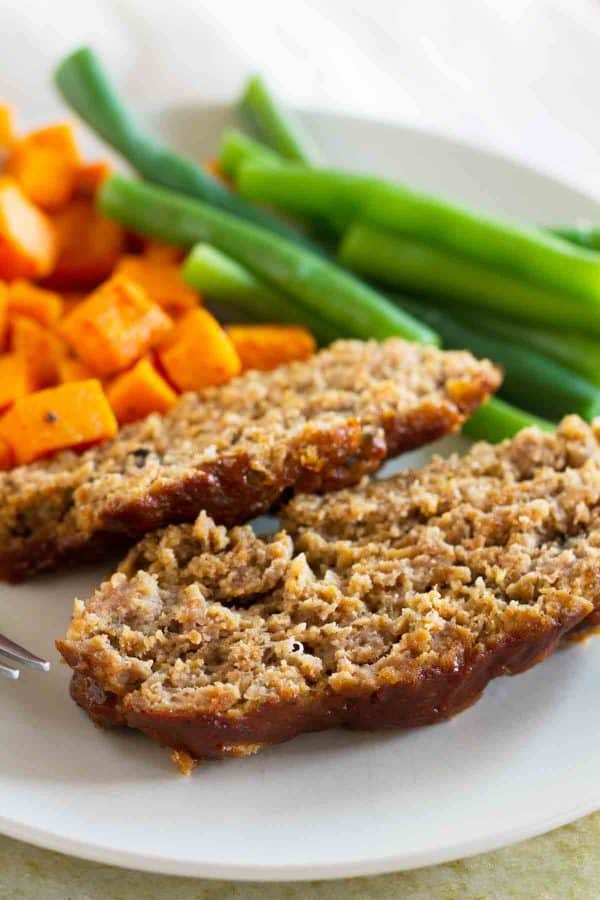 Like what you see here? Make sure you are following Taste and Tell for more recipes and ideas!
Facebook | Pinterest | Instagram | Twitter | Google+ | Weekly Newsletter | Feedly | Bloglovin
Print
Slow Cooker Turkey Meatloaf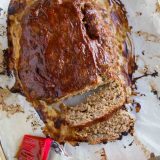 Traditional meatloaf takes a healthy turn with this Slow Cooker Turkey Meatloaf. It's tender and flavorful and the perfect way to have a comforting meal on the table after work!
Author:
Prep Time:

15 minutes

Cook Time:

370 minutes

Total Time:

385 minutes

Yield:

6 servings

Category:

Main Course
Ingredients
Meatloaf
1 teaspoon vegetable or canola oil
1 medium onion, minced
1 1/2 lbs 93% lean ground turkey
2/3 cup Italian seasoned breadcrumbs
1/2 cup chopped cremini mushrooms
1/4 cup ketchup
1 large egg, (beaten)
1 large egg white
1 teaspoon dried marjoram
1 teaspoon kosher salt
Sauce
2 tablespoons ketchup
2 teaspoons Worcestershire sauce
1 teaspoon Dijon mustard
1 teaspoon light brown sugar
Instructions
Make the meatloaf: Cut a 15X8-inch piece of parchment paper and place it in a 5 quart slow cooker, allowing the sides of the paper to come up the sides of the slow cooker. (This is to easily remove the meatloaf once it is cooked.)
Heat the oil in a small nonstick skillet over medium heat. Add the onion and cook until translucent and golden, 2 to 3 minutes. Transfer the onion to a large bowl. Add the turkey, breadcrumbs, mushrooms, ketchup, whole egg, egg white, marjoram and salt to the bowl. Mix well, then form into an oval shape. Place in the slow cooker on top of the parchment paper.
Make the sauce: In a small bowl, whisk the ketchup, Worcestershire sauce, Dijon and brown sugar. Brush half of the sauce over the meatloaf, and refrigerate the remaining sauce.
Place the cover on the slow cooker and cook on low for 6 hours, or until a thermometer registers 165ºF.
Preheat the broiler, and line a baking sheet with foil.
Transfer the meatloaf to the foil lined pan. Brush the remaining sauce over the top of the meatloaf. Broil until a crust forms, 1 to 2 minutes. Keep a eye on it, as it may start to brown quickly.
Cut the meatloaf into slices to serve.
SHOP THIS POST:

Don't miss a thing! Follow me on Pinterest to see what I'm pinning!