Traditional meatloaf takes a healthy turn with this Slow Cooker Turkey Meatloaf. It's tender and flavorful and the perfect way to have a comforting meal on the table after work!
Time to break out the slow cooker! Also try these Slow Cooker BBQ Beef Sandwiches, Slow Cooker Cuban Ropa Vieja, or Tex-Mex Slow Cooker Meatballs.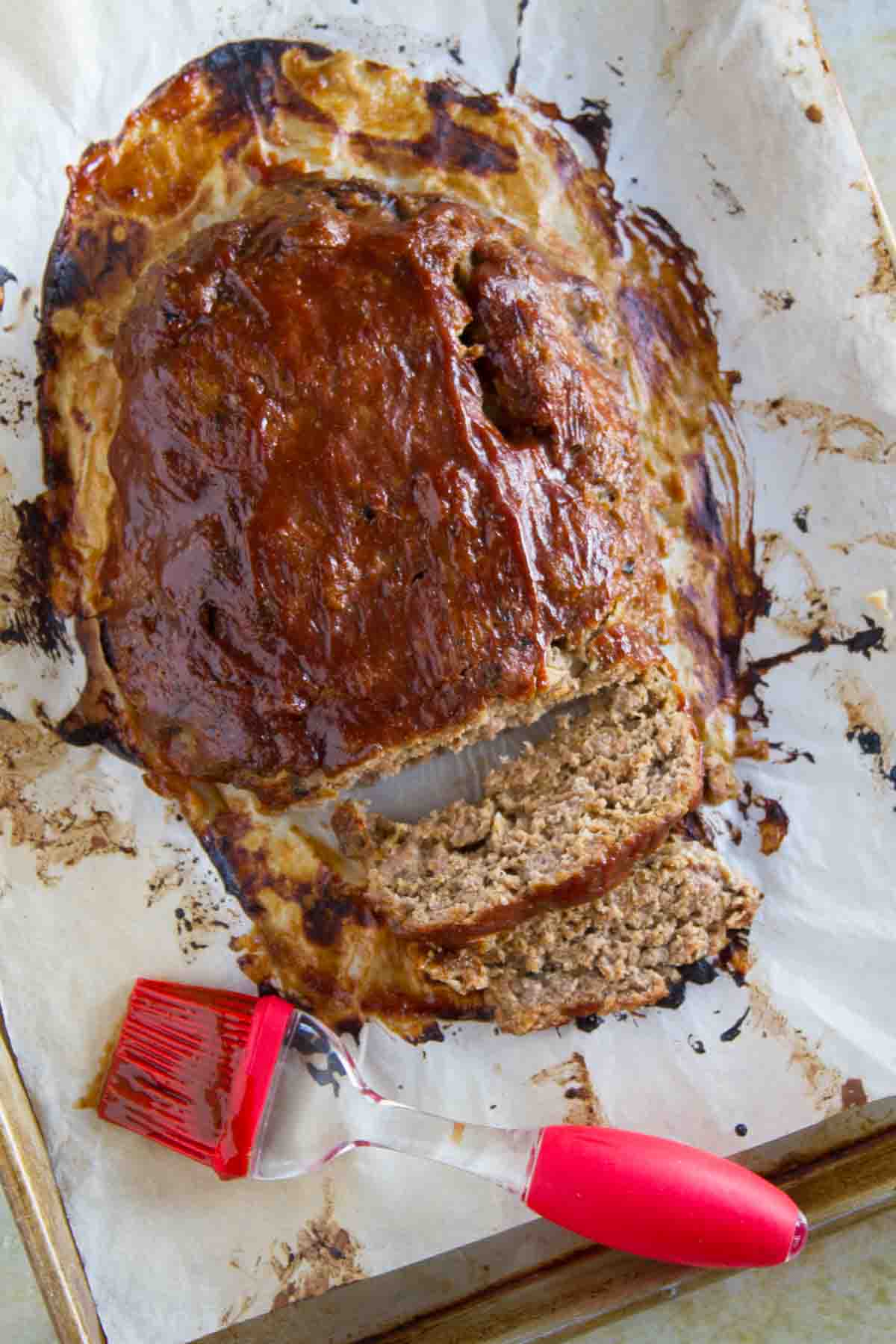 So, one of the few foods that my husband just doesn't like is meatloaf. Which is probably the reason I have very few meatloaf recipes here on Taste and Tell. I think it's silly, because he like meatballs, and isn't meatloaf practically the same thing, but in loaf form?
Sometimes, though, I like to make things my family thinks that they don't like, just to give it a try again. And I wanted meatloaf. Maybe it's the fact that nothing says comfort food like meatloaf. And I wanted to try it in the slow cooker. I had never made a meatloaf in the slow cooker, and I was intrigued.
Let me just tell you – this Slow Cooker Turkey Meatloaf was probably the most tender, moist meatloaf that I have made at home. And guess what? My husband loved it, too! I am not only a convert to this recipe, but also to making crockpot meatloaf!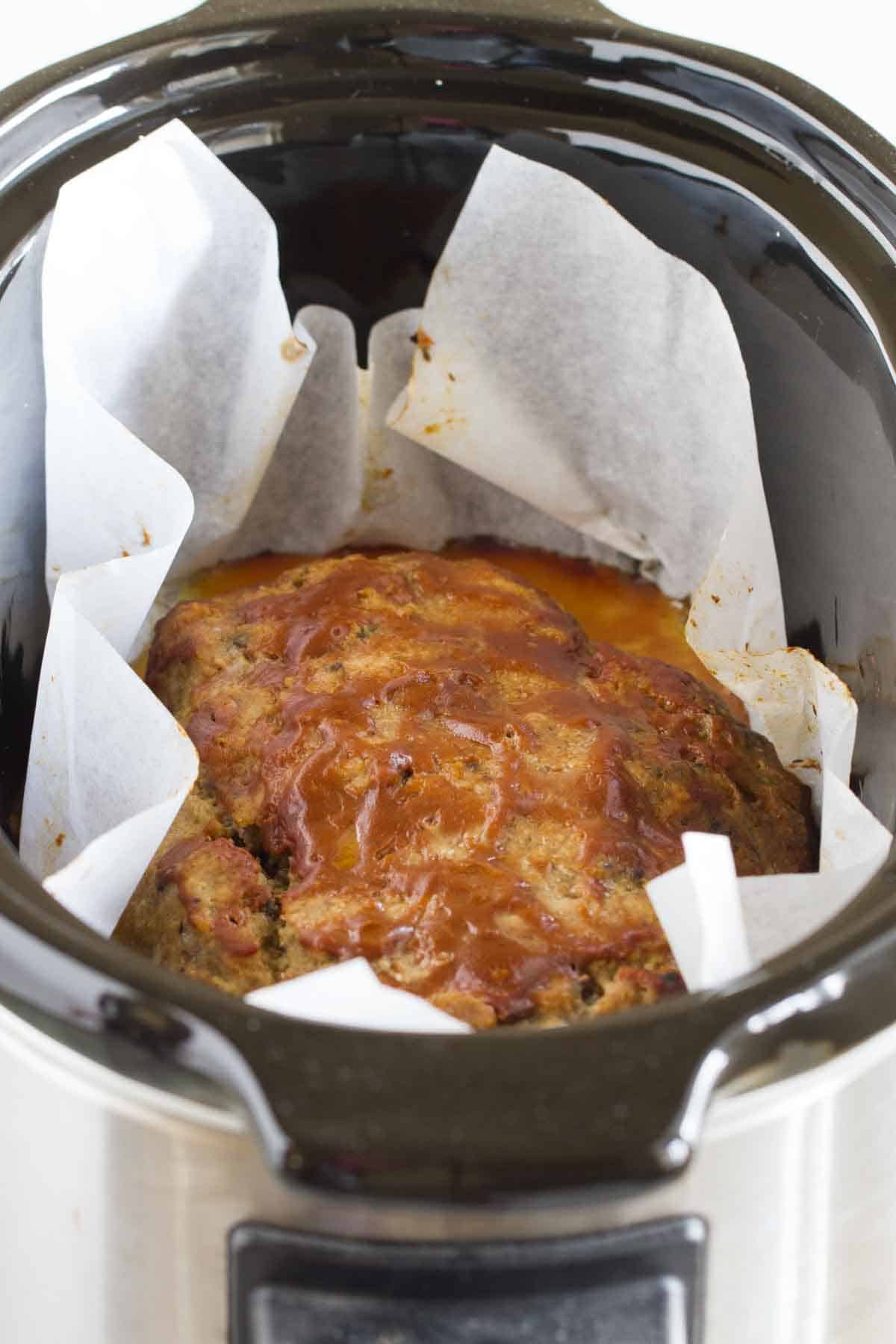 Turkey Meatloaf Ingredients
vegetable oil – this is for cooking your onion, so you could also use olive oil or any oil that you normally use.
onion – I like to make sure and mince this pretty small so that it will mix into the meat well.
ground turkey – if possible, use a 93% lean ground turkey.
Italian seasoned breadcrumbs – if you only have regular breadcrumbs, you can add in some extra seasonings, if desired.
cremini mushrooms – these not only add flavor, but also some bulk to the meatloaf. You can use regular white mushrooms, but the crimini will have more flavor.
ketchup – you use this in the meatloaf and for the glaze.
egg and egg white – these will act as a binder to keep the meatloaf in a "loaf".
marjoram – marjoram is an herb that tastes almost similar to thyme. If you don't have it, you can leave it out or use another herb of your choice.
kosher salt – sea salt will work, as well. I like to use a coarse salt for this recipe.
Worcestershire sauce – worcestershire sauce goes into the glaze and adds a depth of flavor. Don't skip it, if possible.
Dijon mustard – a little bit of Dijon will go a long way!
brown sugar – I used light brown sugar. Again, you only need a little bit.
How to Make Slow Cooker Turkey Meatloaf
You make this crockpot meatloaf in the same way that you'd make a traditional turkey meatloaf to start. You first have to make the loaf by sauteing some onions, then adding them to your meatloaf mixture that has turkey, breadcrumbs, mushrooms, ketchup, eggs and seasonings. Form the mixture into a loaf and place in a slow cooker that has been lined with a piece of parchment paper. (This is one of my favorite hints for this recipe – the parchment paper is great for not only making clean up a breeze, but it helps when you need to remove the meatloaf from the slow cooker.)
Make the sauce by combining ketchup, Worcestershire sauce, Dijon mustard and brown sugar. Brush half of this over the meatloaf, reserving the other half.
Cook the meatloaf in the slow cooker on low.
Once the meatloaf has cooked, transfer it to a foil lined baking sheet. Brush it with the reserved sauce and place it into the oven to broil, broiling only long enough to form a crust on the meatloaf.
Serve!

How Long To Cook Meatloaf in the Slow Cooker

One of my biggest hints when cooking meat is to own a good instant read thermometer. (I have this one that I love!) All slow cookers cook a little bit differently, so it's easy for the time to be off. If you have a thermometer, you can get your meatloaf out before it has cooked too long and dried out. Mine took about 5 1/2 hours, but it could take as much as 1/2 an hour more or less. So keep an eye on it so that you don't overcook it

More Healthy Dinner Recipes

Cajun Chicken Pasta
Salmon with Mango and Roasted Red Pepper
Turkey Goulash Recipe
Lemon Herb Fish with Crispy Oven Fries
Lighter Cajun Sausage Pasta

Slow Cooker Turkey Meatloaf

---

Author:
Prep Time: 15 minutes
Cook Time: 6 hours 10 minutes
Total Time: 6 hours 30 minutes
Yield: 6 servings 1x
Category: Main Course
Method: Slow Cooker
Cuisine: American

Description

Traditional meatloaf takes a healthy turn with this Slow Cooker Turkey Meatloaf. It's tender and flavorful and the perfect way to have a comforting meal on the table after work!

---

Scale

Ingredients

Meatloaf

1 teaspoon vegetable or canola oil
1 medium onion, minced
1 1/2 lbs 93% lean ground turkey
2/3 cup Italian seasoned breadcrumbs
1/2 cup chopped cremini mushrooms
1/4 cup ketchup
1 large egg, (beaten)
1 large egg white
1 teaspoon dried marjoram
1 teaspoon kosher salt

Sauce

2 tablespoons ketchup
2 teaspoons Worcestershire sauce
1 teaspoon Dijon mustard
1 teaspoon light brown sugar

---

Instructions

Make the meatloaf: Cut a 15X8-inch piece of parchment paper and place it in a 5 quart slow cooker, allowing the sides of the paper to come up the sides of the slow cooker. (This is to easily remove the meatloaf once it is cooked.)
Heat the oil in a small nonstick skillet over medium heat. Add the onion and cook until translucent and golden, 2 to 3 minutes. Transfer the onion to a large bowl. Add the turkey, breadcrumbs, mushrooms, ketchup, whole egg, egg white, marjoram and salt to the bowl. Mix well, then form into an oval shape. Place in the slow cooker on top of the parchment paper.
Make the sauce: In a small bowl, whisk the ketchup, Worcestershire sauce, Dijon and brown sugar. Brush half of the sauce over the meatloaf, and refrigerate the remaining sauce.
Place the cover on the slow cooker and cook on low for 6 hours, or until a thermometer registers 165ºF.
Preheat the broiler, and line a baking sheet with foil.
Transfer the meatloaf to the foil lined pan. Brush the remaining sauce over the top of the meatloaf. Broil until a crust forms, 1 to 2 minutes. Keep a eye on it, as it may start to brown quickly.
Cut the meatloaf into slices to serve.

Recipe Notes:

very slightly adapted from Skinnytaste Fast and Slow

Nutrition information provided as an estimate only. Various brands and products can change the counts. Any nutritional information should only be used as a general guideline.

Nutrition

Serving Size: 1/6 of loaf
Calories: 274
Sugar: 7 g
Sodium: 640 mg
Fat: 12 g
Saturated Fat: 4 g
Unsaturated Fat: 3 g
Trans Fat: 0 g
Carbohydrates: 18 g
Fiber: 1 g
Protein: 26 g
Cholesterol: 111 mg

Keywords: slow cooker turkey meatloaf