I remember the first time I saw an episode of Hoarders.  All I wanted to do after watching that episode was to go through my house and throw everything out.  It seriously made me want to become the complete opposite of a hoarder.  And if you've seen the show, I'm sure you know exactly what I'm talking about.
Except sometimes, if you were to take a look inside my kitchen cupboards, you would think that I was a hoarder.  I'm sure that if someone came and looked in my hallway closet to see stacks of mismatched dishes, napkins, and fabric, if they didn't know I wrote a food blog – they would think I was a hoarder.  And to look in my spice cabinet that is bursting full, complete with no less than 6 different kinds of salt – they would think I was a hoarder.  And my pantry – sometimes I get overwhelmed looking into it!!  One problem with being a food blogger, and trying out new recipes all of the time, is that sometimes you buy an ingredient for a specific recipe, only to not use it again.  Or you buy something for a recipe, then forget what you were going to use it in, so there it is – still sitting on the shelf.  I'll definitely admit to that happening a time or two!!
Well, in an attempt to clear out the clutter, I have been going through the pantry and trying to use an ingredient or two up in the recipes that I've been making.  So when I came across this recipe that uses dry beans, and I remembered seeing a jar of beans in the back of my pantry, I knew it would be a great way to clear out an ingredient that was taking up space.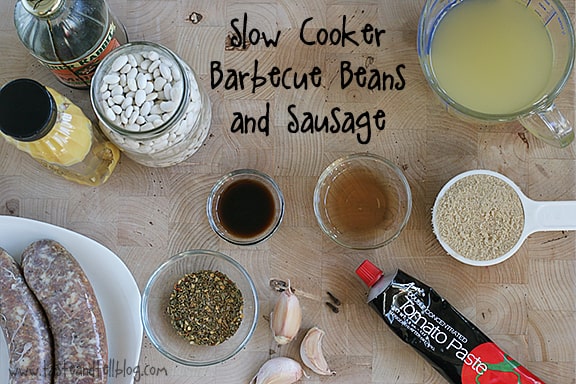 I really, I need to start off my saying that you would think that at this point, I would have learned to read a recipe.  I've always said that cooking isn't hard – you just follow the instructions.  And I goofed up big time on this one.  You see, when you start these beans in the slow cooker, you are supposed to add both chicken broth and water.  Well, in the original instructions, the water wasn't listed as an ingredient, (which it normally isn't, so it wasn't the recipe's fault!) and I completely missed in the instructions to add the water.  About an hour or two before these were supposed to be done, I went to check on them, and seeing that my beans were still quite hard, I went and re-read the directions.  Where I discovered that I totally didn't add any water.
Needless to say, we didn't have this for dinner that night.  I added the water and let it cook, then put it away in the refrigerator for the night, and we ate them for dinner the next night.  So – I'm not even sure how this recipe is if you make it as intended.  But I do know that it was full of flavor after sitting overnight.  And that it was a super easy (if you follow directions!), inexpensive and tasty dinner.
The recipe below is how I wish I would have made it.  And hopefully, if you do make this, it turns out just as great for you.  Just remember to read and follow the directions!!
Slow Cooker Barbecue Beans and Sausage
A frugal slow cooker meal - dry beans are combined with a from-scratch barbecue sauce and sausage to create a filling and comforting dish.
Ingredients
3 cups chicken broth
3 cups water
⅓ cup tomato paste
½ cup packed light brown sugar
3 tablespoons molasses
3 tablespoons honey mustard
2 tablespoons barbecue seasoning blend
4 cloves garlic, chopped
1 pound dry navy beans, rinsed and picked over
2 cloves
1 small onion, halved
1½ pounds sausages
2 tablespoons cider vinegar
1 tablespoon Worcestershire sauce
pickled peppers, sliced scallions, and/or sour cream, for garnish (optional)
Instructions
In the bottom of your slow cooker, whisk together the chicken broth, 3 cups water, tomato paste, brown sugar, molasses, mustard, barbecue seasoning and garlic. Add the beans. Push a clove into the side of each onion half. Tuck the onions into the beans and cook on high until the beans are tender, about 6 hours. Add the sausages when you have 3 hours left.
Discard the onion halves. Slice the sausages into 1-inch pieces and return to the beans. Stir in the vinegar and Worcestershire sauce and let the mixture sit, uncovered, for 15 minutes.
Garnish with the peppers, onions, and/or sour cream, if desired.
---------------------------------------
Slightly adapted from Food Network Magazine August/September 2009