I have said before that I rarely make side dishes. And that's still true. But when my husband volunteered to make dinner on Sunday (steaks on the BBQ) I quickly said that I would take care of the side dishes. And I'm so glad I did!!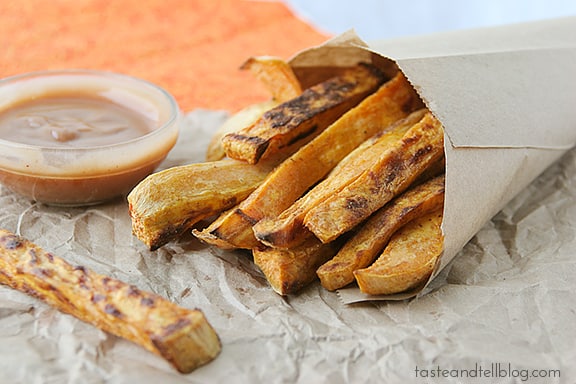 Photo updated August 2012
The first side dish is sweet potatoes. Yes, I have recently discovered that not only do I like sweet potatoes, but I LOVE them!! If you remember the sweet potato soup I made earlier this month, you'll remember that I confessed that I thought I didn't like sweet potatoes. Well, I gave them a try again – this time as oven baked sweet potato fries – and I ate a lot of them. Let's talk sweet potatoes for a moment. What exactly is the difference between a sweet potato and a yam?? Well, from the small amount of research I've done, there is a big difference!! I've found that this website says it best:
Although yams and sweet potatoes are both angiosperms (flowering plants), they are not related botanically. Yams are a monocot (a plant having one embryonic seed leaf) and from the Dioscoreaceae or Yam family. Sweet potatoes, often called 'yams', are a dicot (a plant having two embryonic seed leaves) and are from the Convolvulacea or morning glory family.
In fact, after reading several things, I have learned that it is very rare to even find yams in the grocery store. If you are looking for a yam, you will most likely find them in a Carribean or Asian specialty store. I think the biggest reason for the confusion is that 1) the grocery stores call them yams when they are not, and 2) there are many different types of sweet potatoes, and the colors can vary, so not all sweet potatoes will look the same. But this is just my 2 cents – whatever you call them, they sure do make tasty oven fries!!
If you are expecting crispy fries from sweet potatoes, you will probably be disappointed. But these have so much more flavor than regular white potato fries, in my opinion. They can be baked plain, with just a touch of olive oil, but this spice combination is wonderful. I find it the easiest if you combine the spices and oil in a large ziploc bag, throw the cut potato in, and shake until mixed.
 

Oven Baked Sweet Potato Fries
Sweet potatoes are cut into fries and baked with a spicy coating.
Ingredients
½ teaspoon ground cumin
½ teaspoon salt
¼ teaspoon ground red pepper
1 tablespoon vegetable oil (I used olive oil)
2 large (about 1½ pounds) sweet potatoes
Instructions
Preheat the oven to 400F.
Peel the potatoes, and cut into sticks.
In a large bowl, combine the cumin, salt and red pepper. Add the potatoes. Drizzle in the oil and toss to combine.
Arrange the fries in a single layer on a rimmed baking sheet. Bake in the oven until the edges are crisp and the fries are cooked through, about 30 minutes. Turn fries twice during cooking time.
-----------------
slightly adapted from Country Living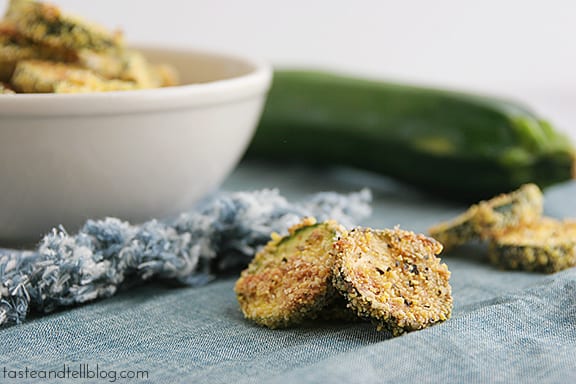 Photo Updated August 2012
And then now to one of the recipes that I have bookmarked off of a blog that I just barely blogged about – Janet is Hungry. Another winner!! I was able to bake these zucchini coins at the same time I baked the fries, and it worked out wonderfully! Although the baking temperature is listed as 25 degrees higher, I just baked them at 400 F with the fries, and kept them in a couple of minutes longer. These are very tasty, especially dipped in ranch dressing!!
 

Zucchini Coins
Zucchini slices are coated with a cornmeal mixture and then baked until crispy.
Ingredients
olive oil
½ cup cornmeal
¼ cup whole wheat flour
1 tsp salt
1 tsp dried basil
freshly ground pepper
1 zucchini
1 egg
Instructions
Preheat the oven to 425F. Drizzle a couple tablespoons of olive oil on a baking sheet. Set aside.
In a shallow dish or bowl, mix together the cornmeal, flour, salt, basil and pepper.
Cut the zucchini into coins about ¼-inch thick. In a shallow dish or bowl, whisk the egg gently.
Dip the zucchini slices into the egg and then into the cornmeal mixture. Place the coins on the prepared baking sheet. Bake in the oven for about 10 minutes on each side, until golden brown.
------------------
from Janet is Hungry