These baked Zucchini Fries are easy and crispy and just as good as if they were fried! Serve with ranch or marinara for a delicious side dish or appetizer.
There is nothing like summertime zucchini! Serve these zucchini fries up with your favorite seasonal dinner (I love a good burger!) and a fresh herbed tomato salad, and the perfect summer dinner is served!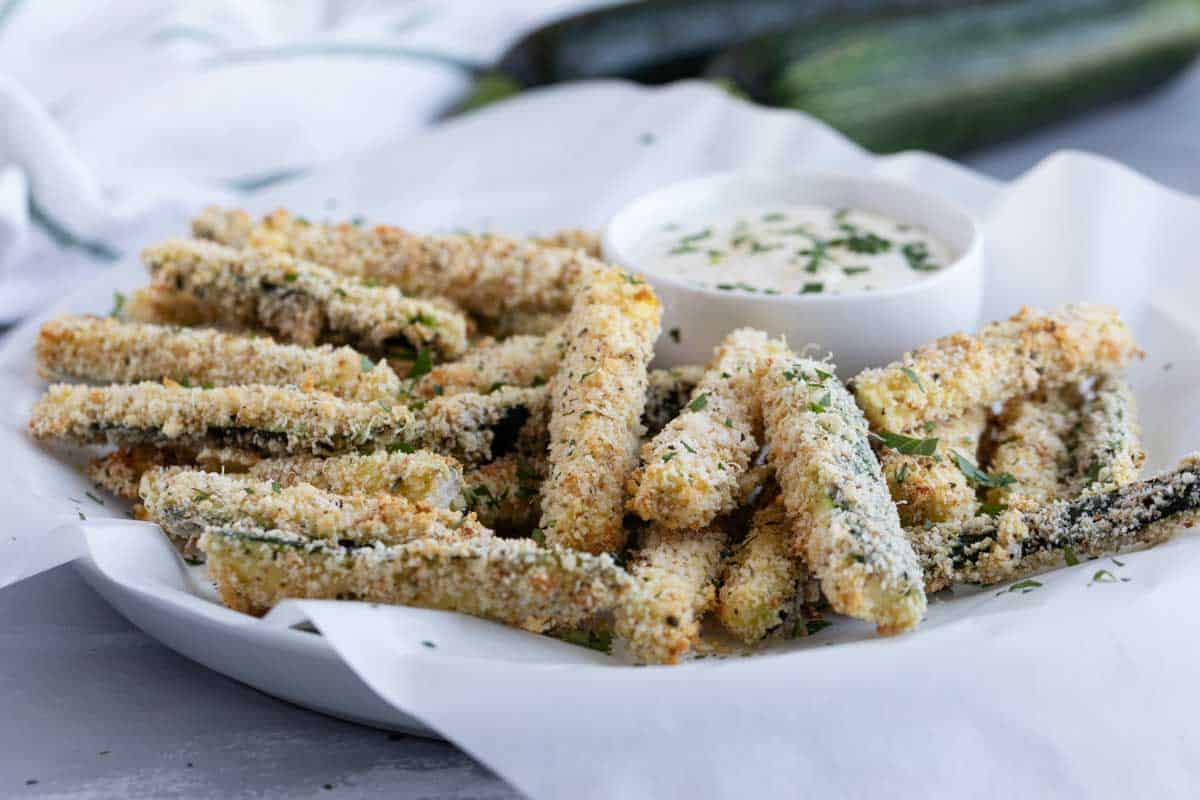 It has been several years since we have had our own garden. But I still have memories fresh in my mind of zucchini plants that produced 10 times more zucchini than I ever imagined.
But zucchini is one of those vegetables I can eat all summer long without complaining.
Especially when it is turned into Zucchini Fries.
These zucchini fries are even better because they are baked instead of fried. Don't get me wrong – I love fried foods – but I honestly think I prefer this baked version over a fried version.
They are easy to make, full of flavor, and even the kids will go crazy for them!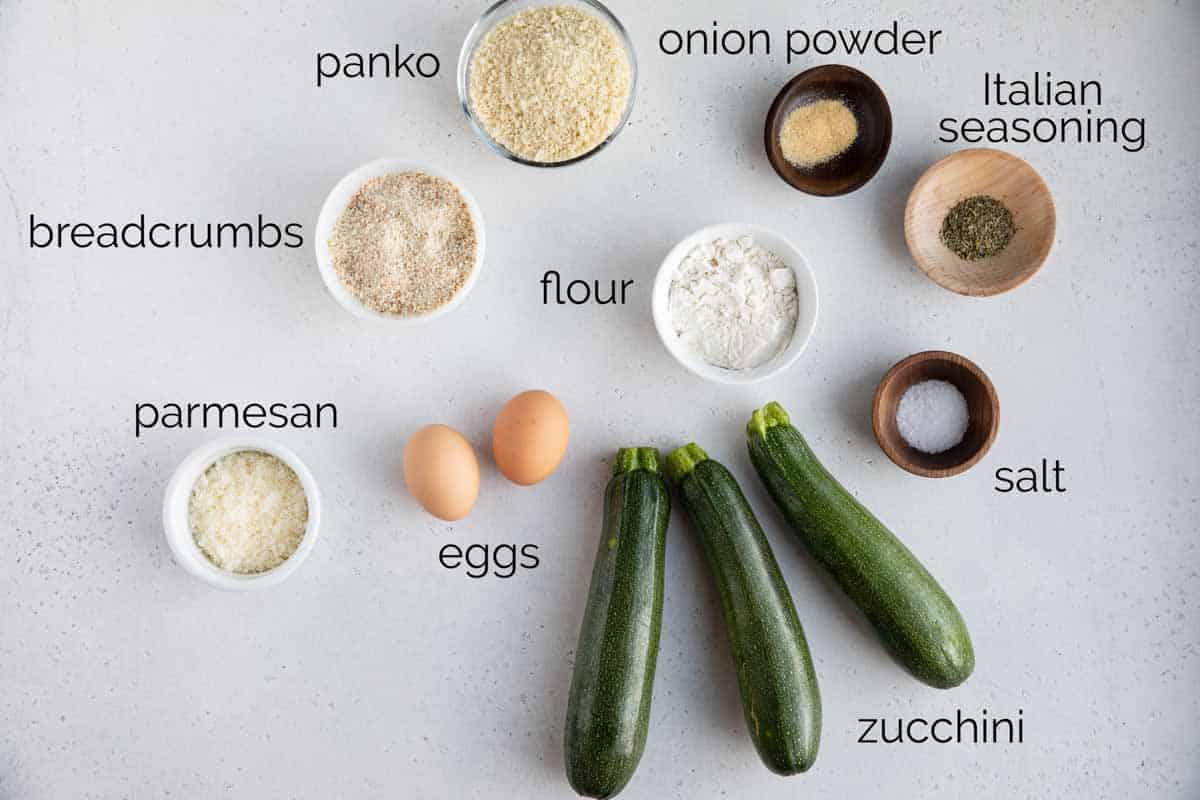 Ingredients
Zucchini: You'll want about 3 medium sized zucchini, about 7-8 inches in length each. I wouldn't suggest the large, oversized zucchini. They will have a much higher water content and won't be as good.
Flour: I just used all-purpose flour. This is for a light coating on the zucchini to get everything else to stick, so you could sub in whole wheat flour or another flour of your choice.
Eggs: The eggs make the breadcrumbs stick to the zucchini sticks.
Panko and Regular Breadcrumbs: This is my biggest secret to the perfect zucchini fries – a mixture of panko breadcrumbs and regular breadcrumbs. If you have seasoned breadcrumbs on hand instead, just leave out the spices below.
Parmesan Cheese: This is secret number two. You do want really finely grated Parmesan cheese, though, so I like to use freshly grated parmesan. I would not use the pre-shredded that you can find at the grocery store because it will be much too dry.
Salt: The salt is very important here for seasoning.
Italian Seasoning: I love the mix of Italian spices here, but feel free to make your own spice mix.
Onion Powder: This is my first choice, but if you don't have onion powder, you can use garlic powder and it is delicious, as well.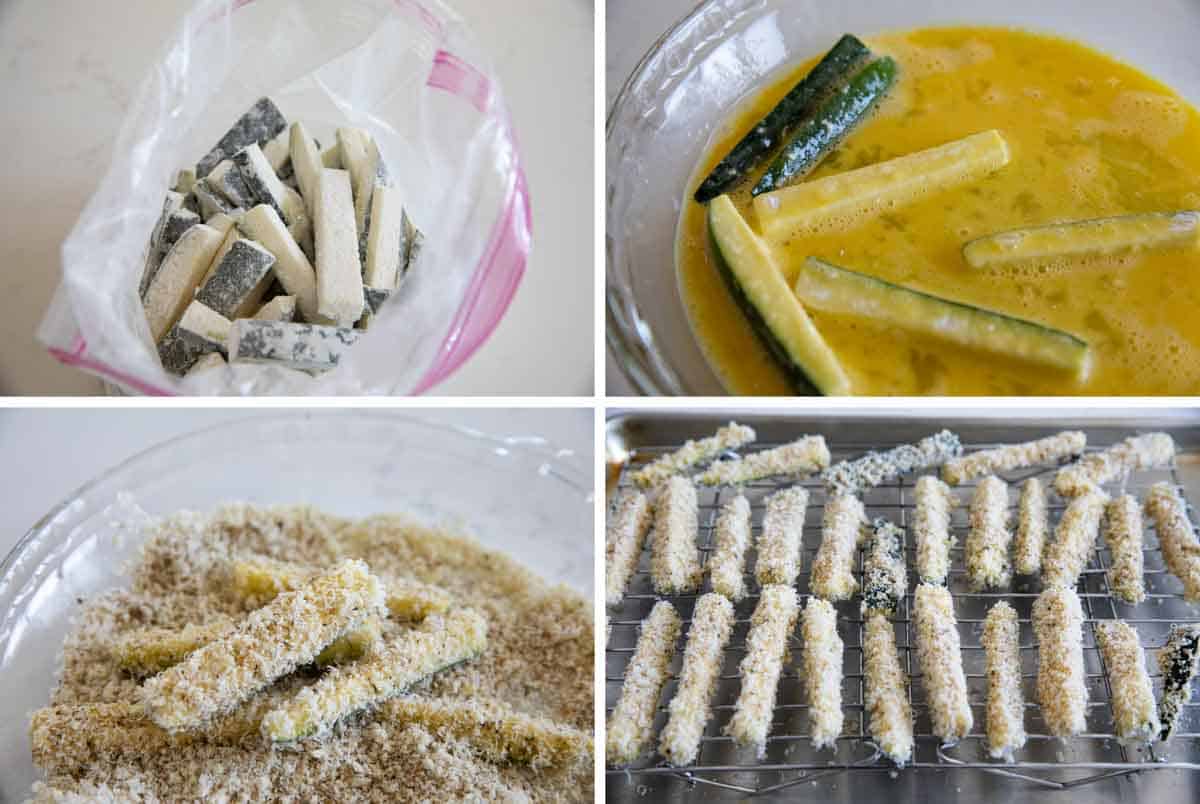 How to Make Zucchini Fries
CUT the zucchini into sticks.
COVER the zucchini with the flour. I think this is easiest to do by putting it all in a ziplock bag, closing the bag, then shaking until everything is evenly coated.
DREDGE the sticks in the whisked eggs, then let any excess drip off.
COAT the sticks in the mixture of breadcrumbs, cheese, and spices.
ARRANGE the zucchini on a cooling rack. Spray with nonstick cooking spray, then bake until golden brown and crispy.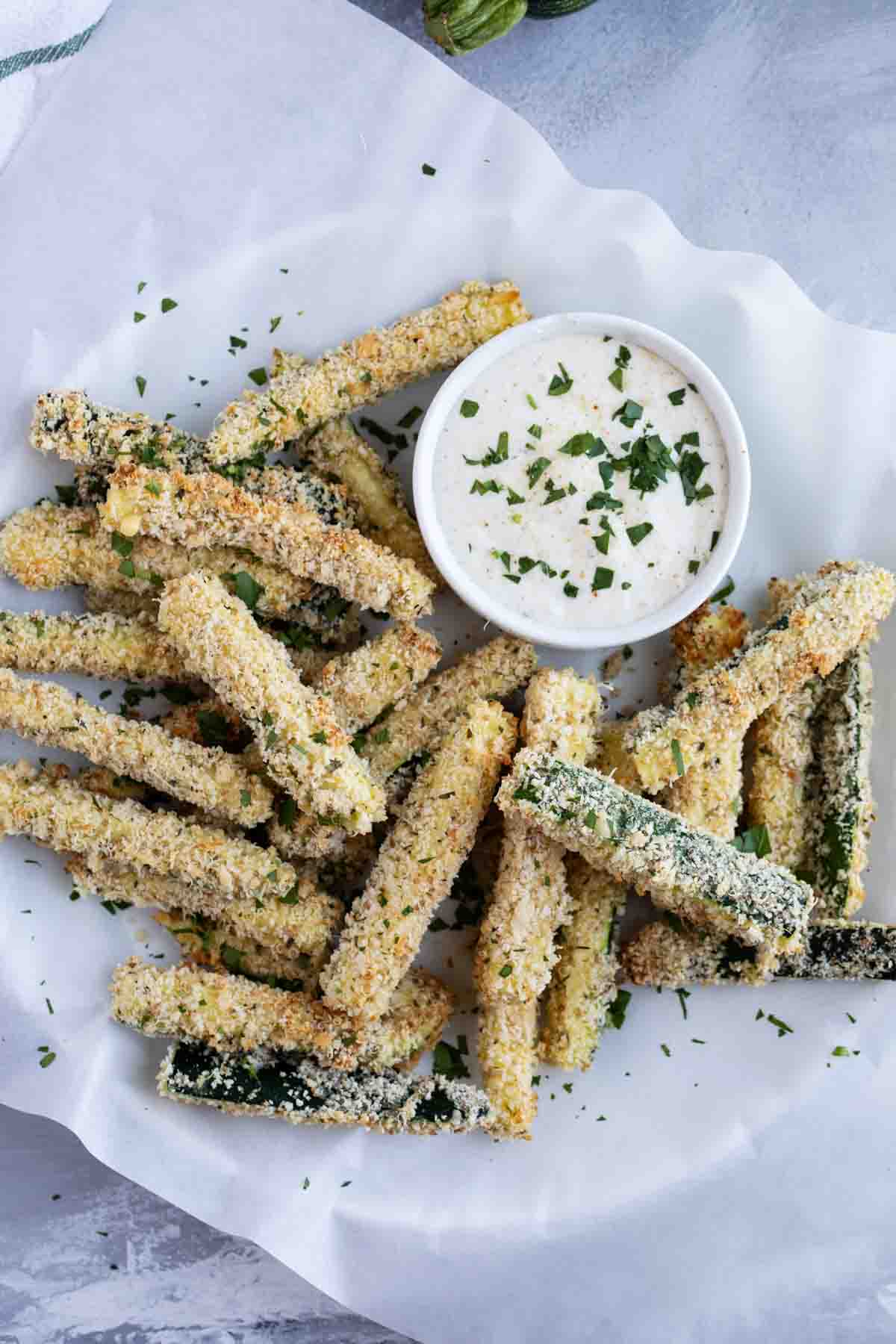 Tips and Tricks
Don't want to cut the zucchini into strips? You can also cut it into coins for a different version of fried zucchini.
While you could just bake these on a baking sheet, the cooling rack makes them even better because the air is able to circulate all the way around the zucchini, making it crispy on all sides.
I like to place a piece of parchment paper under the cooling rack to make cleanup easy.
This makes enough to fill 2 baking sheets. You can bake them in batches, or bake them at the same time. If you bake them at the same time, rotate the sheets halfway through the baking time.
Best Dips for Zucchini Fries
Yes, you could just serve these zucchini fries on their own, and they are delicious. But they are even better when served with a dip! You can use your favorite dipping sauce but here are my top choices:
Homemade Ranch Dressing
Chipotle Ranch Dressing
Marinara Sauce
Blue Cheese Dressing
Avocado Ranch Dressing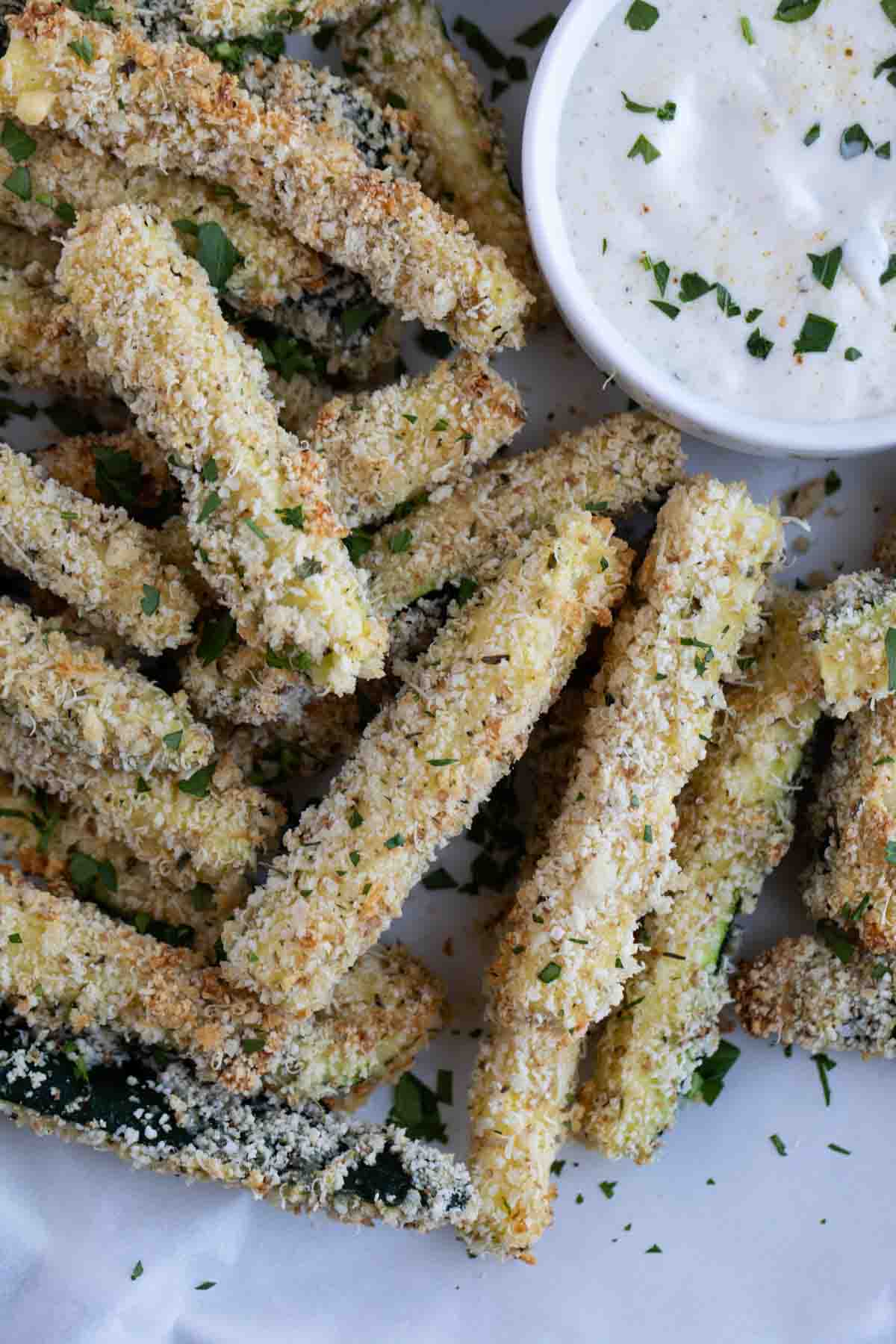 More Zucchini Recipes
Zucchini Tart with Ricotta and Bacon
Zucchini Parmesan
Zucchini Salad with Tomatoes
Zucchini Bread
Zucchini Muffins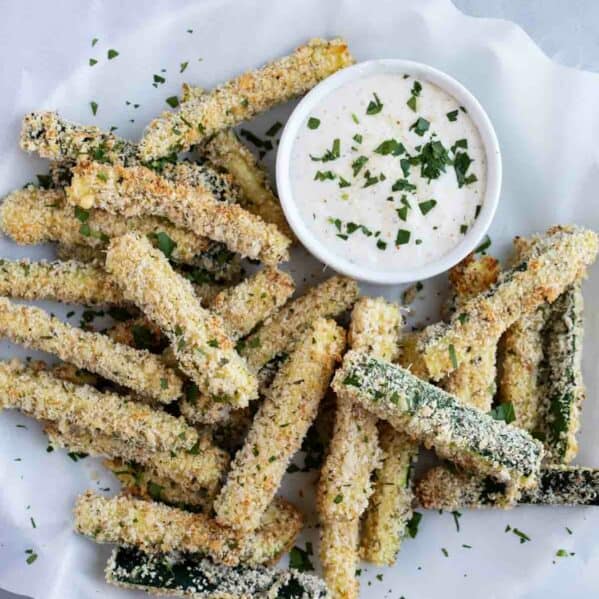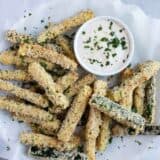 Zucchini Fries
---
Author:
Prep Time: 20 minutes
Cook Time: 20 minutes
Total Time: 40 minutes
Yield: 6 servings 1x
Category: Side Dish
Method: Baked
Cuisine: American
Description
These baked Zucchini Fries are easy and crispy and just as good as if they were fried! Serve with ranch or marinara for a delicious side dish or appetizer.
---
Scale
Ingredients
3 medium zucchini (each about 7 inches long)
1/2 cup all-purpose flour
2 large eggs
3/4 cup panko breadcrumbs
3/4 cup unseasoned breadcrumbs
1/2 cup finely grated Parmesan cheese
1 teaspoon salt
1 teaspoon Italian seasoning
1/2 teaspoon onion powder
---
Instructions
Position the racks in your oven to the top third and bottom third. Preheat the oven to 425ºF. Place two cooling racks over baking sheets and spray with nonstick cooking spray.
Cut the top and the bottom off of the zucchini, then cut into sticks, about 1/2 inch thick and 3 to 4 inches long.
Place the flour in a ziplock bag (you can also do this in a large bowl), seal, and shake until the zucchini is coated with the flour.
In a shallow bowl or dish, beat the eggs until they are completely broken up.
In another bowl or shallow dish, combine the panko, breadcrumbs, parmesan, salt, Italian seasoning, and onion powder. Stir to combine.
Working with a few pieces of zucchini at at time, remove from the flour and shake lightly. Add to the egg mixture and coat them completely, then add to the breadcrumb mixture. Coat them with the breadcrumb mixture, pressing it into the zucchini, if needed. 
Place the zucchini on the prepared cooling racks, making sure the zucchini don't touch. Repeat with the remaining zucchini.
Spray the zucchini with nonstick cooking spray, then transfer to the oven. Bake for 10 minutes, then rotate the trays. Bake an additional 10 minutes, or until the zucchini is browned and crispy.
Serve warm.
Recipe Notes:
Nutrition information provided as an estimate only. Various brands and products can change the counts. Any nutritional information should be used as a general guide.
Nutrition
Serving Size: 1/6 of recipe
Calories: 192
Sugar: 2 g
Sodium: 647 mg
Fat: 5 g
Saturated Fat: 2 g
Unsaturated Fat: 2 g
Trans Fat: 0 g
Carbohydrates: 28 g
Fiber: 2 g
Protein: 9 g
Cholesterol: 69 mg
Keywords: zucchini fries, baked zucchini fries