A tender, flaky crust is filled with a creamy ricotta filling, then topped with bacon and zucchini in this easy Zucchini Tart with Ricotta and Bacon that is perfect for a luncheon or a light dinner.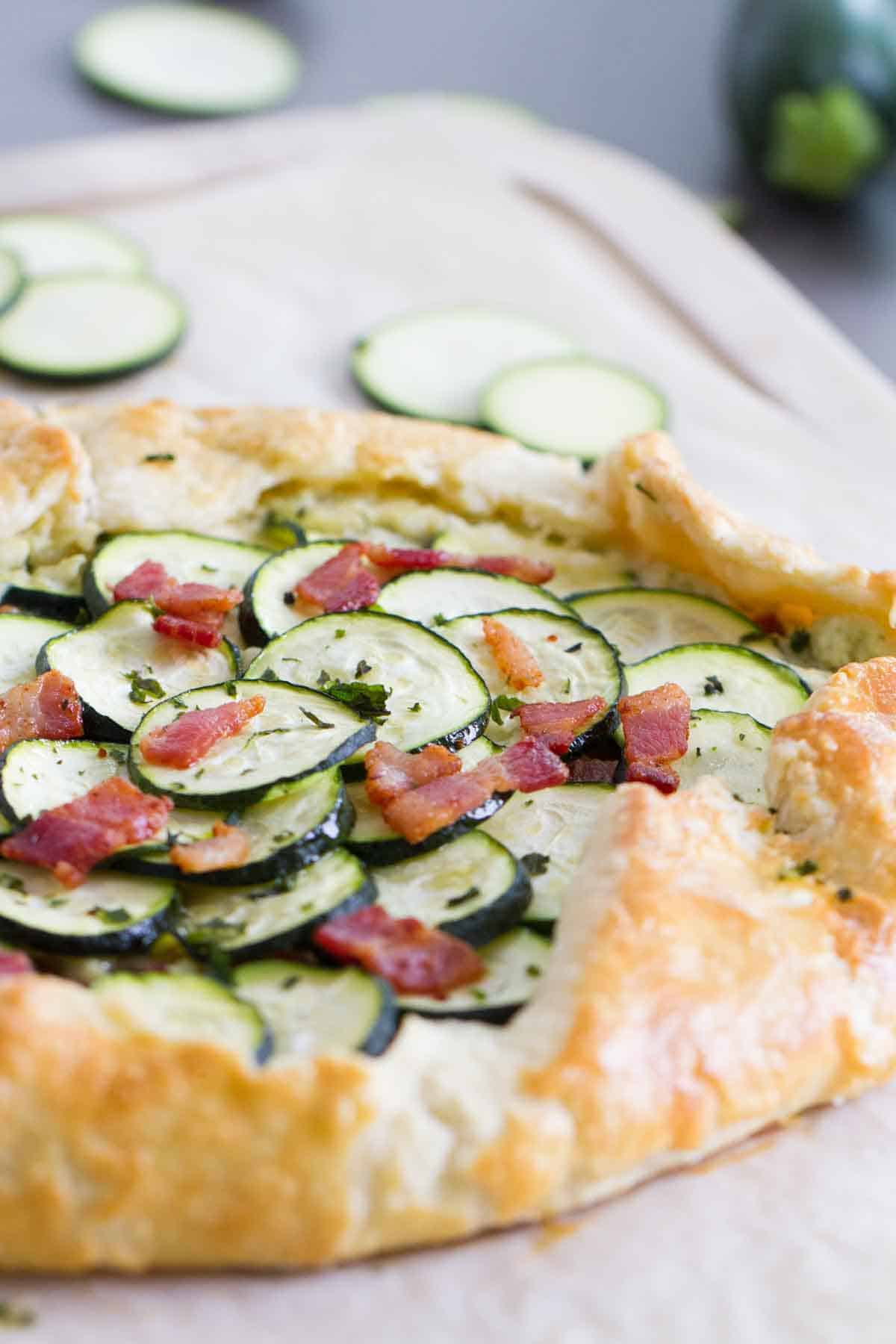 Have you ever had one of those weeks that you are more than glad to say goodbye to? This week has been one of those for me.
Monday morning started off with 2 sick kids. Tuesday, they were up and fine and back to school, but that night, I started to feel not so great. Wednesday morning, I woke up with what I am assuming was the same stomach bug. I don't get sick often, and honestly will push through most anything, but that knocked me out. I literally slept almost the entire day. Luckily, I woke up on Thursday feeling almost completely better, but then my husband started feeling sick.
So 4 out of 5 have been taken down by this bug this week (knock on wood that the 5th doesn't get it!) At this point, we are all pretty much back to whole, but I am still glad that I am looking at the tail end of this week.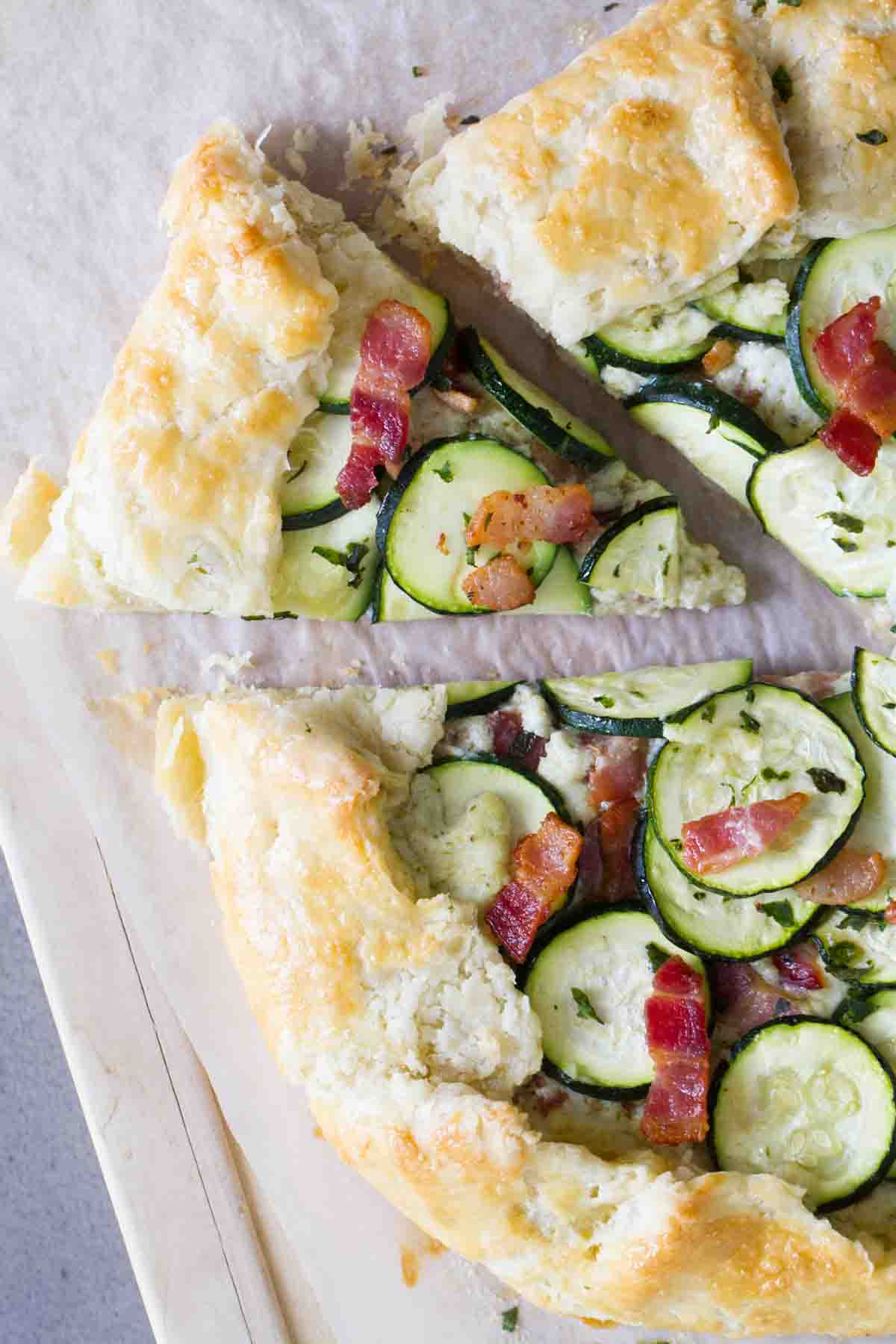 What I am looking forward to, though, is the upcoming summer produce. I have come to terms that we won't have our yard up and ready to put in a garden this year. But that doesn't mean I can't dream of next year's garden, and plan on buying up all of the locally grown produce this year. Which includes lots and lots of zucchini.
I was actually going to save this recipe and share it when the zucchini is overflowing. You know that time of year when people are begging for someone to come take that zucchini off their hands. But I had to share it now, because I haven't been able to get it out of my head since I made it.
This is a simple, free-form tart. I made the dough from scratch, and completely recommend doing so. If you are completely intimidated, or in a pinch, you can use a store-bought crust, but this crust will definitely make a difference. And if you are scared of crusts, this is a great place to start because it's rustic and hard to make it look bad. 🙂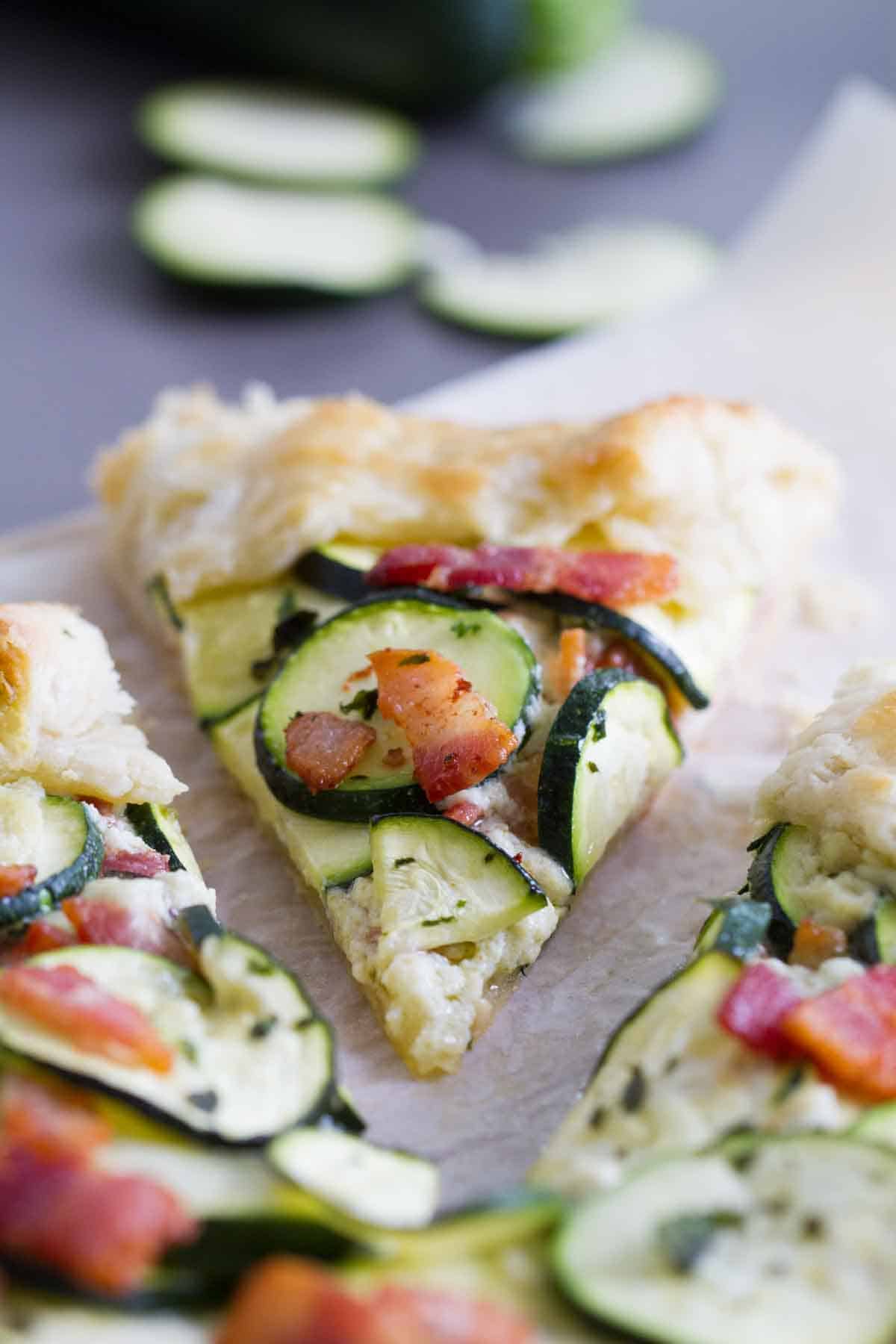 I add in a little bit of bacon to make this zucchini tart a little more hearty. That way, you can serve it as a lunch or light dinner, instead of just as an appetizer or side dish. And let's face it – bacon really does make everything better!
So save it for the influx of summer zucchini, or get in the kitchen and make it today – either way, you won't be disappointed!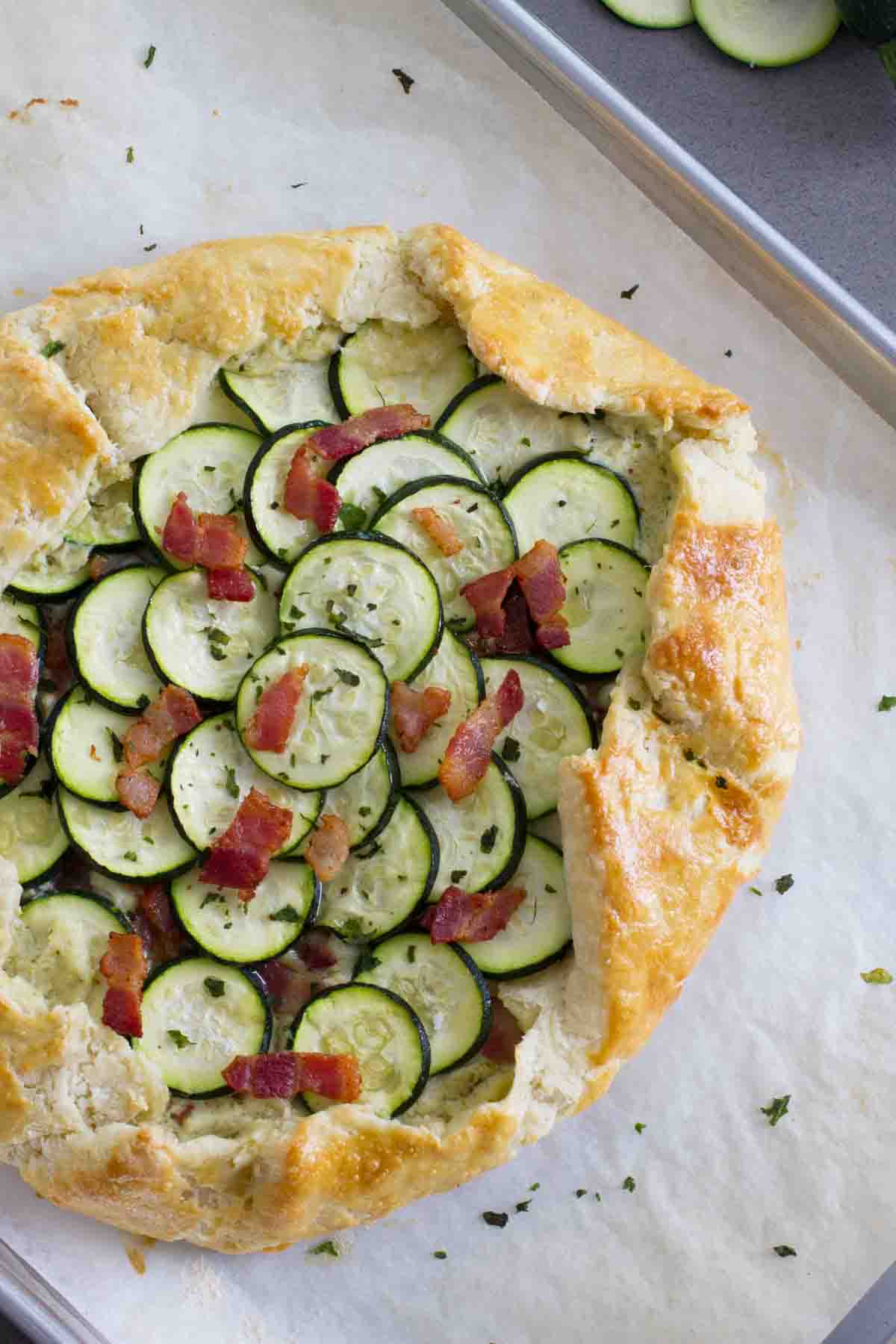 Looking for more zucchini recipes?
Sausage and Zucchini Bake
Zucchini Parmesan
Stuffed Zucchini Boats
Zucchini Salad with Tomatoes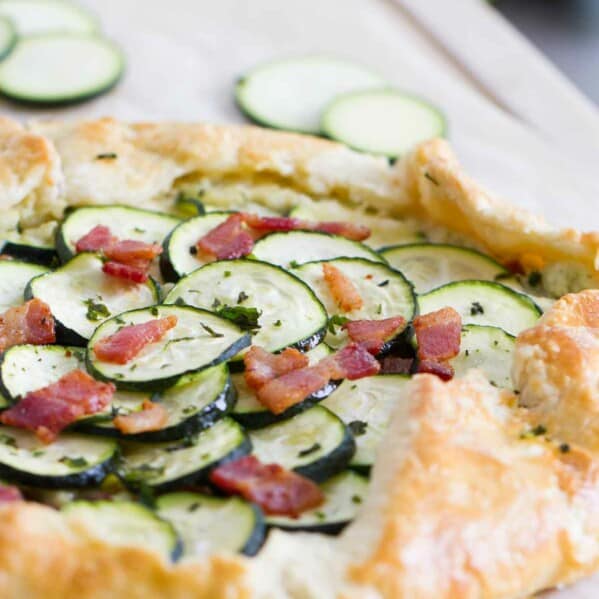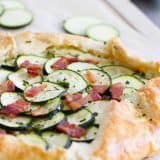 Zucchini Tart with Ricotta and Bacon
---
Author:
Prep Time: 20 minutes
Refrigeration Time: 60 minutes
Cook Time: 30 minutes
Total Time: 1 hour 50 minutes
Yield: 6 servings 1x
Category: Main Dish
Method: Baked
Cuisine: American
Description
A tender, flaky crust is filled with a creamy ricotta filling, then topped with bacon and zucchini in this easy Zucchini Tart with Ricotta and Bacon that is perfect for a luncheon or a light dinner.
---
Scale
Ingredients
Crust:
1 1/4 cup all-purpose flour
1/2 teaspoon salt
1/2 cup butter (1 stick), cut into small cubes
1/3 cup ice water
1 egg
Filling:
4 slices thick cut bacon
1 cup ricotta cheese
2 tablespoons prepared pesto
2 small or 1 medium zucchini, cut into rounds
1 tablespoon olive oil
basil, for serving
---
Instructions
To make the crust, combine the flour and salt in a medium bowl. Add the butter cubes, and using a pastry cutter or a fork, cut the butter into the flour until the pieces are the size of a pea or smaller.  Slowly add the water, 1 tablespoon at a time, adding just enough to bring the dough together.  (You may need a little less water or a little more water depending on external circumstances.)  Form into a disc and wrap tightly in saran wrap.  Refrigerate for 1 hour.
Dice the bacon, then cook in a medium skillet over medium heat until browned and crispy.  Transfer to a paper towel lined plate.
In a bowl, combine the ricotta and the pesto. 
Preheat the oven to 400ºF.
Remove the dough from the refrigerator and roll into a 12-inch circle on a sheet of parchment paper.  Spread the ricotta mixture over the dough, leaving a 1-inch border. Sprinkle the bacon over the cheese, reserving some for topping, if desired.  Arrange the zucchini over the top, then fold the edges of the dough over, crimping as necessary.  Drizzle the olive oil over the top of the zucchini.  Transfer the tart, keeping it on the parchment paper, to a baking sheet.
In a small bowl, beat the egg with a splash of water, then brush the mixture over the edges of the crust.
Bake in the tart in the oven until the crust is browned, about 30 minutes.  Let sit for 5 minutes before serving. Top with basil before serving.
Nutrition
Serving Size: 1/6 of recipe
Calories: 606
Sugar: 2 g
Sodium: 168 mg
Fat: 44 g
Saturated Fat: 22 g
Unsaturated Fat: 8 g
Trans Fat: 0 g
Carbohydrates: 32 g
Fiber: 2 g
Protein: 17 g
Cholesterol: 148 mg