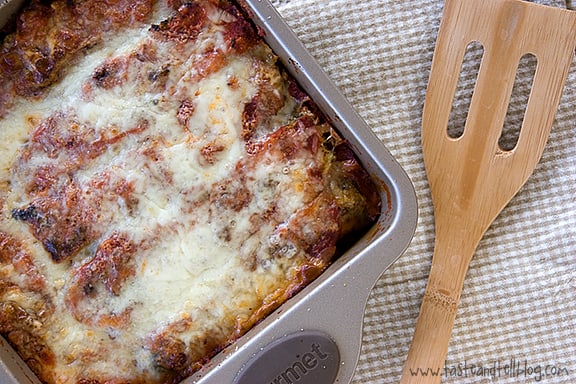 This isn't a typical dish that I'd make this time of year. I know that we are headed straight into winter, and most of us used up the last of our zucchini quite awhile ago. But about a month ago, I was at my grandma's house and was had fun flipping through the pages of several magazines she had sitting there. It was dangerous, because I ended up getting my phone out and taking pictues of several recipes in a few of those magazines. (That's my little trick that I use all of the time. See something in a magazine at the doctor's office that you want? Take a picture of it, and then you can look it up online when you get home!) I've actually made several of the recipes that I took pictures of that day. This Zucchini Parmesan, the Sweet Potato and Coconut Pie, and a Thai Butternut Squash Soup, recipe coming soon.  So even though zuccchini isn't really in season, I thought I'd use the fact that it is still on store shelves, because this recipe sounded too good to have it sit on the "to-make" list until next summer!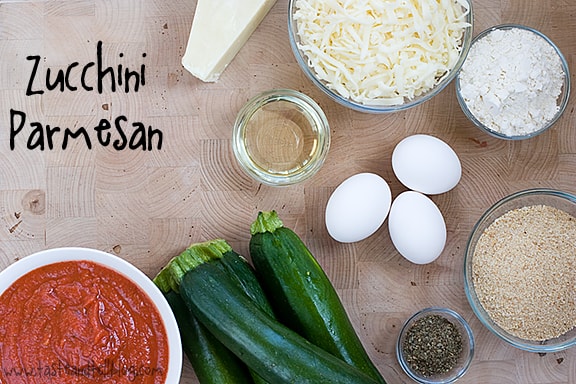 This casserole was everything I thought it would be.  I do like eggplant parmesan, so I knew that I'd also love this zucchini version.  And I love that it is a filling and comforting meat free meal.  I've been trying to bring in more meat-free meals, but it seems like I often turn to pasta or pizza, and this was a great alternative.  This does make a ton, though.  I did cut it down to half, and we still had a hard time getting through it.  But this is definitely one that I'm keeping on my list – especially for next summer when I'm looking for ideas to use up an abundance of zucchini!!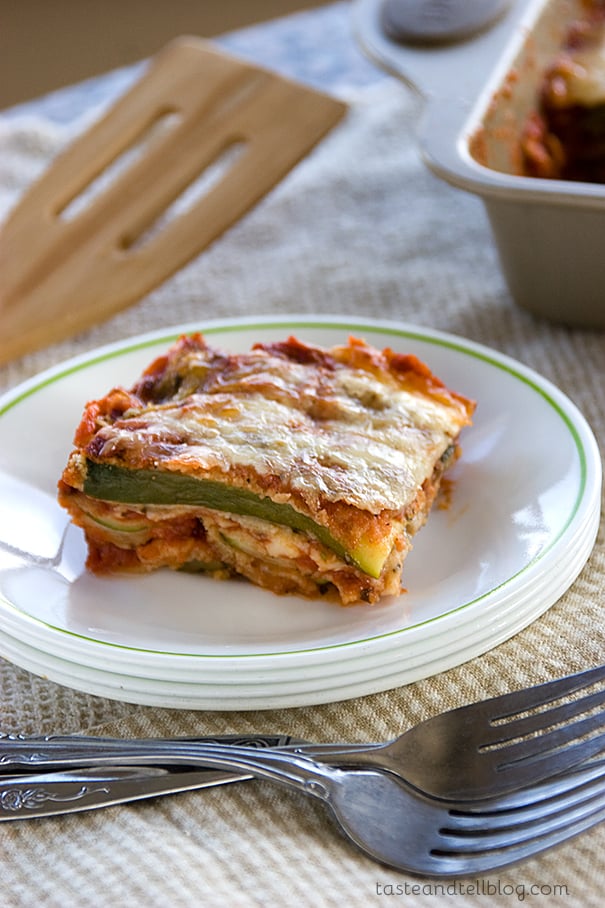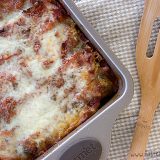 Zucchini Parmesan
---
Prep Time: 30 minutes
Cook Time: 45 minutes
Total Time: 1 hour 15 minutes
Yield: 16 servings 1x
Description
Zucchini takes center stage in this adaptation off of Eggplant Parmesan. Slices of zucchini are crusted with breadcrumbs, then layered with marinara and mozzarella, making a comforting and delicious vegetarian main dish.
---
Scale
Ingredients
1/2 cup flour
3 eggs, lightly beaten
1 1/2 cups seasoned bread crumbs
3 large zucchini, about 2 pounds, cut lengthwise into 1/4-inch-thick slices
1/4 cup canola oil
1 25 ounce jar prepared marinara sauce
2 cups shredded mozzarella cheese
1/4 cup grated Parmesan cheese
---
Instructions
Preheat the oven to 375F. Prepare a 9×13-inch baking dish by spraying with non-stick cooking spray.
Put the flour in one shallow dish, the eggs in another, and the breadcrumbs in a third. Dip each slice of zucchini in the flour, then coat in the egg, then coat in the breadcrumbs. Set aside.
Heat the oil in a large saute pan over medium-high heat. Cook the zucchini for 1 1/2 to 2 minutes on each side, until golden brown. Cook in batches, and add more oil if needed.
Spread 1/2 cup of the marinara sauce in the bottom of the prepared baking dish. Place 1/3 of the zucchini in the pan, topped by 3/4 cup of the sauce and then 2/3 cup of the mozzarella. Repeat twice.
Sprinkle the Parmesan cheese on top and cover lightly with foil. Bake in the preheated oven for 30 minutes, remove the foil, and bake for an additional 10 minutes.
Let sit for 10 minutes before slicing.
——————————
adapted from Family Circle