A simple beef dish full of Chinese flavors. This dish comes together quickly so you have dinner on the table faster than ordering take-out!



Ok, so I'm really almost tempted to not even talk about this recipe, but to tell you to run right out and buy yourself a copy of this month's Cookbook of the Month – Easy Chinese Recipes. This is the only recipe I've made from the book so far, but if they are all this good, this book is going to be worth it's weight in gold! And this recipe was so good, I would easily make this at home over going out for Chinese. Not to mention that it really is done faster than it would take to get take-out. And, I'm sure it's much better for you.
It seems like Chinese recipes are the ones that people are most interested in trying to re-create at home.  (This General Tso's Chicken recipe is still one of the most popular on my blog.)  And if you are looking for Chinese food that is as good as going out, you really need to look no further.  I don't know what else to say except that this recipe rocked.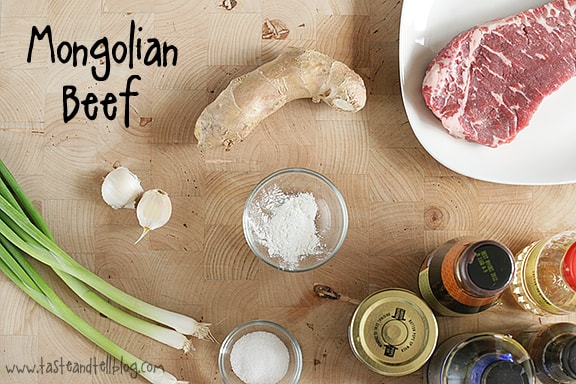 I was actually surprised to find that I had almost everything on hand for this recipe. (I didn't think I had oyster sauce, only to discover after I bought some that I already had a full, unopened bottle at home…)  The original recipe calls for both light and dark soy sauce, but I didn't have dark.  I just upped the amount of light soy sauce, but I'm thinking that I need to invest in dark soy sauce.  Many recipes in this cookbook call for it, plus I was watching a show on tv, and the Chinese cook said that dark soy sauce is one of the 5 pantry staples for making Chinese food at home.  But even without it, this recipe was amazing.  A-MAZ-ING.
So do yourself a favor – put this on your menu plan.  It's easy.  It's fast.  And it's downright delicious.  You can't ask for more than that!
Recipe Rating: 9.75 out of 10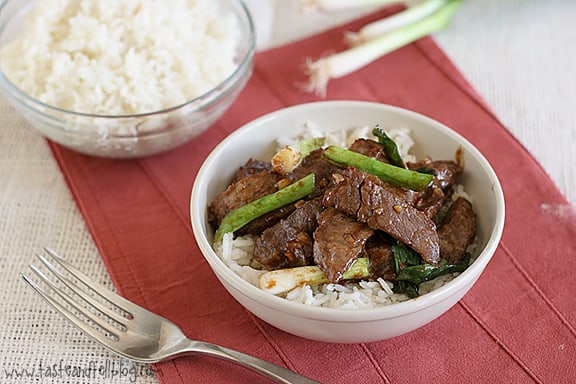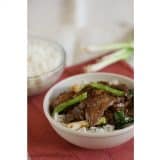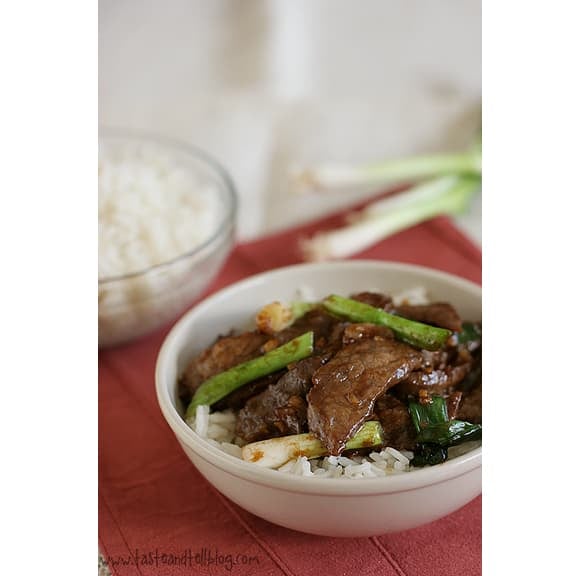 Mongolian Beef
---
Prep Time: 17 minutes
Cook Time: 10 minutes
Total Time: 27 minutes
Yield: 2 servings, as a main dish 1x
Description
A simple beef dish full of Chinese flavors. This dish comes together quickly so you have dinner on the table faster than ordering take-out!
---
Scale
Ingredients
8 ounces beef tenderloin, flank steak, or flap meat, cut into pieces
2 1/2 tablespoons oil
2 cloves garlic, minced
One 1-inch piece fresh ginger, peeled and sliced into thin pieces
3 green onions, cut into 2-inch lengths
Marinade
2 tablespoons soy sauce
1/2 tablespoons oyster sauce
1 teaspoon hoisin sauce
1 teaspoon Chinese rice wine or sherry
1 teaspoon cornstarch
1/2 teaspoon sesame oil
1 teaspoon sugar
1/4 teaspoon salt
3 dashes white pepper
---
Instructions
Combine the marinade ingredients in a bowl, and add the beef. Let marinate for 15 minutes.
Heat 1 tablespoon of the oil in a large skillet or a wok over high heat. Stir fry the beef until the outside is brown, but the inside is still pink. Remove from pan and set aside.
In the same skillet, add the remaining oil. Add the garlic and ginger and stir fry until aromatic. Add the beef back in and cook until the beef is cooked through, about 1 to 2 minutes. Add the green onion and stir to combine. Serve immediately with steamed rice.
—————————–
Slightly adapted from Easy Chinese Recipes: Family Favorites From Dim Sum to Kung Pao
——————————
Want some more ideas to make your own take-out?
Orange Chicken from Smells Like Home
Sweet and Sour Chicken from Taste and Tell
Honey Walnut Shrimp from Handle the Heat
Vegetable Chow Mein from Food52