No mixer needed – these Zucchini Muffins are the best classic zucchini muffins. They are the perfect zucchini recipe for all of that garden bounty! Made in one bowl, muffins just don't get easier than this!
We love muffins for breakfast! Some other family favorites are these Cinnamon Muffins, Lemon Muffins, Morning Glory Muffins, or Chocolate Chip Muffins.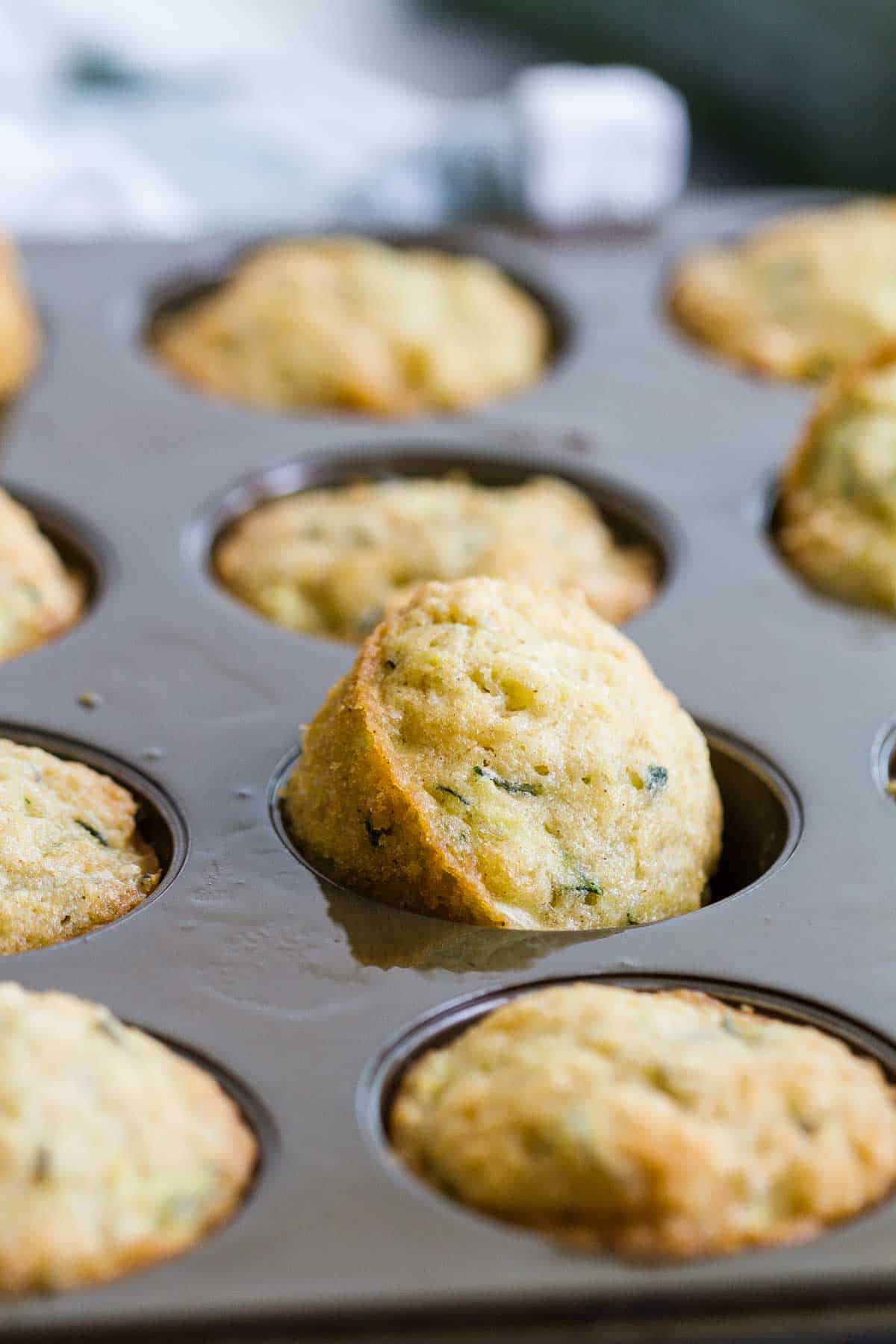 Zucchini Muffins
I feel like I'm at the point in the year when we start to overlap seasons. Labor Day is coming up, which most people look at as the end of summer, but that summer produce is still everywhere. I had a few zucchini sitting on my counter that needed to be used. And this Zucchini Muffin recipe needed a refresh. So I figured that this zucchini recipe was the perfect transitioning to fall recipe. You have your end of summer produce as well as baking!
My kids love muffins, but they weren't so sure of these at first. But I'm happy to report back that the 2 of my 3 kids that tried these actually really liked them. What's not to like – they are sweet and moist and full of flavor!
(Looking for even more zucchini recipes? I've got a list of all the Best Zucchini Recipes!)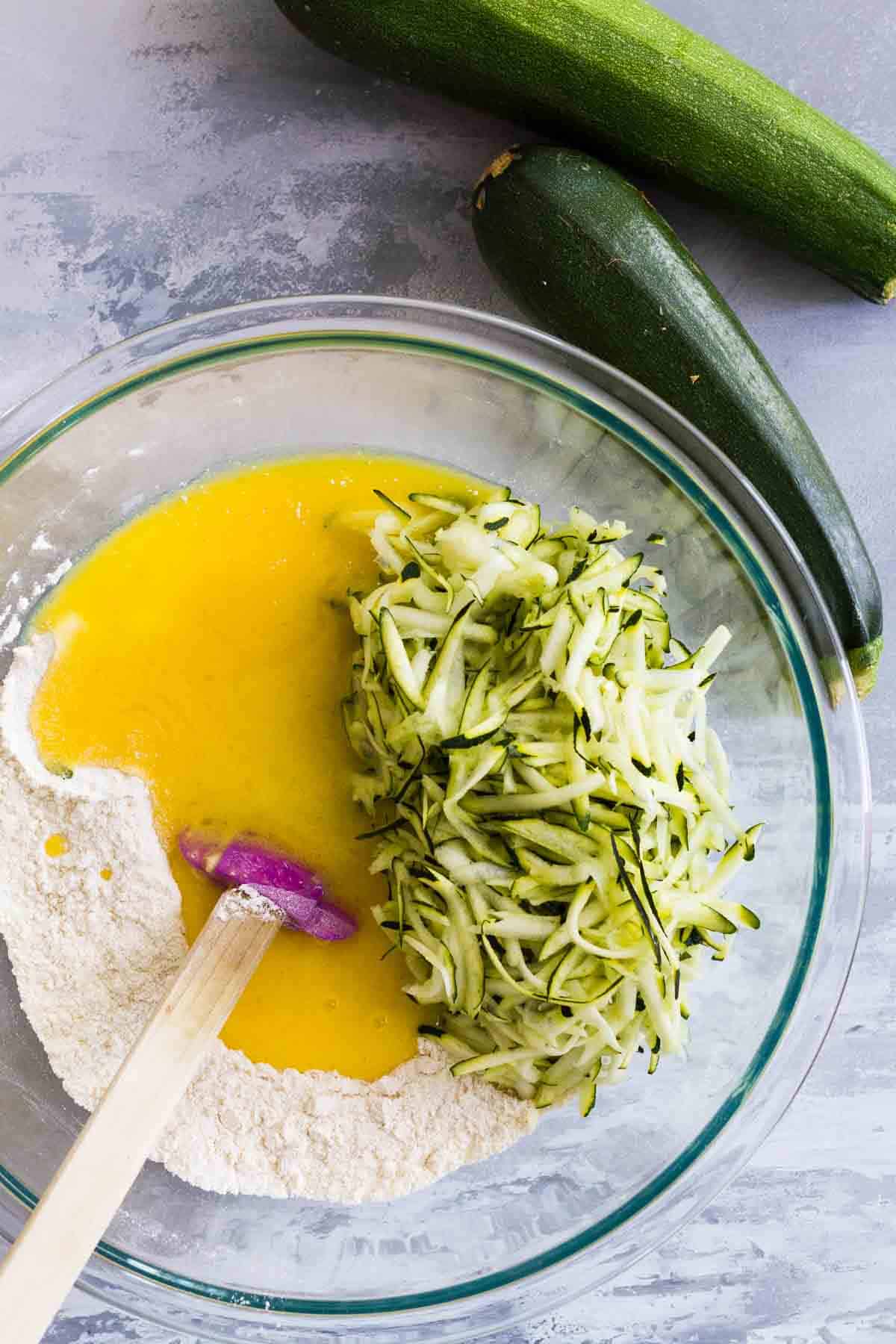 Ingredients
The thing I love the most about this zucchini muffin recipe is that the ingredients are all pantry staples. That means that you can always whip up a batch of these muffins when you have a surplus of zucchini in the garden. Or if your neighbor drops off a bag of zucchini on your doorstep.
All you need is:
flour – I use all-purpose flour. I have not tested them with another flour, but part whole wheat flour should also work.
sugar – you'll need granulated sugar.
baking powder & baking soda – this recipe uses both baking powder and baking soda to give the muffins a good rise.
salt – I prefer sea salt, but table salt will work.
cinnamon – you could also use a pumpkin pie spice or a bit of nutmeg.
eggs – use large eggs, preferably at room temperature.
vegetable oil – you could also sub in another neutral oil. Or you could also use melted butter.
shredded zucchini – if you are using a smaller zucchini, you can just shred it and use it. If you have one of those zucchini that are extra large, you'll want to shred it and then let it drain for a bit first because the water content will be higher.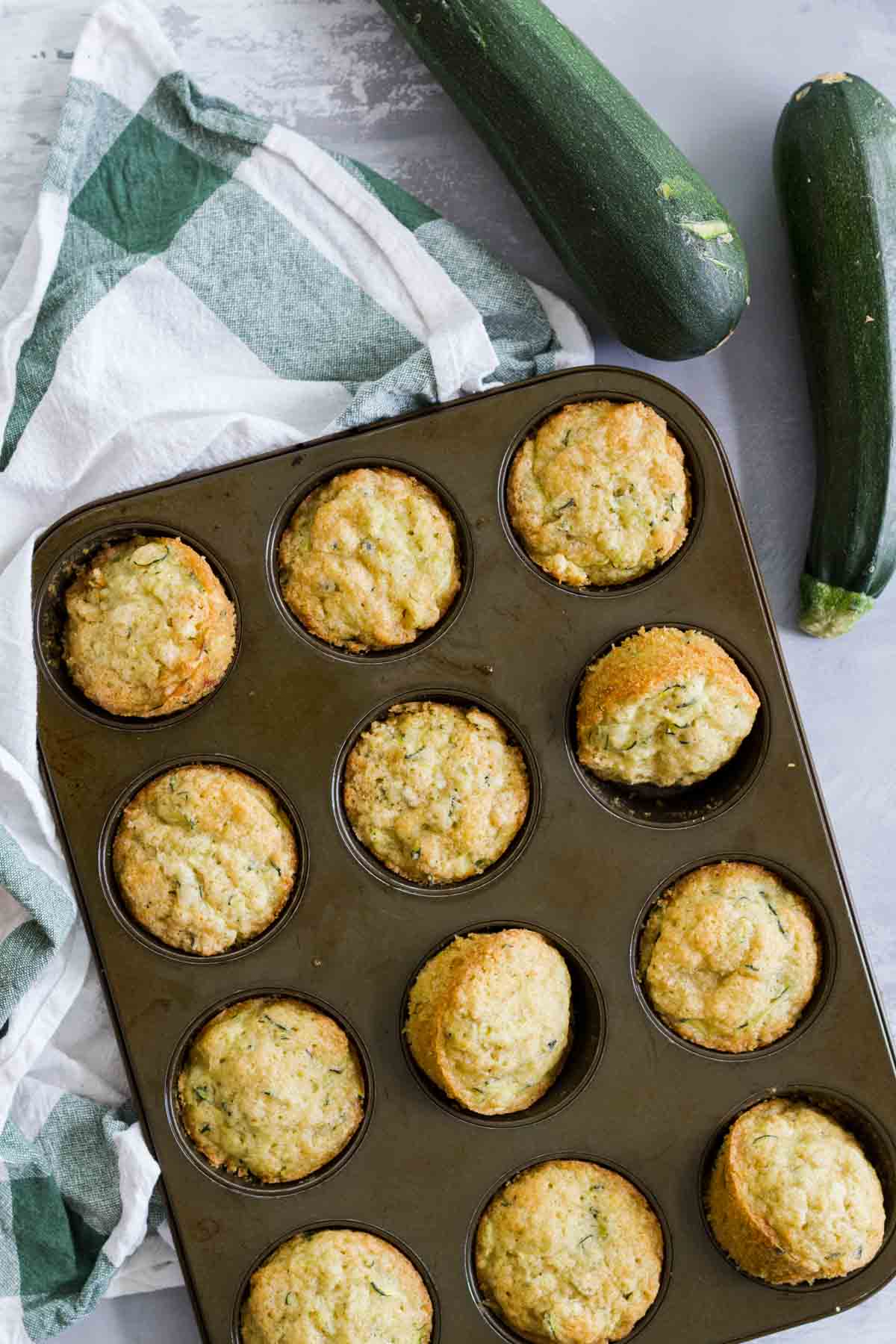 Tips for making zucchini muffins:
These muffins really are super simple. But here are a few tips and tricks to make sure they turn out amazing every time.
Spray the muffin tins generously with nonstick cooking spray. These muffins tend to stick a little bit more than some others, so making sure the muffin tins are well greased is important. You could also use paper liners.
If you get one of those extra large zucchinis that seem to hide out in the garden, people will often tell you that they are good for baking with. This is true, but they also have a higher moisture content. If you do have a large zucchini, make sure to scrape the seeds out. You may also need to drain the zucchini. To do this, line a fine mesh sieve with cheesecloth or paper towels and allow the shredded zucchini to sit until some of the moisture has drained off.
You don't need to peel the zucchini before grating it.
I use a regular grater, but feel free to use the extra fine side of the grater if you want to hide the zucchini more.
Make sure the muffins are baked through before removing from the oven. You can test them with a toothpick, or if you lightly touch the top of a muffin and it bounces back, then the muffins are done.
Allow the muffins to sit in the muffin tin for at least 10 minutes before trying to remove them from the pan. Otherwise, they may stick too much.
Feel free to add raisins, nuts, or chocolate chips (I like to use mini chocolate chips!) or anything else you may like!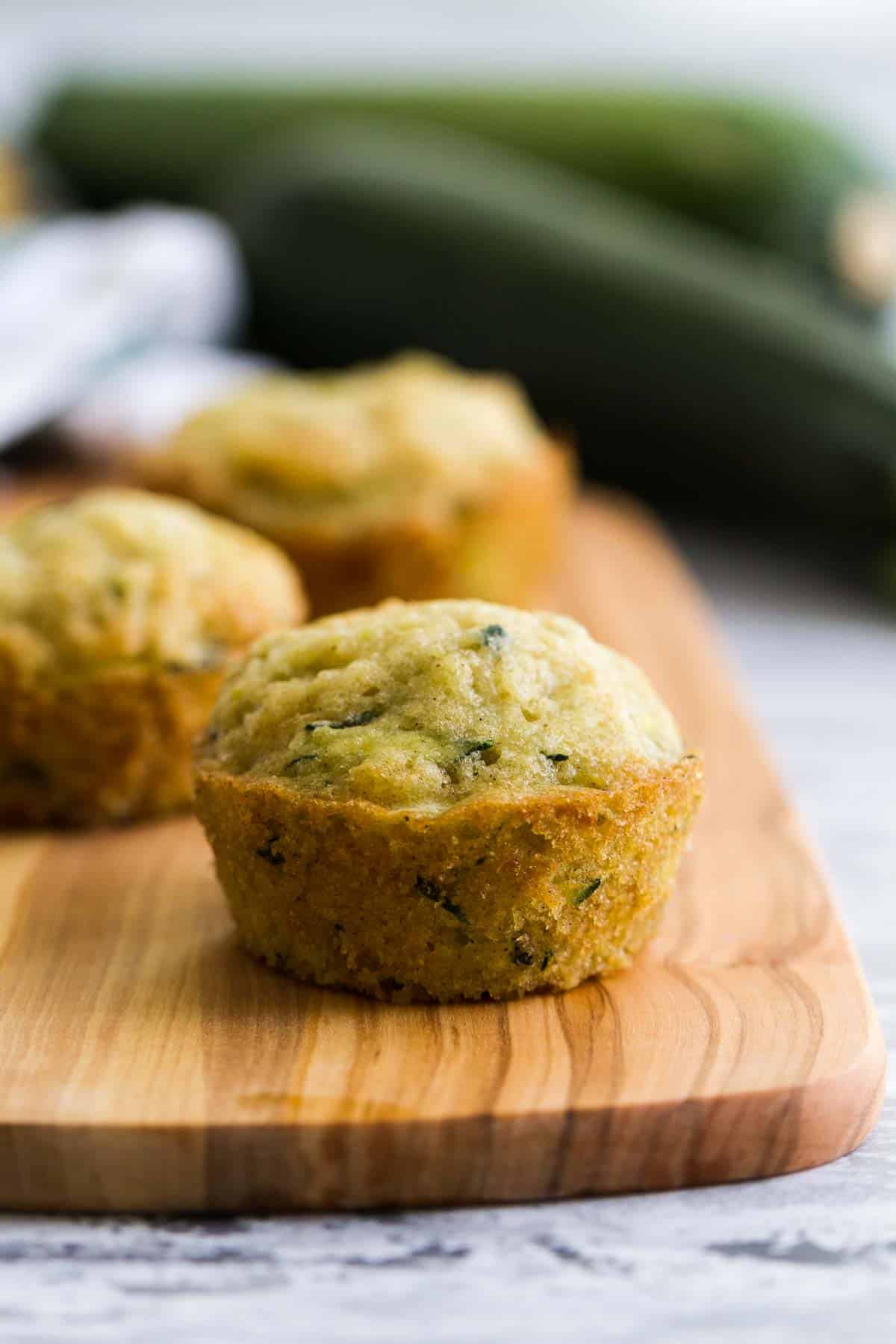 Storing and Freezing
Store the muffins in an airtight container at room temperature. They should be good for 2-3 days.
One of my favorite thing about muffins is how well they freeze. My family really likes muffins, so we don't often have a lot left over, so I will sometimes double the batch just so that I have some to freeze. To freeze muffins, just put the cooled muffins on a baking sheet. Freeze until frozen through, 3-4 hours. Then place the muffins in a labeled ziplock bag and return to the freezer. The muffins can be stored for about 3 months.
When you want to eat the frozen muffins, you can use of the following methods:
Microwave the frozen muffin in 20 second intervals until it is no longer frozen.
Wrap the muffins in foil and place in a 350º oven until they are thawed and heated through, about 5-10 minutes.
You can also place the muffin out to thaw on its own. This is especially perfect for lunch boxes, as the muffin should be fully thawed by the time it's time to eat lunch.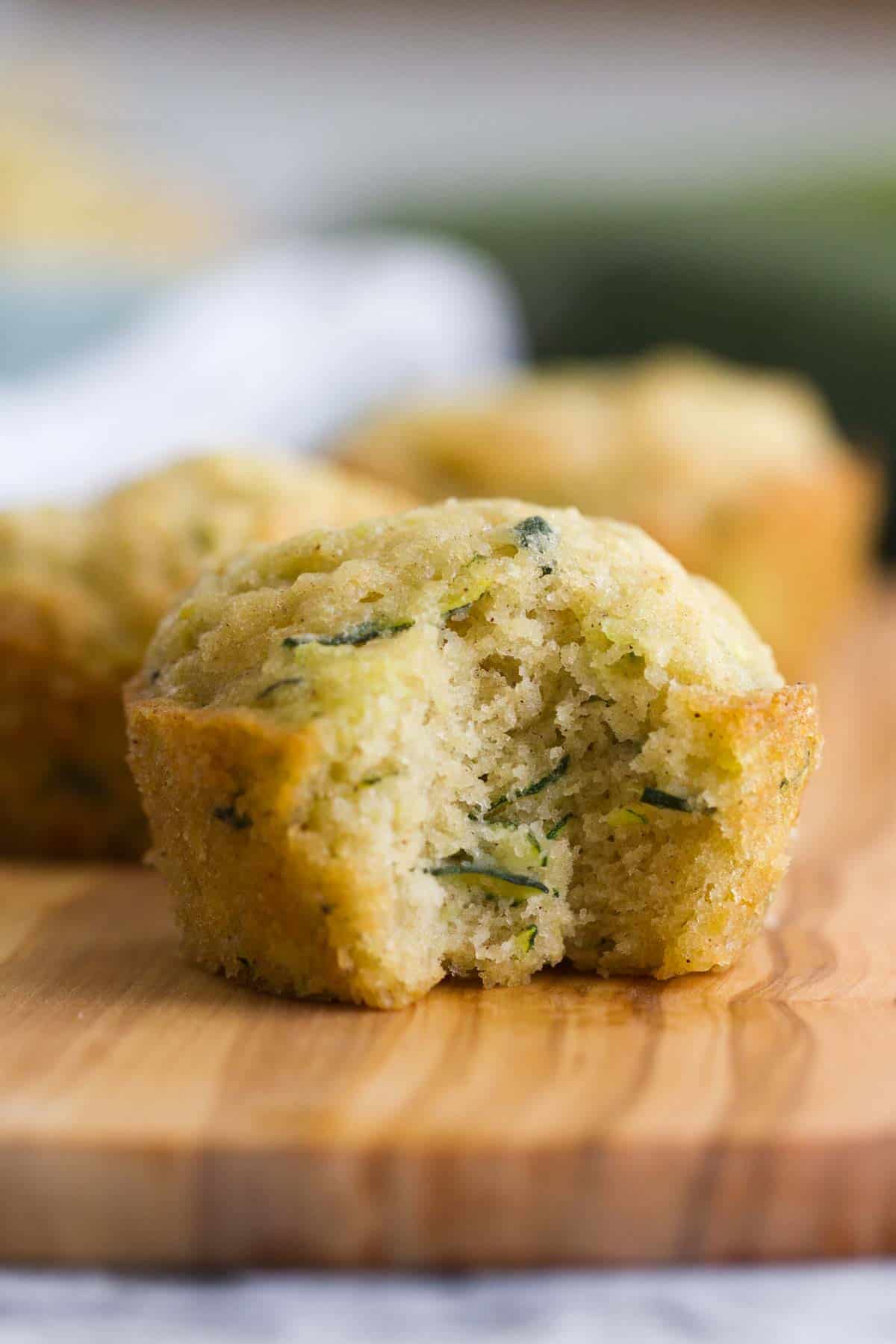 More Zucchini Recipes
Chocolate Zucchini Muffins
Glazed Lemon Poppyseed Zucchini Bread
Zucchini Cobbler Bars
Zucchini Cake with Cream Cheese Frosting
Chocolate Wave Zucchini Bread
Tools I used to make these Zucchini Muffins:
Muffin pan (my favorite standard muffin tin)
Grater (I love that this one catches everything – less mess!)
Muffin scoop (my go-to size for muffins)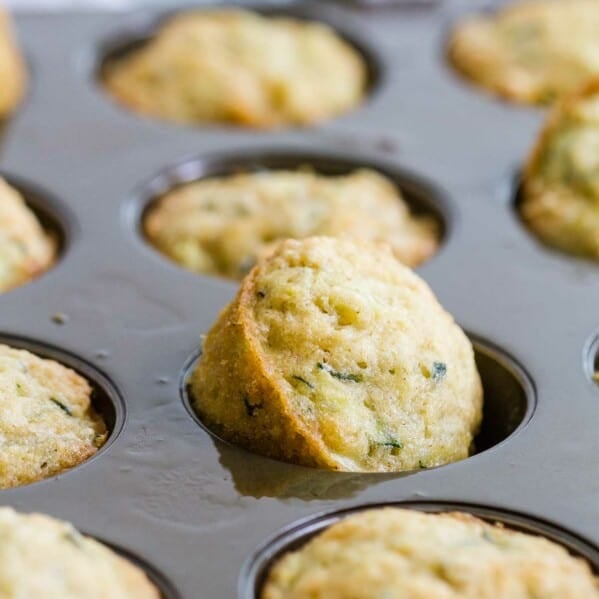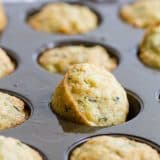 Zucchini Muffins
---
Author:
Prep Time: 10 minutes
Cook Time: 24 minutes
Total Time: 34 minutes
Yield: 12 muffins 1x
Category: Breakfast
Method: Bake
Cuisine: American
Description
No mixer needed – these Zucchini Muffins are the best classic zucchini muffins. They are the perfect zucchini recipe for all of that garden bounty! Made in one bowl, muffins just don't get easier than this!
---
Scale
Ingredients
1 1/2 cups all-purpose flour
1 cup granulated sugar
1/2 teaspoon baking powder
1/2 teaspoon baking soda
1/2 teaspoon salt
1/2 teaspoon cinnamon
2 large eggs, lightly beaten
1/2 cup vegetable oil
2 cups shredded, unpeeled zucchini*
---
Instructions
Preheat the oven to 350ºF. Spray 12 muffin cups with nonstick cooking spray.
In a large bowl, combine the flour, sugar, baking powder, baking soda, salt and cinnamon.  Add the eggs, oil and zucchini and stir just until combined. The batter will seem too dry at first, but will come together after stirring.
Divide the batter between the 12 muffin cups, filling each about 3/4 full.
Bake in the preheated oven until a tester inserted comes out clean, 20-24 minutes.  Let the muffins cool in the pan for 10 minutes before removing from the pan.
Recipe Notes:
*If your zucchini is really large, you'll want to scrape the seeds out. If it is normal sized, you can just grate the whole zucchini as is.
Nutrition information provided as an estimate only. Various brands and products can change the counts. Any nutritional information should only be used as a general guideline.
Nutrition
Serving Size: 1 muffin
Calories: 218
Sugar: 17 g
Sodium: 166 mg
Fat: 10 g
Saturated Fat: 2 g
Unsaturated Fat: 8 g
Trans Fat: 0 g
Carbohydrates: 29 g
Fiber: 1 g
Protein: 3 g
Cholesterol: 31 mg
Keywords: zucchini muffins