The best classic Zucchini Bread Recipe! A great way to use up that surplus of zucchini, this quick bread recipe is easy and perfectly spiced.
Once you've tried this classic zucchini bread recipe, change it up next time and make my Chocolate Wave Zucchini Bread!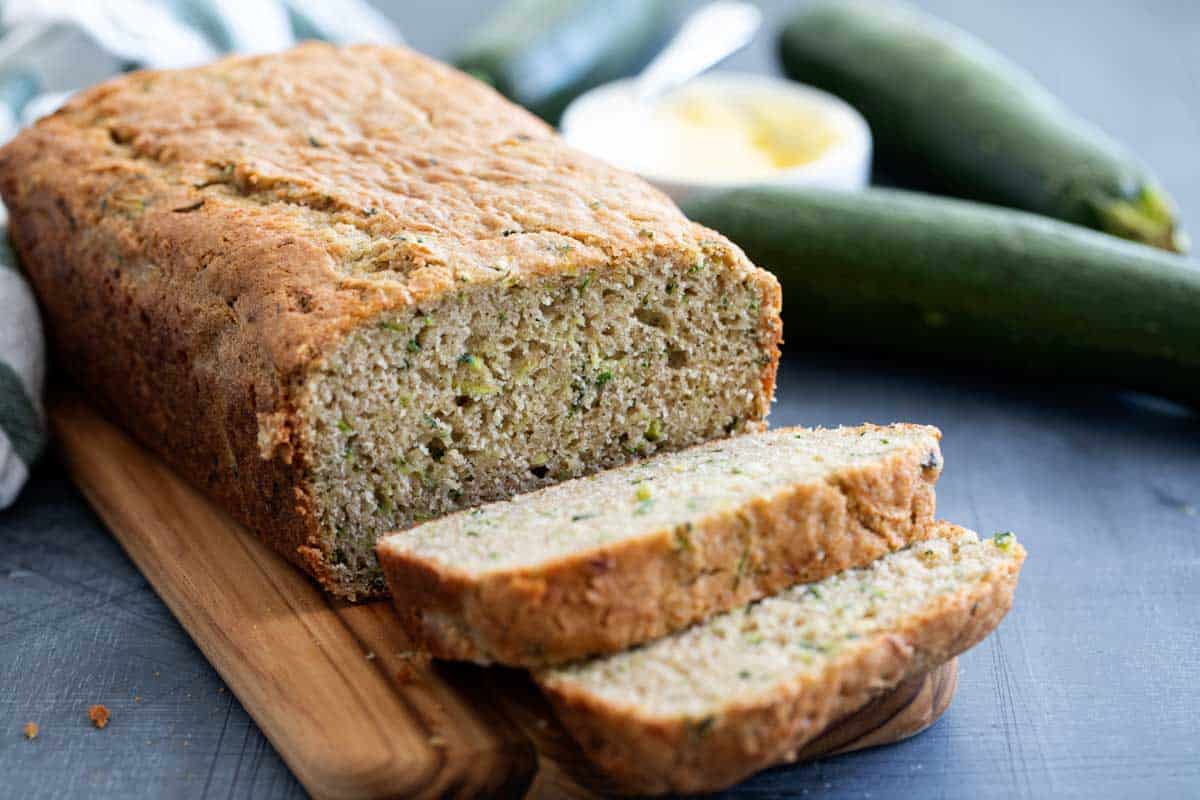 I remember the first year we had a garden. And my mistake of planting multiple zucchini plants. We were drowning in zucchini that year, which ended up not being a bad thing.
It's been several years since we've had a garden but that doesn't mean I'm any less zucchini obsessed. Especially when we have neighbors and family sharing with us. But even though I love all of the zucchini recipes out there, there is nothing that beats a good old classic slice of zucchini bread. And this zucchini bread recipe is my favorite.
It does take a little bit longer than some recipes because I suggest draining the zucchini, but most of the time is hands off. It's super easy, and always disappears!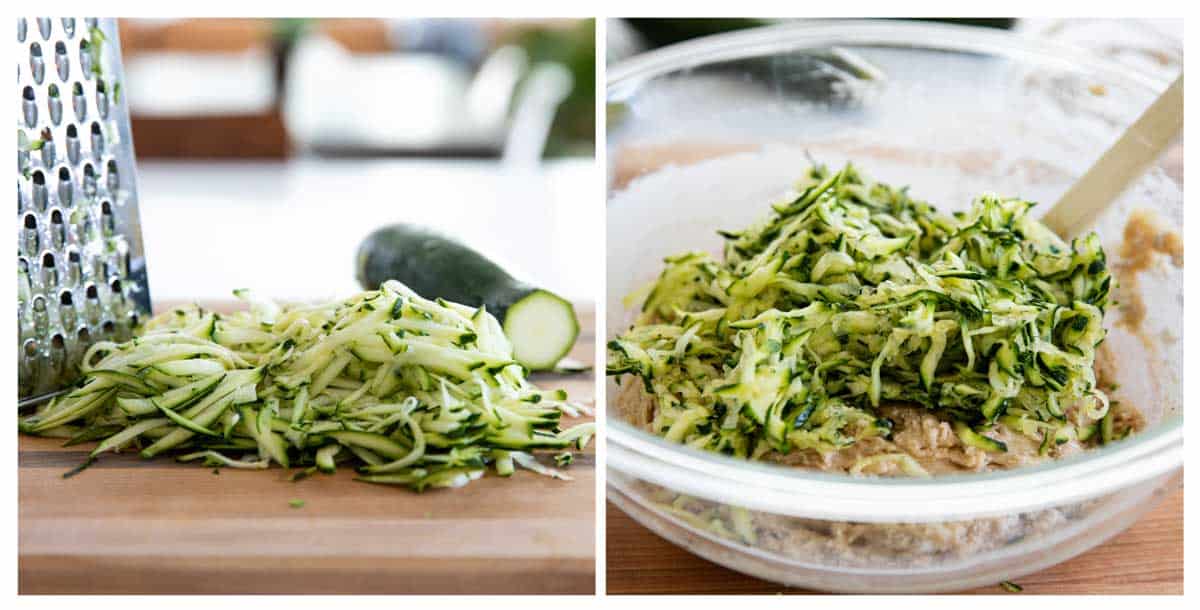 How to Make Zucchini Bread
Start by grating and draining the zucchini. You'll need to start with 1 pound of zucchini. This is about 3 cups of grated zucchini. Stir 2 tablespoons of sugar into the zucchini, then place it in a clean kitchen towel set over a colander. Place the colander in the sink or in a bowl and let it drain for about 30 minutes. Then squeeze the remaining liquid out of the zucchini. You don't have to go crazy, just get most of the liquid out.
You only need one more bowl for this recipe. In a large bowl, whisk together the remaining sugar, butter that has been melted and cooled, 2 eggs, plain Greek yogurt and fresh lemon juice. Add the flour, baking soda, baking powder, cinnamon, allspice and salt and stir these all together until it is about 75% mixed. Add in your drained zucchini and gently fold it in. You want to only stir this together until everything is moistened – do not overmix.

Pour the batter into a 9×5-inch loaf pan that has been greased or lined with parchment paper.
Bake the bread just until a tester inserted in the center comes out clean. If it starts to get too brown, cover it loosely with foil.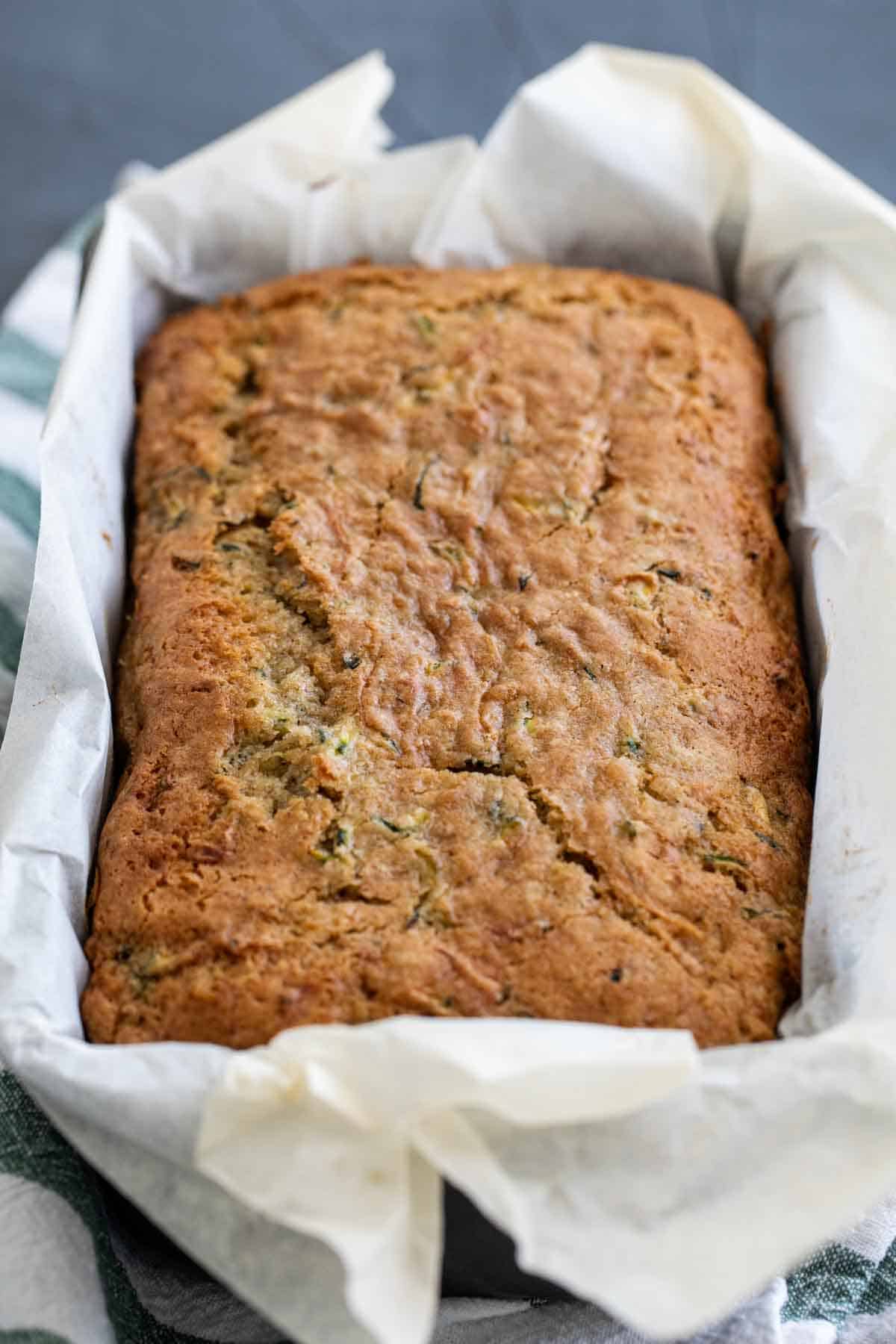 Common Questions:
Do You Have to Drain the Zucchini?
So do you really have to drain the zucchini?
I know there are other recipes out there where you don't drain the zucchini. But in order to get consistent results, I think it's necessary. Why?
Different zucchini will have different moisture contents. Large zucchini tend to have more water than small zucchini. Store bought zucchini tend to be drier than home grown zucchini. By draining the zucchini, you eliminate this variable so that your bread results will be more consistent.
That being said, the recipe will usually work if you don't, but I never know how it's going to affect the final zucchini bread, so I like to take the extra step of draining.
Why Does My Zucchini Bread Sink in the Middle?
Ah, the dreaded quick bread sink in the middle. I've had this happen more times than I care to admit.
There can be several different things that can cause your zucchini bread to sink.
The number one culprit is usually the way in which the bread was mixed. If the bread is mixed too much or too quickly, you incorporate air bubbles that will make the bread unstable. So stir the least amount that you can. And I like to do this by hand instead of with a mixer to avoid overmixing.
Make sure you are using the correct size of loaf pan. If the pan is overfilled, it can cause the bread to fall when it rises and has no more pan to "grab" onto.
If your oven is too hot, it can cause the bread to rise too quickly initially, causing it to fall later.
Altitude can cause problems, so I've outlined my high altitude changes below.
High Altitude Instructions
My elevation is about 4500 feet, but most recipes don't give me a problem when it comes to altitude. But quick breads do. I have included my adjustments on the recipe card, but here are the changes that I make for this zucchini bread:
*I increased the flour by 4 tablespoons (2 tablespoons per cup of flour).
*I decreased the baking soda to 1/2 teaspoon.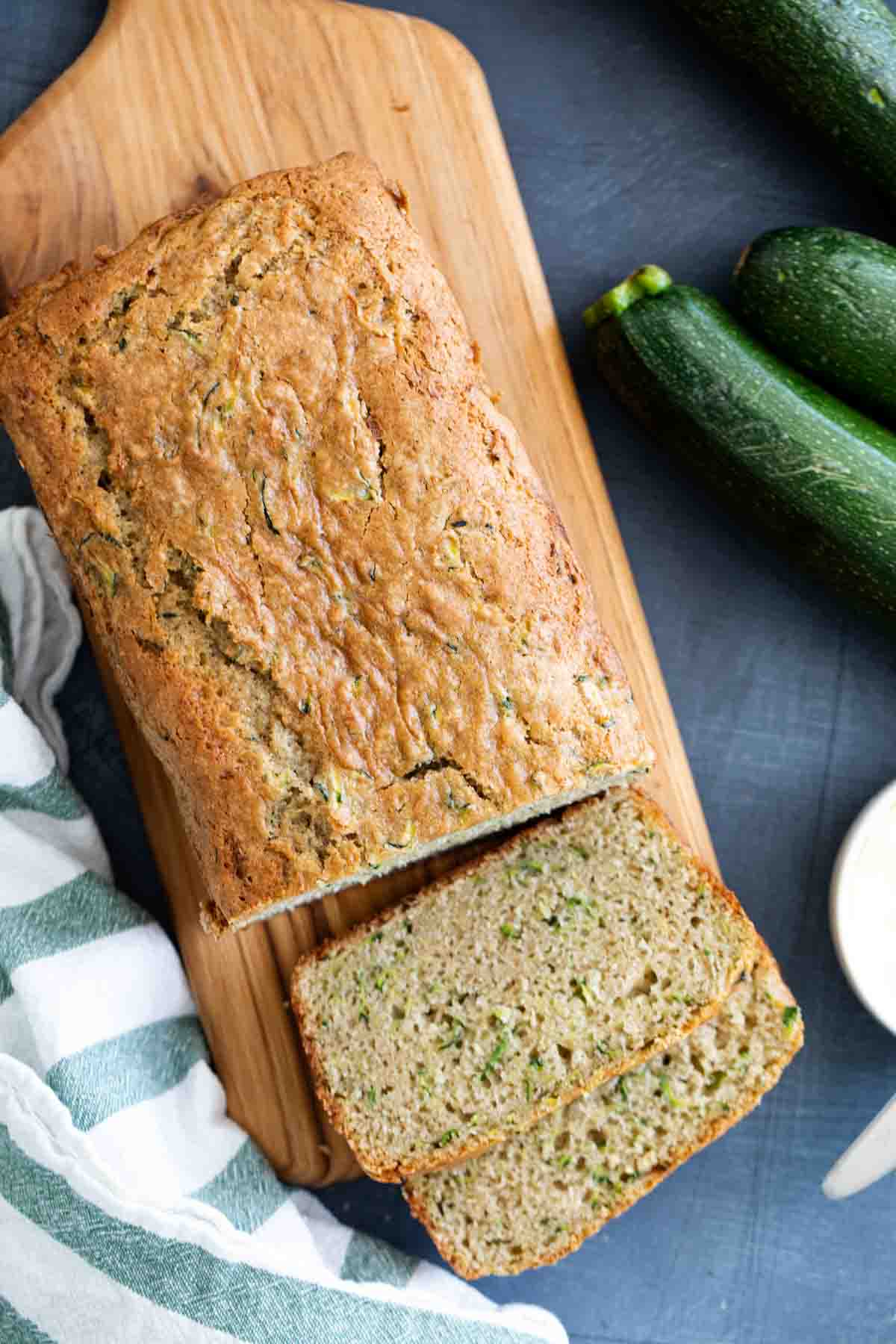 More Zucchini Recipes
Chocolate Wave Zucchini Bread
Zucchini Muffins
Pineapple Zucchini Cake with Cream Cheese Frosting
Chocolate Zucchini Muffins
Sausage and Zucchini Bake
Zucchini Parmesan
Glazed Lemon Poppy Seed Zucchini Bread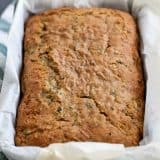 Zucchini Bread
---
Author:
Prep Time: 40 mins
Cook Time: 50 mins
Total Time: 2 hours 30 mins
Yield: 1 loaf, 12 slices 1x
Category: Quick Bread
Method: Bake
Cuisine: American
Description
The best classic Zucchini Bread Recipe! A great way to use up that surplus of zucchini, this quick bread recipe is easy and perfectly spiced.
---
Scale
Ingredients
1 pound zucchini
1 1/4 cups sugar, divided
6 tablespoons unsalted butter, melted and cooled
2 large eggs, slightly beaten
1/4 cup plain Greek yogurt
1 tablespoon fresh lemon juice
2 cups all-purpose flour
1 teaspoon baking soda
1 teaspoon baking powder
1 teaspoon cinnamon
1 teaspoon allspice
1/2 teaspoon salt
---
Instructions
Wash the zucchini and cut the ends off.
Shred the zucchini using a food processor or grater.  If using a large zucchini, cut it in half lengthwise and scoop the seeds out before grating.
Mix 2 tablespoons of the sugar into the grated zucchini. Place a clean kitchen towel in a colander, then place the zucchini on top. Place in the sink or over a bowl to drain for 30 minutes. Once the 30 minutes is up, squeeze the remaining liquid out of the zucchini through the towel.
Preheat the oven to 350ºF while the zucchini is draining. Line a 9×5-inch loaf pan with parchment paper or grease generously.
Whisk the remaining sugar, melted butter, eggs, yogurt and lemon juice together in a large bowl.
Add the flour, baking soda, baking powder, cinnamon, allspice and salt and mix until it is about 75% mixed in. Add the drained zucchini and fold together until all of the dry ingredients are wet. Be careful to not overmix.
Transfer the batter to the prepared pan. Bake until the bread is golden brown and a skewer inserted in the middle comes out clean, about 40-50 minutes. If the top starts getting too brown, cover it lightly with foil.
Let the loaf cool for 10 minutes in the pan before turning out onto a wire rack to cool completely, about 1 hour.
Recipe Notes:
*High Altitude – I added 2 additional tablespoons of all-purpose flour and reduce the baking soda to 1/2 teaspoon.
Nutrition information provided as an estimate only. Various brands and products can change the counts. Any nutritional information should only be used as a general guideline.
Nutrition
Serving Size: 1 slice
Calories: 236
Sugar: 22 g
Sodium: 208 mg
Fat: 7 g
Saturated Fat: 4 g
Unsaturated Fat: 2 g
Trans Fat: 0 g
Carbohydrates: 39 g
Fiber: 1 g
Protein: 4 g
Cholesterol: 46 mg
Keywords: zucchini bread, zucchini bread recipe