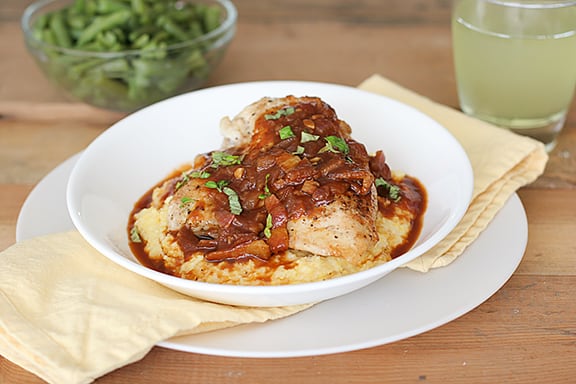 I often find myself writing blog posts in my head. Everywhere I am. Driving down the road, in the shower, and especially while I am cooking. While I was cooking this meal, I was completely planning on writing about how I didn't really like this recipe, and how it's one of the few Rachael Ray recipes that has let me down.
And then I tasted it. And I was pleasantly surprised. I actually really liked it!! Maybe it was the mood I was in when I first started cooking, but I totally wasn't feeling it at first. But I'm always happy to be wrong when I think that it's going to be bad!!
This is actually my first Rachael Ray recipe that I'm posting from one of her cookbooks. For being such a big Rachael Ray fan, and a cookbook collector, I'm kind of embarrassed that I didn't even own one of her cookbooks up until a few weeks ago. I was actually at a local thrift/donation store, (which by the way – is a great place to pick up dishes and props for photos!) and I decided to check out the cookbook section. Usually I try to stay clear of them, because they are so tempting and I really don't need another cookbook. But imagine my surprise when I saw several of Rachael Ray's cookbooks there on the shelf! I limited myself to 3 of them. You can't beat 3 cookbooks for $7! I'm so excited to add these to my (growing) list of RR recipes that I want to try!
Italian BBQ Chicken with Polenta
adapted from Rachael Ray's Big Orange Book
serves 1
total time: 30 minutes
1 bone-in chicken thigh and leg or chicken breast
salt and pepper
1 teaspoon poultry seasoning
2 tablespoons extra-virgin olive oil
1 slice bacon, chopped
1/2 medium red onion, chopped
1 garlic clove, chopped
2 tablespoons balsamic vinegar
1 tablespoon brown sugar
1 teaspoon Worcestershire sauce
1/2 cup tomato sauce
1 cup chicken stock
1/2 cup milk
1/3 cup quick-cooking polenta
1 tablespoon butter
1/4 cup freshly grated Parmesan cheese
a few leaves of basil, torn
Preheat the oven to 400F. Place a baking sheet or a baking dish in the oven to heat.
Season the chicken with salt and pepper and the poultry seasoning on both sides. Heat 1 tablespoon of the olive oil in a saute pan. Add the chicken and brown on both sides. Transfer the chicken to the baking sheet or baking dish and bake until cooked through to 165F, 15-20 minutes.
Meanwhile, add the remaining 1 tablespoon of olive oil to the pan. Add in the bacon and cook until crisp, 3 to 4 minutes. Add the onion and garlic and cook for 5 minutes. Add the vinegar, brown sugar, Worcestershire sauce, tomato sauce and 1/2 cup of the chicken stock. Bring to a bubble and then let simmer until slightly thickened.
In a saucepan, combine the remaining 1/2 cup chicken stock and the milk. Bring to a boil and whisk in the polenta. Season with salt and pepper and whisk until thickened, 2 to 3 minutes. Remove from the heat and add the butter and Parmesan.
Serve the chicken over the polenta and topped with the bbq sauce and torn basil.