This Italian BBQ Chicken with Polenta is comforting and full of flavor! Bone in chicken is topped with an easy homemade bbq sauce and served over creamy polenta.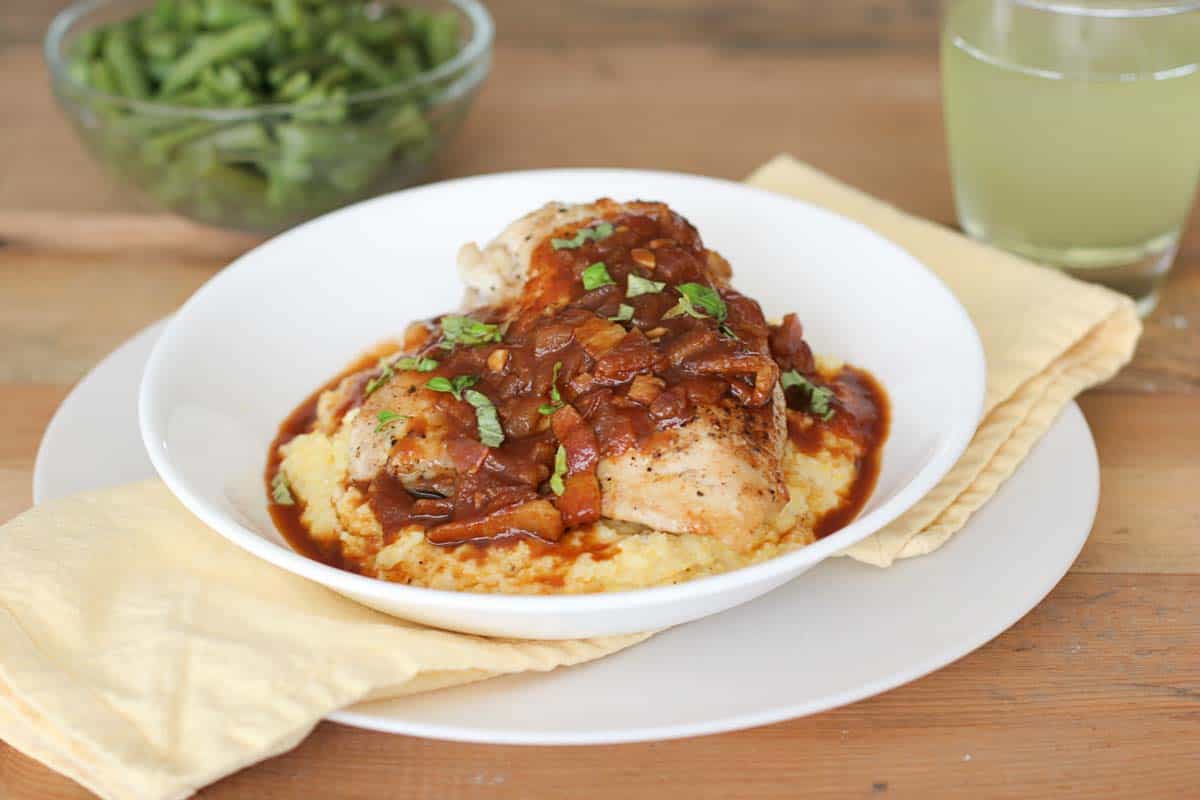 I often find myself writing blog posts in my head. Everywhere I am. Driving down the road, in the shower, and especially while I am cooking. While I was cooking this meal, I was completely planning on writing about how I didn't really like this recipe, and how it's one of the few Rachael Ray recipes that has let me down.
And then I tasted it. And I was pleasantly surprised. I actually really liked it!! Maybe it was the mood I was in when I first started cooking, but I totally wasn't feeling it at first. But I'm always happy to be wrong when I think that it's going to be bad!!
This is actually my first Rachael Ray recipe that I'm posting from one of her cookbooks. For being such a big Rachael Ray fan, and a cookbook collector, I'm kind of embarrassed that I didn't even own one of her cookbooks up until a few weeks ago. I was actually at a local thrift/donation store, (which by the way – is a great place to pick up dishes and props for photos!) and I decided to check out the cookbook section. Usually I try to stay clear of them, because they are so tempting and I really don't need another cookbook. But imagine my surprise when I saw several of Rachael Ray's cookbooks there on the shelf! I limited myself to 3 of them. You can't beat 3 cookbooks for $7! I'm so excited to add these to my (growing) list of RR recipes that I want to try!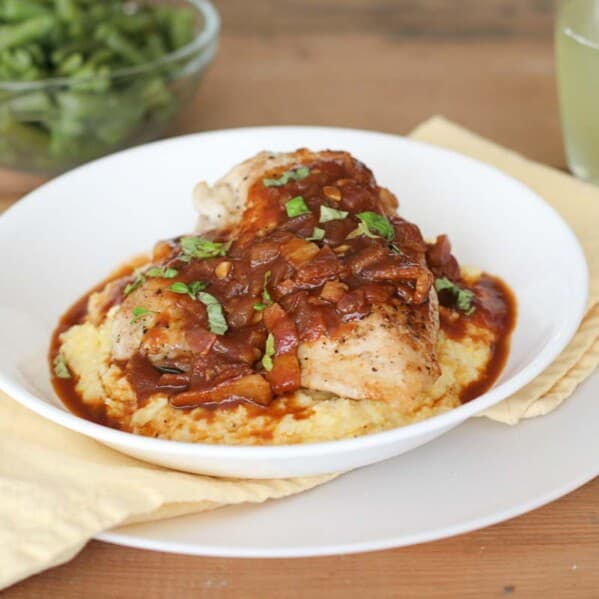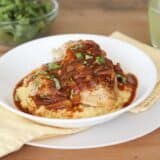 Italian BBQ Chicken with Polenta
---
Author:
Prep Time: 20 minutes
Cook Time: 30 minutes
Total Time: 50 minutes
Yield: 4 servings 1x
Category: Main Dish
Method: Stove Top, Baked
Cuisine: Italian
Description
This Italian BBQ Chicken with Polenta is comforting and full of flavor! Bone in chicken is topped with an easy homemade bbq sauce and served over creamy polenta.
---
Scale
Ingredients
4 bone-in chicken thighs, legs, or chicken breasts
salt and pepper
4 teaspoons poultry seasoning
1/4 cup extra virgin olive oil
4 slices bacon, chopped
1 medium red onion, chopped
4 cloves garlic, minced
1/2 cup balsamic vinegar
1/4 cup light brown sugar
4 teaspoons Worcestershire sauce
2 cups tomato sauce
4 cups chicken stock
2 cups milk
1 1/3 cups quick cooking polenta
1/4 cup butter
1 cup freshly grated Parmesan cheese
fresh basil, torn
---
Instructions
Preheat the oven to 400ºF. Place a baking sheet in the oven while it is preheating.
Season both sides of the chicken with salt and pepper and the poultry seasoning.
Heat the olive oil in a saute pan. Add the chicken and brown on both sides. Transfer the chicken to the baking sheet in the oven.  Bake until the chicken is cooked to 165ºF, about 15-20 minutes.
While the chicken is in the oven, cook the bacon in the same pan that you used for the chicken. Cook until it is crisp, 3 to 4 minutes. Remove with a slotted spoon. Add the onion and garlic and cook until translucent, then add the vinegar, brown sugar, Worcestershire sauce, tomato sauce, and 2 cups of the chicken stock. Bring to a boil, then let it cook until slightly reduced and thickened. Stir in the bacon.
In another saucepan, combine the remaining 2 cups of chicken stock and the milk. Bring to a boil, then whisk in the polenta. Whisk until thickened, 2 to 3 minutes. Remove from the heat and stir in the butter and parmesan. Season to taste with salt and pepper.
Serve the chicken over the polenta and top with the bbq sauce. Garnish with fresh basil.