Chicken thighs are cooked in the slow cooker in a tomatillo and pasilla pepper mixture, then served up in tortillas for these Tomatillo Chicken Tacos.
It is that time of year when everyone seems to be pulling out their slow cookers. I think there is something about the cooling of the weather and the changing of the seasons that make us want that is slow cooked and comforting. And easy, since I swear this time of year until the end of the year is so busy that I can't even see straight most of the time.
So to celebrate our love of the slow cooker, I have another cookbook review for you today!!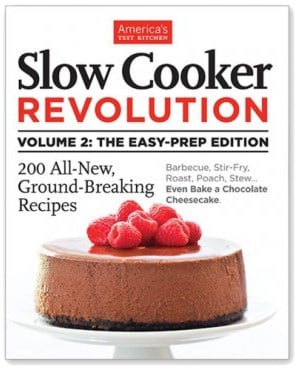 I've mentioned it before, but I have this little problem when it comes to Costco. I cannot keep myself away from the cookbook aisle. Every single time I walk into the store, it's like some magnetic force pulls me over and makes me want to buy all the cookbooks. And let's be honest, it's a pretty common occurrence for me to walk out with one. This time it was Slow Cooker Revolution Volume 2: The Easy Prep Edition from America's Test Kitchen.
I was talking to a couple food bloggers a little while back, and I admitted that I'm not a total slow cooker lover. What? – you ask? I know, I know – I actually post crock pot recipes fairly often. And it's not that I hate them. It's that I think that there are a lot of bad ones out there. I'm not a fan of the whole – throw your chicken and other ingredients into the slow cooker and let them cook for 10 hours. Because I think that most proteins get a weird texture after being in the slow cooker for a long time. Or the end up tasting really watered down. So I'm pretty picky with my slow cooker recipes. I probably have more failures in the slow cooker than I do any other kind of recipe.
So I went into this cookbook not knowing what to expect.
But I trusted it, because it is America's Test Kitchen, after all. And it didn't let me down.
In fact, I think that I could have been right there in the ATK kitchens, slow cooking right alongside those recipe testers. Because they seem to agree with me on the fact that recipes aren't meant to be left in the slow cooker for 10 hours to cook.
I was excited to jump in, and ended up bookmarking probably 20 recipes right off the bat. I was reluctantly able to narrow it down to 3, but I'm sure I'll be making a lot more from this book over the next months.
Number of Photos: Lots
There isn't a photo of every dish, but probably every 3rd dish. It definitely does not feel like it's lacking photos, and there are a few step by step photos for steps that require them.
Difficulty Level of Recipes: Easy
These recipes don't require a lot of prep work. Most of them are dump and cook recipes.
Availability of Ingredients: Easy
These all have pretty easy ingredient lists. I do need to mention, though, that there are recipes that call for things like canned condensed soup or jarred Alfredo sauce. I have to admit that it wasn't until I sat down to type up this review that I noticed that this is a second volume, and that it is the easy-prep edition. If I would have noticed that, it would have made a lot more sense to me early on why there were so many prepared ingredients in the ingredient lists. I do like to cook from scratch, but I do know that sometimes I just need something easy. And these ingredients are used to make things easy. I ended up using one of these shortcuts with jarred tomatillo salsa for the chicken tacos listed below, and it was a great shortcut.
Here's what I made: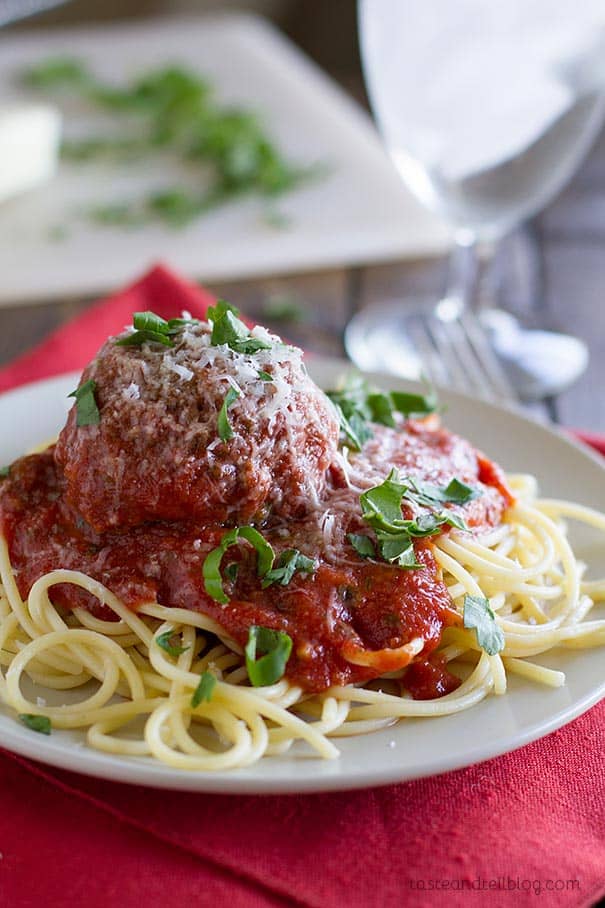 Pesto Meatballs and Marinara
I'm a fan of meatballs in the slow cooker, and I had just made a big batch of pesto, so this recipe was a no-brainer for me. I should have read through the recipe better before I started, though, as I accidentally put all of the pesto in the meatballs instead of half in the meatballs and half in the sauce.
This recipe is different in that after you make the meatballs, you microwave them for a few minutes to start the cooking process and to get rid of some of the fat and grease. I had never done this before, but it worked perfectly!
This recipe was delicious, and the kids thought it was fun to have one really big meatball instead of lots of small ones!
Farmhouse Chicken Casserole
This is the recipe you make if you are looking for total comfort food. Boneless chicken thighs are cooked with lots of veggies in a creamy sauce. The recipe calls for putting croutons on top of the casserole to finish it off, but it also gives the suggestion to use some torn baguette to make "rustic croutons". I wish I would have done the baguette, because I wasn't totally sold on the croutons. I think they were just a little too crunchy. But the actual casserole? YUM!
Tomatillo Chicken Tacos (recipe below)
It's pretty obvious by now that I can't turn down a good taco. I don't make chicken tacos often enough, so I knew this one needed to go on the menu. It does take a big shortcut by using jarred salsa, but then again, the prep time is minimal because of that! These are super simple chicken tacos, and maybe that's why I liked them so much, but I couldn't get enough of them. I loved the lime juice and cilantro that are stirred in in the end, and the avocados that are served with the chicken tacos. They all bring in that element of fresh that I think is definitely necessary when you are making slow cooker recipes. These Tomatillo Chicken Tacos are definitely a way to step up Taco Tuesday!!
Overall thoughts:
I didn't think I'd go crazy for a slow cooker cookbook, but I'm totally going crazy over this book. I cannot wait to tackle the dessert chapter – especially that cheesecake on the cover. I thought there was a good variety of recipes throughout the book, and I had such great luck with the recipes that I did try. I can't wait to tackle the rest of the recipes that I have saved!
Some Recipes I Want to Try:
Tomato Florentine Soup
Unstuffed Chicken Cordon Bleu
Italian Meatloaf
Easy Mexican Lasagna
Chocolate Cheesecake
Buy it on Amazon
Slow Cooker Chicken Tacos
---
Author:
Prep Time: 15 mins
Cook Time: 5 hours
Total Time: 5 hours 15 mins
Yield: 6-8 servings 1x
Description
Chicken thighs are cooked in the slow cooker in a tomatillo and pasilla pepper mixture, then served up in tortillas for these Tomatillo Chicken Tacos.
---
Scale
Ingredients
1 cup jarred tomatillo salsa
2 pasilla peppers, stemmed, seeded and chopped
1/4 teaspoon dried oregano
salt and pepper
3 pounds boneless, skinless chicken thighs
1/4 cup minced fresh cilantro
2 tablespoons lime juice
12–16 (6-inch) flour tortillas, warmed
2 avocados, diced
---
Instructions
Combine the salsa, peppers, oregano, 1/4 teaspoon salt and 1/4 teaspoon pepper in a slow cooker. Season the chicken thighs with salt and pepper, then place in the salsa mixture.
Cover and cook on low until the chicken is cooked and tender, 4 to 5 hours.
Remove the chicken from the slow cooker to a cutting board and shred the chicken using 2 forks. Return the chicken to the slow cooker, then stir in the cilantro and lime juice.
To serve, fill each tortilla with the chicken mixture and top with diced avocados.
**This post contains affiliate links. If you purchase an item from Amazon from the link Taste and Tell receives a small commission. Thank you for supporting Taste and Tell through your purchases!**