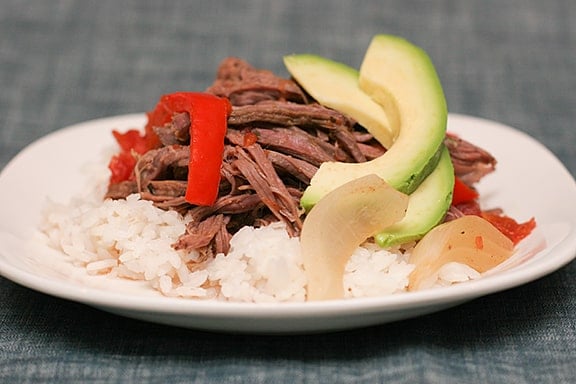 Have you ever planned something for dinner, but then wanted something completely different? So then what you had planned does not sound good to you at all? That's kind of what happened with this meal.
It was Saturday, and the plan for the day was to drive up to Salt Lake to scout out some photo locations. So that morning before we left, I prepped dinner and threw it in the slow cooker. Of course I would choose that morning to not really eat any breakfast, and I left the house hungry. As we were driving around, we kept passing restaurants that we don't have down where I live, and I'm immediately hungry. My husband asks if I want to stop somewhere, but it's raining outside, we have the dog with us, and my daughter is asleep in the back seat. It was easier to just pass everything by. Several hours pass, and soon, we are on our way back home. We get home, and suddenly, I get a big time craving for a hot dog from Costco. Yeah, weird craving – I know!! (And no – I'm not pregnant!) Dinner is almost ready, since I started the slow cooker that morning, but all I keep thinking to myself is how it does not sound good at all to me right now. But I can't very well go out and get dinner when I have dinner almost ready at home. So I stop complaining, and soon, dinner is served.
Now, I'll be the first to admit that when something doesn't sound very good, it usually just doesn't taste very good. But this was so much better than I was expecting!! At the end of the meal, my plate was empty, and I was wondering why this didn't sound good to start with!! I didn't have any cilantro (the darn grocery store was out when I went shopping) and I think that would have really made a great addition, but the recipe was still good without it. The only change I would have made would have been to add the peppers halfway through instead of at the beginning, because they were pretty soft, and I like them with a little bit more of a bite. But it was delicious – and it's so much healthier than a Costco hot dog!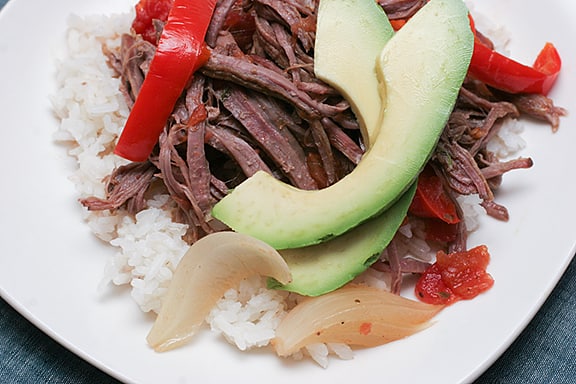 Cuban Braised Beef and Peppers
A take on the Cuban dish ropa viejo, this beef is slow cooked with tomatoes, peppers and onions and served over rice.
Ingredients
1 28-ounce can diced tomatoes, drained
2 red bell peppers, sliced ½-inch thick
1 onion, cut into 8 wedges
2 teaspoons dried oregano
1 teaspoon ground cumin
kosher salt and black pepper
1 1 /2 pounds flank steak, cut crosswise into thirds
1 cup long-grain white rice
1 avocado, sliced
¼ cup fresh cilantro leaves
Instructions
In a 5- to 6-quart slow cooker, combine the tomatoes, bell peppers, onion, oregano, cumin, 1½ teaspoons salt, and ¼ teaspoon pepper. Nestle the steak among the vegetables. Cook, covered, until the meat is tender and pulls apart easily, on high for 4 to 5 hours or on low for 7 to 8 hours.
Twenty-five minutes before serving, cook the rice according to the package directions.
Using two forks, shred the beef and mix it into the cooking liquid. Serve with the rice and top with the avocado and cilantro.
------------------
Others who have made this recipe: