Pin It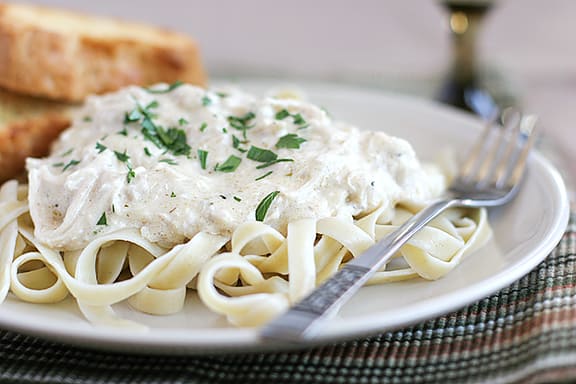 Yep – another slow cooker recipe!! I told you, my slow cooker has been getting lots of use lately!
And just because I'm curious – since it seems like slow cookers are becoming all the rage again, how often do you actually use your slow cooker? Just curious….
This is a change up on what I have learned is a pretty popular slow cooker recipe. The original calls for cream-of-something soup, and some pre-mixed spices. But this one is completely from scratch! (Except the pasta, I guess. I'm not venturing into making my own fettuccine right now!) Yes, the ingredient list looks quite long, but I'm guessing that you probably have most of the items on hand. And hey – if you really want to cut down on the number of ingredients and shave a few minutes off the prep time, feel free to substitute in a couple cans of your favorite cream-of-something soup!
Slow Cooker Chicken Fettuccine
A slow cooked creamy Italian chicken, served over fettuccine noodles. You can make it even easier by substituting the from-scratch sauce for a can of condensed cream of chicken soup.
Ingredients
3 boneless, skinless chicken breasts
¼ cup butter
½ tablespoon salt
¼ teaspoon dried parsley
¼ teaspoon garlic powder
⅛ teaspoon dried oregano
¼ teaspoon dried basil
¼ teaspoon paprika
¼ teaspoon celery salt
1½ teaspoons sugar
⅛ teaspoon pepper
½ teaspoon dry mustard
1 teaspoon olive oil
1 tablespoon chopped onion
1 clove garlic, finely chopped
¾ cup chicken broth
¾ cup milk, divided
1 teaspoon chopped fresh parsley
⅛ teaspoon lemon pepper
⅓ cup all-purpose flour
8 oz cream cheese
¼ cup water
1 lb fettuccine noodles, prepared to al dente
Instructions
Put the chicken breasts in the bottom of a slow cooker. Place the butter on top of the chicken.
In a small bowl, combine the salt, parsley, garlic powder, onion powder, oregano, basil, paprika, celery salt, sugar, pepper and dry mustard. Mix together, then sprinkle over the chicken.
Cook the chicken on low for 4 hours, or until it is cooked through. Shred the chicken and return it to the slow cooker.
Meanwhile, make the sauce: In a saucepan, heat the olive oil. Cook the onion until translucent, about 3-5 minutes. Add in the garlic and cook an additional minute. Whisk in the chicken broth and ¼ cup of the milk. Add in the parsley and lemon pepper and let it simmer for 1-2 minutes.
In a small bowl, whisk together the flour with the remaining ½ cup of milk. Add into the broth mixture and whisk until there are no lumps. Cook until thickened.
Add the sauce to the slow cooker with the chicken. Add in the cream cheese and the water, stir to combine, and cook an additional hour, or until the cream cheese is melted and all of the ingredients are combined. Serve over prepared fettuccine noodles.
This post was sponsored by Tablespoon, but all opinions are my own.