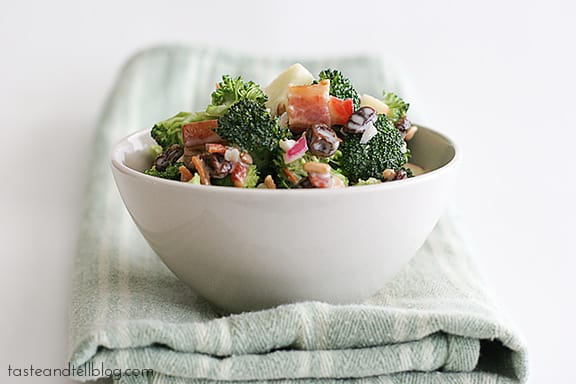 I think that I'm the only food blogger out there that isn't posting about pumpkin and apples and the flavors of fall. It's not that I'm not wanting them. It's the exact opposite, in fact. All I've wanted to do this last week is bake up something that makes the house smell like fall. But, like I mentioned in my post last Saturday, I've been staying at my in-laws, and cooking has just not been convenient. So nothing fall-ish is coming from my kitchen yet, but don't worry – it will be coming soon!
Instead, I bring you yet another pregnancy craving. I wanted this salad so bad, and I wanted the traditional version – mayo and all. I snacked on it so much while I was making it, then kept going back to the fridge for a bite here and there before I took it to a dinner with family. But the funny thing is that by the time I got to the dinner, I didn't want any more of it! I guess I had my fill all during that day!
This is a recipe that I'm sure everyone has had at one point or another. But sometimes those classics are the best! I had never had apples in it before, but my husband said that I needed to add them, and it was a great suggestion. And it's a salad that is sure to please anyone!
Broccoli Salad
A simple broccoli salad with a mayonnaise dressing.
Ingredients
4 stalks broccoli, chopped
5 strips bacon, cooked and crumbled
½ cup sunflower seeds
1 cup raisins
½ cup chopped red onion
½ cup diced apple
¼ cup white vinegar
1 cup mayonnaise
½ cup sugar
Instructions
In a large bowl, combine the broccoli, bacon, sunflower seeds, raisins, red onion and apple. In a small bowl, combine the vinegar, mayonnaise and sugar. Pour vinegar mixture over the broccoli mixture and refrigerate until ready to serve.