When it comes to posting, I'm usually on top of things. I've always got my calendar scheduled out, and I usually have at least a couple weeks worth of recipes always ready to post. (Now if only I could get that organized in the rest of my life!!) And since I've been thinking about red velvet since the end of my Red Velvet Week last year, you would think that I would have been working on these recipes since October.
But in all honesty, I just finished up tomorrow's recipe yesterday. These red velvet recipes have really been a challenge for me this year!! I said the other day on the Red Velvet Tres Leches Cake that I made it twice. And these rolls? Well, they aren't exactly what I set out to make in the first place. In fact, they came about on try #3. I must be off my kitchen mojo, because my original idea just wouldn't work out for me. (Now I have to save it for next year!)
But that's ok, because what I ended up with are a treat that is probably pretty unexpected for most people. Red Velvet Rolls. Yep, these have yeast, but don't be scared. They really are quite simple. And although they get the "red velvet" from a boxed cake mix, they are surprisingly not super sweet. In fact, my mom ate hers with some butter on it.
I think these rolls would be the perfect addition to a brunch menu. Especially a Valentine's brunch menu. The cream cheese glaze gives them the perfect amount of sweetness. And hey – any time I can have an excuse to eat bread, I'll take it!
Red Velvet Rolls with Cream Cheese Glaze
Easy red velvet rolls are made with a cake mix as the base. The cream cheese glaze makes them perfect for a brunch.
Ingredients
2½ cups warm water, divided
4½ teaspoons active yeast
½ teaspoon sugar
1 (18.25 oz) package red velvet cake mix
1 tablespoon red food coloring
5-6 cups all-purpose flour
4 oz cream cheese, softened
½ cup powdered sugar
1 teaspoon vanilla
5-6 tablespoons milk
Instructions
In the bowl of a stand mixer, combine 1 cup of the warm water with the yeast and the sugar. Let it sit for 10 minutes to activate the yeast. Add in the dry cake mix, red food coloring and remaining 1½ cups warm water. Mix. Add in 3 cups of the flour and mix to combine. Continue adding flour until the dough pulls away from the side of the bowl. Knead for 4-6 minutes.
Cover the bowl and place in a warm area and let rise until doubled, 1 - 1½ hours.
Punch down dough. Spray 36 muffin tins with nonstick cooking spray. Pinch off about 1 tablespoon of dough at a time and roll into a ball. Place 3 balls in each muffin tin. Continue with the rest of the dough.
Cover and let rise for another 30-45 minutes.
Heat the oven to 350F. Bake the rolls until cooked through, about 20 minutes. Let cool completely.
To make the glaze, beat together the cream cheese, powdered sugar and vanilla. Add in the milk, 1 tablespoon at a time, until the glaze is thin enough to drizzle over the rolls. Drizzle the glaze over and allow to set up.
And now to the link up. First up, a few posts from last week that caught my eye!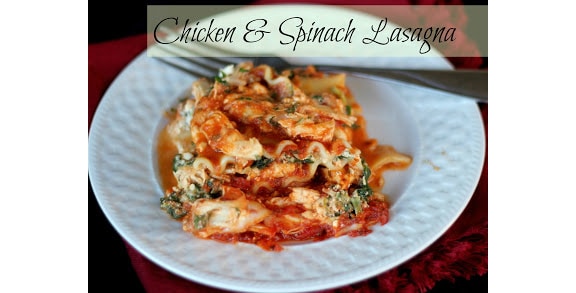 Chicken and Spinach Lasagna from The Unsophisticated Kitchen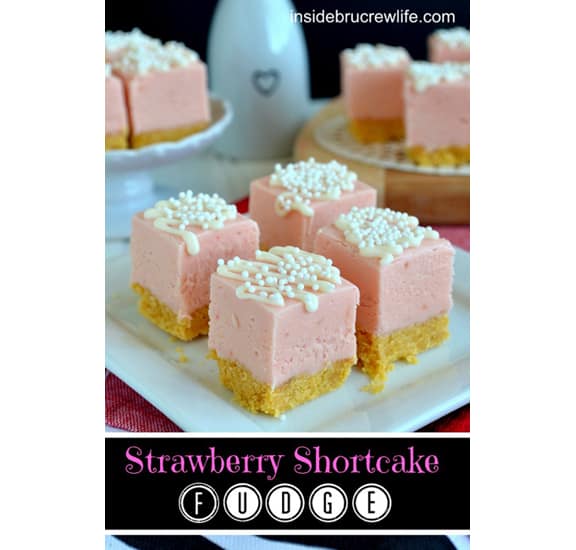 Strawberry Shortcake Fudge from Inside BruCrew Life (the most clicked recipe for the week!)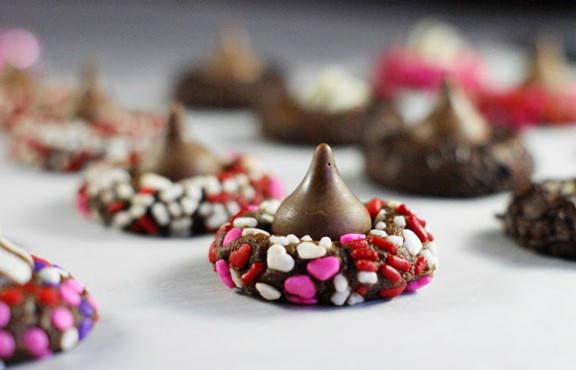 Chocolate Valentine Kiss Cookies from The Kitchen is My Playground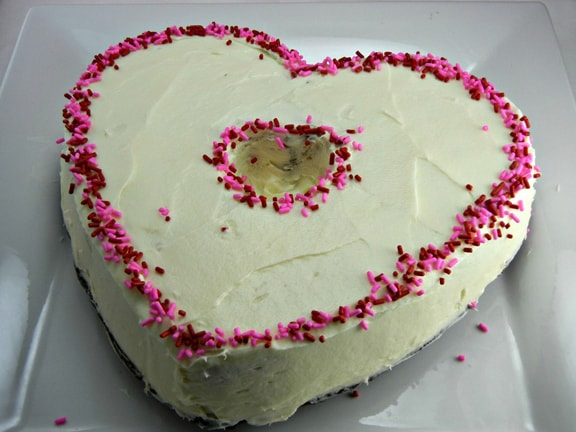 Chocolate Cherry Cake with Vanilla Cream Cheese Frosting from The Tasty Fork
The rules for the link up are simple:
1 – you can link up to any recipe
2 – link must be to a blog post – no etsy stores or advertisements
3 – please add a link in your post back to this post
4 – you can link up as many times as you want – go crazy!
Don't forget to click over on some of the other links so that we can all enjoy each other's creations!!
And I'd love to have you follow me via Facebook, Twitter, Pinterest, or Google+. And don't forget to subscribe to my weekly newsletter!