Filled with banana flavor and topped with a crunchy topping, these Banana Crumb Muffins are a great way to use up overripe bananas.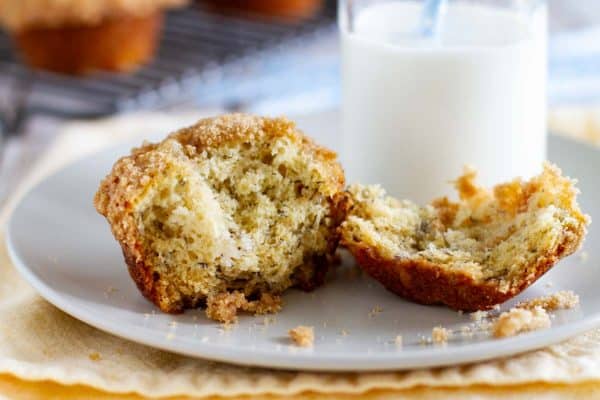 My muffin obsession continues!!
This is what you get when you have a few ripe bananas on hand and don't want to make banana bread.
These banana muffins are the perfect breakfast treat. The first time I made these, I made them in a jumbo sized muffin tin, and the second time, I made them standard sized. I can't decide which I like more (although the standard size has more crumb topping to muffin ratio!) All I know is that this is a perfect breakfast idea for those overripe bananas!!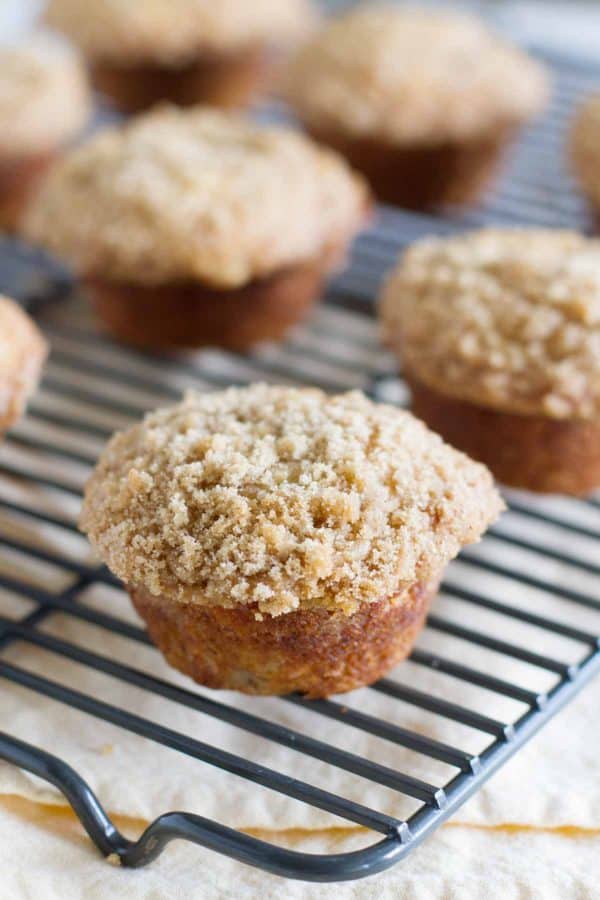 These banana crumb muffins are packed with banana flavor, and I love how moist the bananas make them. You can't go wrong when you are adding 3 whole bananas!
And as much as I'm obsessed with muffins, I think I'm even more obsessed with crumb toppings. The butter and brown sugar make the perfect slightly crunchy topping for these muffins. I think they are better than any bakery muffin!! So don't skip the crumb topping, because it really makes these muffins!
So next time you find yourself with overripe bananas, give these banana crumb muffins a try. (Or do what I do and hide away some bananas so that you can bake with them!) They would be the perfect treat for breakfast or for a snack. It doesn't hurt that these Banana Crumb Muffins only take 10 minutes to mix up, and then into the oven they go. Super easy, packed with flavor, these Banana Crumb Muffins are a muffin that you will totally fall in love with.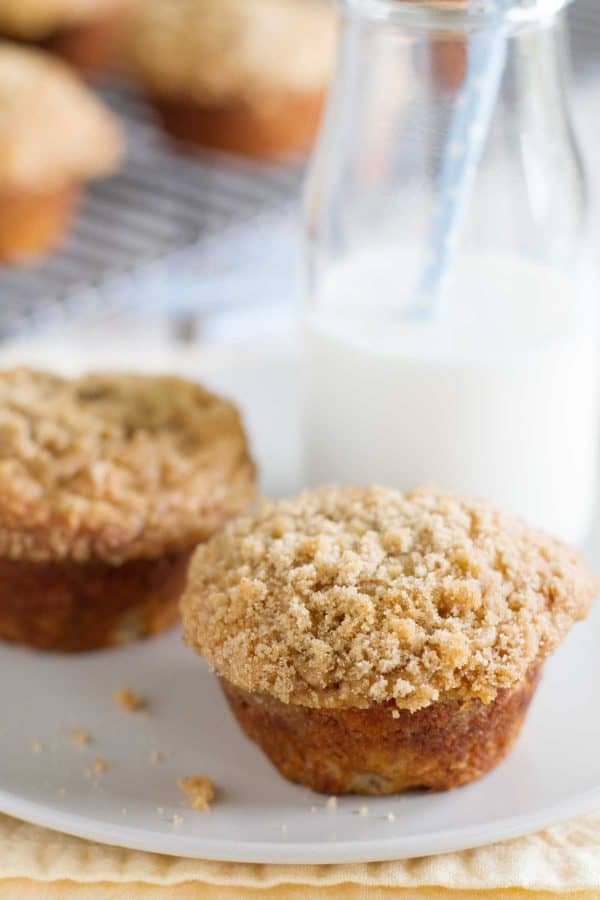 More Muffin Love:
Banana Coconut Chocolate Chip Muffins
Banana Crunch Muffins
Brown Sugar Muffins
Cinnamon Muffins
Chocolate Chip Muffin Recipe
Apple Cinnamon Muffins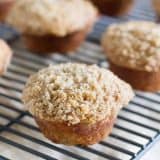 Banana Crumb Muffins
---
Author:
Prep Time: 10 mins
Cook Time: 20 mins
Total Time: 30 mins
Yield: 6 jumbo muffins or 12 regular muffins 1x
Category: Breakfast
Method: Bake
Cuisine: American
Description
Filled with banana flavor and topped with a crunchy topping, these Banana Crumb Muffins are a great way to use up overripe bananas.
---
Scale
Ingredients
Muffins:
1 1/2 cups flour
1 teaspoon baking soda
1 teaspoon baking powder
1/2 teaspoon salt
3 bananas, mashed
3/4 cup granulated sugar
1 egg, lightly beaten
1/3 cup butter, melted
Crumb Topping:
1/3 cup brown sugar
2 tablespoons flour
1/8 teaspoon cinnamon
1 tablespoon cold butter
---
Instructions
Preheat the oven to 375°F. Spray a 6-tin jumbo muffin tin or 12-cup regular muffin tin with cooking spray. Set aside.
In a large bowl, mix the flour, baking powder, baking soda and salt. In another bowl, beat together the bananas, sugar, egg and melted butter. Stir the flour mixture into the banana mixture just until moistened. Spoon the batter into the prepared cups.
In a small bowl, mix together the brown sugar, flour and cinnamon. Cut in the butter with a fork or a pastry cutter until the mixture resembles coarse crumbs. Sprinkle over the muffins. Bake in the preheated oven for 18-20 minutes for jumbo muffins or 13-15 minutes for regular muffins, or until a toothpick inserted in the center comes out clean.