A tender and moist red velvet quick bread is filled with a cream cheese filling in this Red Velvet Quick Bread with Cream Cheese Filling.
I know, folks. It seems like just yesterday that we had Red Velvet Week 2014. And ok – so it was almost just yesterday.
If you've been following along for awhile, back in 2011, I decided to celebrate Valentine's Day with the first annual Red Velvet Week. And here we are, 5 year later, and the 5th annual Red Velvet Week at it's beginning.
Last year, we threw things off a bit when I moved Red Velvet Week to October to run alongside the release of my book – The Red Velvet Lover's Cookbook. Yep – I love red velvet so much that I went and wrote a book about it!!

I wasn't sure at first if I should jump back into Red Velvet week so soon after the last round of recipes, but since we are all in Valentine's mode, I figured I might as well. After all, I still have ideas running rampant in my head. You would think that after 4 years and 50+ recipes in the book that I would be completely wiped out of ideas, but surprisingly, they just keep coming.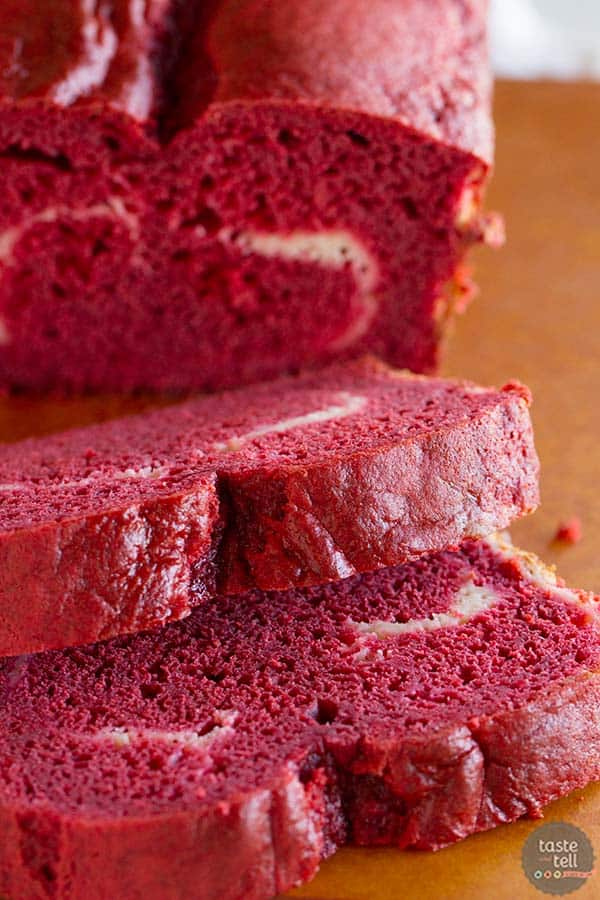 So I'll be coming at you 5 days this week – today through Thursday, bringing you 5 new recipes. Along with the recipes, I'm holding a fun little giveaway.
I'm so honored that you all choose to come and read my posts and make my recipes. So I want to give back to you this week, and since I can't send you all a red velvet cupcake (oh, how I wish I could!) I'm giving you a chance to win a pretty new red KitchenAid mixer. Plus lots of copies of my cookbook! Which will make it easy for you to make some of those red velvet cupcakes. 🙂
Make sure you check back every day this week. There will be a new way to enter every day, and the more entries you have, the better your chances are!!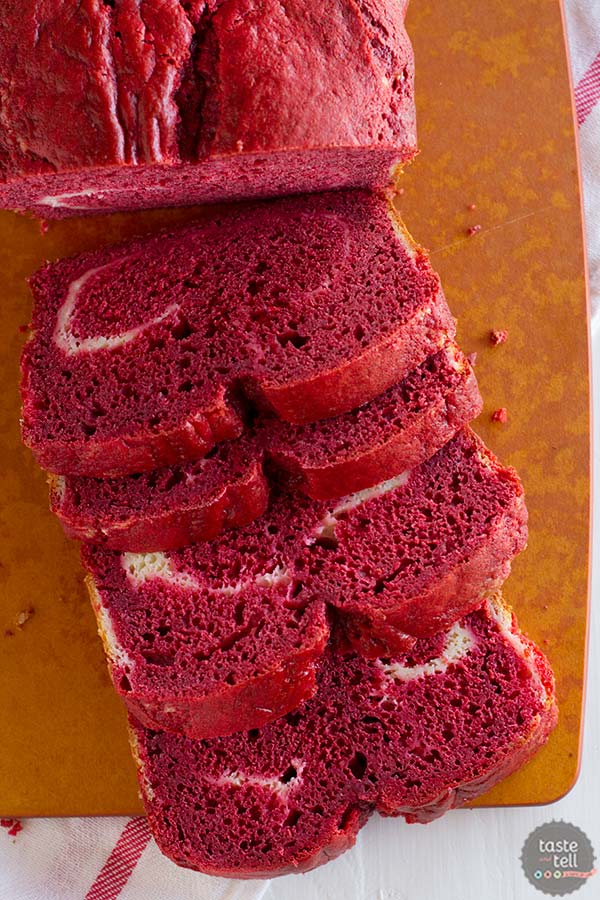 So let's talk food, since that's what we are really here for anyway. 🙂 Let me just warn you that there is a bit of a theme this week. Lots of cream cheese, and lots of Oreos. I blame that on my grocery store – they were on sale, but you had to buy 5 packages to get the sale price. So with 5 packages of Oreos staring at me, of course I had to integrate them into a few of the recipes!
Today's recipe is one that I've been playing around with for awhile. It took me a bit to get the exact texture and flavor that I was looking for. In the end, I ended up making a loaf that is chock full of cream cheese. Not only is there cream cheese right in the batter, but I also fancied it up by adding a cream cheese filling. The cream cheese filling could be optional, but I loved the extra bit of cream cheese, plus I think it makes it look pretty. 🙂
I stored this Red Velvet Quick Bread with Cream Cheese Filling in the refrigerator, but actually prefer the taste and texture when it's at room temperature. So I would suggest taking it out 30-60 minutes before you are ready to serve it.
This would make a great addition to any holiday breakfast or brunch. I know it brings out the love in me!!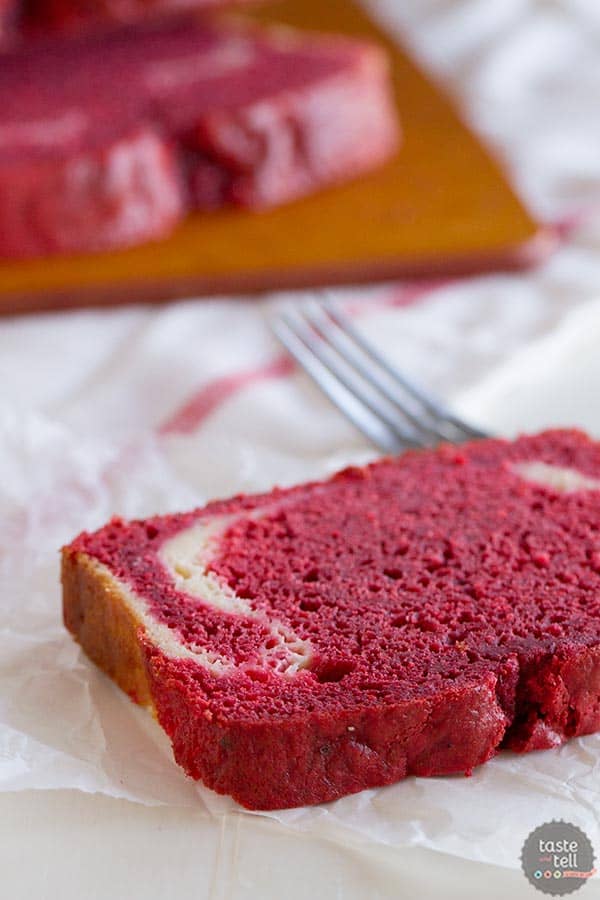 Like what you see here? Make sure you are following Taste and Tell for more great recipes and ideas!!

Facebook ** Pinterest ** Twitter ** Instagram ** Google+
or you can subscribe to my newsletter or Feedly or Bloglovin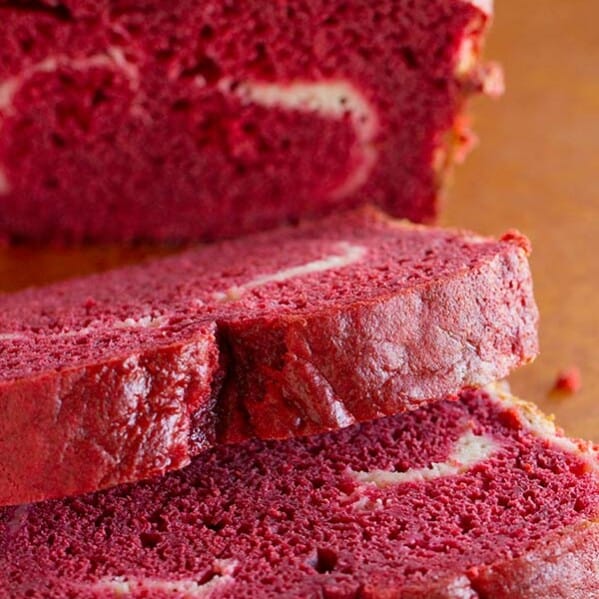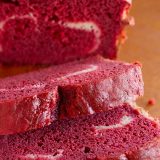 Red Velvet Quick Bread with Cream Cheese Filling
---
Prep Time: 20 mins
Cook Time: 60 mins
Total Time: 1 hour 20 mins
Yield: 1 9x5-inch loaf 1x
Description
A tender and moist red velvet quick bread is filled with a cream cheese filling in this Red Velvet Quick Bread with Cream Cheese Filling.
---
Scale
Ingredients
Bread
1/2 cup butter, softened
1 cup sugar
4 ounces cream cheese, softened
2 eggs
1 teaspoon vanilla extract
2 cups flour
1 tablespoon unsweetened cocoa powder
2 teaspoons baking powder
1/2 teaspoon baking soda
1/2 teaspoon salt
1/2 cup buttermilk
1 tablespoon red food coloring
Filling
4 oz cream cheese, softened
1/4 cup sugar
1 egg
1 tablespoon flour
1/2 tablespoon milk
---
Instructions
Preheat the oven to 350ºF. Grease a 9×5 inch loaf pan or line with parchment paper..
In a large bowl, or the bowl of a stand mixer, cream together the butter, sugar and cream cheese until light and fluffy. Add in the eggs one at at time, scraping down the bowl between additions. Add the vanilla and beat to combine.
In a separate bowl, combine the flour, cocoa, baking powder, baking soda and salt. In another bowl or measuring cup, combine the buttermilk and red food coloring.
Beat 1/3 of the flour mixture into the butter mixture, followed by half of the buttermilk mixture. Continue by adding another 1/3 of the flour, the remaining buttermilk, then the remaining flour, beating just until combined.
In a medium bowl, beat the 4 oz cream cheese and sugar until light and fluffy. Beat in the egg, flour and milk until smooth.
Pour half of the red velvet batter into the prepared loaf pan. Top with the cream cheese mixture, spreading as evenly as possible. Drop the remaining red velvet batter over the top and spread as evenly as you can.
Bake until a tester comes out clean, 50-60 minutes. Let cool completely before cutting into slices.
Recipe Notes:
I stored this bread in the refrigerator, but like the taste and texture better when it has come to room temperature.