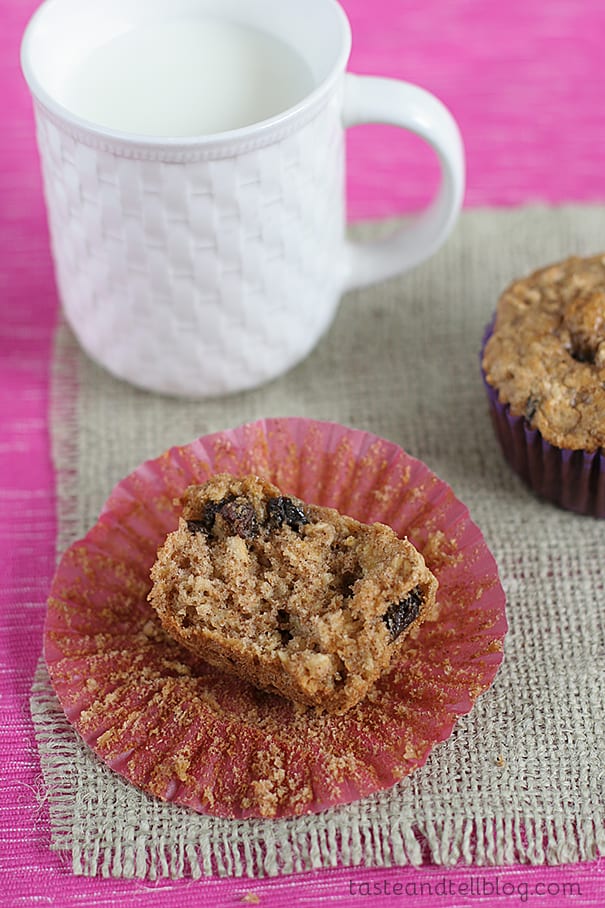 Raisins – love them or hate them?
This is the question I asked on my Facebook page the other day. Honestly – the answers surprised me. I thought it was going to be an overwhelming HATE THEM, but in actuality, there were way more loves than hates. I'm not sure why, but raisins seem to be one of those things that people freak out about. Picking the plain cinnamon rolls over the ones with raisins, or only eating oatmeal cookies with chocolate chips instead of raisins.
But me? I love them. And usually, the more the better. I love them in my cookies, in my cinnamon rolls, and a love a good slice of cinnamon raisin bread.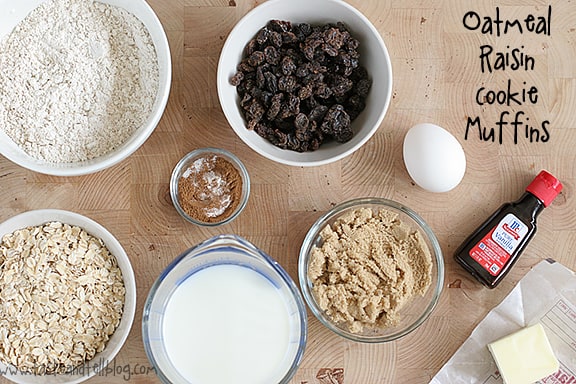 So of course, when I saw these muffins, (on Pinterest, of course!), that were originally made with chocolate chips, I had to change it back to raisins. Within minutes of seeing these online, I knew I had to make them. I was seriously tempted to get up right then and bake up a batch! Luckily, a couple of days later, I was asked to bring some muffins to a little breakfast, and so I had the perfect excuse to bake these up.
If you like oatmeal raisin cookies, you will love these muffins. And I like to think that they are a little healthier than cookies, because they are made with half whole wheat flour. That makes them healthy, right??? 🙂 But really, I will take advantage of anytime I can eat something for breakfast that tastes like dessert. And if you do hate raisins and the whole idea of them there in your muffin, you can swap them out for chocolate chips. Because really, chocolate is good, too!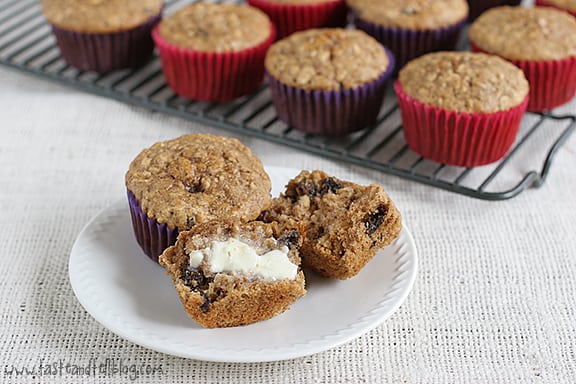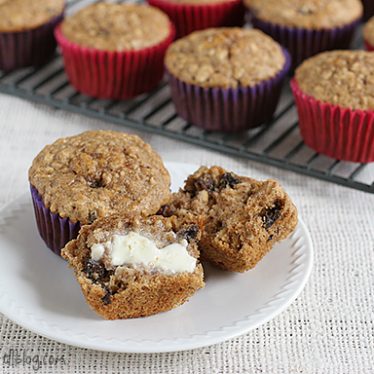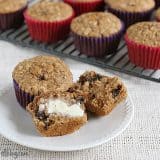 Oatmeal Raisin Cookie Muffins
---
Prep Time: 15 minutes
Cook Time: 18 minutes
Total Time: 33 minutes
Yield: 12 muffins 1x
---
Scale
Ingredients
1 cup rolled oats
1 1/4 cups milk, divided*
1 cup raisins*
1/3 cup brown sugar
1 egg
1/4 cup butter, at room temperature
1 1/2 teaspoons vanilla extract
1/2 cup all-purpose flour
1/2 cup whole wheat flour
1 teaspoon baking soda
1/4 teaspoon salt
1/2 teaspoon cinnamon
raw turbinado sugar, for sprinkling
*If substituting chocolate chips, omit the 1/4 cup milk that the raisins are soaked in.
---
Instructions
Preheat the oven to 350F. Line 12 muffin tins with paper liners or spray with non-stick cooking spray.
In a small bowl, combine the oats with 1/2 cup of the milk. Let soak for 5-10 minutes.
In another small bowl, combine the raisins with 1/4 cup of milk and let soak while the oats are soaking.
In a large bowl, combine the egg and brown sugar and whisk until smooth. Add in the vanilla and the butter, whisking until it is smooth. (You may still have a few small lumps of butter, but it should be mostly smooth.) Add in the flours, oat mixture, baking soda, salt and cinnamon. Add in the remaining milk and stir to combine. Fold in the raisins along with any remaining milk in the bowl.
Divide the batter evenly between the 12 muffin cups. Sprinkle with raw turbinado sugar. Bake in the preheated oven for 15-18 minutes or until a toothpick inserted in the center comes out clean.
———————
More Oatmeal Raisin Inspiration:
Oatmeal Raisinet Cookies from Munchin with Munchkin
Oatmeal Raisin Bars from Savoring the Thyme
Oatmeal Raisin Cookie Stuffed Cinnamon Rolls with Caramel Glaze from Culinary Concoctions by Peabody
Oatmeal Raisin Cookie Coffee Cake from Always with Butter