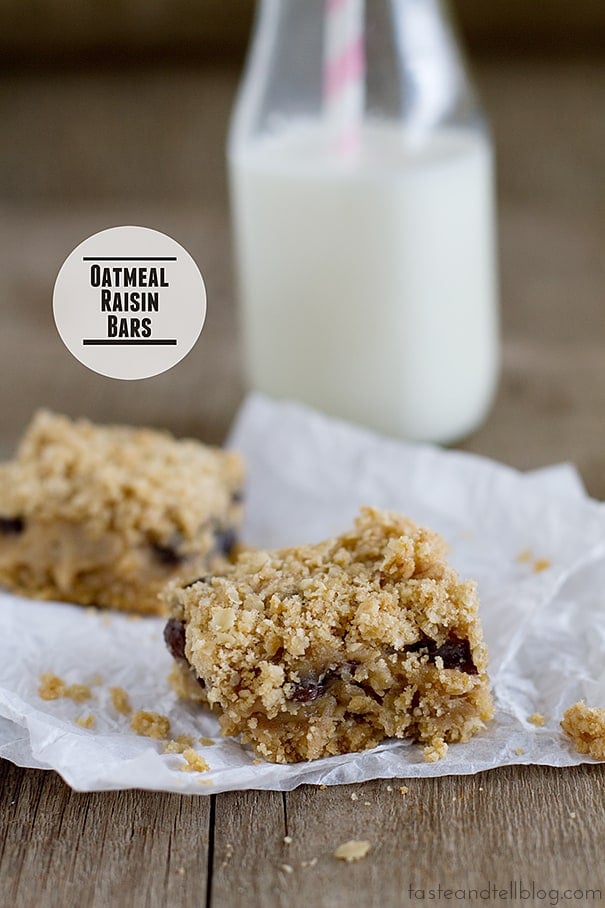 In just over 2 weeks, I have a family reunion that I am going to. Every year, my mom's side of the family gets together for about 24 hours of family fun. My mom and her siblings each take turns taking the reigns and planning everything, and this year, my mom is in charge.
So there has been a lot of reunion talk these past few months.
We are teaming up with one other family for one of the meals, and being the planner that my mom is, she wanted to do a test run of the meal. So we all gathered on Sunday for taco salads and dessert.
And not that taco salad isn't exciting, but let's skip straight to the dessert, shall we? 🙂
Each of us kids is planning on bringing a dessert. My mind immediately went to brownies/bars – simply because they are easy to make ahead and to transport. And my mom has a cookbook that I've been addicted to flipping through lately, so I went on the search for a dessert to try out.
These Oatmeal Raisin Bars immediately spoke to me. As a lover of the oatmeal raisin cookie, I knew I wanted to give this bar a try.
If you are a fan of oatmeal raisin cookies, these bars are for you. A crumbly crust is topped with a creamy filling that is stuffed with raisins. Then more crumb goes on top and everything is baked together. The bars are messy – all that crumb mixture! – but I would honestly categorize them as in the top at least 5 of my favorite bar recipes right now. Really. I really, really liked them. They are a little bit more involved than your typical bar recipe, but they are totally worth it.
Oatmeal raisin lovers – this one needs to go to the top of your "to try" list!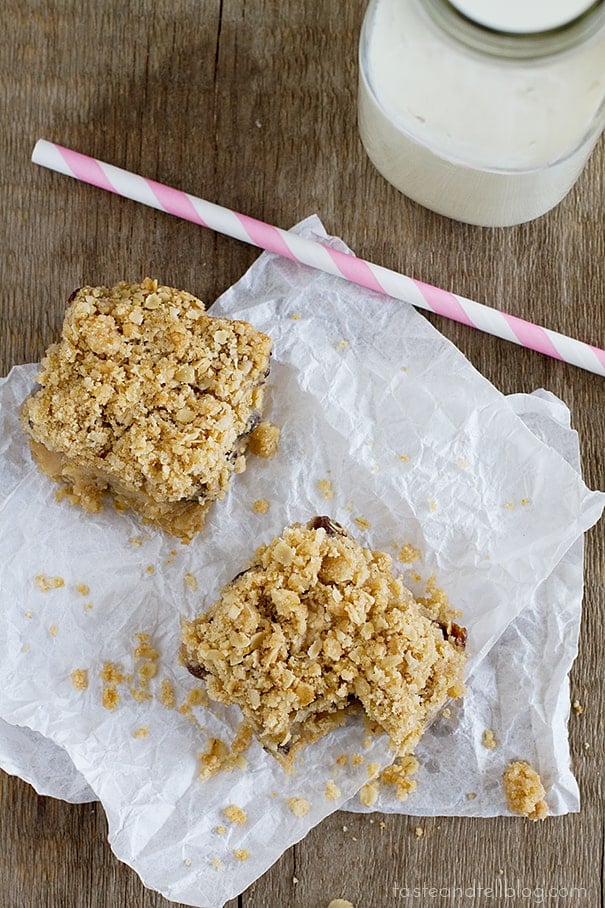 More Oatmeal Recipes:
Oatmeal Raisin Muffins
Oatmeal Cake
Oatmeal Cookies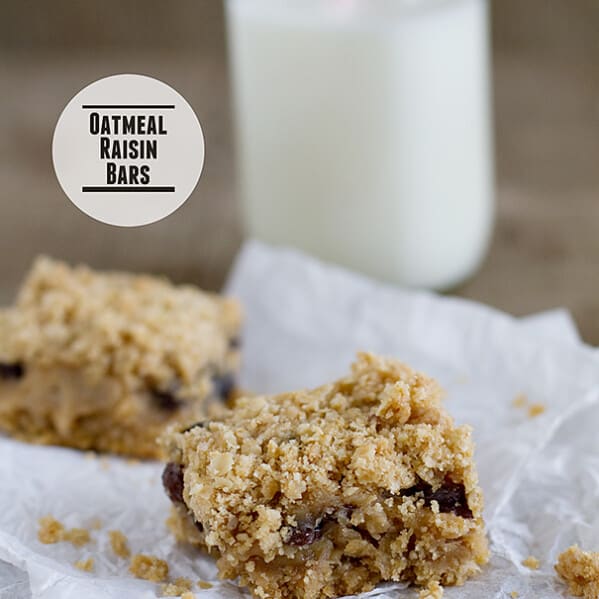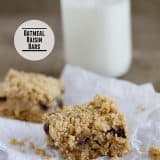 Oatmeal Raisin Bars
---
Prep Time: 15 minutes
Cook Time: 30 minutes
Total Time: 1 hour 15 minutes
Yield: 30 servings 1x
Description
Recipe for bars with an oatmeal crumb and a creamy raisin center.
---
Scale
Ingredients
Filling
1 cup sugar
2 tablespoons plus 1 1/2 teaspoons cornstarch
1 teaspoon ground cinnamon
1 1/2 cups sour cream
3 eggs, lightly beaten
2 cups raisins
Bars
1 3/4 cups all-purpose flour
1 3/4 cups quick cooking oats
1 cup packed brown sugar
1 teaspoon baking soda
1/2 teaspoon salt
1 cup cold butter, cut into cubes
---
Instructions
Make the filling:
In a large saucepan, combine the sugar, cornstarch and cinnamon. Stir in the sour cream and cook over medium-high heat until it starts to bubble, stirring often. When it starts to boil, reduce the heat and cook 2 more minutes. Remove from the heat and whisk a small amount into the eggs. Stir the egg mixture back into the saucepan and return to the heat. Bring to a boil, then cook an additional 2 minutes. Remove from the heat and gently stir in the raisins. Let sit without stirring until it comes to room temperature.
Make the crumb:
In a large bowl, combine the flour, oats, sugar, baking soda and salt. Use a pastry cutter to cut in the butter until it resembles coarse crumbs.
To assemble:
Preheat the oven to 350F.
Press 3 1/2 cups of the crumb mixture into the bottom of a greased 9×13-inch baking pan. Gently spread the filling mixture over the crust. Sprinkle the remaining crumb mixture on top of the filling.
Bake in the preheated oven for 25-30 minutes, or until golden brown. Let cool completely before cutting into squares.
Recipe Notes: