Filled with all kinds of good for ingredients, these Morning Glory Muffins are the perfect way to start the morning! Carrots, apples, raisins, coconut, and nuts fill these hearty and tasty muffins.
We have no shortage of muffin recipes! For more favorite muffins, check out these Classic Bran Muffins, Oatmeal Muffins, Mango Muffins with Banana, or Apple Cinnamon Muffins.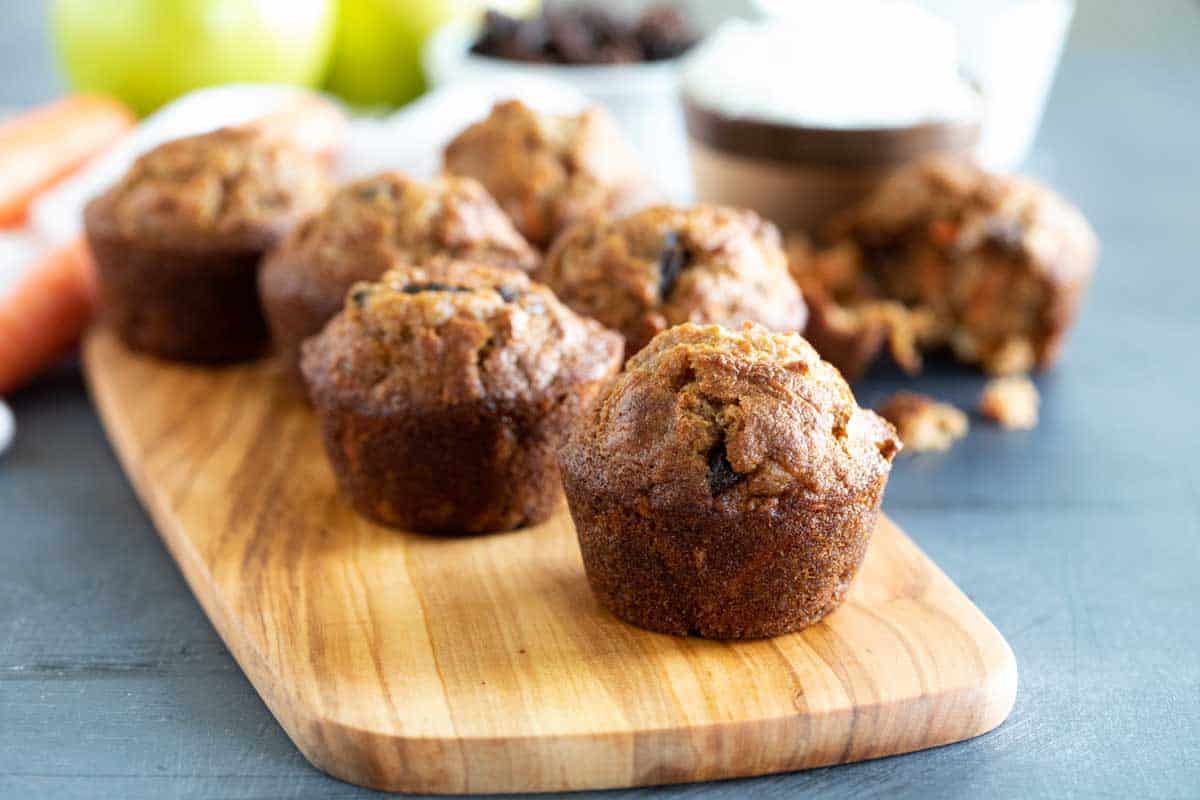 We are a muffin loving family, and muffins grace the breakfast table at least once a week. I'm not going to lie and say that these Morning Glory Muffins are my kids' favorite (they are picky and are freaked out about all of the "stuff" inside them), but my husband and I go crazy over these. And if you have a child that loves all the "stuff", they will probably go crazy over these, too!
Filled with all kinds of goodness, like carrots, coconut, nuts, and raisins – these have so much going on. I love that I can eat one of them and feel like it was a good, hearty breakfast!
What are Morning Glory Muffins?
Morning Glory Muffins were invented by Chef Pam McKinstry at the Morning Glory Cafe in Nantucket. The recipe was printed by Gourmet magazine in the 1981, and that led to their popularity. They were especially popular through the 1990s.
Why You'll Love Them
They've got all the goodies! There are so many great flavors in these muffins, so you get goodness in every bite.
They are easy – no mixer required!
They are healthy-ish. You can always swap in healthier ingredients, like whole wheat flour, honey, or avocado oil.
The spice level is perfect. These muffins are far from boring.
They freeze well. Pop any leftovers in the freezer, then pull them out as needed.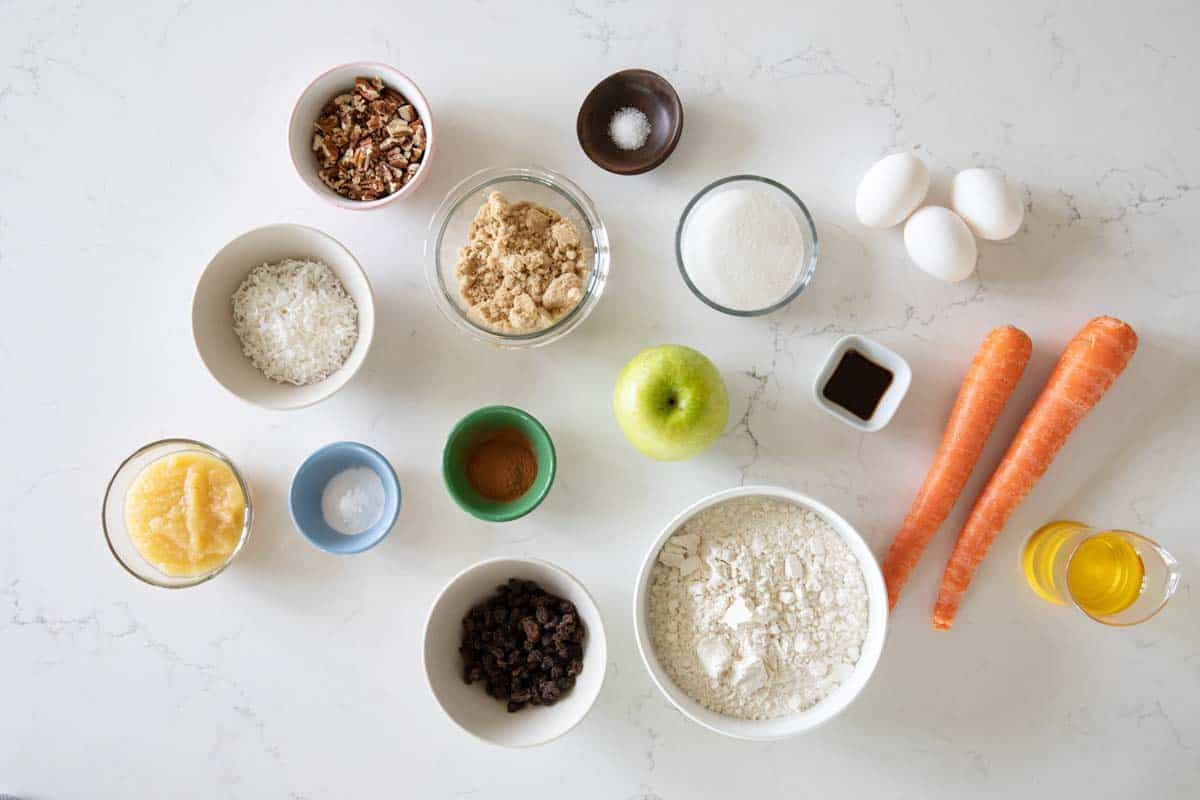 Ingredients and Substitutions
Eggs: Eggs are really important in muffins. They help with the structure and lift, and provide richness to the muffins. I use large eggs.
Sugar: I use a mixture of granulated (white) sugar and brown sugar here. You could probably use all of one or the other. I have not tested with less sugar, but you could probably cut the sugar by half, but I wouldn't cut it back any further than that.
Vegetable Oil: Melted butter would also work.
Applesauce: My original recipe that I had printed here had all vegetable oil, but I thought the muffins were too heavy and oily. Substituting half of the oil with applesauce was the perfect fix!
Vanilla: For flavor.
Flour: I make these with all-purpose flour. Whole wheat flour can be used instead of all-purpose flour, but your muffins may be a little more dense. Try white whole wheat for a less dense substitution.
Baking Soda: This will give the muffins their rise.
Cinnamon: Also for flavor.
Salt: Salt helps to balance and bring out flavors. I like to use sea salt.
Carrots: I would suggest using whole carrots that you have grated yourself. The pre-grated carrots tend to be really dry.
Apple: I use a granny smith apple, but the apple mostly keeps the muffin moist, and the flavor of the apple doesn't really come through.
Raisins: I know there are a lot of people with strong opinions about raisins. I personally love them, and love the texture that they add to the muffins. But if you don't like them, leave them out, or sub in another dry fruit of your choice.
Pecans: Most morning glory muffins use walnuts, but my personal preference is pecans. Both will work, though.
Coconut: I used sweetened, shredded coconut, but unsweetened coconut will work just as well.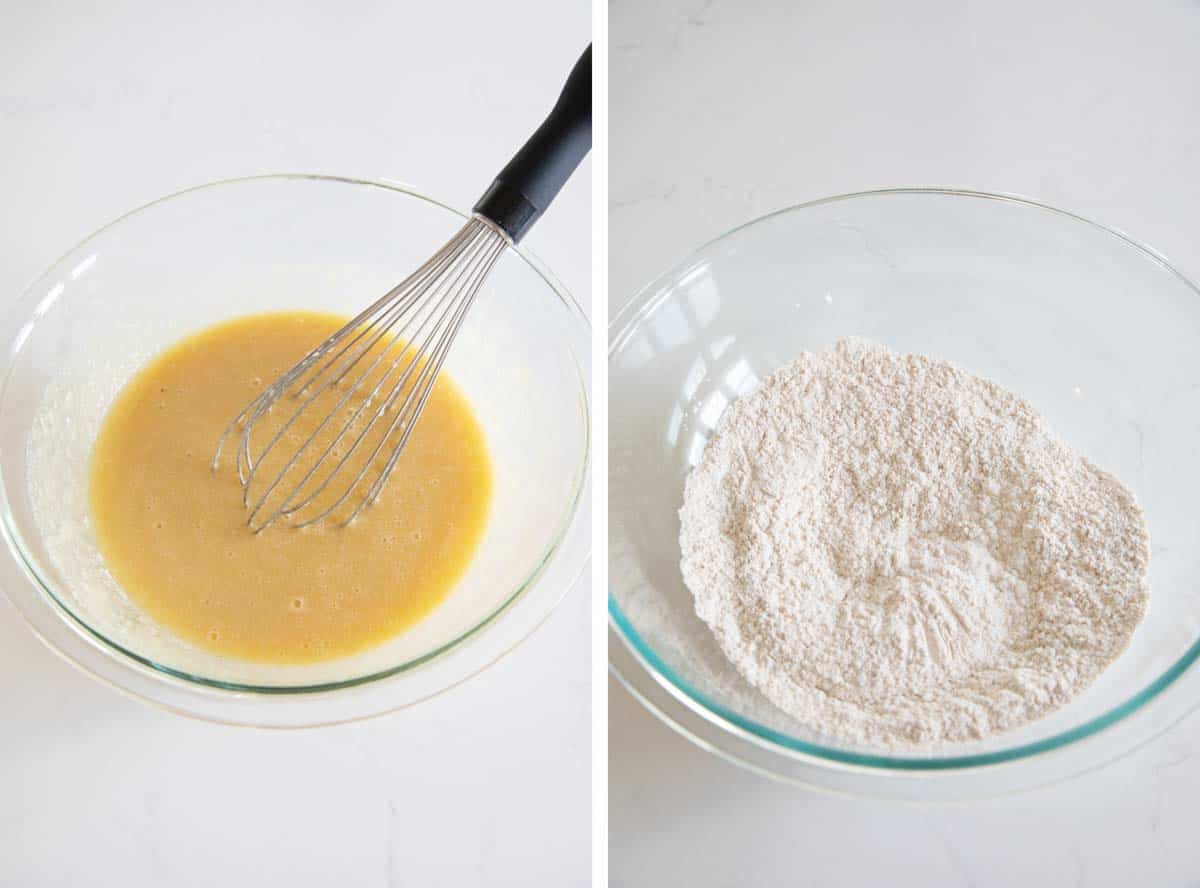 How to Make Morning Glory Muffins
These muffins take a little more prep work than some other muffins, simply because you'll need to shred your carrots and apple. But they are totally worth it!
1 – Start by mixing together the eggs, both sugars, oil, applesauce, and vanilla extract. Set this aside.
2 – In another bowl, whisk together the flour, baking soda, cinnamon, and salt.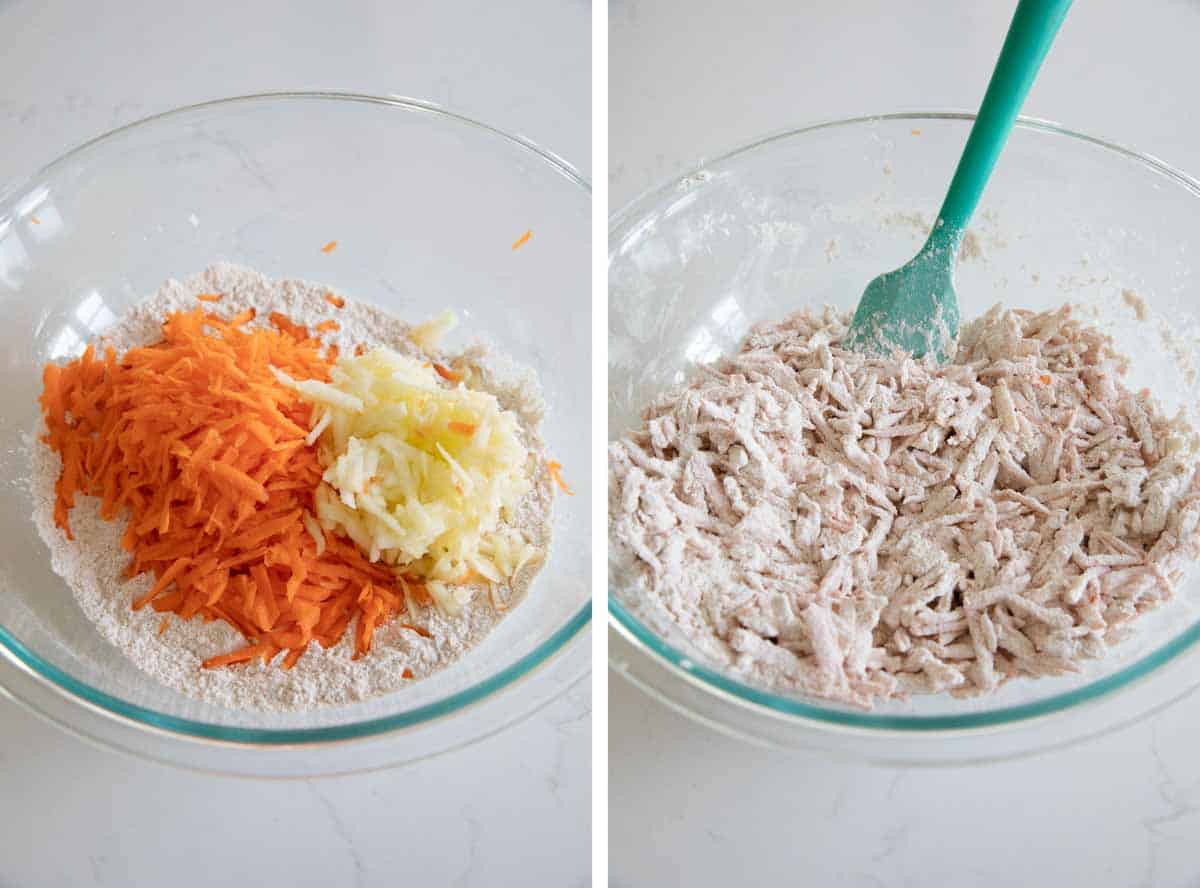 3 – Add the carrots and apple to the dry ingredients.
4 – Stir it all together until there aren't any big clumps, and the carrots and apple are coated with the flour mixture.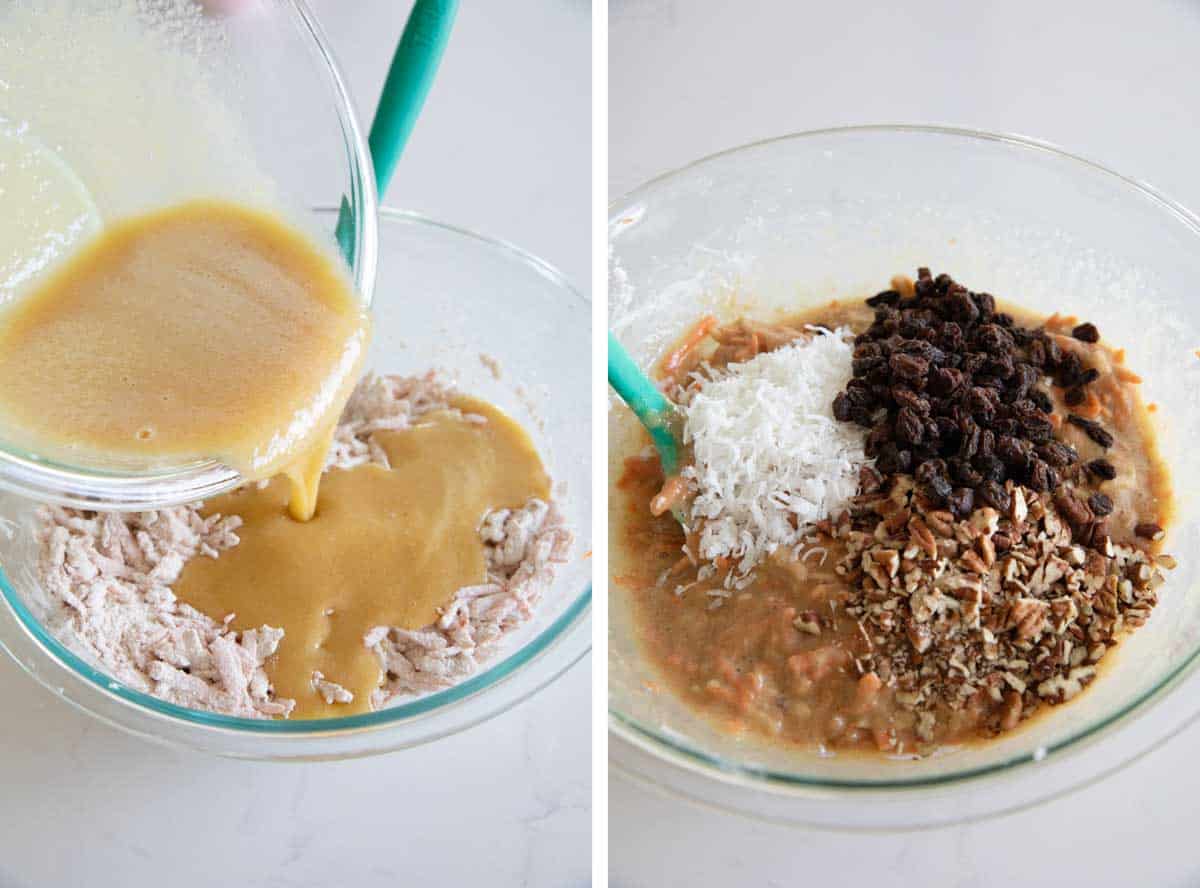 5 – Pour the wet ingredients into the bowl with flour, carrots and apples. Mix until mostly combined.
6 – Add the raisins, pecans, and coconut, mixing just until everything is combined.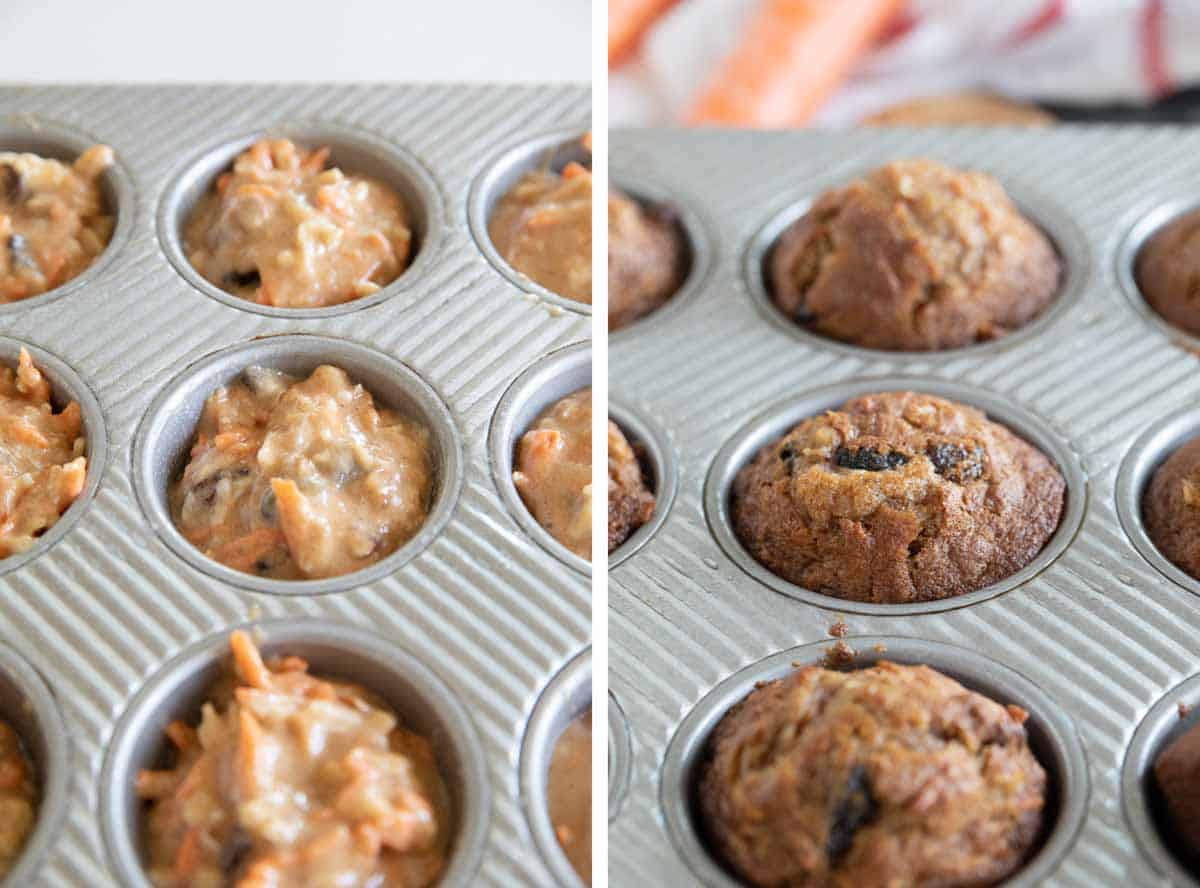 7 – Divide the batter between 16 muffin cups. They should be almost all of the way full. I like to use a large cookie scoop to fill the tins.
8 – Bake until a tester inserted comes out clean.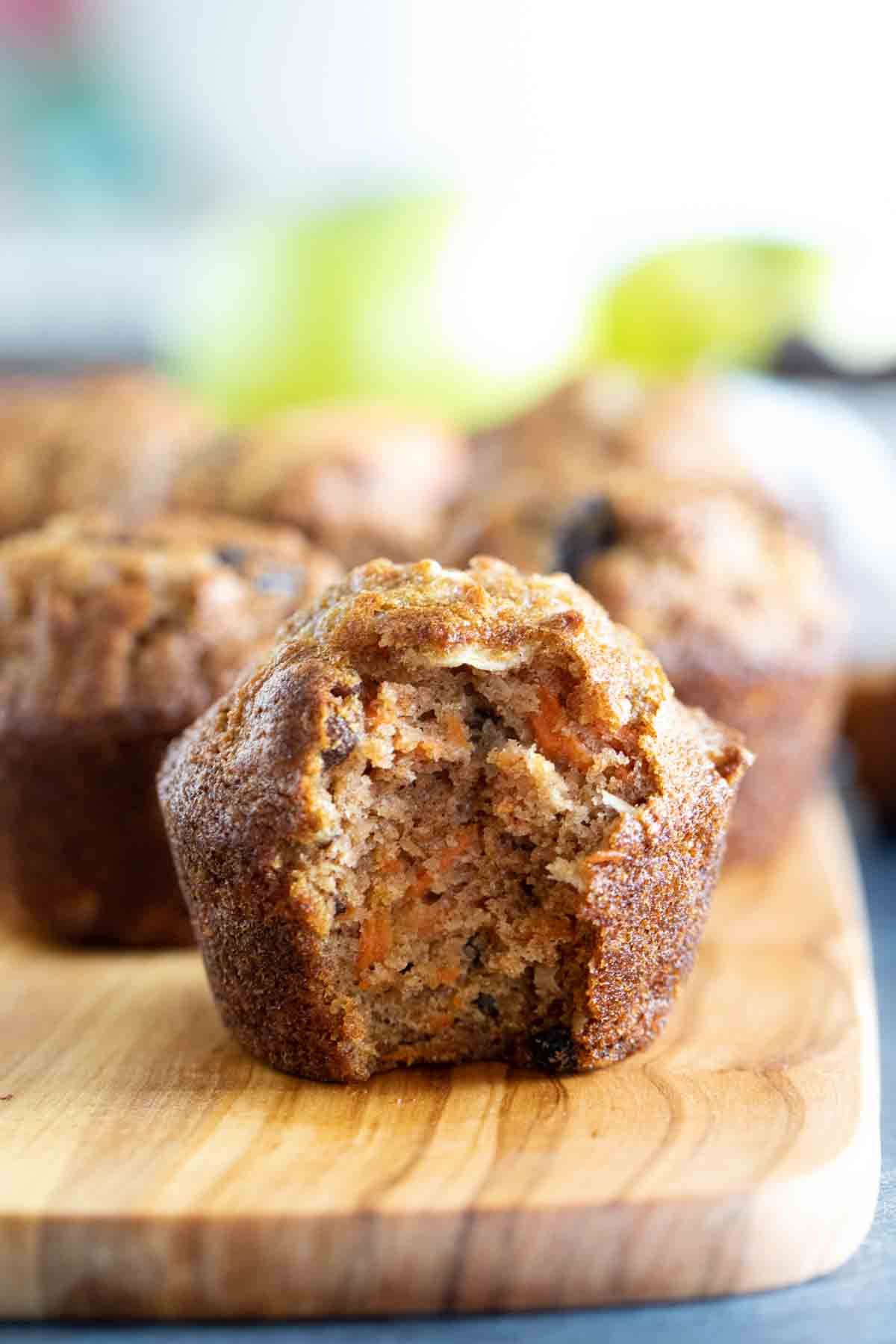 Storage and Freezing
Storing: Store the muffins in an airtight container for up to 3 days. They are best when they are fresh and will start to get a bit gummy over time, but should still be good for up to 3 days.
Freezing: To freeze, place the cooled muffins on a baking sheet and place in the freezer until frozen. Transfer to a freezer bag or another freezer safe container. Thaw at room temperature.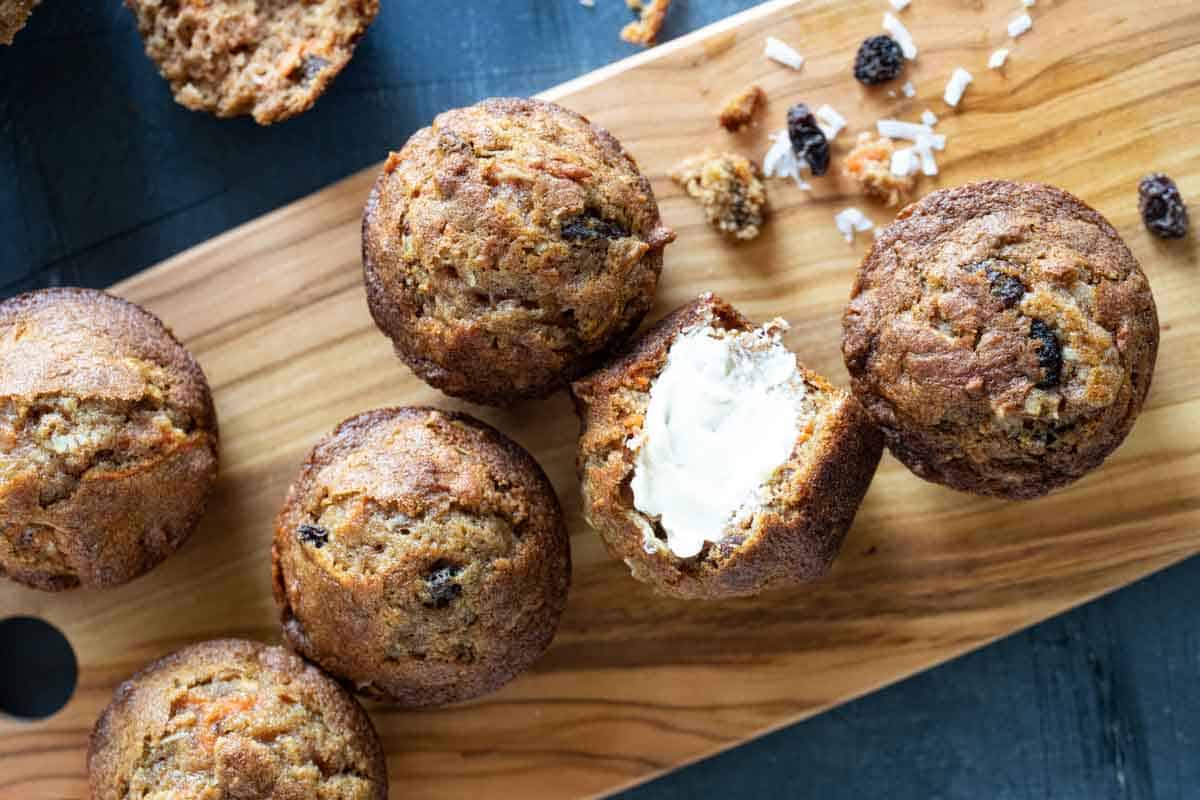 More Muffin Recipes
Cinnamon Muffins
Chocolate Chip Muffins
Orange Muffins
Oatmeal Raisin Muffins
Brown Sugar Muffins
Zucchini Muffins
Banana Muffins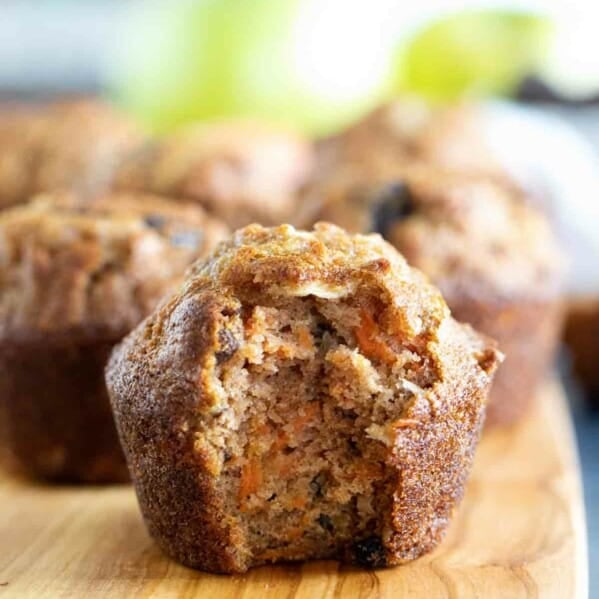 Morning Glory Muffins
---
Author:
Prep Time: 20 minutes
Cook Time: 23 minutes
Total Time: 43 minutes
Yield: 16 muffins 1x
Category: Breakfast
Method: Baked
Cuisine: American
Description
Filled with all kinds of good for ingredients, these Morning Glory Muffins are the perfect way to start the morning! Carrots, apples, raisins, coconut, and nuts fill these hearty and tasty muffins.
---
Scale
Ingredients
3 eggs
1/2 cup granulated sugar
1/2 cup light brown sugar
1/2 cup vegetable oil
1/2 cup unsweetened applesauce
2 teaspoons vanilla extract
2 cups all-purpose flour
2 teaspoons baking soda
2 teaspoons ground cinnamon
1/4 teaspoon salt
2 cups shredded carrots
1 cup peeled, cored, and shredded apple
1/2 cup raisins
1/2 cup chopped pecans
1/2 cup sweetened, shredded coconut
---
Instructions
Preheat the oven to 425ºF. Spray 16 muffin tins with nonstick cooking spray. Set aside.
In a large bowl, combine the eggs, granulated sugar, brown sugar, vegetable oil, applesauce, and vanilla extract. Whisk until smooth.
In another bowl, whisk together the flour, baking soda, cinnamon, and salt.
Stir the carrots and apple into the flour mixture until it is well coated.
Add the wet mixture to the flour mixture and stir until mostly combined. Add the raisins, pecans, and coconut. Mix just until combined.
Fill each muffin tin with the batter. The cups should be almost filled to the top.
Bake in the preheated oven at 425ºF for 5 minutes, then turn the heat down to 350ºF, leaving the muffins in the oven the whole time. Continue to bake until a tester inserted in the center comes out clean, about 18 more minutes. If the muffins start to get too dark on top, cover with a sheet of foil.
Once baked through, remove from the oven and let the muffins cool for about 5 minutes before removing from the baking tin.
Recipe Notes:
See the post above for substitution and storage information.
Nutrition information provided as an estimate only. Various brands and products can change the counts. Any nutritional information should be used as a general guide.
Nutrition
Serving Size: 1 muffin
Calories: 244
Sugar: 13 g
Sodium: 172 mg
Fat: 11 g
Saturated Fat: 1 g
Unsaturated Fat: 7 g
Trans Fat: 0 g
Carbohydrates: 33 g
Fiber: 2 g
Protein: 3 g
Cholesterol: 35 mg
Keywords: morning glory muffins, morning glory muffin recipe