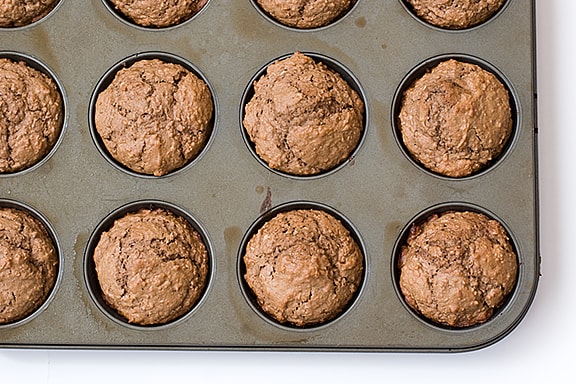 I guess with all of the muffins I've been making lately, one of them had to come out being not the best. This would be that muffin. I had high hopes – who doesn't like chocolate? – but they fell a little bit short. But the good side of it is that I think with a little tweaking, these muffins would be great.
Some people define the difference between cupcakes and muffins by their sweetness. Cupcakes are sweeter, and muffins are not so much. But I think this muffin recipe could use a little more sweetness. And chocolate for that matter. I loved the texture that these had from the oatmeal, and I really think these would be wonderful if you added some extra sugar and either more cocoa, or maybe some chocolate chips. Oooh, now I'm wanting to play around with these and see if I could come up with something spectacular!
Cocoa Oatmeal Muffins
adapted from The Great American Cookbook
Makes 12 muffins
1 cup quick-cooking rolled oats
1 cup buttermilk or sour milk*
1/3 cup butter, softened
1/2 cup packed light brown sugar
1 egg
1 cup all-purpose flour
1/4 cup cocoa
1 teaspoon baking powder
1 teaspoon salt
1/2 teaspoon baking soda
Heat oven to 400F. Grease or paper-line muffins cups.
In a small bowl, stir together the oats and buttermilk and let sit for 20 minutes.
In a large bowl, beat butter, sugar and egg until fluffy. Stir together the flour, cocoa, baking powder, salt and baking soda; add to butter mixture alternately with the oats mixture.
Fill prepared cups 2/3 full with batter. Bake 18 to 20 minutes or until wooden pick inserted in center comes out clean.
*To sour milk: Use 1 tablespoon white vinegar plus milk to equal 1 cup.