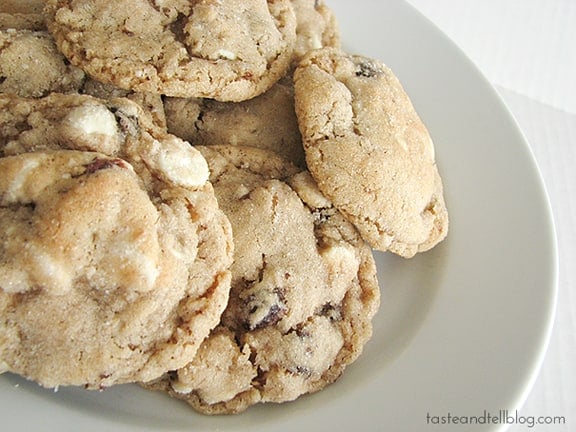 A few weeks ago, I emailed my mother-in-law to get some recipes for things that my husband really enjoyed from his childhood. She emailed me back with the recipes, and included this one as well. She said that my husband really likes these, and that she would make them for him by the dozens to deliver to him while he was attending college. So, a few days later, I decided to surprise my husband with them.
I have never made cookies where the raisins are soaked in the eggs and vanilla. It was something different than I had ever done before. But after doing a search online, it seems as though it's not as un-common as I thought it was!! So I guess I just learned an old trick!
These cookies are delicious and soft. The original recipe calls for 2 packages of white chocolate chips – I just used one 12 ounce bag, and it was plenty. In fact, next time, I would probably cut back a little bit. Also, all I had at home was quick cooking oats, which worked, but I like the way old-fashioned oats look and feel in oatmeal cookies. So I will make sure to have old-fashioned oats on hand next time!! This makes a lot of cookies – I got almost 6 dozen cookies. And I love the touch of extra sweetness from rolling them in sugar before you cook them. This recipe is a winner!
Nana's Oatmeal Cookies
Mix together and let stand for 2 hours:
1 tsp. vanilla
3 eggs, well beaten
1 cup raisins
Cream together: 1 cup shortening 1 cup brown sugar 1 cup granulated sugar Beat until well mixed and add the soaked raisin mixture. Beat well and add: 2 3/4 cup flour 1 tsp salt 2 tsp baking soda 1 tsp cinnamon 2 cups oatmeal 1 pkg white chocolate chips Mix well (but don't overmix) and shape into walnut sized balls. Roll in granulated sugar and place on a greased cookie sheet. Bake at 350F for 10 minutes or until slightly golden brown on the bottom. Do not overbake.