Such a classic cookie – these Oatmeal Cookies are filled with lots of oats and are the perfect addition to any cookie jar. Add raisins to really make it a classic!
You can't beat a good oatmeal cookie! Don't forget to also check out these Iced Oatmeal Cookies, Banana Oatmeal Cookies, or Peanut Butter Oatmeal Cookies with Chocolate Chips.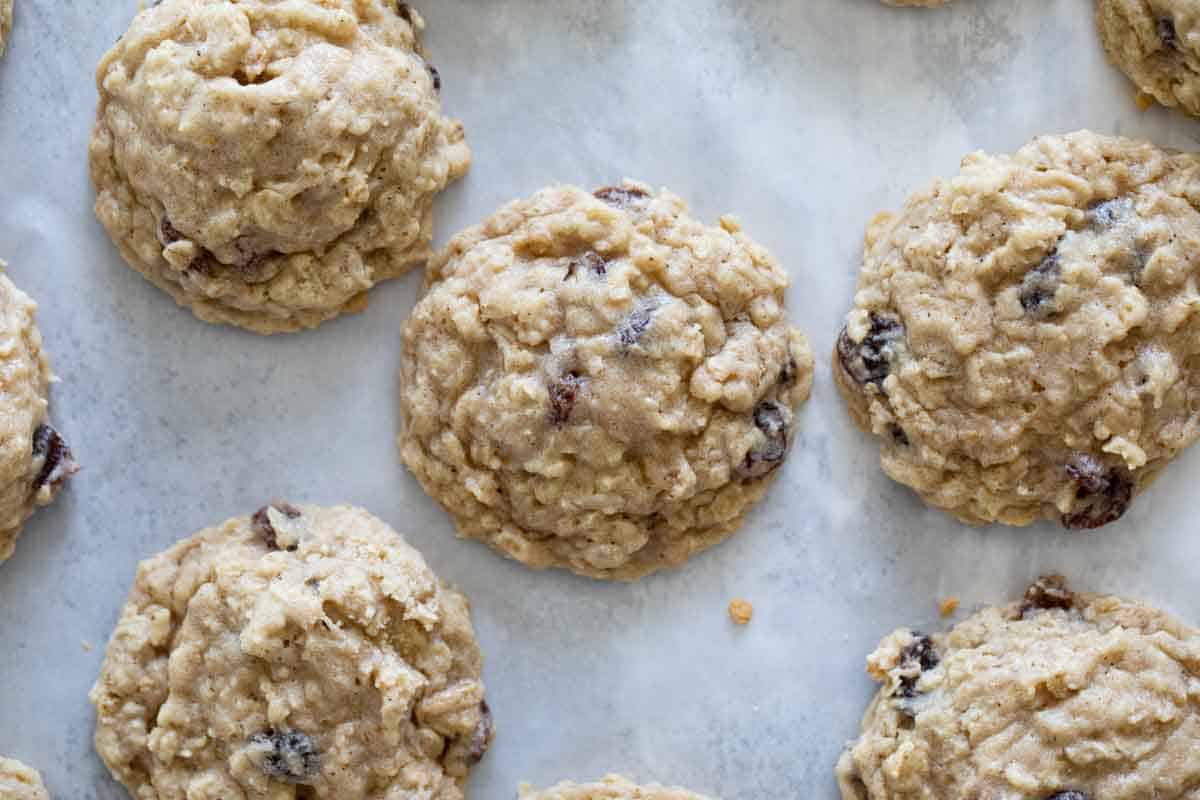 Classic Chewy Oatmeal Cookies
I'm a sucker for a good, classic recipe, and it doesn't get more classic than an old fashioned oatmeal cookie!
​I love oatmeal cookies because they stay soft and chewy for awhile, so they are a perfect cookie for the cookie jar.
Plus, they are a great cookie to customize and make your own!
Ingredients
Butter: I like to use unsalted butter because I have more control over the salt content. If you do want to use salted butter, just cut back on the salt a little bit.
Sugar: You'll need both light brown sugar and granulated sugar.
Eggs: I always use large eggs.
Vanilla: Real vanilla extract is best.
Flour: You'll want to use all-purpose flour. Make sure you are not packing the flour when you measure.
Cinnamon: I love cinnamon in oatmeal cookies, and will often add extra!
Baking Soda: This is to help give your cookies lift so that they are not heavy and dense.
Salt: To balance the flavors.
Old Fashioned Oats: Also called rolled oats. If you are wondering about using quick oats, see the section below.
Raisins: Yes – these are optional, but I feel like raisins make these cookies a true classic!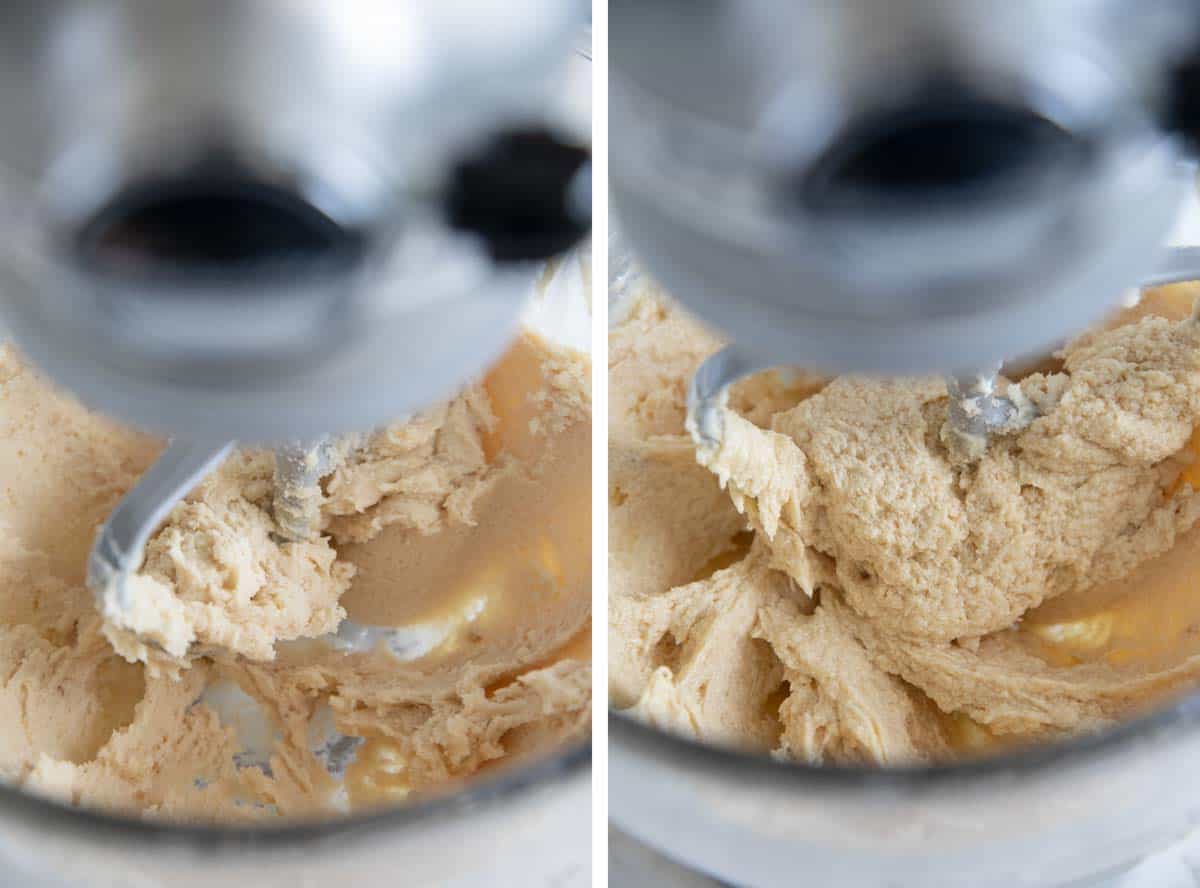 How to Make Oatmeal Cookies
1: Place the butter and both sugars in a stand mixer. You can also make these in a large bowl with a hand electric mixer. And really, you can make them completely by hand, but it will be a bit harder. Beat these together until everything is really light and fluffy.
2: Start adding the eggs one at a time. Scrape down the sides of the bowl, with a rubber spatula then add in the vanilla extract.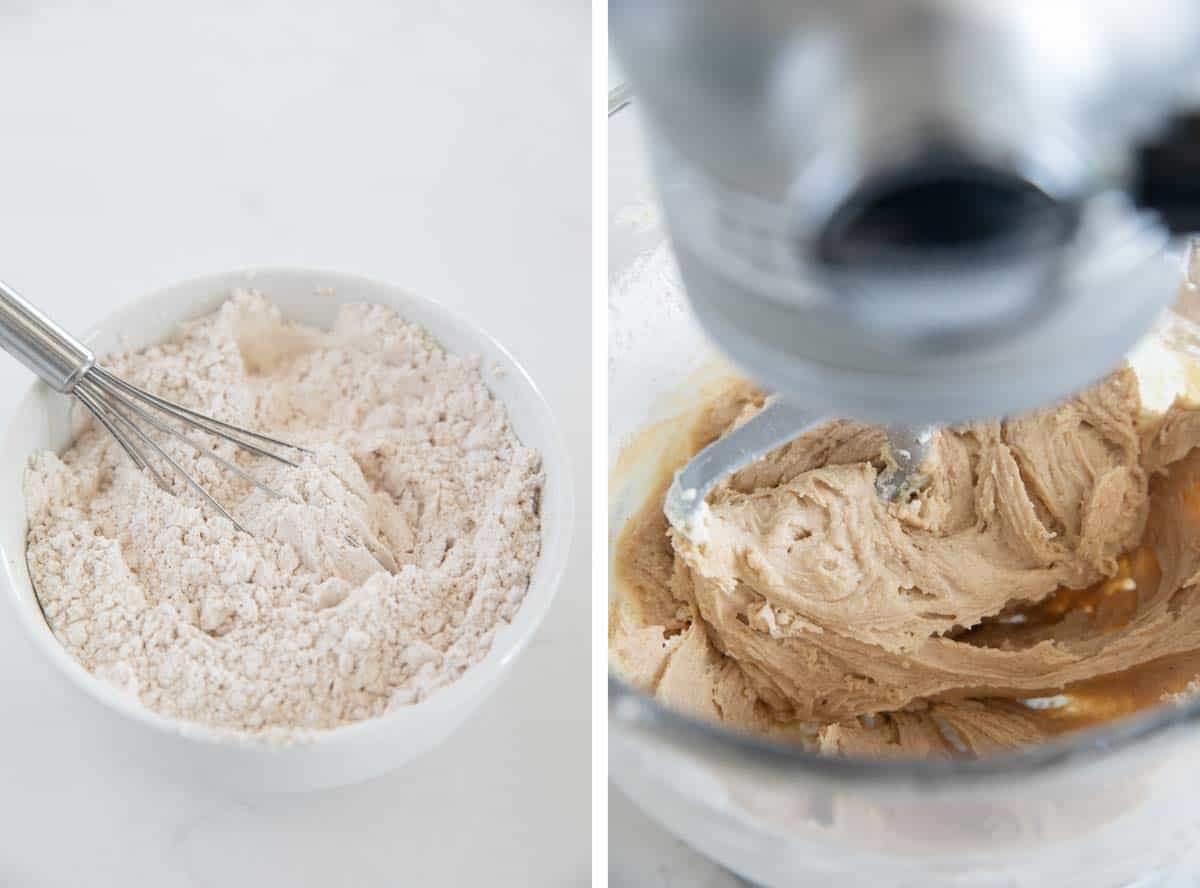 3: In a separate bowl, whisk together the flour, cinnamon, baking soda, and salt.
4: Add the dry ingredients to the butter mixture and mix on low speed until combined.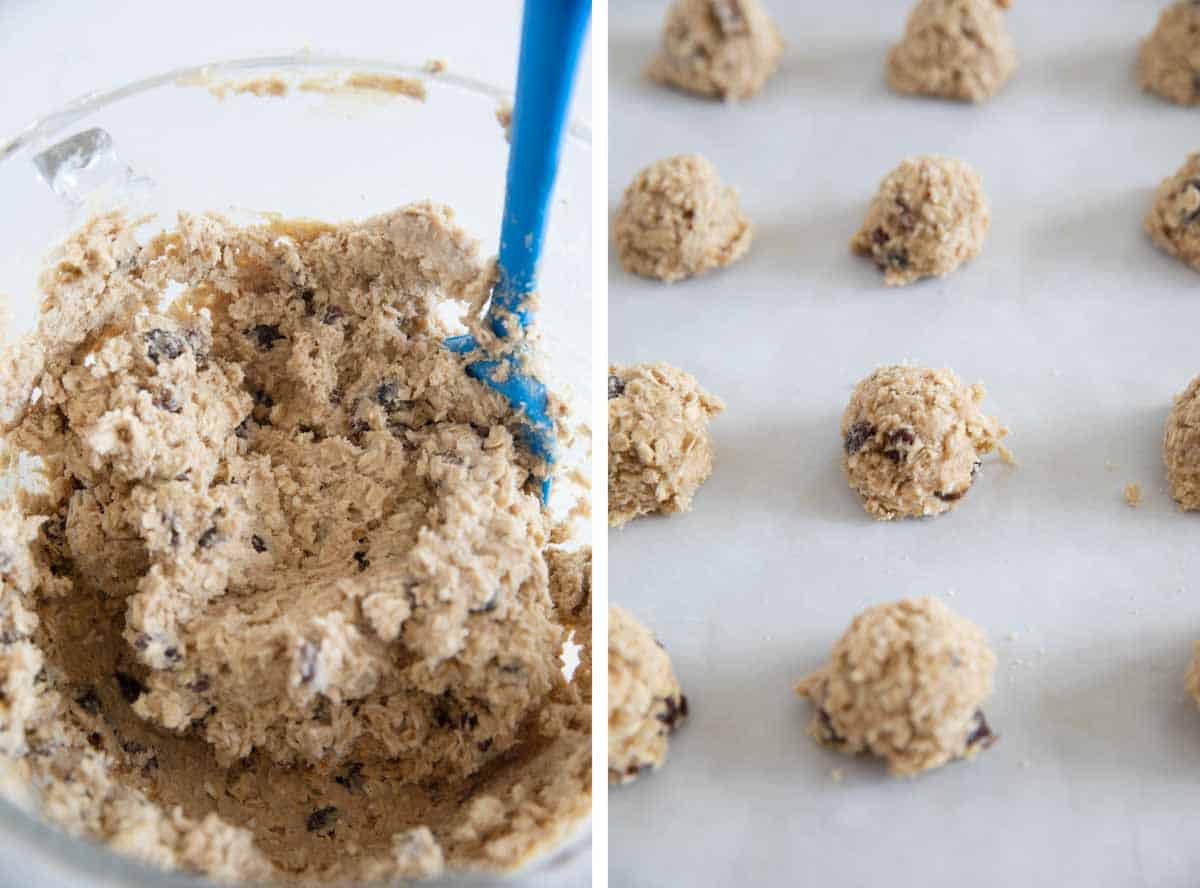 5: Pour in the oats and the raisins and mix. I like to do this last step by hand so that I can make sure everything has been incorporated from the bottom of the bowl. And if you are using a hand mixer, the dough will be much too thick at this point.
6: Scoop out the cookie dough. I like to use a spring loaded scoop, but you can also use a spoon and form the balls by hand. Place the balls on a baking sheet that is lined with parchment paper or a silpat liner then bake the cookies just until they are golden on the edges.
7: Once the cookies are done, let them cool on the sheet for a bit before transferring to a wire rack to cool.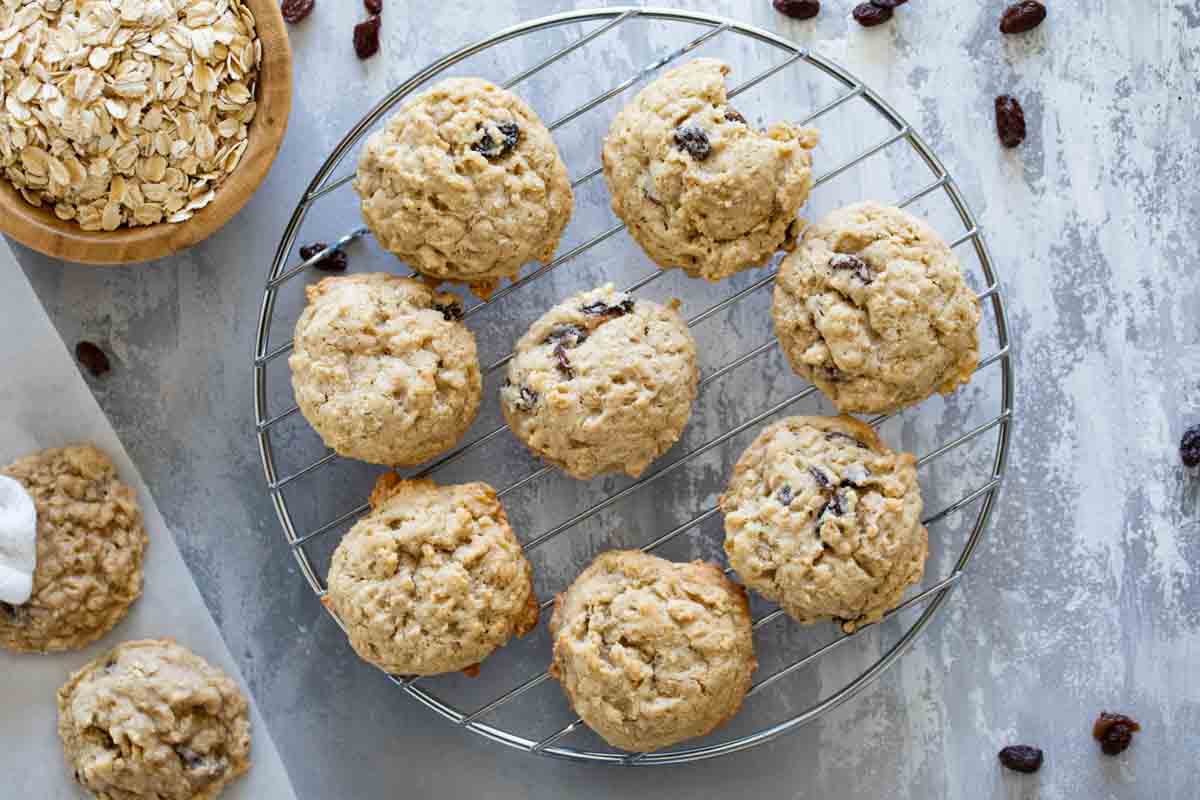 Variations
I know not everyone loves raisins – especially in their oatmeal cookies. So if you are not a fan, you can simply leave them out! Or replace them with dried cranberries or chocolate chips.
Want more spice? Add in extra cinnamon, or use a mixture of cinnamon and pumpkin pie spice.
You can also add nuts to these cookies. Pecans or walnuts would be delicious.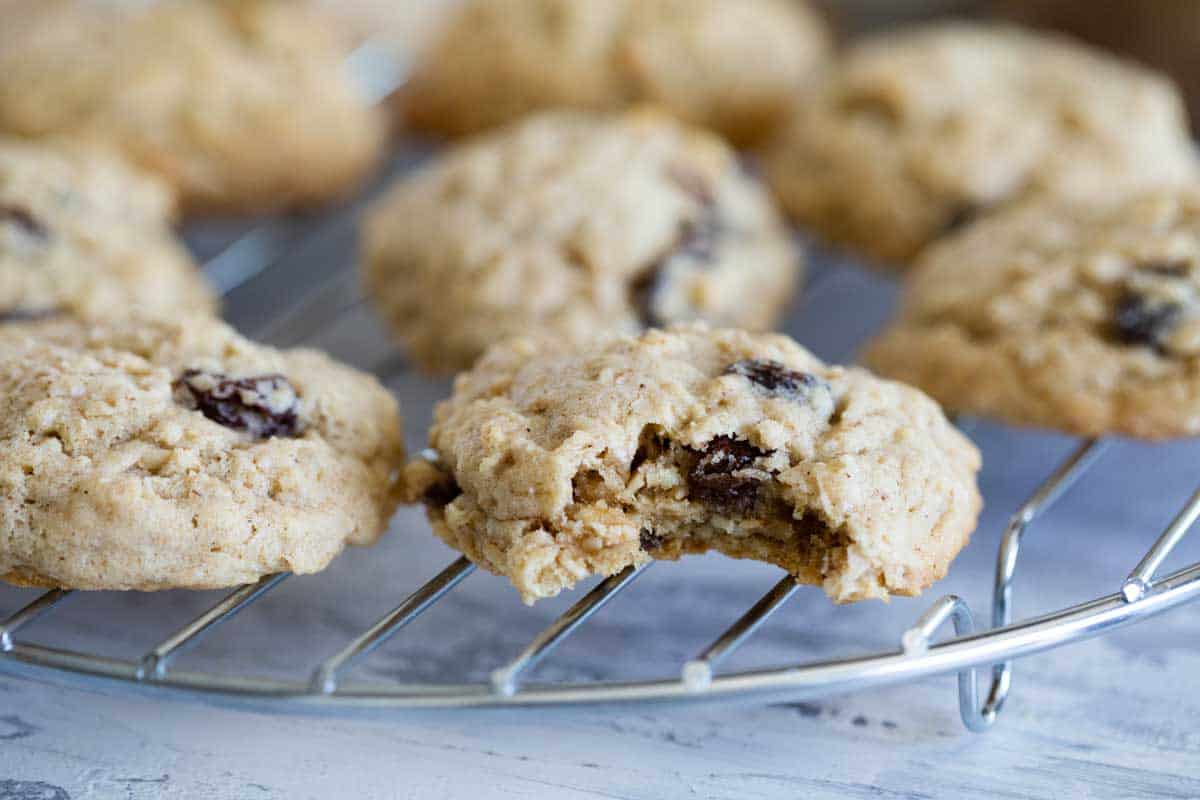 Frequently Asked Questions
Can you use quick oats instead of old fashioned oats for oatmeal cookies?
Technically you can, but you will end up with a different cookie. Old fashioned oats are what make the cookies nice and chewy. You won't get as much of that chew with quick cooking oats. Plus, cookies made with quick oats can be drier because the oats absorb the liquid differently. I would suggest using a recipe that is made for quick oats, like these Oatmeal Coconut Cookies.
Why did my oatmeal cookies go flat?
If you find that your cookies are flatter than you'd like, try adding a little bit more flour. You can also refrigerate your dough before baking.
How long will oatmeal cookies last?
If stored correctly in an airtight container at room temperature, they can technically last 1-2 weeks. But the quality will start to diminish over time, so I suggest eating them within a week.
Can you freeze oatmeal cookies?
Yes! Both baked oatmeal cookies and oatmeal cookie dough freeze really well! For full instructions on freezing see my guide on How to Freeze Cookie Dough.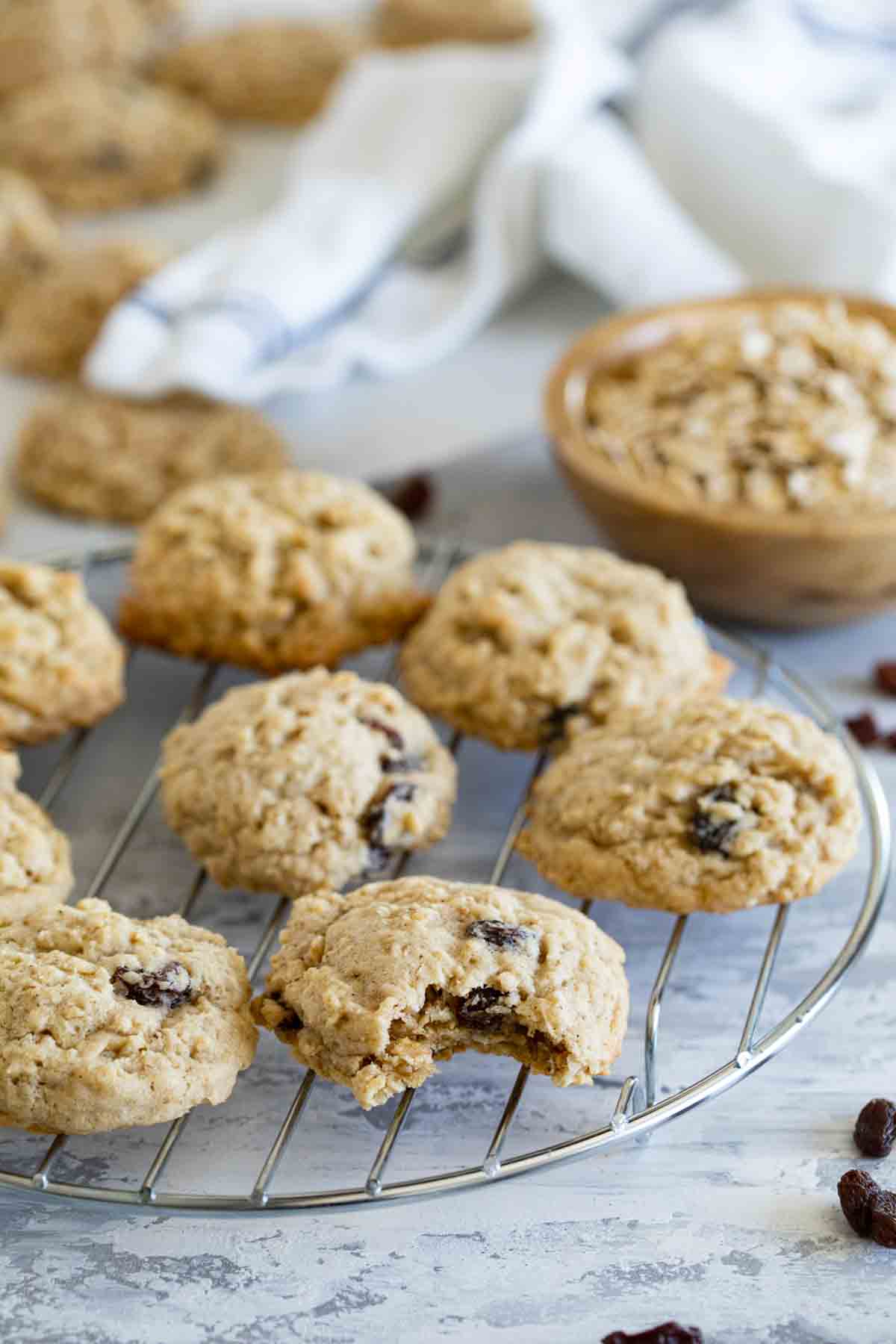 More Classic Cookie Recipes
Toll House Cookie Recipe
Snickerdoodle Recipe
The Best Sugar Cookie Recipe
Peanut Butter Cookies
No Bake Cookies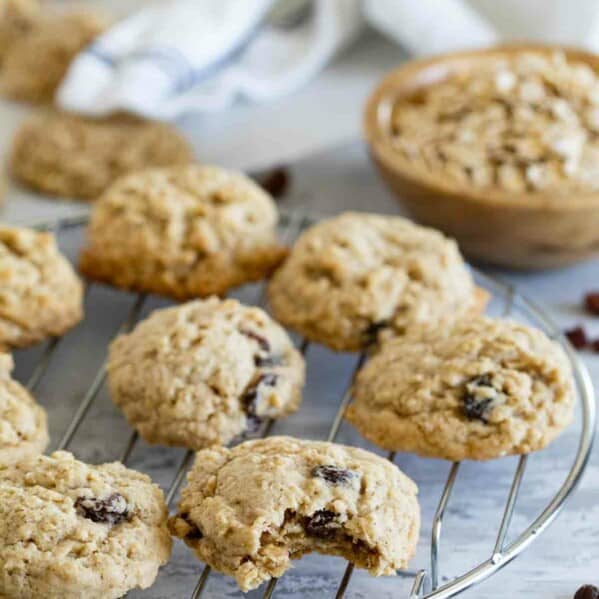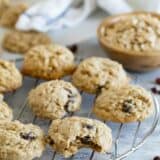 Oatmeal Cookies
---
Author:
Prep Time: 15 minutes
Cook Time: 20 minutes
Total Time: 35 minutes
Yield: 42 cookies 1x
Category: Dessert
Method: Baked
Cuisine: American
Description
Such a classic cookie – these Oatmeal Cookies are filled with lots of oats and are the perfect addition to any cookie jar. Add raisins to really make it a classic!
---
Scale
Ingredients
1 cup unsalted butter, softened
3/4 cup packed light brown sugar
3/4 cup granulated sugar
2 large eggs
1 tablespoon vanilla extract
2 cups all-purpose flour
1 1/2 teaspoons cinnamon
1 teaspoon baking soda
1/2 teaspoon salt
3 cups old fashioned oats
1 cup raisins, optional
---
Instructions
Preheat the oven to 350ºF. 
In the bowl of a stand mixer, or in a large bowl with an hand mixer, beat the butter and both sugars until light and fluffy, about 2 minutes. Add the eggs, one at a time, beating until fully incorporated and scraping down the sides of the bowl as needed. Beat in the vanilla extract.
In another bowl, whisk together the flour, cinnamon, baking soda, and salt. Add the flour mixture to the butter mixture and beat just until mostly combined.
Add the oats and the raisins and stir until combined.
Scoop out the dough, I like to use a cookie scoop, but you could use a spoon as well, and place the balls on parchment or silpat lined baking sheets, at least 2 inches apart.
Bake the cookies until the edges are just brown, 8-10 minutes. If baking more than one cookie sheet at a time, rotate them halfway through the baking time.
Leave the cookies on the baking sheet for 3-5 minutes, then transfer to a cooling rack to cool completely.
Recipe Notes:
Nutrition information provided as an estimate only. Various brands and products can change the counts. Any nutritional information should be used as a general guide. Optional raisins are included in the nutritional information.
Nutrition
Serving Size: 2 cookies
Calories: 246
Sugar: 12 g
Sodium: 106 mg
Fat: 10 g
Saturated Fat: 6 g
Unsaturated Fat: 4 g
Trans Fat: 0 g
Carbohydrates: 36 g
Fiber: 2 g
Protein: 3 g
Cholesterol: 41 mg
Keywords: Oatmeal cookies, oatmeal cookie recipe, oatmeal raisin cookies