A healthy breakfast or snack to keep on hand, these Classic Bran Muffins are easy to make and filled with fiber. They make the perfect grab and go breakfast!
Love a good muffin recipe? Try these Cinnamon Roll Muffins or Zucchini Muffins.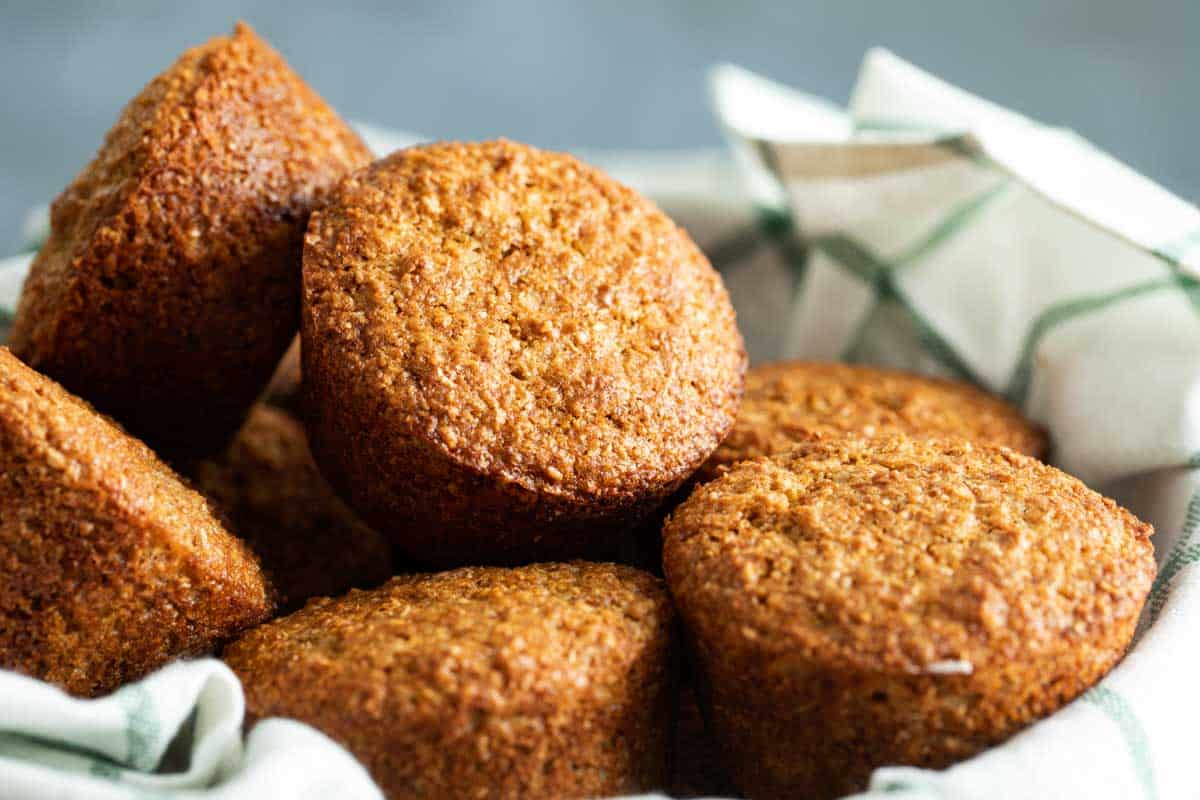 Several years ago, my family went on a Disney cruise. And on that ship, both my husband and I fell in love with their bran muffins. Every morning we both had them. I don't know what it was about them, but we looked forward to them at the breakfast buffet every day. I just ate mine as is, and he had his with a bowl of hot cereal.
When we got home, that's all that my husband wanted. A bowl of hot cereal and bran muffins. He bought some from the grocery store, but they weren't very good, and most ended up uneaten.
So that's when I decided to take matters into my own hands and make him some homemade bran muffins to eat with his hot cereal.
I've made bran muffins before, but never just regular, classic bran muffins. I have a whole wheat bran muffin that is super healthy, with dates and bananas used for sweetening. I have a Peanut Butter Banana Bran Muffin that is so good, but a little more on the indulgent side. And definitely not a muffin you dip in your hot cereal.
So that's when this Classic Bran Muffin started making a regular appearance in my kitchen. I would even be as bold to say that this is now my husband's favorite muffin.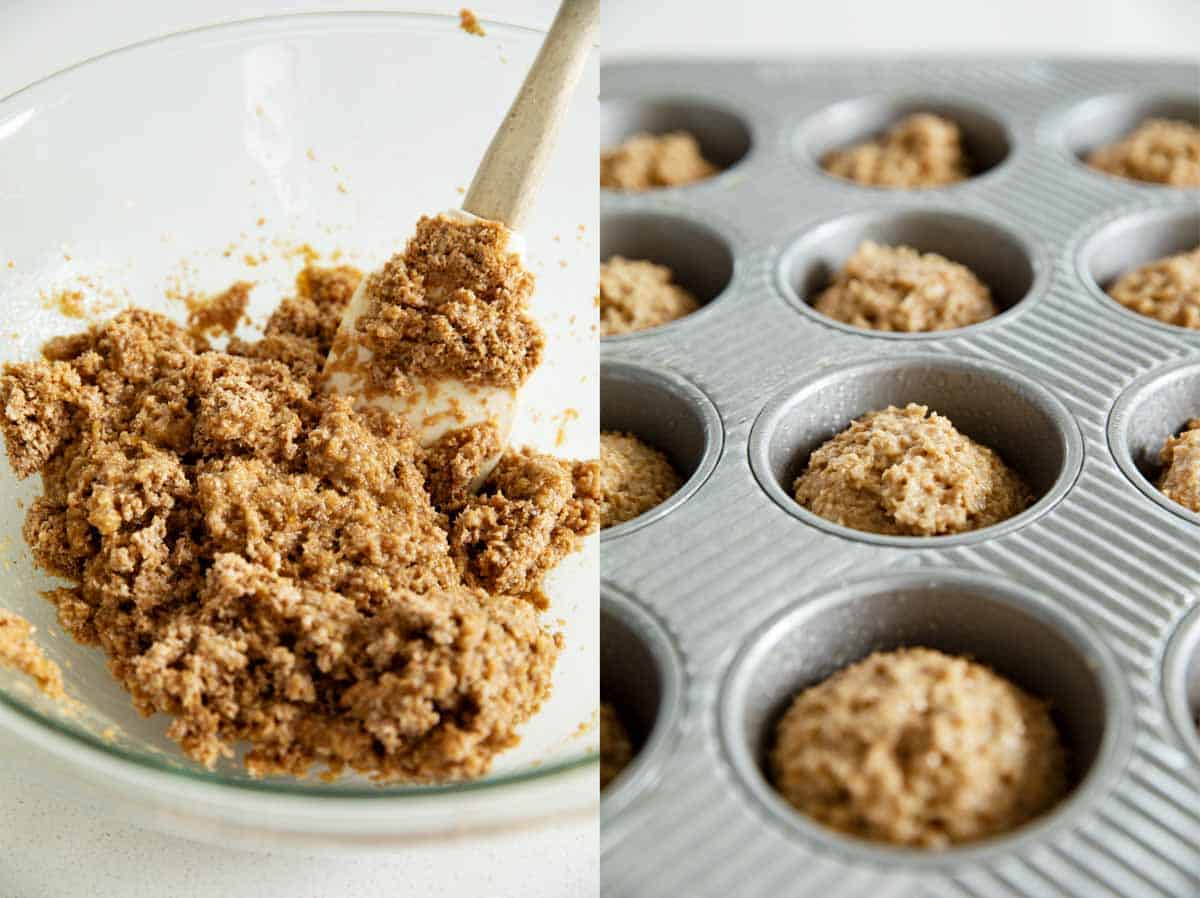 Ingredients
Wheat Bran: For some reason, this ingredient was super tricky for me to find this time. After searching several local grocery stores, I ended up having to buy it online. The wheat bran you need for this recipe is different than wheat germ (which was easy to find) or bran cereal (which is also easy to find). I read several places online that said that you can take bran cereal and process it to replace the wheat bran. But I only tested these muffins by using actual wheat bran.
Buttermilk: The buttermilk is really important for a tender muffin. If you don't have buttermilk, you can make a buttermilk substitute.
Vegetable Oil: I like to use vegetable oil, but another neutral oil will work. You could use melted butter, as well.
Egg: You only need one egg, but it's best if it is at room temperature.
Brown Sugar: I use light brown sugar, but dark brown sugar will work if that's what you have on hand.
Vanilla Extract: I like to use a good vanilla extract.
The Flour: I have made these muffins with both white whole wheat flour and regular all-purpose flour. Surprisingly, I preferred the white whole wheat. The muffin recipe will work with all-purpose, but the texture was more desirable to me when I used the white whole wheat flour.
Baking Powder & Baking Soda: I found that you need both baking powder and baking soda for these muffins.
Salt: This is to balance the flavors.
How to Make Classic Bran Muffins (video)
These are super simple to make, but if you want a visual aid, you can watch the video below.
Tips and Tricks
You'll want to soak the bran before you include it in your batter. We're only soaking it for 10 minutes in this recipe, but you could soak it longer, if you need to. But I wouldn't suggest skipping this step as you need to soften the bran.
In order to have tender muffins, don't overmix the batter. You only want to stir the batter until is just combined, but don't go overboard.
These bran muffins would be delicious with raisins in them. Or some chocolate chips, if you want to go crazy!
These muffins freeze well. They thaw fairly quickly, so I think it's easy to grab one out of the freezer to have on hand for breakfast or for a snack that day.
Store the muffins in an airtight container or ziplock bag in a single layer. These muffins will keep for about 3 days.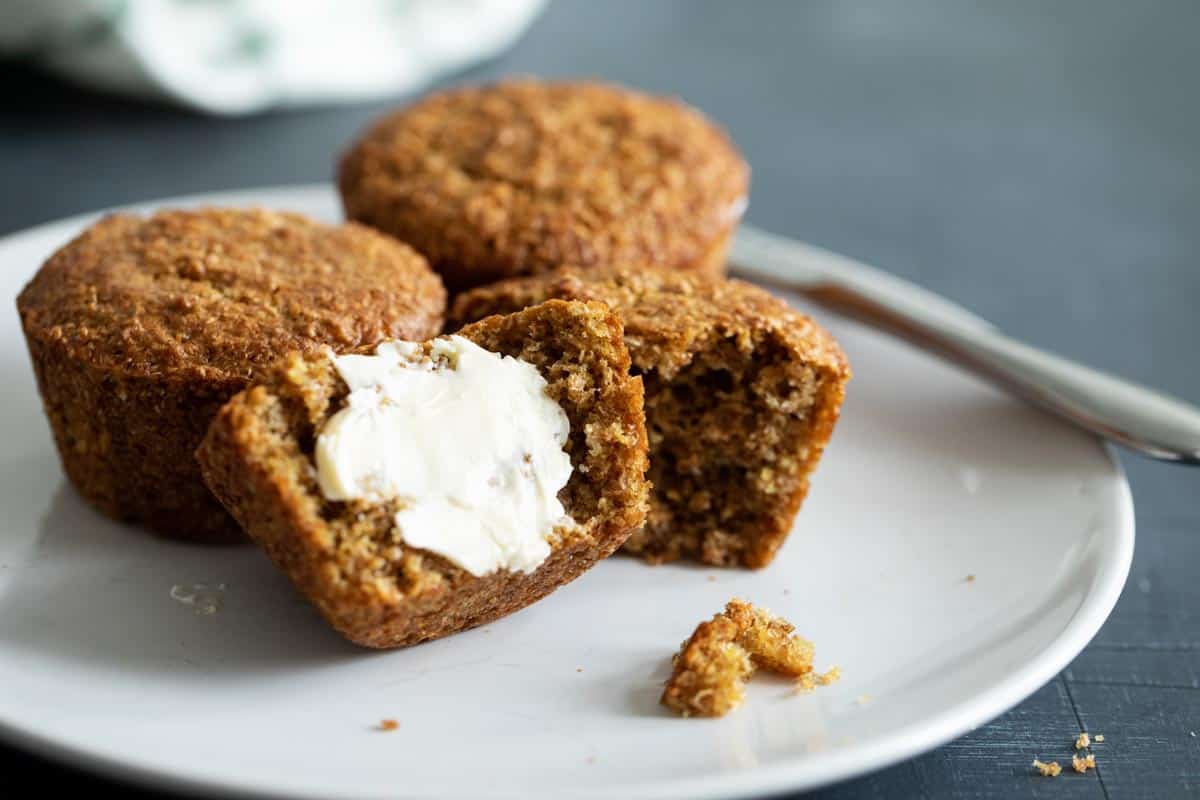 More Family Favorite Muffin Recipes
Chocolate Chip Muffin Recipe
Apple Cinnamon Muffins
Cocoa Oatmeal Muffins
Easy Pumpkin Muffins with Chocolate Chips
Cinnamon Muffins
Brown Sugar Muffins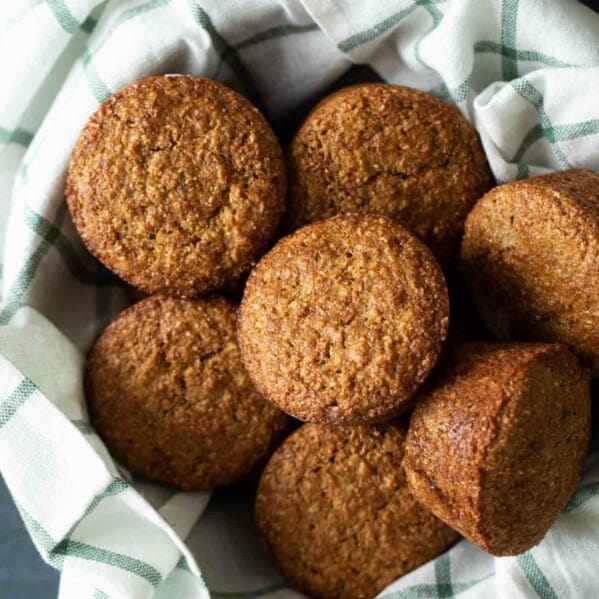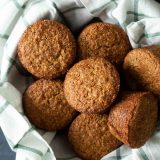 Classic Bran Muffins
---
Author:
Prep Time: 15 mins
Cook Time: 20 mins
Total Time: 35 minutes
Yield: 12 muffins 1x
Category: Breakfast
Method: Bake
Cuisine: American
Description
A healthy breakfast or snack to keep on hand, these Classic Bran Muffins are easy to make and filled with fiber. They make the perfect grab and go breakfast!
---
Scale
Ingredients
1 1/2 cups wheat bran
1 cup buttermilk
1/3 cup vegetable oil
1 egg
2/3 cup light brown sugar
1/2 teaspoon vanilla extract
1 cup white whole wheat flour
1 teaspoon baking soda
1 teaspoon baking powder
1/2 teaspoon salt
---
Instructions
Preheat the oven to 375ºF. Spray a 12-cup muffin tin with nonstick cooking spray.
In a medium bowl, combine the wheat bran and the buttermilk. Let it sit for 10 minutes.
In a large bowl, combine the oil, egg, brown sugar, and vanilla. Add the soaked wheat bran mixture and stir to combine. Add the flour, baking soda, baking powder and salt. Stir just until combined.
Divide the batter between the 12 muffin cups evenly.
Bake in the preheated oven until a tester inserted in the center comes out clean, 15-20 minutes.
Recipe Notes:
Nutrition information provided as an estimate only. Various brands and products can change the counts. Any nutritional information should only be used as a general guideline.
Nutrition
Serving Size: 1 muffin
Calories: 177
Sugar: 13 g
Sodium: 292 mg
Fat: 7 g
Saturated Fat: 1 g
Unsaturated Fat: 5 g
Trans Fat: 0 g
Carbohydrates: 24 g
Fiber: 4 g
Protein: 4 g
Cholesterol: 18 mg