I am here with another delicious recipe inspired by the wonderful 2012 Flavor Forecast from McCormick. (If you missed the first time I talked about this, check it out – along with a recipe for delicious Coconut Ginger Muffins – here). I am really loving all of these trends and flavor combinations from McCormick.

As I went through each of the trends, I couldn't decide where I wanted to go next.  But I kept going back to the Honoring Roots trend over and over again.  On the Flavor Forecast website, under Honoring Roots, is the flavor combination with Korean Pepper Paste with Sesame, Asian Pear and Ginger.  I kept thinking about this flavor combination, and I ultimately decided that this was the flavor combination I wanted to play with!
Fortunately, there are 2 amazing sounding recipes listed under this flavor combination – Jicama Wrapped Short Ribs with Asian Pear Slaw and Korean BBQ Wings.  I decided to combine the two and come up with something that fit my family, and that's when these chicken tacos were born.
These tacos are made with Korean pepper paste.  This was my first time working with this ingredient, and I wasn't sure what to expect.  I wasn't sure if it was going to be super spicy, so I didn't go crazy with it.  But it added a perfect amount of heat, and added great flavor to the dish.  You can find Korean pepper paste at an Asian grocer, or you can find it online.  You can bet that I'll always have some of this on hand now, because I really loved what it brought to this meal.  And given my love of Asian food, I'm sure I'll find plenty of uses for it!
I topped the tacos with an Asian slaw that has lots of crunch from the Asian pears and jicama.  I loved the bit of contrasting sweetness that the pear brought as well.  Finish it all off with a bit of nuttiness from toasted sesame seeds, and you have my idea of a perfect taco.  In fact, this was one of the most delicious tacos that has ever come out of my kitchen!!
Make sure and check out McCormick's website to learn more about their 2012 Flavor Forecast.  There are so many other delicious flavor combinations that I want to try out!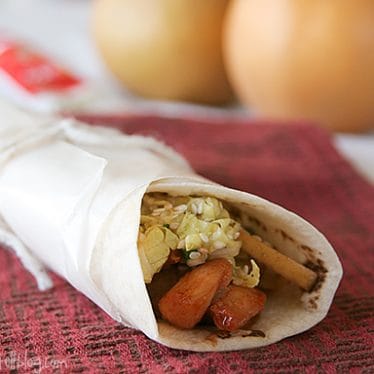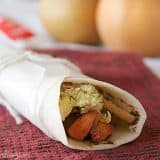 Korean BBQ Chicken Tacos with Asian Pear and Jicama Slaw
---
Prep Time: 20 minutes
Cook Time: 15 minutes
Total Time: 1 hour 15 minutes
Yield: 8 tacos 1x
Description
A sweet yet spicy chicken taco topped with a crunchy Asian slaw
---
Scale
Ingredients
For the Chicken
2 Tablespoons Korean Pepper Paste
1/2 cup soy sauce
1/4 cup honey
2 tablespoons minced garlic
2 tablespoons sesame oil
1 teaspoon McCormick® Ground Ginger
1 1/2 pounds boneless, skinless chicken breasts, cut into 1/4-inch thick strips
1 tablespoon extra virgin olive oil
For the Slaw:
1/4 cup seasoned rice vinegar
3 tablespoons sesame oil
2 tablespoons soy sauce
1 tablespoon honey
1 tablespoon finely chopped McCormick® Gourmet Crystallized Ginger
1 teaspoon McCormick® Ground Cinnamon
2 cups chopped napa cabbage
1 cup thinly sliced Asian pear
1 cup julienned jicama
1/2 cup thinly sliced red onion
2 tablespoons chopped fresh cilantro
For the Tacos:
8 soft taco sized flour tortillas
2 teaspoons McCormick® Sesame Seed, toasted
---
Instructions
Prepare the chicken:
In a small bowl, combine the Korean pepper paste, soy sauce, honey, minced garlic, sesame oil and ground ginger. Whisk to fully combine. Set aside.
Place the sliced chicken in a zip top bag. Add 1/2 cup of the prepared sauce to the bag with the chicken. Reserve the remaining sauce. Mix the chicken into the sauce, and refrigerate for at least 30 minutes.
Prepare the slaw:
In a medium bowl, whisk together the seasoned rice vinegar, sesame oil, soy sauce, honey, ginger and cinnamon. Add in the cabbage, Asian pear, jicama, red onion, and cilantro. Toss to combine. Refrigerate until needed.
Heat the 1 tablespoon of olive oil in a large skillet over medium-high heat. Add the chicken, discarding the remaining marinad in the bag. Cook the chicken until cooked through. Add in the reserved sauce and cook a couple more minutes, until the chicken is coated with the sauce.
Prepare the tacos:
Divide the chicken mixture between the 8 tortillas. Add slaw on top of the chicken, and sprinkle with toasted sesame seeds. Enjoy!
—————————
Recipe adapted from McCormick
**This is a sponsored post, but all opinions are my own.**