Favorite southwestern flavors are cooked up and served in romaine cups in this Southwestern Lettuce Wrap Recipe.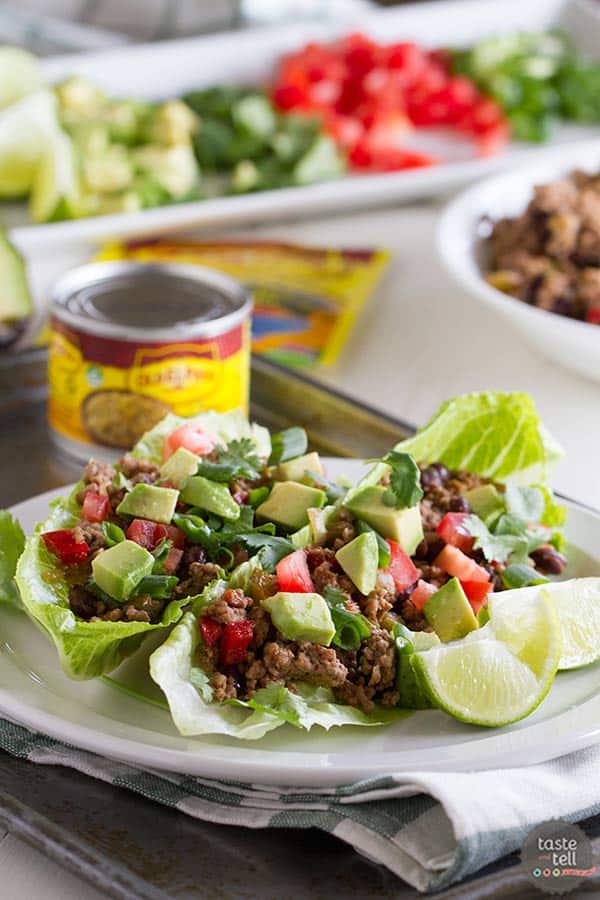 Let's talk tacos. I think I've made at least eleven hundred versions of them over the years. Ok, I may be exaggerating a tad, but really – tacos are awesome. But do you know what else is awesome? Lettuce wraps. Which are basically tacos with a lettuce shell instead of a tortilla. Right?

I actually had never really thought about them as tacos before until I made this Southwestern Lettuce Wrap Recipe. But maybe that's because every version I have made in the past has had some sort of an Asian twist to them. But then again, I have made tacos with an Asian twist as well.
So what I'm getting at, is, no matter what you call them – tacos, lettuce wraps, etc – they are pretty darn delicious.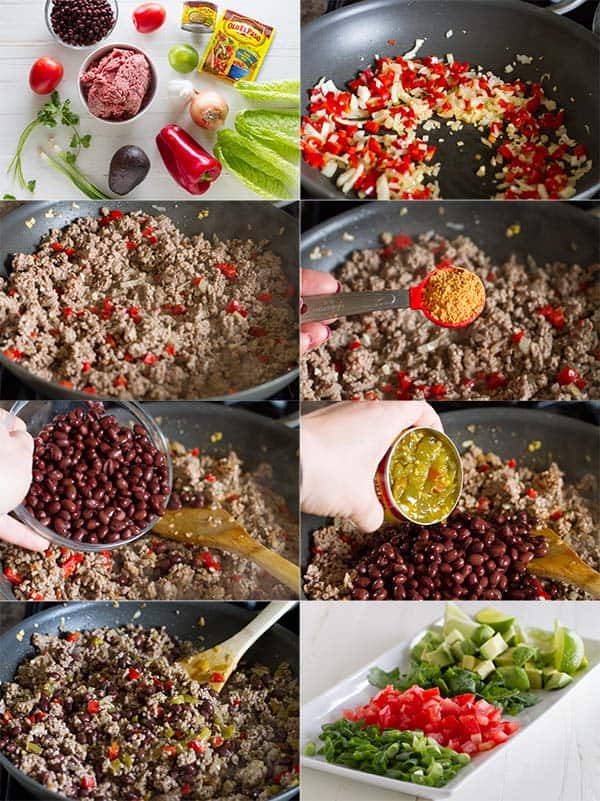 This Southwestern Lettuce Wrap Recipe is a pretty easy one. Cook up some ground beef with onion, red bell pepper and garlic, then add in some Old El Paso Taco Seasoning, black beans and Old El Paso chopped green chiles. This is my favorite way to cook up taco meat!
Then, instead of grabbing taco shells, grab some romaine hearts. Now, you can use pretty much any large leaf lettuce you want. Iceberg is popular, but for some reason, I always end up butchering the head of lettuce to try to get manageable pieces that work well for lettuce wraps. And butter lettuce works great, and is delicious, but it's always so pricey and you only get a few leaves. So this time, I thought I'd try romaine. I always buy romaine hearts for salads throughout the week (I love the crunch from the hearts) and thought that they would make the perfect "boats" for the filling. The only thing I like about using iceberg lettuce more is that you can fold up the filling inside the iceberg lettuce so that it's not really messy – and it did get a little messy to eat the romaine wraps – but I loved how easy the romaine is to fill.
All you have left to do is top those babies with whatever your heart desires. I went for tomatoes, avocados and cilantro, and then finished them off with a squeeze of fresh lime juice. Perfection!
My lettuce wrap recipe loving husband and daughter couldn't get enough of these. We definitely all ate our fill with very little left over!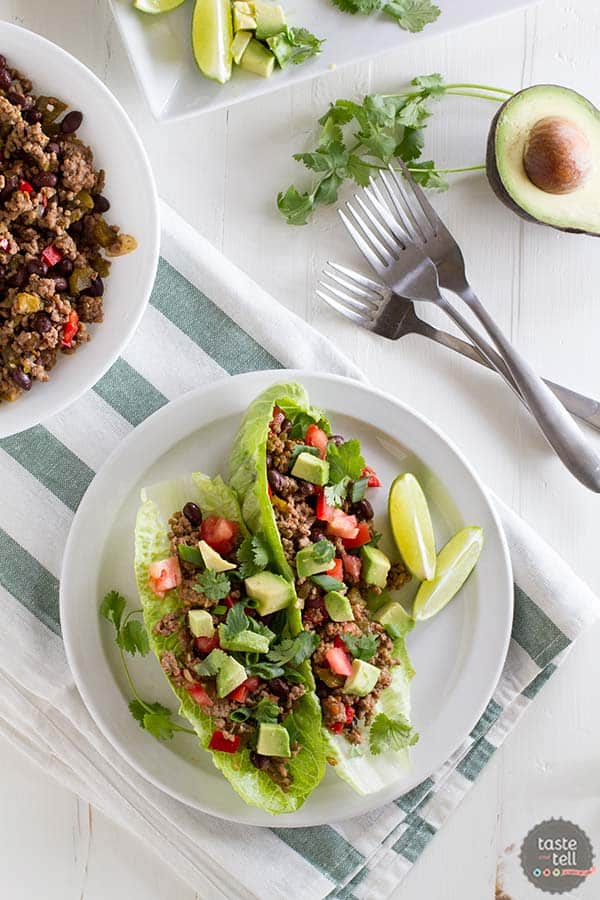 Like what you see here? Make sure you are following Taste and Tell for more great recipes and ideas!!

Facebook ** Pinterest ** Twitter ** Instagram ** Google+
or you can subscribe to my newsletter or Feedly or Bloglovin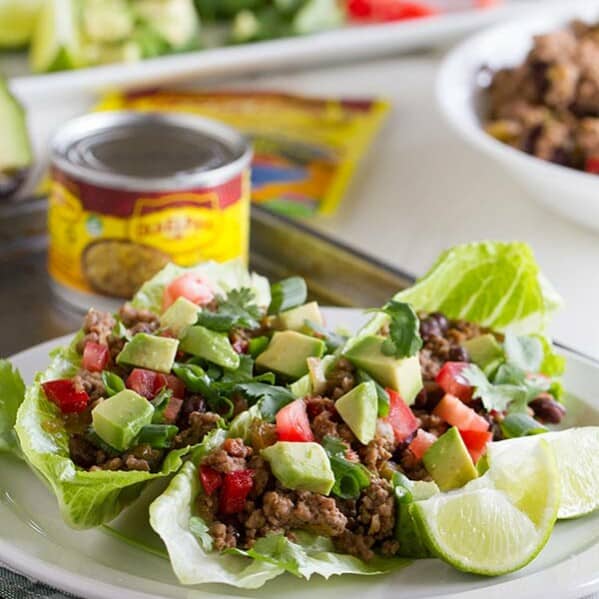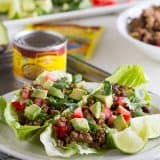 Southwestern Lettuce Wrap Recipe
---
Prep Time: 15 mins
Cook Time: 10 mins
Total Time: 25 mins
Yield: 6 servings 1x
Description
Favorite southwestern flavors are cooked up and served in romaine cups in this Southwestern Lettuce Wrap Recipe.
---
Scale
Ingredients
1 tablespoon olive oil or vegetable oil
1/2 cup chopped onion
1/2 cup chopped red bell pepper
2 cloves garlic, minced
1 1/2 lbs ground beef
2 tablespoons Old El Paso Taco Seasoning
1 can (15.5 oz) black beans, drained and rinsed
1 can (4.5 oz) Old El Paso Chopped Green Chiles
3 Romaine hearts
diced tomatoes, avocados, sliced green onions, cilantro and lime slices, for serving
---
Instructions
Heat the oil in a large skillet over medium heat. Add the onion, pepper and garlic and cook until it starts to soften. Add the ground beef and continue to cook until the beef is browned and the vegetables are soft. Stir in the taco seasoning until completely combined. Add the black beans and green chiles and stir to combine. Remove from the heat.
Cut the bottom 2 inches from the romaine hearts and pull apart the leaves. Serve the beef mixture in the lettuce cups, and top with your desired toppings.
I am in a working relationship with Old El Paso, and this post has been sponsored. I'm so glad to be able to work with companies and organizations that I truly believe in. Thank you for supporting them, too.