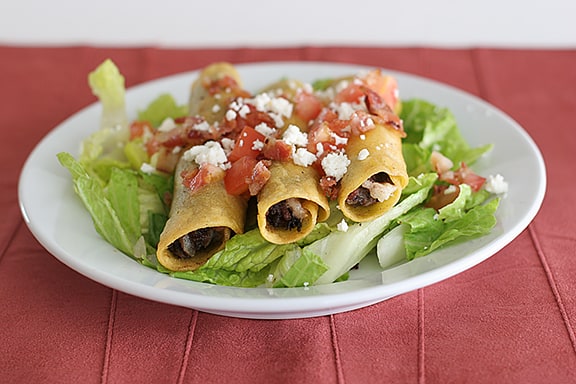 I grew up in a smallish town in New Mexico. In that town, there is a little hole-in-the-wall fast food restaurant that sells the best taquitos. I haven't lived there for over 12 years now, but I still crave those things often. And I try to get them whenever I go back. I know my mom and my sister have tried to duplicate them, but they are one of those things that are never quite the same.
So needless to say, I've always been intimidated to try making taquitos at home. But when I saw this recipe, I was quite intrigued. Black beans and bacon? Inside a taquito? I had to try.
And I'm glad that I did. I really liked these. Maybe not as much as those at that little taco joint back home. But they were different and delicious. And a whole lot easier than I anticipated. You do have to fry them, but that is really not that difficult.
Recipe Notes:
Make sure your oil is hot enough when you fry these. That was the only thing I would do differently next time, and that is all my fault. They weren't quite as crispy as I would have liked, but I think it's because my oil could have been a tad hotter.
I did add some oil to my little salad along with the vinegar. And I didn't really eat them together, as in eating the tacos with the salad in the same bite. But I ate them separately, like the salad was a side dish. It was a great accompaniment, especially because it was something fresh against the fried tacos.
If everything from this book is at least this good, I know we're in for a treat this month!
Recipe Rating: 4.25 out of 5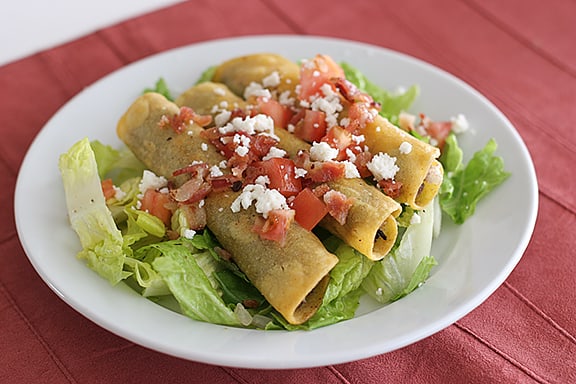 Crispy Black Bean – Bacon Tacos
from Rick Bayless's Mexican Kitchen


serves 4 to 6 as a hefty snack or a simple meal

6 slices bacon
1 small white onion, finely chopped
1 1/2 cups seasoned, cooked black beans (either canned or homemade), drained of most of their cooking liquid
2 to 3 pickled jalapenos or canned chipotle chiles en adobo, stemmed, seeded & finely chopped
A sprinkling of salt
Vegetable oil to a depth of 1/2 inch for frying
12 very thin factory-made tortillas
2/3 cup crumbled Mexican queso fresco or pressed, salted farmer's cheese
6 good-size romaine leaves
1 1/2 Tbs cider vinegar
1 large tomato, cored & chopped into 1/4-inch dice
In a large (10- to 12-inch heavy skillet, lay out the bacon & fry over medium heat, turning when browned underneath, until thoroughly crisp, about 10 minutes. Remove to a paper towel-lined plate. Pour off all but a thin coating of drippings.
Add the onion to the pan & cook, stirring regularly, until deep golden, about 10 minutes. Stir in the beans, then coarsely mash with a bean or potato masher or the back of a wooden spoon. Crumble the bacon & add half of it to the beans along with the chiles; stir over the heat until quite thick, about 5 minutes. Taste & season with salt. Cool.
Clean the skillet, pour in the oil & heat over medium-high. When hot, one by one, quick-fry the tortillas for several seconds to soften, then remove them with tongs & pat thoroughly dry on paper towels. Stack the blotted tortillas together, & remove the oil from the heat.
Spoon 2 Tbs of the black-bean mixture down the center of each tortilla, sprinkle each with about 1/2 Tbs of the cheese, & roll up. Cover with plastic wrap.
Return the oil to between medium & medium-high heat, you should have at least 1/4 inch of it in your skillet. Slice the romaine crosswise into 3/8-inch ribbons & toss with the vinegar & a little salt.
When the oil is very hot (it shouldn't be smoking; 375 degrees on a deep-fry thermometer is just right), fry the taquitos 4 at a time, being sure to lay them into the hot oil flap-side down. When crispy underneath, about 2 minutes, flip them over & fry on the other side, 1 to 2 minutes more. Remove from the oil with tongs or a slotted spatula, drain on paper towels & tip them to ensure no oil is inside. Keep warm in a low oven until all are fried.
Spread the lettuce on top a serving platter (or divide it between individual plates) & top with the taquitos. Spoon the chopped tomato down he center of the tacos, sprinkle with the remaining cheese & bacon & carry the whole assembly to the table