A healthier fish taco, this Baja Fish Taco Recipe has grilled flaky white fish, a creamy avocado sauce, and a tangy white mayo sauce. My idea of a perfect taco night!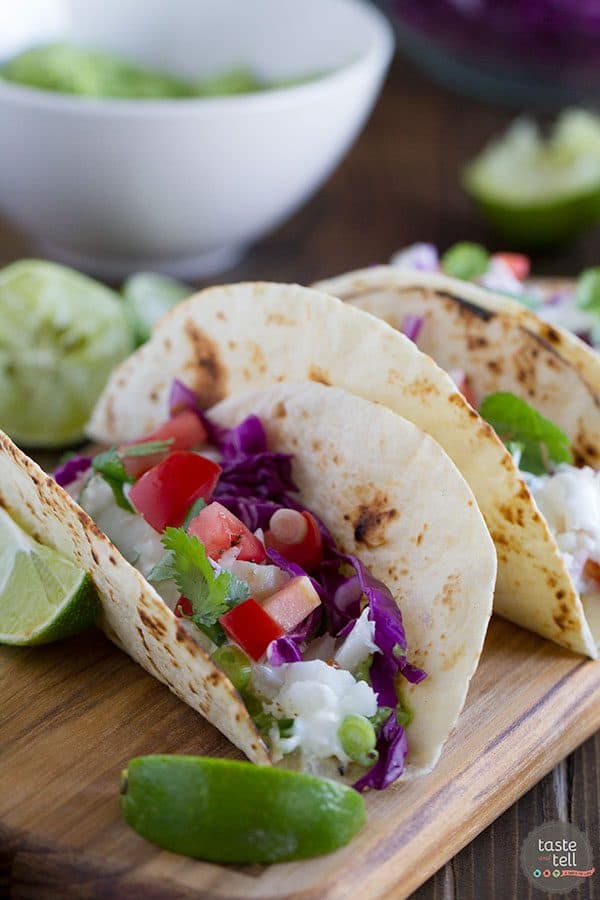 Photos Updated September 2015
Originally posted January 14, 2011 – I've been on a total taco kick, having them at least once a week lately. I had some extra cod on hand, and it was fate that I make this recipe again. The first time I made these, I used tilapia, so I think that any firm, white fish will work great in this recipe. And while I love fried fish tacos, these are a nice, healthy alternative. There are a few different components, but they are all very easy and this Baja Fish Taco Recipe comes together easily and quickly!
The original post follows:
Did any of you watch this week's Top Chef All Stars? The chefs were taken out on boats to catch their own fish, then they went to a farmer's market, and created dishes based on the fish they caught and what they were able to find at the farmer's market. Now – most of the Top Chef challenges are way out of my league. Actually, all of them. But this is one that I really think I would have liked to participate in. (Besides the fact that I have no idea what to do with a whole fish – I'd have to have someone else butcher it for me!!)
And it was ironic that I just happen to make fish tacos that same day. As I was going through this month's Cookbook of the Month, this recipe just kept jumping out at me. And I'm so glad that I made it, because this Baja Fish Taco recipe was so refreshing and delicious. As much as I love fried fish – especially wrapped up in a taco – this fish is grilled and a much healthier way to have your fish tacos. But don't worry – the flavor isn't lacking without the fried fish! You actually feel good about eating these!
The original recipe called for halibut, but I used tilapia instead of halibut, because I had some in my freezer. And I didn't use the food processor to make the avocado sauce. Abbi was napping when I made these, so I was trying to be quiet and just used a fork. So it was chunkier than in the recipe, but it was still delicious!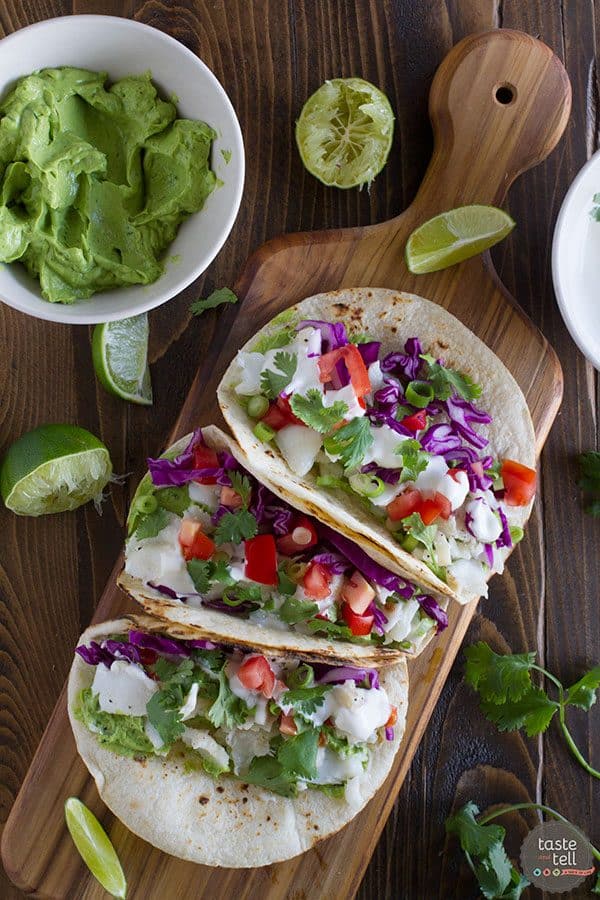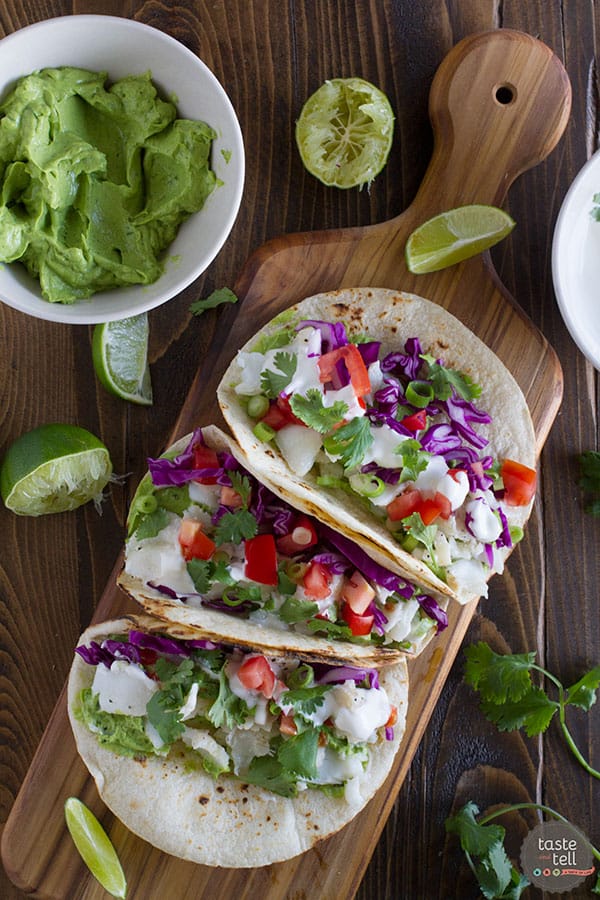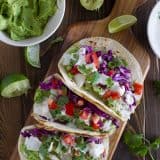 Baja Fish Taco Recipe
---
Prep Time: 15 mins
Cook Time: 15 mins
Total Time: 30 mins
Yield: 4 servings 1x
Description
A healthier fish taco, this Baja Fish Taco Recipe has grilled flaky white fish, a creamy avocado sauce, and a tangy white mayo sauce. My idea of a perfect taco night!
---
Scale
Ingredients
Fish:
4 (6- 8-ounce) firm white fish fillets (mahimahi, tilapia, cod, etc)
olive oil
salt and freshly ground pepper
juice of 1 lime
Avocado Sauce:
Flesh of 2 medium-ripe avocados
juice of 2 limes
handful of fresh cilantro leaves
pinch of cayenne pepper
Tangy Mayo Sauce:
½ cup mayonnaise
1 teaspoon white vinegar
1½ tablespoons water
Tacos
10 to 12 (6-inch) soft flour tortillas
1 small head purple cabbage, shredded
2 medium tomatoes, diced
4 green onions, thinly sliced
cilantro
---
Instructions
Make the fish:
Preheat a grill to high. Drizzle fish on both sides with olive oil and sprinkle with salt and pepper.
Grill the fish for 5-7 minutes per side, or until opaque. Remove the fish from the grill and drizzle the lime juice over the top. Use a fork to break the fish into pieces.
Make the avocado sauce:
In a small food processor or blender, combine the avocado, lime juice, cilantro and cayenne. Process until smooth, adding more lime juice to thin out if desired.
Make the tangy mayo sauce:
In a small bowl, combine the mayonnaise, vinegar and water and stir until smooth
Make the tacos:
If desired, lightly char the tortillas on a grill, gas stove or in a dry cast iron skillet. Spread some of the avocado sauce down the center of the tortilla, then place some of the fish down on top of the sauce. Top with cabbage, tomatoes and green onions. Drizzle with the mayo sauce. Add more cilantro to the top, if desired.