A taste of San Diego, these fried fish tacos have pieces of battered, fried fish inside corn tortillas, topped with a creamy, tangy white sauce.
Make it a whole meal and serve these fish tacos with chips and salsa or queso blanco and a Dulce de Leche Cheesecake for dessert!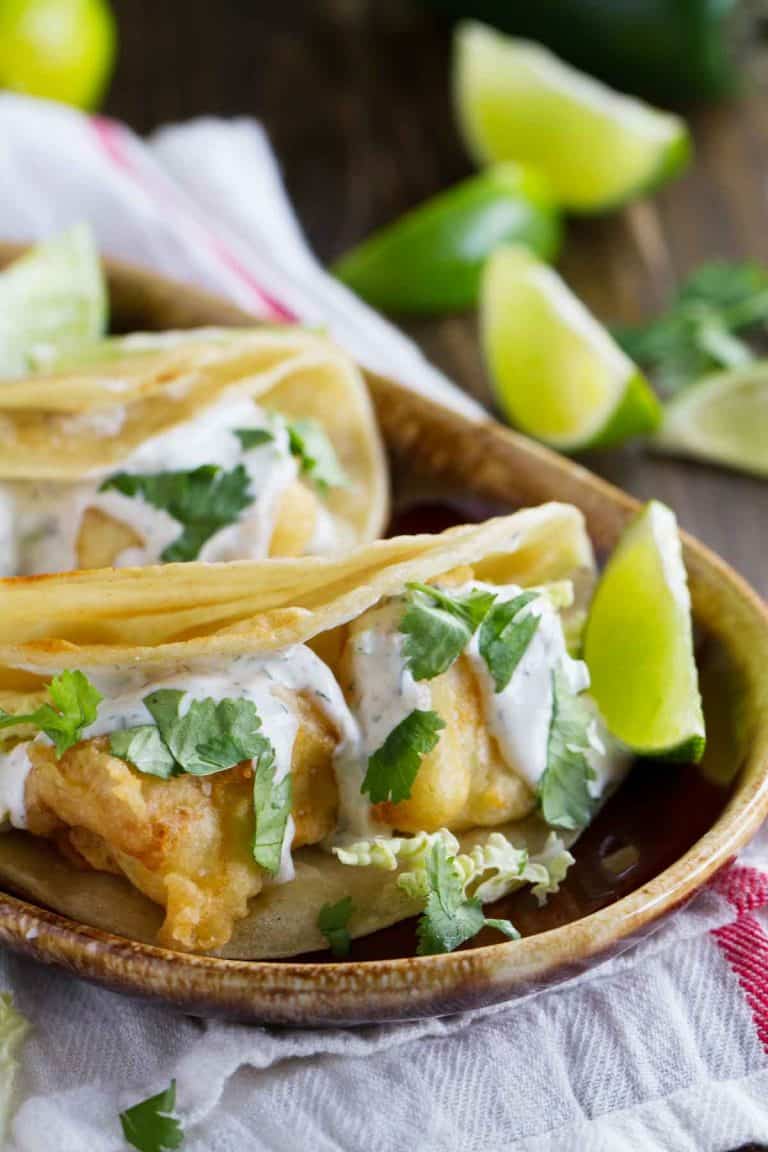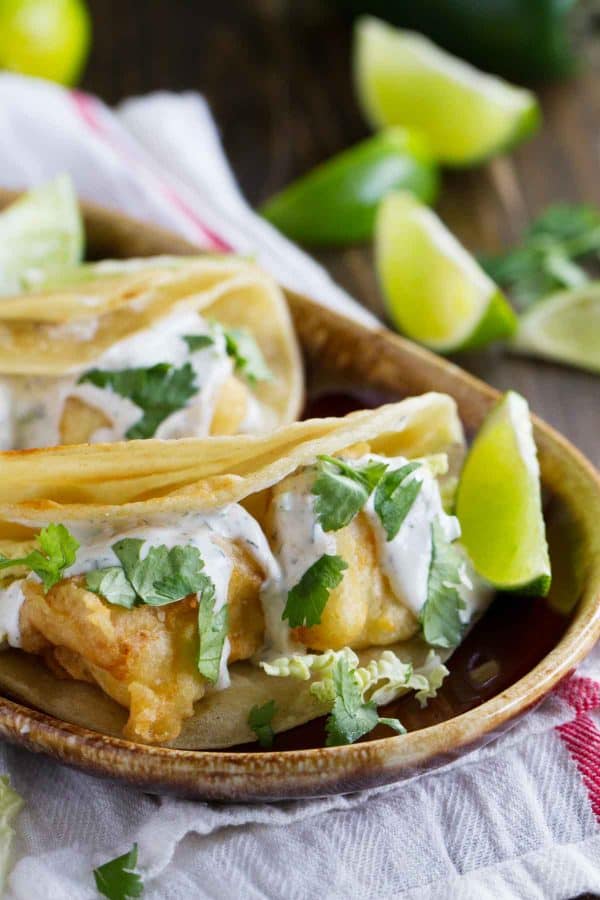 One of my favorite parts about visiting California are the tacos. Fish tacos, to be exact. There is nothing like visiting San Diego and eating fish tacos on the beach.
While these fried fish tacos aren't authentic Mexican, they definitely belong in the Baja California category. And this taco recipe is almost as good as visiting southern California for my taco fix.
What You'll Need to Make Fried Fish Tacos
Here's what you'll need to make these fish tacos at home:
Oil – this is for frying the fish. I use vegetable oil, but feel free to use a neutral flavored oil of your choice. Just make sure it is good for higher temps.
Fish – you'll need a firm white fish for this recipe. You could use cod, halibut, or tilapia. Or try another if you have a different favorite!
Flour, Cornstarch, Baking Powder and Salt – this is the magic combination of ingredients to give your fish that familiar fried fish coating. The cornstarch and flour give it the crunch and color, while the baking powder helps to give the rise to the batter so that it has that puffiness.
Egg and Club Soda – So many people will use beer instead of club soda. I don't drink, so I don't ever have beer on hand. I find that the carbonation is what this recipe really needs to create the chemical reaction, so using club soda or tonic water will work just as well. If you want the flavor of the beer, feel free to sub that in.
Corn Tortillas – each of these tacos gets a double layer of tortillas. If your tortillas are on the thicker side, or if your prefer just one tortilla per taco, feel free to only use one per taco.
The Toppings – I use shredded cabbage, minced cilantro and lime juice. You could also use pico de gallo, sliced avocados, red onions, sliced radishes – use whatever you love!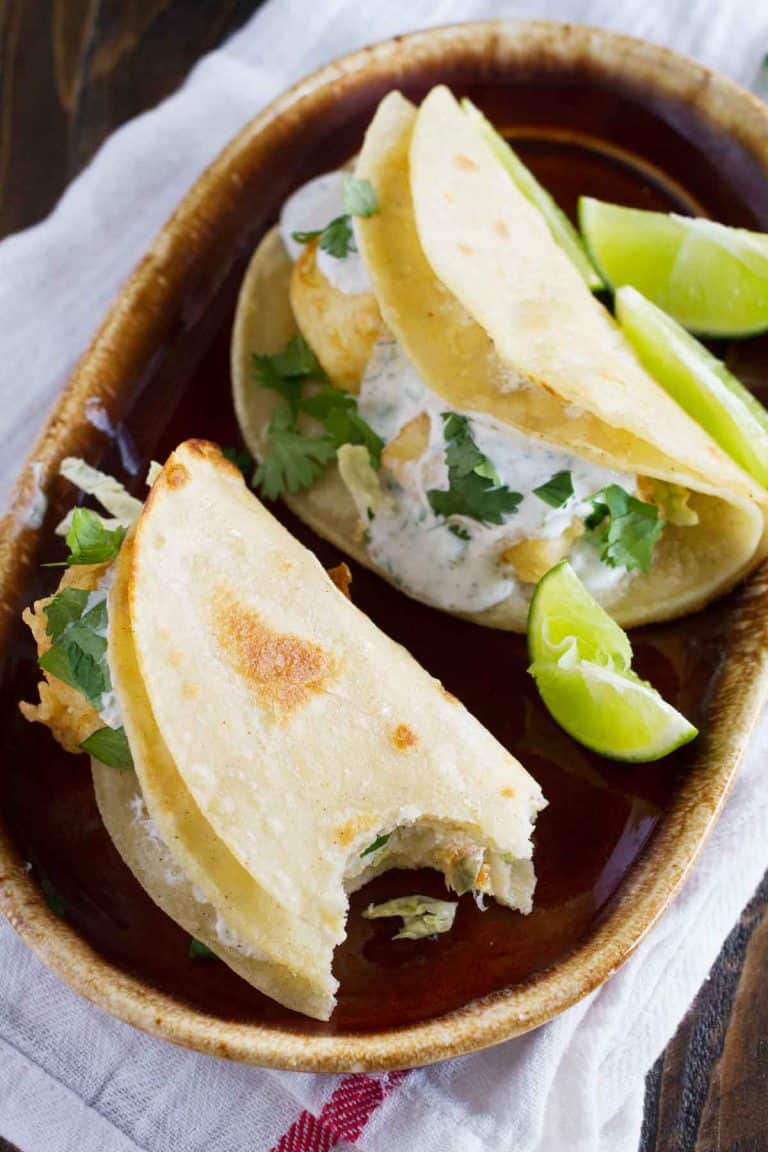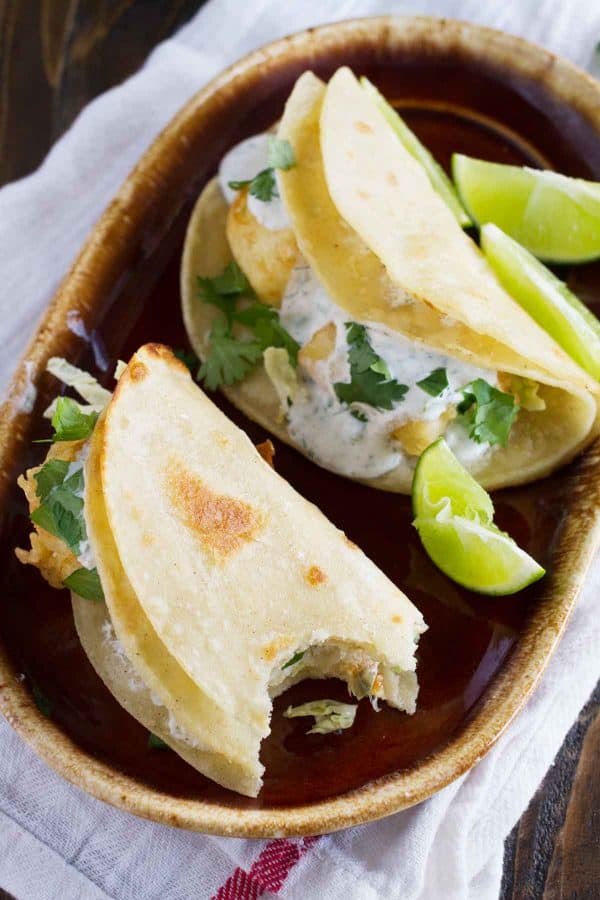 How to Make White Sauce for Fish Tacos
One thing that really sets these fried fish tacos apart is the white sauce.
It is super easy to make, just combine plain Greek yogurt, sour cream, lime juice, minced jalapeno, and minced capers with oregano, cumin, dried dill, salt and pepper.
Stir to combine, then refrigerate until you are ready to use it.
This can be made just before making your tacos, but the flavor really will meld together better if you make it ahead of time. Especially if it has a few hours in the fridge before you serve it.
Tips and Tricks
You can cut your fish into 1-ounce pieces, like I specify in the recipe, or you can cut it into 8 strips so that each taco gets one piece of fish. I find that it's easier to do the chunks because they are easier to eat, and easier to portion out. Plus, this really does make quite a bit, so you could even stretch it to more than 8 tacos if you want more for your buck.
Don't skip the white sauce. It really does make these tacos.
Since corn tortillas are known to crack, I like to heat mine first. If desired, you can char your tortillas over a gas flame (my favorite) or you can heat them up in a skillet. It's also easy to wrap them in a damp paper towel and microwave until they are softened, as well.
Don't make the fish until you are ready to serve it. It is best served hot, and doesn't make the best leftovers.
I have used electric fryers and just a heavy duty pot on the stove. And honestly, both work just as well. If you are using a fryer, it keeps the temperature without you having to check it all the time to make sure it's hot enough, but it is an extra appliance. And not everyone has room for an extra appliance. So don't feel like you have to have one!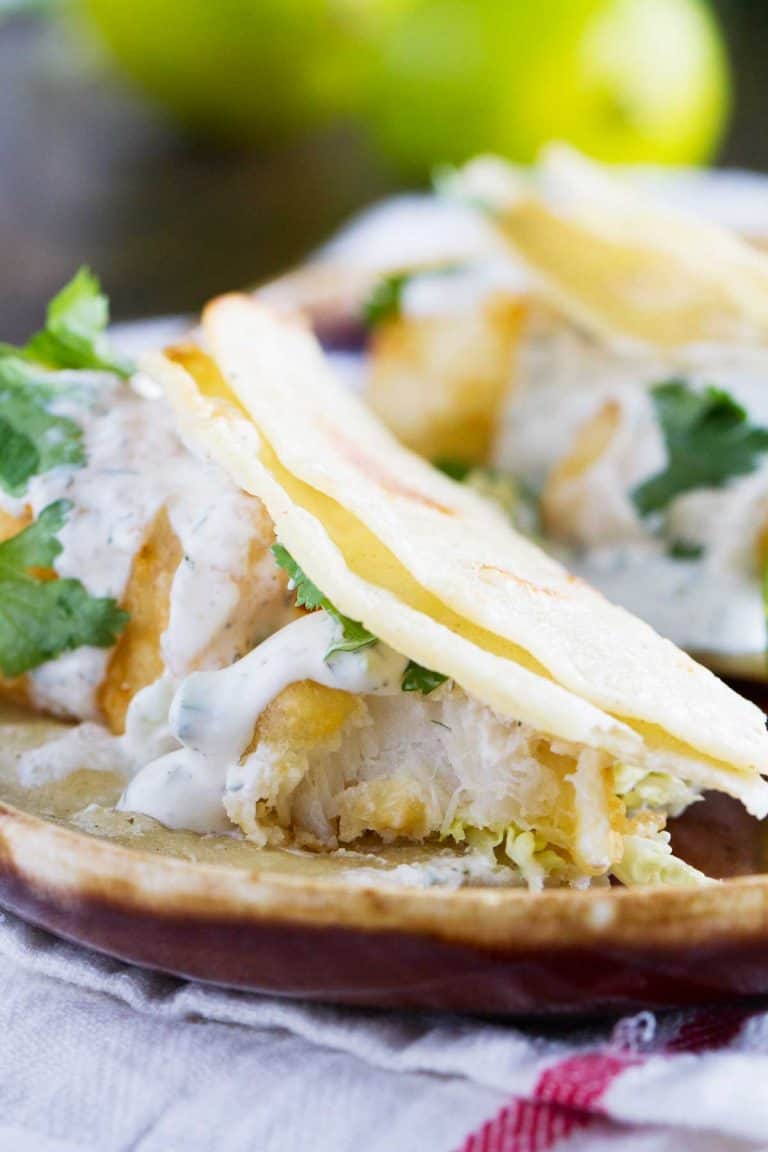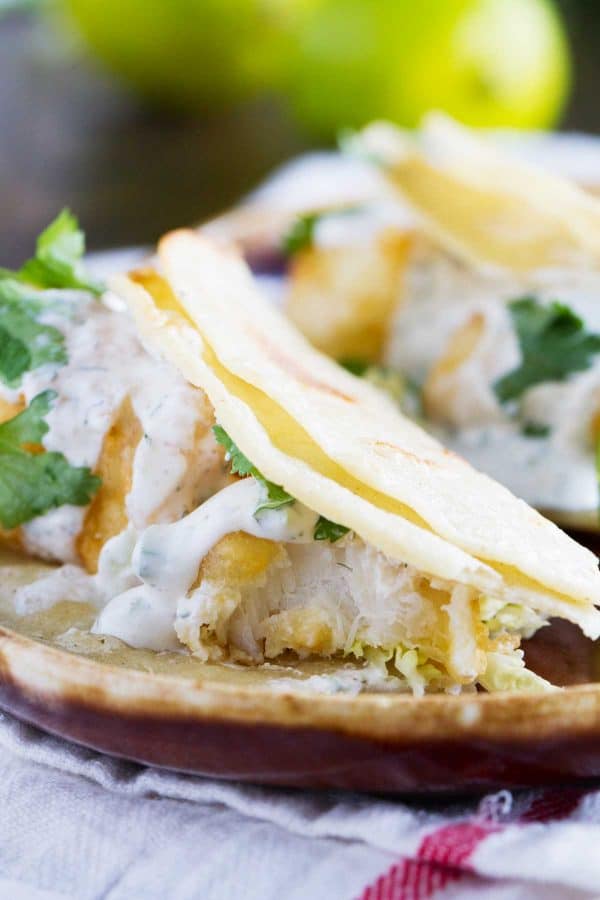 More Favorite Taco Recipes
Buffalo Beef Taco Recipe
Baja Fish Taco Recipe
Fiesta Chicken Tacos With Mango and Jicama Salad
Migas Breakfast Tacos
Slow Cooker Chicken Tacos
Easy Fish Taco with Cajun Seasoning
Tools Used to Make These Fried Fish Tacos
I have this deep fryer, but I have also used my cast iron Dutch oven.
I also have this set of mixing bowls that I use all of the time!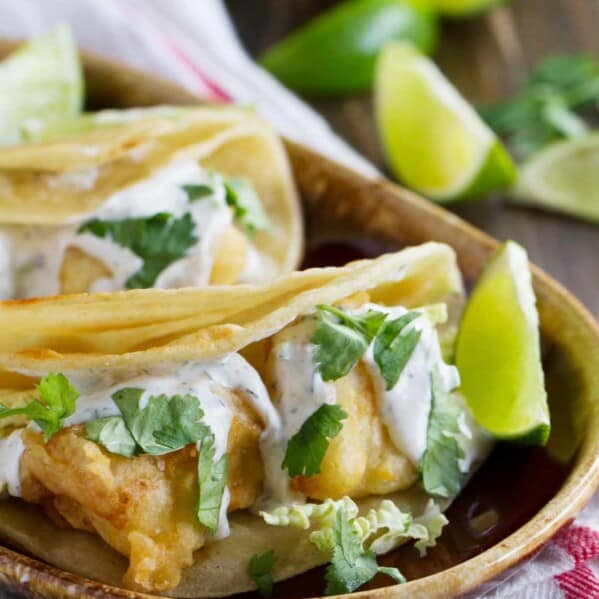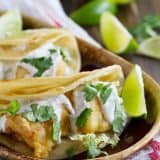 Fried Fish Tacos
---
Author:
Prep Time: 30 mins
Cook Time: 15 mins
Total Time: 45 mins
Yield: 8 tacos 1x
Category: Main Dish
Method: Fry
Cuisine: Mexican
Description
A taste of San Diego, these fried fish tacos have pieces of battered, fried fish inside corn tortillas, topped with a creamy, tangy white sauce.
---
Scale
Ingredients
White Sauce
1/2 cup plain Greek yogurt
1/2 cup sour cream
1 lime, juiced
1/2 jalapeño pepper, seeds and ribs removed, finely minced
1 teaspoon capers, finely minced
1/2 teaspoon dried oregano
1/2 teaspoon cumin
1/2 teaspoon dried dill
1/2 teaspoon salt
pinch cayenne pepper
Tacos
oil, for frying
16–18 oz firm white fish (cod, halibut, tilapia)
1 cup all-purpose flour, plus more for dusting the fish
2 tablespoons cornstarch
1 teaspoon baking powder
1/2 teaspoon salt
1 egg, lightly whisked
1 cup club soda or tonic water
16 small corn tortillas
shredded cabbage
minced cilantro
lime wedges
---
Instructions
In a medium bowl, combine the yogurt, sour cream, and lime juice; stir to combine. Add the jalapeño, capers, oregano, cumin, dill, salt and pepper. Stir completely, then cover and refrigerate until ready to use. (This sauce is great if you make it just before serving, but does get better after being refrigerated for a few hours. So if you can, make the sauce ahead of time.)
Add and inch or two of oil to a large, heavy pan and bring to 375ºF.
Cut the fish into 1-ounce pieces.
In a bowl, stir together the flour, cornstarch, baking powder and salt. In another bowl, stir together the egg and the club soda, then add it to the dry ingredients. Stir until combined – there may be some lumps, but that is normal.
Dust the fish with flour. Working in batches as to not crowd the pan, drop the pieces of fish into the batter, then into the oil. Cook, turning as needed, until the fish is golden brown, 5-7 minutes. With a slotted spoon, transfer the fish to a paper towel lined plate and sprinkle with kosher salt while still hot. Keep the fish warm and continue frying the fish until done.
Put a small amount of oil in a small skillet and heat over medium heat. Add a tortilla and cook for a few seconds until golden, then turn and cook the second side. Transfer to a paper towel lined plate and repeat with the remaining tortillas.
To serve, stack 2 tortillas, then add some cabbage, 2-3 pieces of fish, and then some of the white sauce. Top it off with fresh, minced cilantro and a squeeze of lime.
Recipe Notes:
adapted from allrecipes.com
Nutrition information provided as an estimate only. Various brands and products can change the counts. Any nutritional information should only be used as a general guideline. Nutrition information does include the cabbage and the white sauce, but not any other toppings.
The nutritional value for the frying oil is based on a retention of 1/4 cup oil. Cooking time and temperature can cause this number to change.
Nutrition
Serving Size: 1 taco
Calories: 329
Sugar: 3 g
Sodium: 427 mg
Fat: 14 g
Saturated Fat: 4 g
Unsaturated Fat: 7 g
Trans Fat: 0 g
Carbohydrates: 35 g
Fiber: 4 g
Protein: 20 g
Cholesterol: 25 mg
Keywords: fried fish tacos