Crispy fried shrimp are combined with your favorite taco toppings and a homemade mayonnaise in this Crispy Shrimp Taco Recipe that is perfect for Taco Tuesday.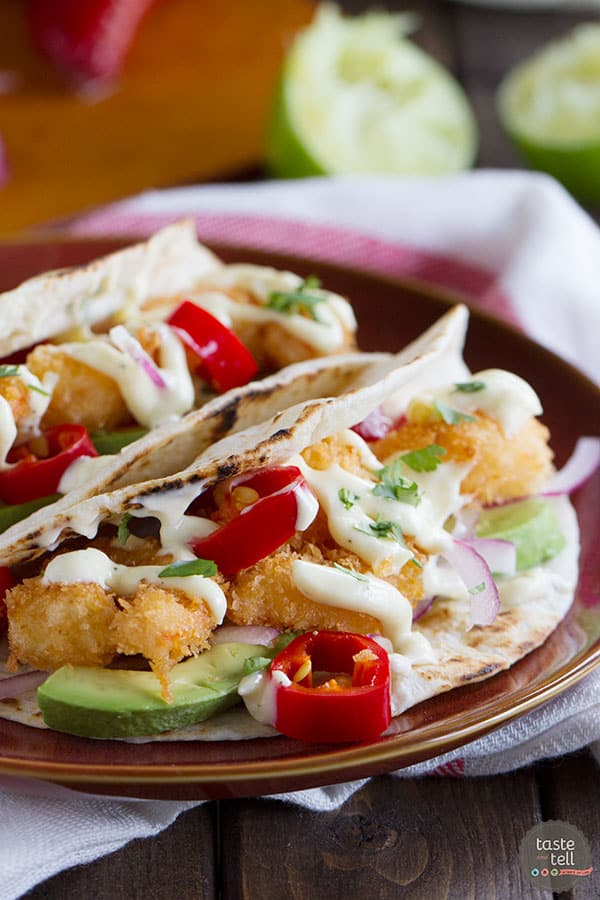 I was scrolling through Instagram a few days ago, and I came across a post from a blogger with a Mexican-themed recipe. For some reason, I started to read through the comments (there were a lot) and a few people commented about how they didn't like Mexican food.
I seriously almost started crying. These poor people must not really know what Mexican food is. I mean, who doesn't like Mexican food?? And do they even know how much they are missing out on?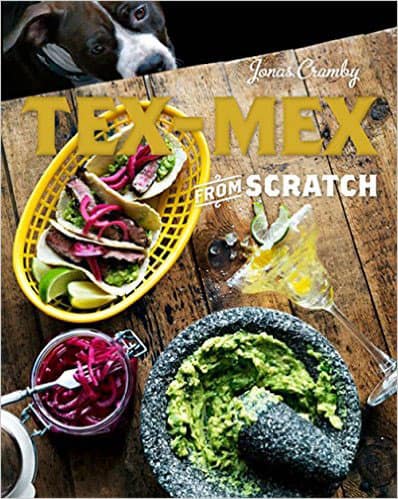 To say my love of Mexican and Tex-Mex food runs deep is an understatement. Which is why you can guess that I definitely jumped on the opportunity to review this cookbook – Tex-Mex From Scratch by Jonus Cranby.
This cookbook definitely has a wide array of Tex-Mex recipes. The book contains 70 recipes – everything from fresh tortillas to chilaquiles, enchiladas and tacos. I also love that there are some other not so obvious Tex-Mex recipes, like the Salty Pecan Apple Crumb Pie, which originates in Texas.
There are a lot of recipes in this book that I want to make. A lot. My only complaint with the book, though, is that the recipes aren't super duper clear. Like the taco recipe that I made. The instructions mention starting the pickled carrots, but those carrots are not listed anywhere in the ingredient list or in the serving suggestions. There is a recipe for pickled carrots in the book, but I had to go searching for it, and by the time I realized they were mentioned, I hadn't started them so they didn't get added to the tacos. Also, I feel like the photos don't really represent the printed recipes. The photo of these shrimp tacos has red cabbage, yet red cabbage is not mentioned anywhere in the recipe. The recipe suggests serving the tacos with avocado, white onion and lime wedges, yet none of those are in the photo. Really, it's not a huge deal, but was quite confusing when I was making the recipe.
Here are the details:
Number of Photos: Lots. There are photos to go along with all of the recipes, but like I mentioned above, I'm not sure how accurately those photos represent the recipes.
Difficulty Level of Recipes: Easy to Medium. I think there is a great variety of recipes in this book – those that anyone could do, and some that may require a little bit more know how in the kitchen.
Availability of Ingredients: Easy. You should be able to find all of the ingredients at your local grocery store.
Overall thoughts:
I can't wait to try more recipes from this book! I know I'll get more use out of it, but I also know that I need to read through the recipe thoroughly before starting the recipe.
Other recipes I want to try:
Green Scallop Taco
Shrimp Taquitos
Homemade Corn Tortillas
Huevos Rancheros
Truck Stop Enchiladas
Chili Cheeseburger
Poblano Potato Salad
Helado de Cajeta
Agua Fresca
Buy Tex-Mex From Scratch on Amazon.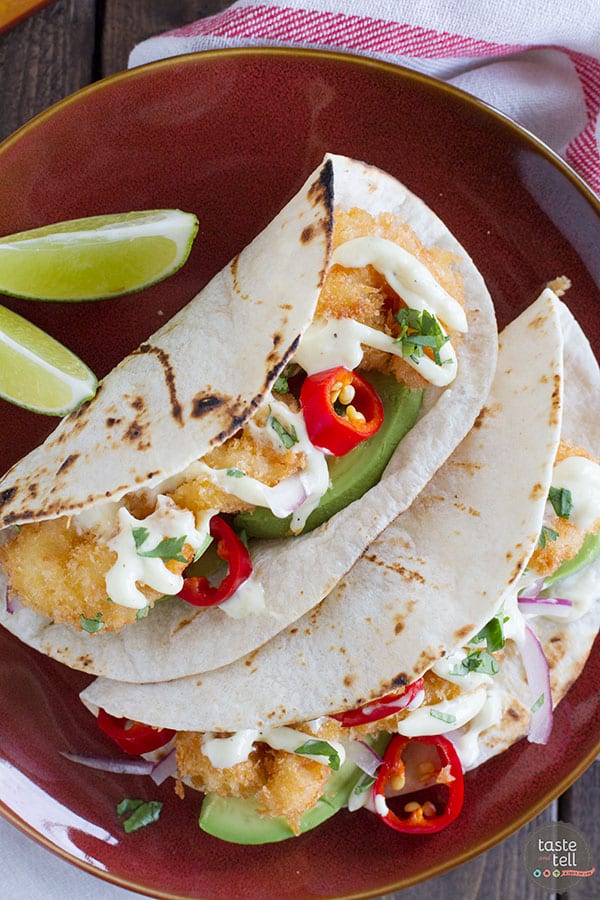 You all know by now that I'm a taco addict. And I have done shrimp tacos before, but not a fried shrimp taco. 🙂
These tacos are topped with a homemade mayonnaise. This is super easy if you do it in a blender or food processor. I tried once to make mayonnaise by hand, but my arm wasn't strong enough to whisk that long and hard!! But it takes just seconds in a blender. The original recipe does say to stir in some pickled chili. I had some homemade pickled chili peppers in my fridge already (not the recipe from this book) but when I added them in, it totally broke my sauce and turned it super runny. So I started over again and just omitted the peppers, opting to top the tacos with them instead.
These tacos were so good. Amazing. Don't be afraid of frying the shrimp – it is super, super easy and they are done in a flash. In fact, this whole recipe came together pretty quickly. We gobbled up every bite of these babies!!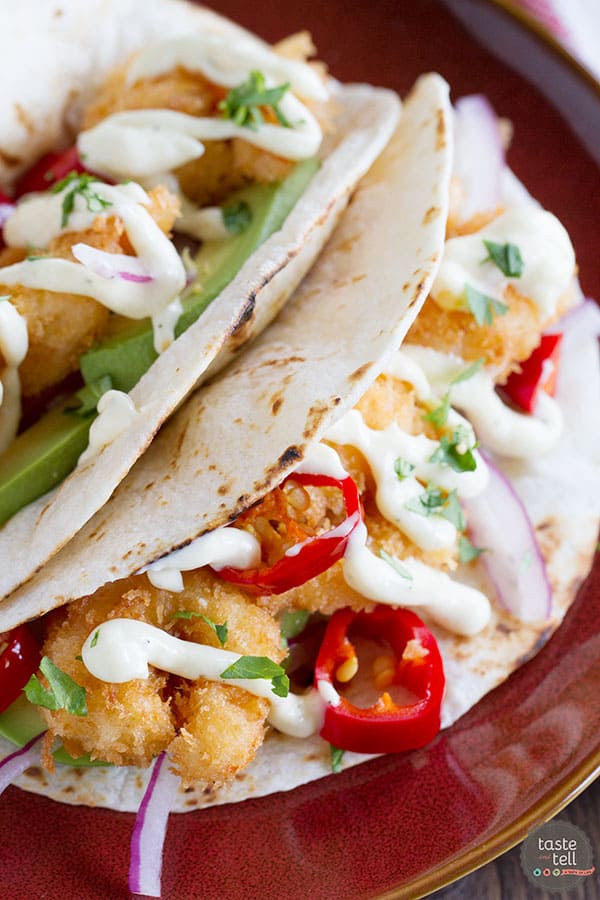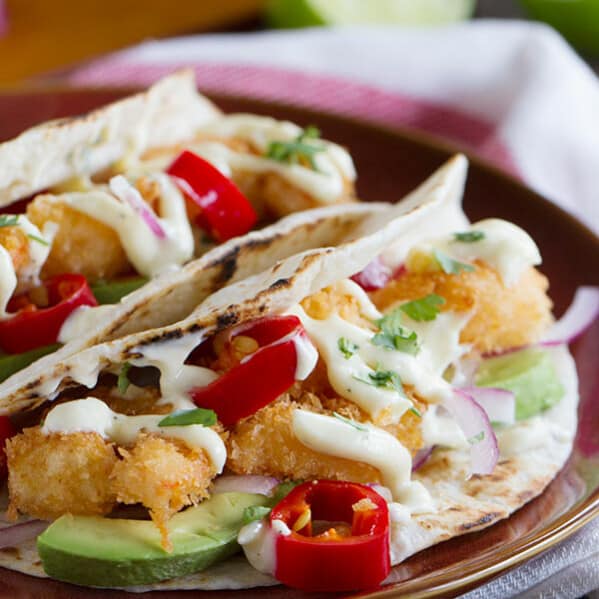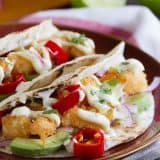 Crispy Shrimp Taco Recipe
---
Prep Time: 15 mins
Cook Time: 5 mins
Total Time: 20 mins
Yield: 4 servings 1x
Description
Crispy fried shrimp are combined with your favorite taco toppings and a homemade mayonnaise in this Crispy Shrimp Taco Recipe that is perfect for Taco Tuesday.
---
Scale
Ingredients
Mayo
1 tablespoon Dijon mustard
1 tablespoon freshly squeezed lime juice
2 cloves garlic, minced
2 egg yolks
1 cup vegetable oil
salt and pepper
Crispy Shrimp
oil, for frying
1/2 cup all-purpose flour
1 egg
1 tablespoon milk
1 3/4 cups panko bread crumbs
12 ounces shrimp, peeled and deveined (tails removed, if desired)
Tacos
8 small corn or flour tortillas
desired toppings: avocado slices, pickled chiles, thinly sliced red onions, shredded cabbage, cilantro, lime wedges, etc.
---
Instructions
Make the mayo:
In a blender, combine the mustard, lime juice, garlic, and egg yolks. Pulse to combine. With the blender on low to medium low, start streaming in the oil. Continue to blend until thickened. Season to taste with salt and pepper,
Make the shrimp:
Pour about an inch of oil into a large skillet or pan. (I like to use a cast iron skillet.) Heat over medium heat until the oil shimmers.
Place the flour in a shallow bowl. In another bowl, whisk the egg lightly with the milk. Place the panko in a third bowl. Coat the shrimp in the flour, then in the egg mixture, and then into the panko, coating completely. Place the shrimp in the hot oil and fry until golden brown, about a minute on each side. Transfer to a paper towel lined plate.
Assemble the tacos:
Place 2-3 shrimp down the center of each tortilla. Top with your desired toppings, then drizzle with the homemade mayo. Serve immediately.

**This post contains affiliate links. If you purchase an item from Amazon from the link Taste and Tell receives a small commission. Thank you for supporting Taste and Tell through your purchases!**