Perfect for the big game, or for a Friday night, any buffalo chicken lover will love these Baked Buffalo Chicken Taquitos!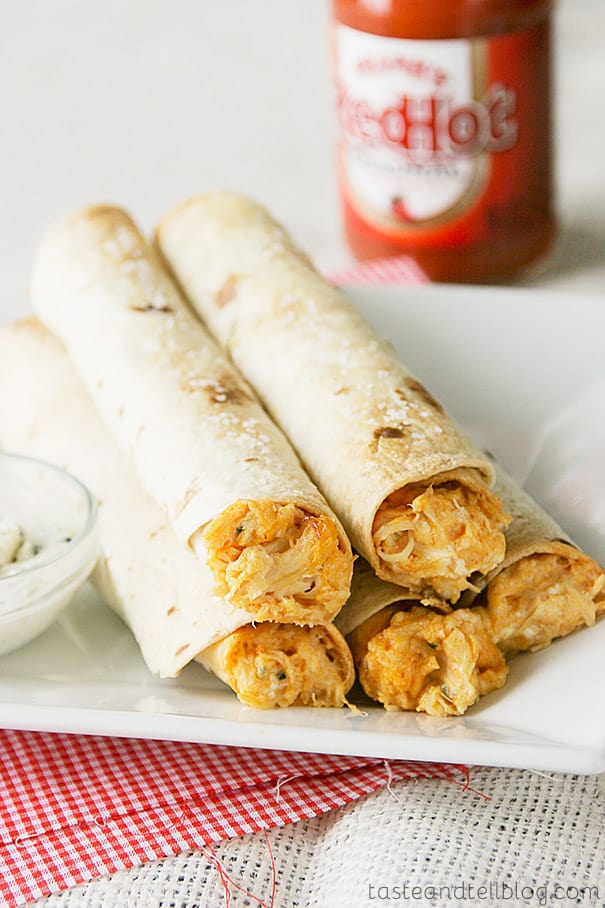 I'm so sorry, but I totally had to go here.  You would think that by now, I'd be tired of the whole buffalo chicken thing.  But obviously, I'm obsessed.  (If you missed it, I even compiled a list of 51 different buffalo chicken inspired recipes from around the web.)  And I'm not even going to pretend that this will be the last buffalo chicken recipe that I will post, because I'll probably think up something else tomorrow that I just have to make.  So consider yourself warned.

I was thinking about the big game coming up, and being obsessed with the food part of Super Bowl Sunday, I was trying to come up with some good ideas for football food.  Then I remembered the Chicken, Bacon and Cream Cheese Mini Taquitos that I made last year around this time.  Taquitos are great game food, in my opinion, and buffalo anything is perfect for game day.  So from that, these chicken taquitos were born!
I took some inspiration from the delicious Baked Creamy Chicken Taquitos that I made awhile back from Our Best Bites.  I cannot make baked taquitos without sprinkling them with salt because of those chicken taquitos.  The buffalo chicken filling is similar to the filling I used on the Buffalo Chicken Pizza Rolls.  (Which would also be perfect for game day!)  These are made in a snap by using Swanson® Premium Chunk Chicken, so you can have them done in just over half an hour.  Easy, delicious and crowd pleasing!!
Like what you see here? Make sure you are following Taste and Tell for more great recipes and ideas!!

Facebook ** Pinterest ** Twitter ** Instagram ** Google+
or you can subscribe to my newsletter or Feedly or Bloglovin


Baked Buffalo Chicken Taquitos
Perfect for the big game, or for a Friday night, any buffalo chicken lover will love these Baked Buffalo Chicken Taquitos!
Ingredients
4 ounces cream cheese, softened
⅛ cup buffalo sauce
1 cup shredded Monterey jack cheese
⅛ cup blue cheese crumbles
1 can (12.5-ounce) Swanson® Premium Chunk Chicken Breast in Water, drained
8 8-inch flour tortillas
coarse Kosher salt
Instructions
Preheat the oven to 350°F.
In a bowl, combine the cream cheese and buffalo sauce. Mix well. Stir in the Monterey jack cheese, blue cheese crumbles and chicken; mix well.
Place 2-3 tablespoons of the mixture down the center of each tortilla and roll up. If needed, microwave the tortillas for about 30 seconds to make them soft and pliable enough to roll. Place on a baking sheet. Spray the taquitos with cooking spray, then sprinkle with coarse salt.
Bake in the preheated oven for 17-20 minutes, or until golden brown. Serve with blue cheese dressing for dipping, if desired.
**This is a sponsored post, but all opinions are my own.**