Beef Brisket is slow cooked and served on tortillas with cheese and sautéed onions and peppers, then served alongside the pan juices for dipping.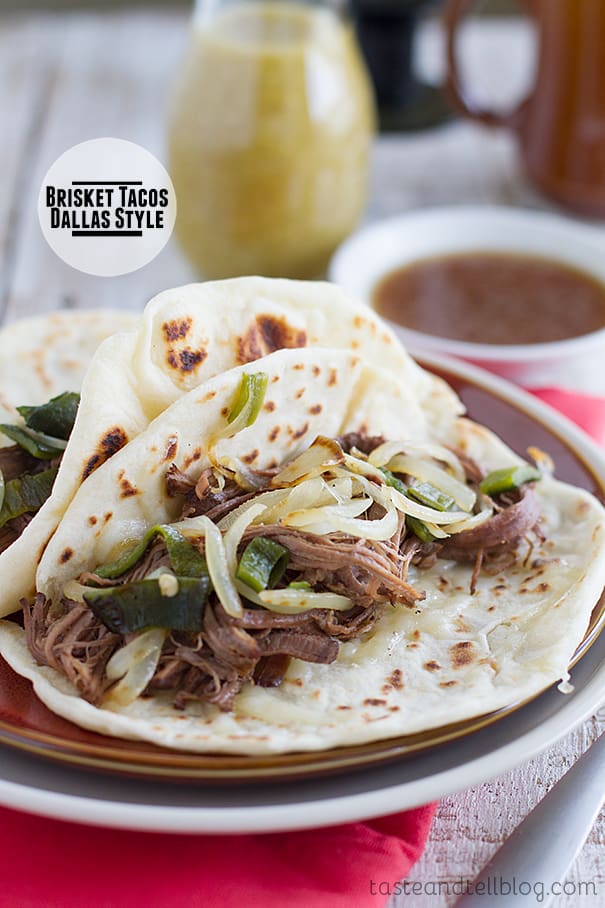 If you are a regular reader here, you already know that I'm a big fan of Tex-Mex/Mexican/Southwestern foods. We eat them at least once a week here at home, and if I had to choose a favorite type of food, that is what I'd choose.
So when I saw pictures of Lisa Fain's newest cookbook – The Homesick Texan's Family Table – popping up all over Instagram a little while back, I knew I had to have a copy of it.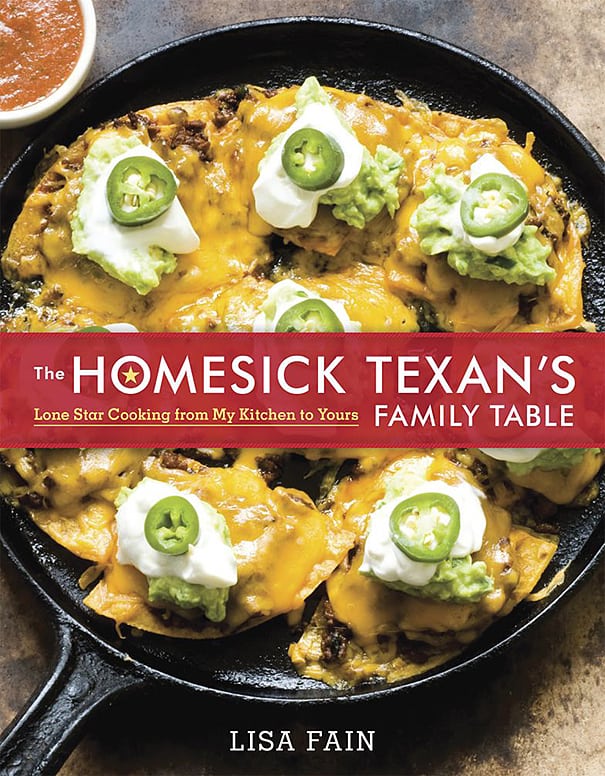 I was first intrigued by the cover recipe, so I quickly ordered a copy of the book to recreate that recipe for the Culinary Covers blog. And from there, I just couldn't stop.

To say that I fell in love with this book is an understatement. While I usually like to make 3 recipes for a cookbook review, this time I made 6. And I could have easily kept going. With just about every page that I turned, I found another recipe that I just had to make.
I've been to Texas a few times in my life, but this cookbook makes me want to hop in my car and just eat my way through the state. There is a great variety of recipes, and for a Tex-Mex lover, I can pretty much guarantee that you won't walk away from this book disappointed.
Number of Photos: Many
There isn't a photo of every recipe, but pretty close. The photos are beautifully done, and you definitely don't feel like there is a lack.
Difficulty Level of Recipes: Easy to Medium
In actuality, I think most of the recipes are pretty easy. But there are some that might seem intimidating when you first look at them – like making your own tortillas. (Which really is quite simple!)
Availability of Ingredients: Easy to Medium
You should be able to find the majority of the ingredients in this book at your regular grocery store, but there are a few you might have to hunt down. Like brisket – can you believe I had to go to 3 different stores before I found brisket? Or you might have to go to a specialty store for a whole fish or for oysters. But you should be able to cook from the majority of the recipes from everyday, easy to find ingredients.
Here's what I made: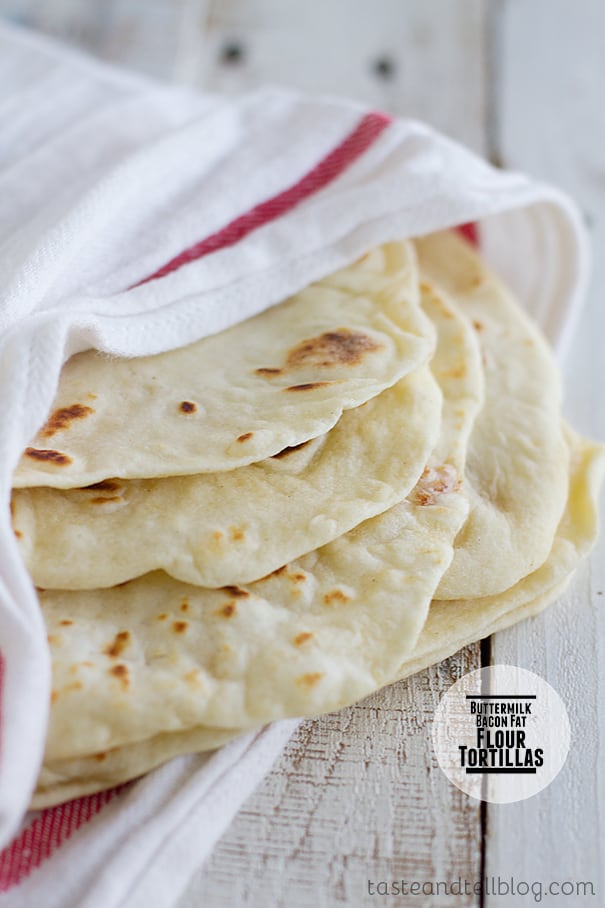 Buttermilk Bacon-Fat Flour Tortillas
I had actually been in the middle of searching for the best flour tortilla recipe when I saw this recipe, and I knew I had to try it. I am a bacon fat lover, (I keep all of my leftover bacon grease in my fridge!), so I was excited for that extra flavor boost from the bacon fat. And I was blown away by these. I don't know if the magic ingredient is the buttermilk or the bacon fat, or maybe it's a combination of the two, but these easily trumped any other tortilla recipe I have made!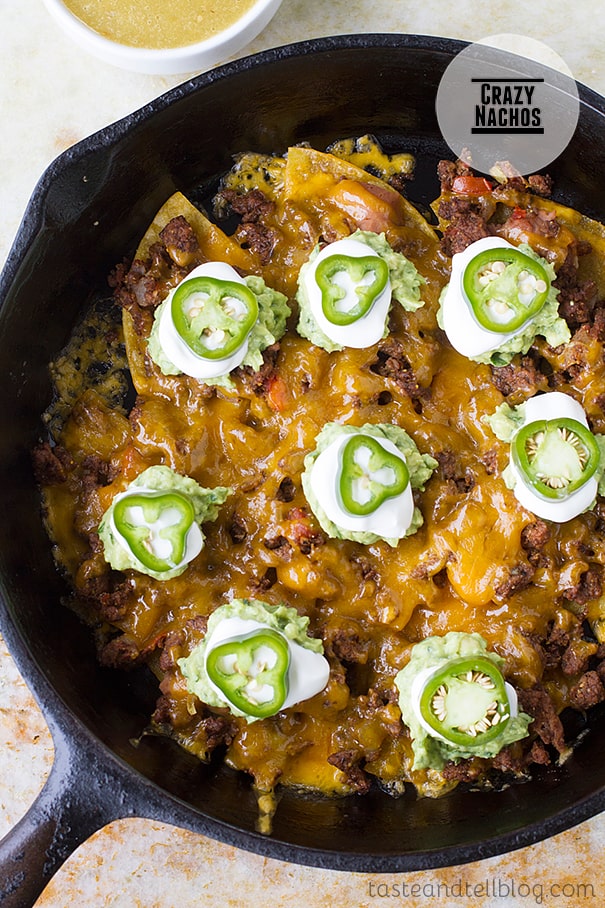 Crazy Nachos
As a nacho lover, this is the recipe that made me purchase this cookbook. And I was not let down!! These nachos are totally loaded with beans, ground beef, guacamole, sour cream, and homemade pickled jalapeños. Did I mention this is all served on semi-homemade tortilla chips? (I didn't make my tortillas from scratch, but I did fry them to turn them into chips.) I could pretty much eat these on a weekly basis and be a happy girl. Bonus – get the recipe for these Crazy Nachos on the Culinary Covers blog!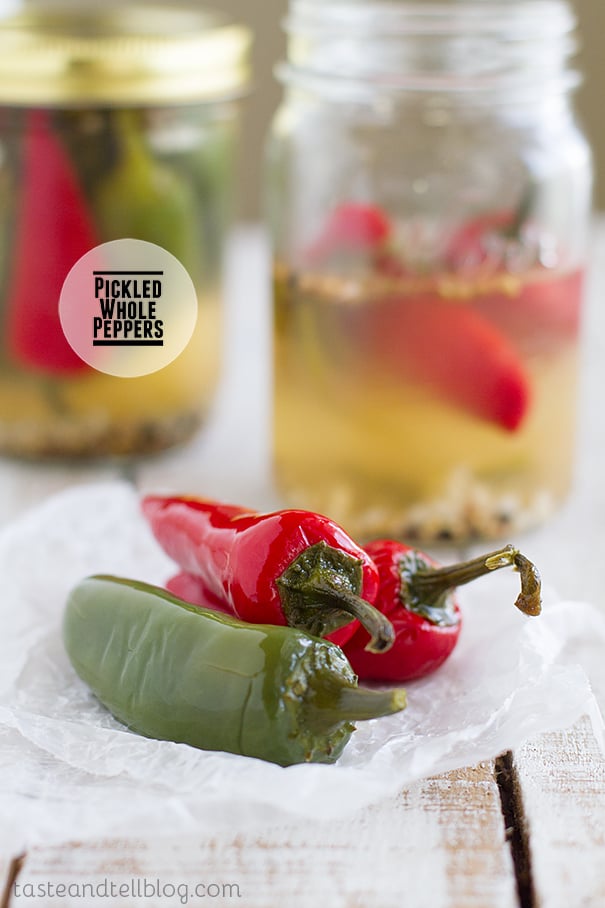 Pickled Whole Peppers
When I decided to make the Crazy Nachos above, I saw that they had these homemade pickled jalapeños. Being a huge pickled jalapeño fan, (I ate them almost daily when I was pregnant!!), I knew I had to make these. My husband is not a jalapeño lover, but he couldn't get enough of these. I think it was because my peppers weren't very spicy, but they were full of flavor. And this recipe is so simple – you'll feel like a rockstar making your own pickled peppers!!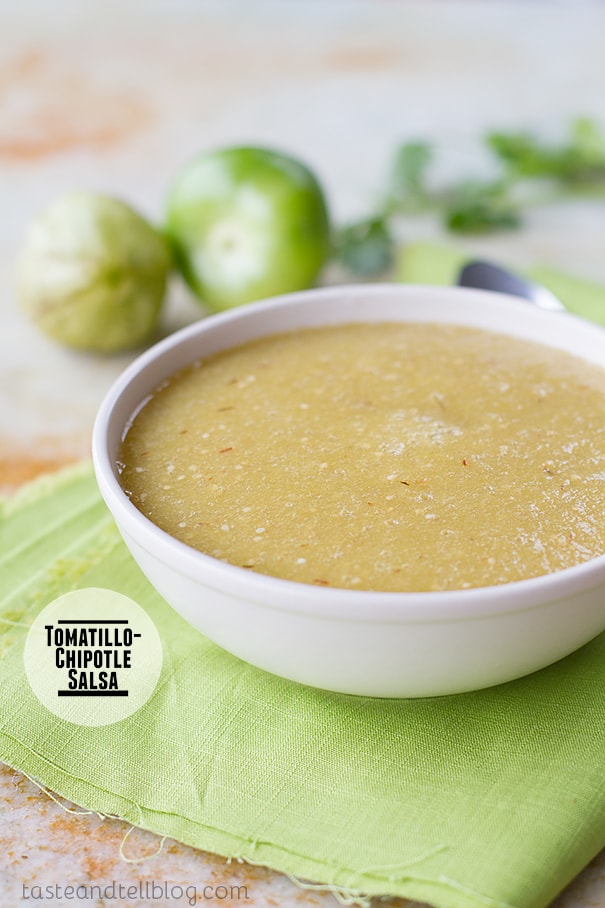 Tomatillo Chipotle Salsa
I couldn't do Tex-Mex without making salsa!! I actually made this to serve with the Crazy Nachos above, as well as the Brisket Tacos below. This was super easy to make and the chipotle chile adds some great flavor. I also ended up eating it on my morning eggs and it was perfect.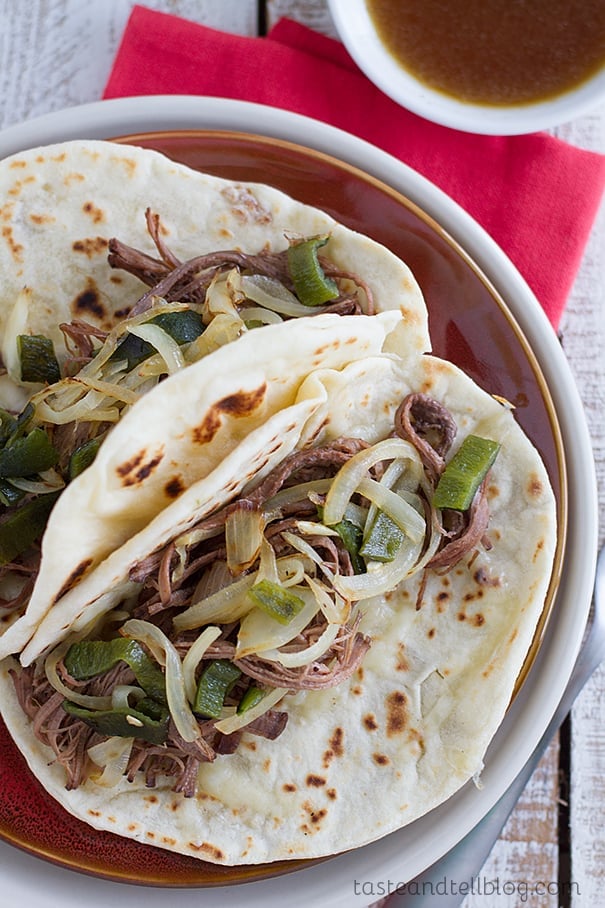 Brisket Tacos, Dallas Style
These tacos were a labor of love, and worth every second of effort that went into them. Believe it or not, after blogging for over 7 years, and with nearly 1,800 recipes, I had never made brisket before this recipe. I have definitely eaten it, but never prepared it at home. It took a bit of searching for me to find a store that carried it, and the brisket takes several hours to make. And the recipe may look a little daunting, but really, it's quite easy. I think the thing that sets these tacos apart from any others that I have had, besides the amazingly flavorful brisket, is that you make a "gravy" from the brisket's cooking liquid, and you serve that on the side to dip your tacos in. So kind of like a French Dip sandwich, but with tacos instead of the sandwich. It was very different, but holy cow – these were delicious. Seriously – probably the best tacos I have ever made at home. It also didn't hurt that I served them with homemade Buttermilk Bacon-Fat Tortillas (above) and Tomatillo Chipotle Salsa (above). Recipe below.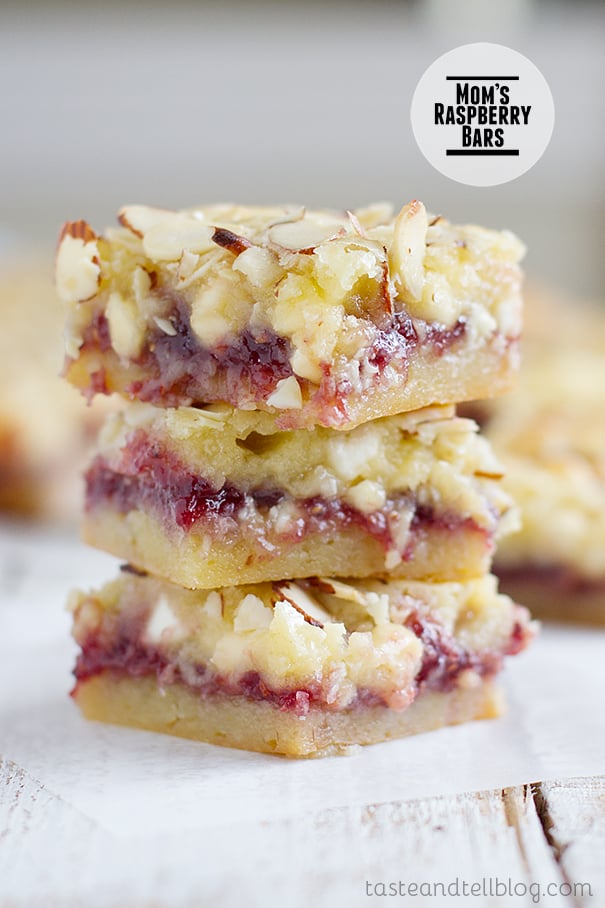 Mom's Raspberry Bars
I had to finish off with dessert!! I really wanted to make the Peach Ice Cream in the dessert section, but I couldn't find one single fresh peach, no matter how hard I looked. Peach season here isn't for a few more months, so I guess this is one that I'll be saving for later this summer! But I'm secretly kind of glad that I didn't get to make the ice cream, because I got to make these instead. These were buttery and sweet and just perfect. I can see why these are a family favorite!!
Overall Thoughts:
Five stars! I have nothing bad to say about this cookbook at all. There are beautiful photographs, great storytelling, and amazing recipes. This will become a go-to cookbook for me!
Some Recipes I Want to Try:
Green Chile Baked Eggs
Jalapeño Pimento Cheese
Pork Chile Verde
Steak Fingers with Jalapeño Cream Gravy
Peach Ice Cream
Buy it on Amazon.
Like what you see here? Make sure you are following Taste and Tell for more great recipes and ideas!!

Facebook ** Pinterest ** Twitter ** Instagram ** Google+
or you can subscribe to my newsletter or Feedly or Bloglovin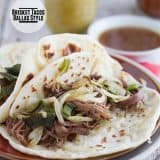 Brisket Tacos, Dallas Style
---
Prep Time: 30 minutes
Cook Time: 6 hours 30 minutes
Total Time: 7 hours
Yield: 6 servings 1x
Description
Beef Brisket is slow cooked and served on tortillas with cheese and sautéed onions and peppers, then served alongside the pan juices for dipping.
---
Scale
Ingredients
Brisket
1 (3 to 4 lb) brisket, from the flat cut, with a little bit of fat still on it
salt and pepper
1 tablespoon vegetable oil
1 yellow onion, cut into quarters
8 cloves of garlic
1/4 cup red wine vinegar
2 cups beef broth
1 teaspoon ground cumin
2 jalapeños, halved lengthwise and seeded
2 stems of cilantro
1 bay leaf
Tacos
1 teaspoon vegetable oil
1 yellow onion, cut into slivers
2 poblano chiles, roasted, peeled, seeded and cut into strips
1 1/2 cups shredded Monterey Jack cheese
12 flour tortillas (I used the Buttermilk Bacon-Fat Flour Tortillas from the book)
salsa, for serving
---
Instructions
For the Brisket:
Preheat the oven to 250F.
Season all sides of the brisket with salt and pepper. Heat the oil in a large, ovenproof pot. Add the brisket and brown on both sides, about 5 minutes per side. Remove the brisket from the pot.
Add the onion to the pot and cook, stirring occasionally, until browned, about 10 minutes. Add the garlic cloves and continue to cook for 2 more minutes. Turn the heat off and add the vinegar. Scrape the bottom of the pan to remove all of the pan drippings.
Add the brisket back into the pan (along with any accumulated juices), fat side up. Pour in the beef broth, cumin, jalapeños, cilantro and bay leaf. Cover the pot with a lid and transfer to the oven. Cook for 5-6 hours (about 1 1/2 hours per pound) until fork tender.
Take the pot out of the oven, remove the lid and let it rest for 30 minutes.
For the Tacos:
Heat the vegetable oil in a skillet over medium-low heat and add the onions. Stir until softened, about 10 minutes. Add the poblano strips and cook 1 minute more.
After the brisket has rested, remove from the pot and cut off the fat. Shred the meat with 2 forks.
To make the gravy, strain the cooking liquid and discard any fat. Add 2 tablespoons of the liquid to the brisket, and reserve the rest for serving. Add more salt and pepper to the brisket if needed.
Heat the broiler. Working in batches, place 3-6 tortillas on a baking sheet to top each tortilla with 2 tablespoons of shredded cheese. Place the tortillas under the broiler until the cheese melts, about 30 seconds. Repeat with the remaining tortillas. Fill the tortillas with the shredded brisket the onions and peppers. Serve with the reserved gravy.
Recipe Notes:
**This post contains affiliate links. If you purchase an item from Amazon from the link Taste and Tell receives a small commission. Thank you for supporting Taste and Tell through your purchases!**