Dinner comes together in a snap with this Chipotle Lime Shrimp Tacos Recipe. There is no excuse to not have a homemade meal on the table when dinner is this easy!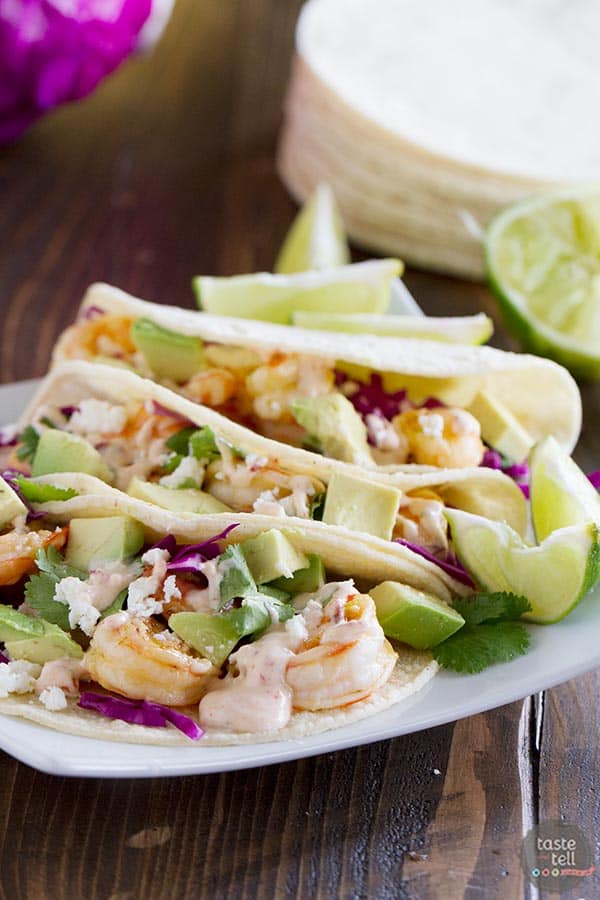 If you've been following along this month, you will remember me talking all about Little Victories – those little things that help us to make big changes. I've always believed that those little victories are the easiest way to succeed in whatever we are trying to do or accomplish, and I've loved this opportunity to talk about some healthier substitutions we can make.
I'm here to talk about those little victories one more time today, but while I still think it's important to make those little changes in the food we choose to eat, I want to talk about a different kind of little victory.

Believe it or not, even though I'm a food blogger, and even though I love to cook, getting dinner on the table lately has been a huge struggle. Days get busy, and way too often, dinner time comes around and I'm either too tired, or too unmotivated, or I forgot to pick up an ingredient at the grocery store. You name the excuse – I've probably made. This has meant way too many times through the drive through, which always leaves me feeling yucky.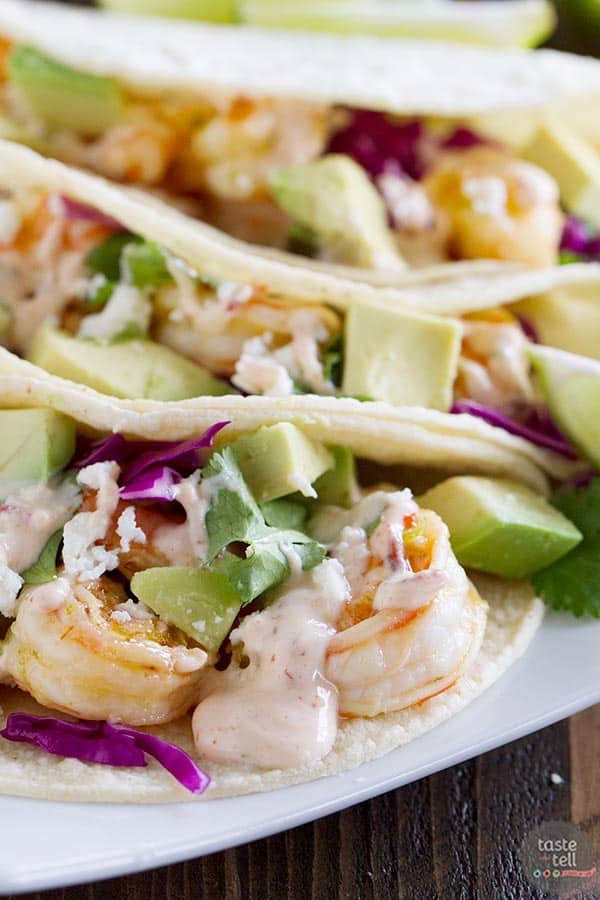 So my new focus for a little victory? Dinner on the table. Some nights, this feels like a big victory instead of a little victory, :), but I always feel so much better when I actually get into the kitchen and cook. And I know that it is better for my whole family, and for my wallet!!
When I'm feeling unmotivated or crazy, that is when I heavily rely on fast meals. And this Chipotle Lime Shrimp Tacos Recipe is not only fast, but it's packed with flavor, as well. You aren't getting shrimp tacos like these from any drive through!!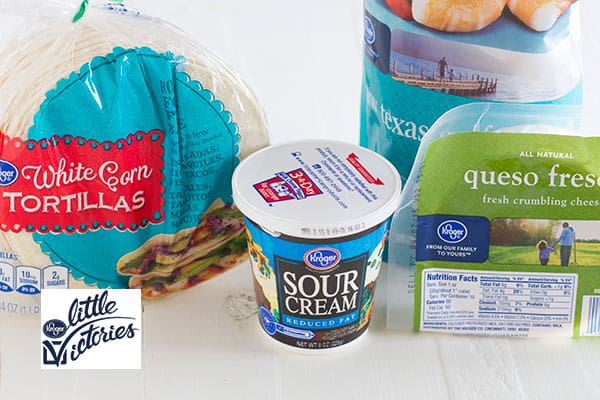 I was actually craving shrimp tacos one day, which is how this recipe was born. I knew that I could make something in my kitchen that was way better than anything I could pick up on my way home, and I'm so glad I decided to experiment with these.
And I love that these are better for you, without really seeming like better for you food. Shrimp are naturally low in calories and high in protein – score!! I also subbed in reduced fat sour cream, and opted for corn tortillas over flour tortillas. And I love the addition of the queso fresco. I love that you only need a tiny amount of it to add some great salty flavor.
The shrimp get a quick marinade in a chipotle, lime and honey mixture. 20 minutes is all they need – which is a great time to make the chipotle lime crema and to prep all the taco toppings. The shrimp go into a hot skillet for a quick cook – I love how fast shrimp cook! – before joining a whole bunch of yummy ingredients in those tortillas for a super tasty dinner. I used purple cabbage – mostly because I love the color, but feel free to use regular cabbage if that is all that you have on hand.
This Chipotle Lime Shrimp Tacos recipe was a hit. And it was easy to skip the drive through knowing how fast these are, and how much better they are than some mass produced take out tacos. Freshness and home cooking for the win!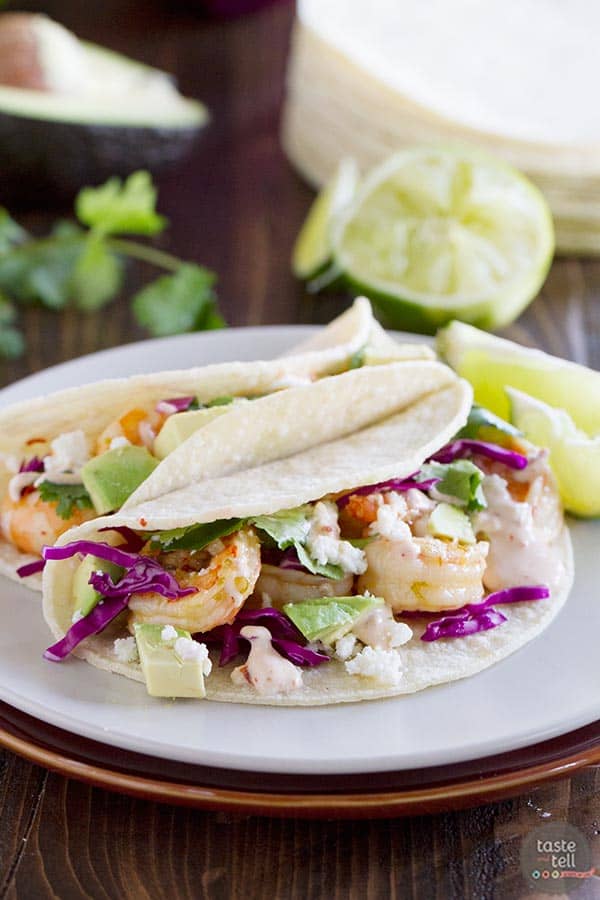 Like what you see here? Make sure you are following Taste and Tell for more great recipes and ideas!!

Facebook ** Pinterest ** Twitter ** Instagram ** Google+
or you can subscribe to my newsletter or Feedly or Bloglovin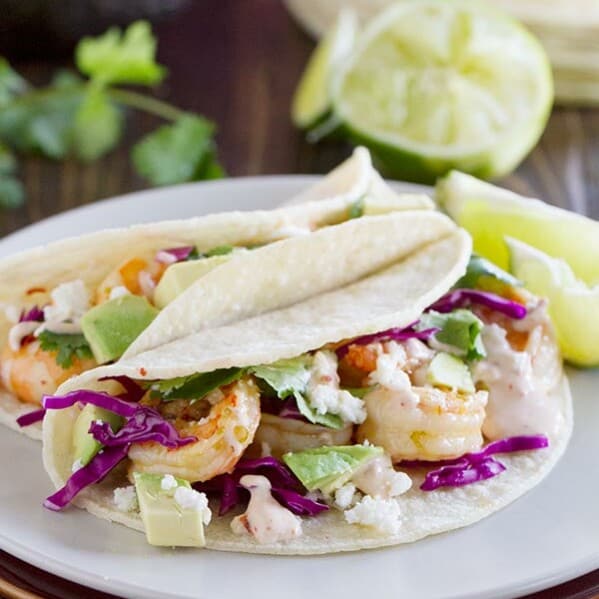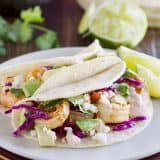 Chipotle Lime Shrimp Tacos Recipe
---
Prep Time: 25 mins
Cook Time: 5 mins
Total Time: 30 mins
Yield: 4 servings 1x
Description
Dinner comes together in a snap with this Chipotle Lime Shrimp Tacos Recipe. There is no excuse to not have a homemade meal on the table when dinner is this easy!
---
Scale
Ingredients
For the Chipotle Lime Shrimp
6 tablespoons fresh lime juice
1/4 cup extra virgin olive oil
1/4 cup honey
2 tablespoons minced chipotle in adobo (seeds removed for less heat)
2 cloves garlic, minced
zest of 1 lime
salt and pepper
1 lb Kroger shrimp, defrosted, peeled and deveined
For the Chipotle Lime Crema
1/2 cup Kroger reduced fat sour cream
1 tablespoon minced chipotle in adobo (seeds removed for less heat)
1 tablespoon lime juice
zest of 1 lime
1 clove garlic, minced*
For the Tacos
8 Kroger White Corn Tortillas
shredded cabbage
diced avocado
cilantro
crumbled Kroger Queso Fresco
---
Instructions
In a large ziptop plastic bag, combine the lime juice, olive oil, honey, chipotle in adobo, garlic and lime. Season with salt and pepper. Add the shrimp and marinate for about 20 minutes, squishing the bag around every few minutes to make sure the shrimp is thoroughly covered in the marinade.
While the shrimp is marinating, make the crema. In a small bowl, combine the sour cream, chipotle in adobo, lime juice, zest and garlic. Mix well.
When the shrimp is finished marinating, heat a large skillet over medium-high heat. Drain the shrimp and add the shrimp to the hot skillet. Cook until the shrimp is no longer opaque on the bottom side, about 3-4 minutes. Flip the shrimp over and cook the second side, about another minute. Remove the shrimp to a plate.
To assemble the tacos, top each tortilla with some of the shrimp, cabbage, avocado, cilantro and Kroger Queso Fresco. Drizzle some of the crema on each taco and serve.
Recipe Notes:
*If you don't like the flavor of raw garlic, substitute in 1/8 teaspoon of garlic powder.
I am working with Kroger on this Little Victories campaign, and this post has been sponsored. I'm so glad to be able to work with companies and organizations that I truly believe in. Thank you for supporting them, too.