French bread doesn't have to be difficult – Grandma's Easy French Bread Recipe is soft and delicious and you'll never want to buy it from the grocery store again!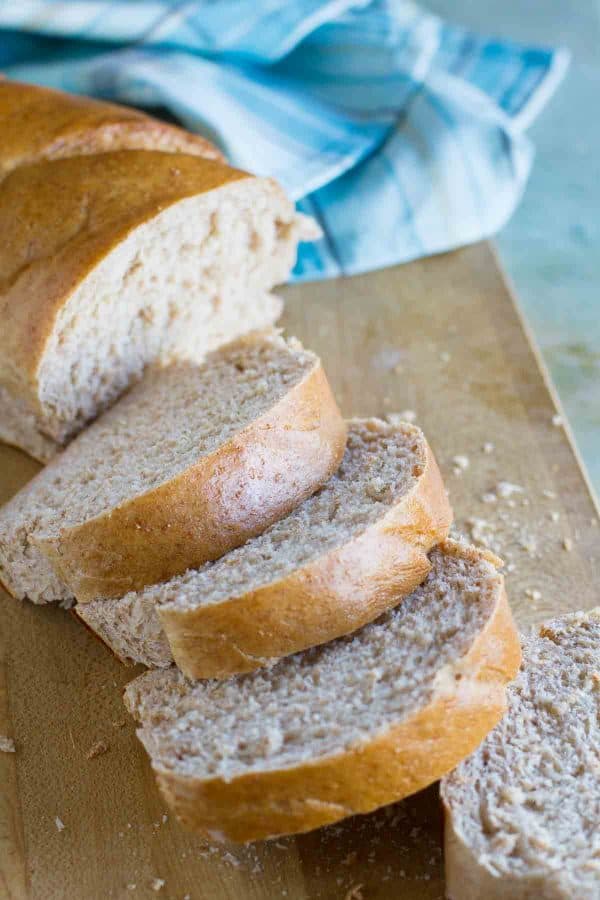 Originally posted January 11, 2011 – The flu hit our family this past week. And hit hard. So between being sick myself, and having to still take care of my family and house, the blog didn't get much attention. I had all intentions of posting a new recipe yesterday, and then again today, but that has obviously not happened. Luckily, I am on the mend, and hopefully things will get back to normal next week. In the meantime, I thought I'd bring this goodie up from the archives with new photos. If you are afraid of making your own French bread, this recipe is a great place to start. It's super easy and tastes amazing!
The original post follows:
I've been trying to be really good at making a weekly menu.  I'll make the menu over the weekend, and then go grocery shopping on Monday.  (Ideally early Monday morning before stores get busy!)  That way, I have it all done for the week, and I don't have to worry about it.  Going to the grocery store 2 or 3 times a week before I had a child was no big deal, but now going anywhere is an ordeal.  Any of you mothers out there know how much more time and effort it takes to take that little person along with you!!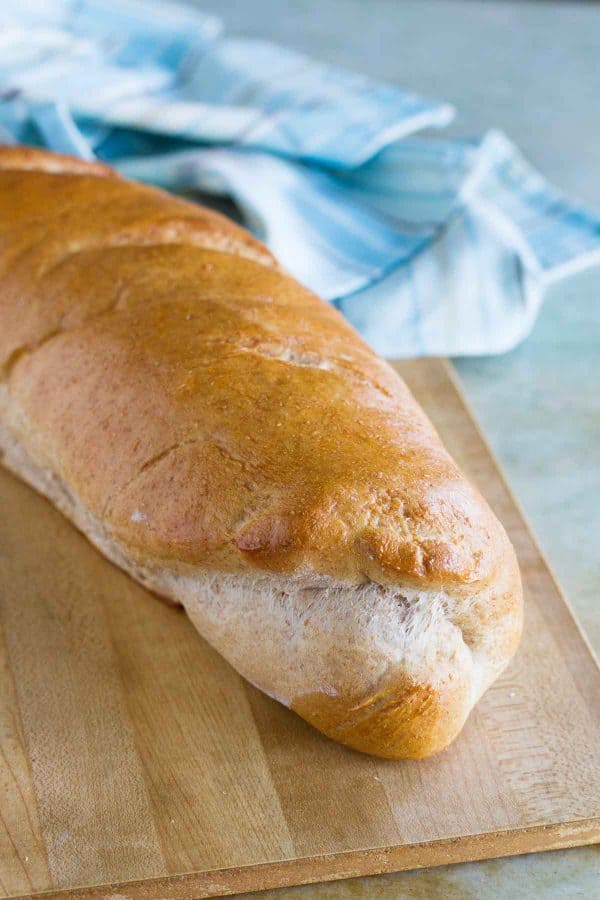 So, this last week, I had my menu all planned out.  But I planned a recipe for later in the week that I needed French bread for.  It wasn't the smartest planning, because I couldn't very well buy a loaf of French bread on Monday, because by Friday, it wouldn't be good anymore.  So I figured I'd just stop by a grocery store sometime during the week while I was out and about.  Well, that didn't happen.  And Friday came around, and I had no plans for leaving the house.  Especially just to go get 1 loaf of French bread!  So, I decided to just make my own.
You would think that it takes more effort to make your own bread than running to the store, but really, this recipe was super easy. You do need some time where you can be close by – you have to tend to this recipe every 10 minutes for about an hour, but only for a few seconds at a time.  And I really think this recipe would be fool-proof!  I was super low on flour, so I ended up using half all-purpose flour and half whole wheat flour.  What I ended up with was some of the most delicious bread I've made!  This is a super soft bread – it doesn't have a crusty exterior like an authentic French bread would have, but I kinda like it that way.  I think I found a go-to bread recipe!!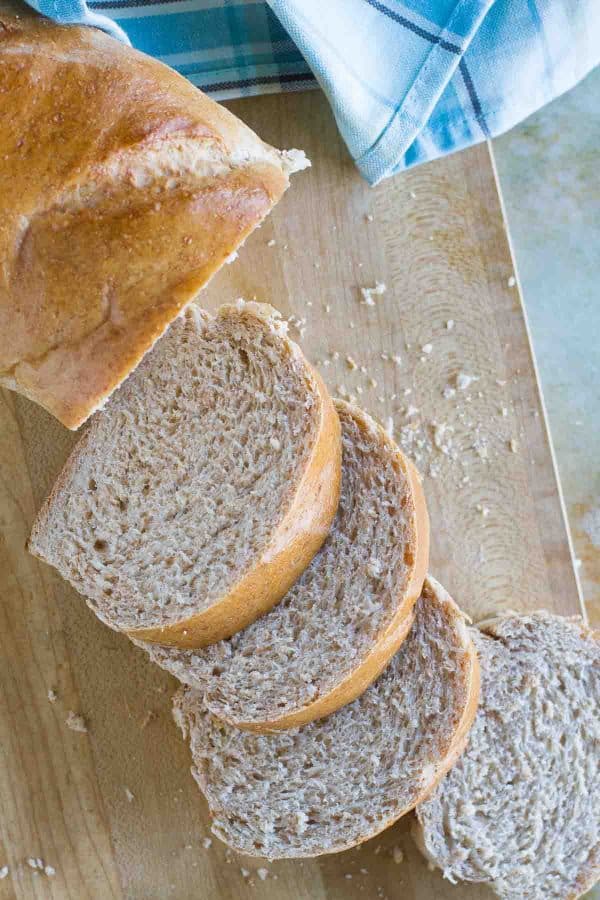 Like what you see here? Make sure you are following Taste and Tell for more recipes and ideas!
Facebook | Pinterest | Instagram | Twitter | Google+ | Weekly Newsletter | Feedly | Bloglovin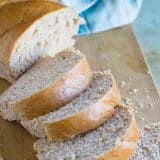 Grandma's Easy French Bread Recipe
---
Author:
Prep Time: 105 minutes
Cook Time: 30 minutes
Total Time: 135 minutes
Yield: 2 loaves 1x
Category: Side Dish
Description
French bread doesn't have to be difficult – Grandma's Easy French Bread Recipe is soft and delicious and you'll never want to buy it from the grocery store again!
---
Scale
Ingredients
2 1/4 cups warm water
2 tablespoons sugar
1 tablespoon active dry yeast
2 tablespoons vegetable oil
1 tablespoon salt
5 1/2 – 6 cups flour*
cornmeal
1 egg
---
Instructions
Pour the water in the bowl of a stand mixer. Add the sugar and yeast, and it sit for a few minutes until it is bubbling.
Add the oil and the salt and 3 cups of the flour. Beat well. Change to the dough hook and continue to add flour, 1/2 cup at a time, until the dough comes together and is not too sticky. Knead for a few minutes.
Leave the dough in the mixer to rest for 10 minutes. Turn your mixer on for 10 seconds, then allow it to sit for another 10 minutes. Repeat this cycle for a total of 5 times.
Turn the dough out onto a lightly floured surface. Divide the dough into 2 equal parts. Roll each piece into a 9×13-inch rectangle. Roll the dough up, starting from the long end, then pinching the edges to seal. Sprinkle a large baking sheet with cornmeal. Arrange the loaves, seem side down, on the baking sheet. With a sharp knife, cut 3 slashes at an angle on top of each loaf. Cover lightly with a clean kitchen towel. Allow the dough to rise for 30 minutes.
Preheat the oven to 375ºF.
Lightly beat the egg with 1 tablespoon of water. Brush the surface of both loaves with the egg wash. Bake in the preheated oven until golden brown and cooked through, about 30 minutes.
Recipe Notes:
*You can use half all-purpose flour and half whole wheat flour successfully with this bread.
recipe source: the Sister's Cafe
Don't miss a thing! Follow me on Pinterest to see what I'm pinning!
Visit Taste and Tell's profile on Pinterest.