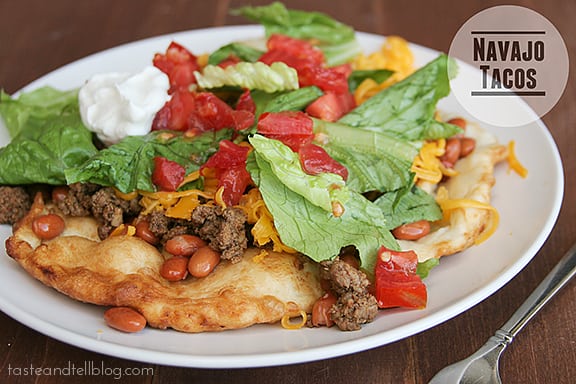 And now – Navajo Tacos. I feel so badly, because I have been sitting on this recipe for months now. We were having our monthly family dinner, and my sister chose to have my mom's Navajo Tacos for the dinner that night. (So yeah – technically, I didn't even make these. But I was there while they were being made!!) For some reason, this post has been pushed back for too many reasons to list, but I am so happy to be finally bringing it here.
Because this is one of my favorite meals.
I grew up in a smallish town in New Mexico, just miles outside of a Navajo reservation. It was always said that the population of my hometown doubled on the weekends because the indians from the reservation would all come into town to do their shopping. So it goes without saying that I've had a Navajo taco or two in my life. 🙂
This is one of those recipes that is going to vary widely depending on who is making it. It's a traditional Navajo meal that has been made since the 1800s. The main component – and most important, in my opinion – is the fry bread. There are 2 different versions of fry bread you will find – with yeast, or without yeast. My mom usually made the non-yeasted version growing up, which I think is the most traditional version. But more recently, she's been making a yeast version. And while I will always love the non-yeasted one, I really do think that the yeast version is my favorite.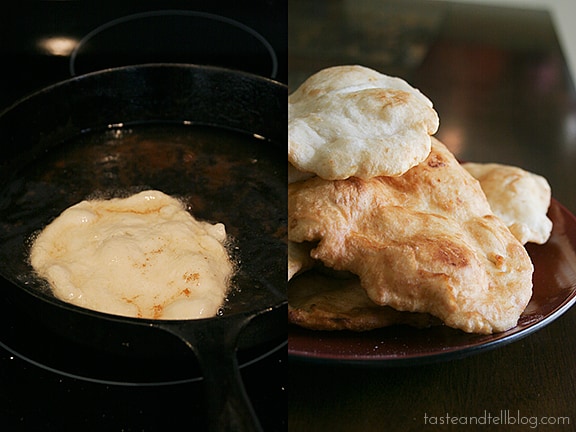 I know that many people will just use frozen rolls to make the fry bread, which is totally ok, but I think it's worth the effort it takes to make it from scratch. It does take some time to make, but the hands on time is minimal. The bonus is that you can make the dough the day before!  Many times, the Navajo tacos will be served with mutton, but I definitely prefer to stick with ground beef.  🙂
And make sure you make extra of the fry bread. You'll want some to eat with honey for dessert. You totally don't want to skip out on that!!
Navajo Tacos
A version of a traditional Navajo Taco - fry bread topped with meat, beans, cheese, lettuce and tomatoes. Save any leftover fry bread to eat with honey for dessert!
Ingredients
Fry Bread
5 tablespoons honey
3 tablespoons oil or lard
2 cups warm water
1 tablespoon active dry yeast
2 cups whole wheat flour
1 cup all-purpose flour
1 tablespoon salt
2 teaspoons baking powder
2-4 cups additional all-purpose flour
oil for frying
Topping
1 lb ground beef
1 small to medium onion, chopped
1 can (4 oz) chopped green chiles
salt and pepper
1 can (16 oz) pinto beans, warmed
shredded cheddar cheese
chopped lettuce
chopped tomatoes
sour cream
Instructions
To make the fry bread:
In a large bowl, combine the honey and the oil with the warm water. Stir in the yeast. Allow to sit for 5 minutes for the yeast to proof.
Add in the whole wheat flour, 1 cup of all-purpose flour, salt, and baking powder. Mix together. Add 2 more cups of flour, oil hands well and knead until dough is firm and begins pulling away from the sides of the bowl, adding more flour as needed.
Spray the inside of a large ziptop bag with oil, put dough in and seal, leaving plenty of air inside. Put in the refrigerator for 12 hours. De-gas the dough by squeezing the bag to deflate the dough and let it rise again, preferably overnight.
When ready to fry, bring the dough to room temperature. Heat at least an inch of oil in a large cast iron skillet.
Flour your work surface, then roll the dough into a long rope. Cut into 12 equal portions. Roll each into a ball and flatten into a disc. Keep the dough covered, and working with one or two portions at a time, fry in the hot oil until browned and bubbled. Flip and cook the opposite side. Drain on paper towels.
To make the meat mixture:
In a large skillet, cook the ground beef, breaking up as you cook it. Cook until browned through, then add the diced onion and cook until the onion starts to soften, about 5 minutes. Stir in the green chiles and season to taste with salt and pepper.
To assemble:
Put a fry bread on a plate. Top with some of the meat mixture, followed by beans, cheese, lettuce and tomatoes. Top with sour cream if desired.
-----------------
source: my mom
And now to the link up. First up, a few posts from last week that caught my eye!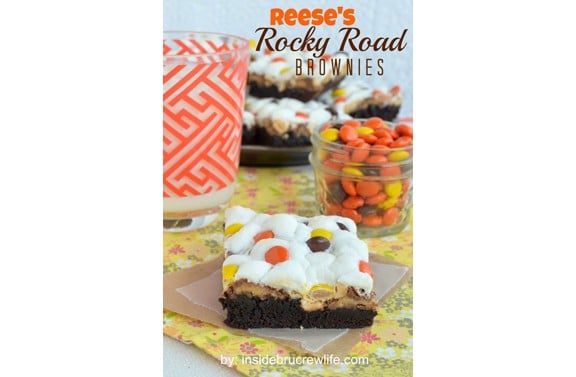 Reese's Rocky Road Brownies from Inside BruCrew Life (the most clicked link of the week)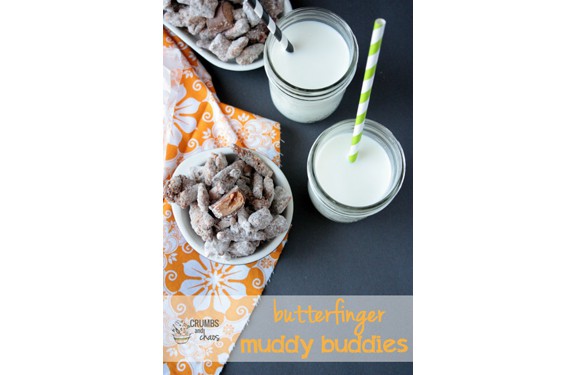 Butterfinger Muddy Buddies from Crumbs and Chaos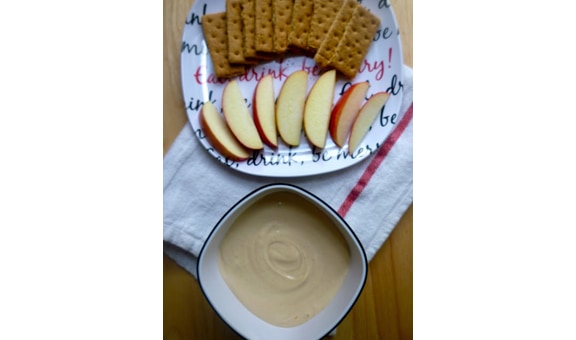 Easy Peanut Butter Yogurt Dip from What's Baking in the Barbershop?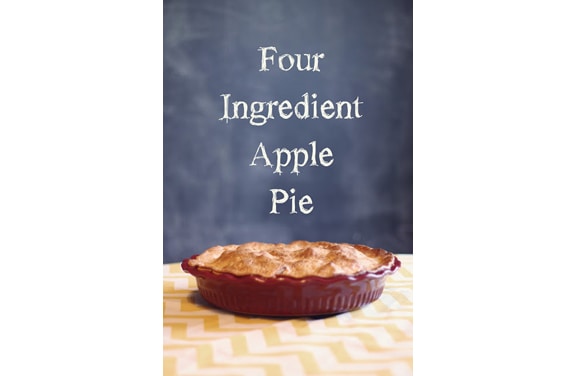 Four Ingredient Apple Pie from Rebekah of Schenewark Farm
The rules for the link up are simple:
1 – you can link up to any recipe
2 – link must be to a blog post – no etsy stores or advertisements
3 – please add a link in your post back to this post
4 – you can link up as many times as you want – go crazy!
Don't forget to click over on some of the other links so that we can all enjoy each other's creations!!
And I'd love to have you follow me via Facebook, Twitter, Pinterest, or Google+. And don't forget to subscribe to my weekly newsletter!