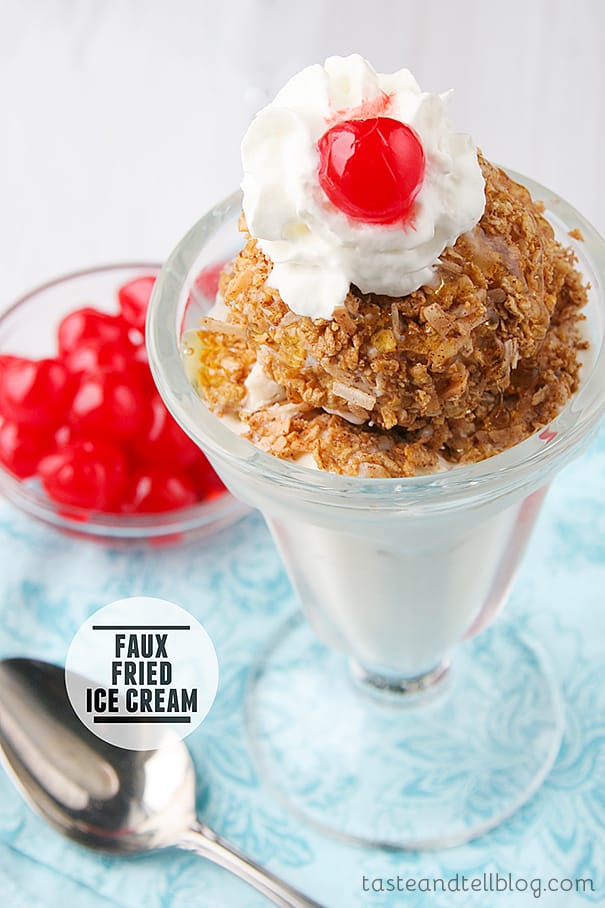 Growing up in New Mexico, I went to my fair share of Mexican restaurants.  (Although more and more, I'm realizing there is quite a difference between authentic Mexican food and New Mexican Mexican food.)  There was one restaurant that was my family's favorite.  We'd go and get big stuffed burritos, chile rellenos, and of course, finish off our meal with a delicious sopapilla, drizzled with lots of honey.
I loved those times that we would get to go out for Mexican food.  But I think we got stuck in our ways and always just ordered the same thing every time.  Those burritos were amazing, so it's no wonder.  But they were huge.  And by the time we were done eating, only making it through about half of one of those monsters, we'd be so full that we'd stretch our bellies to fit in a sopapilla, (you can't leave without eating a fresh sopapilla!), but I don't remember ever even looking at the dessert menu.
Which is a shame, because years later, after I moved away from home, I learned that there are actually some pretty amazing desserts that you can get at Mexican restaurants.  Tres Leches Cake, Flan, and yes – Fried Ice Cream.
If you've never had fried ice cream before, get yourself into your car and drive to the nearest Mexican restaurant and pray that they have it on the menu.  If you are an ice cream lover, this is one version of ice cream that you have to try.  It is pretty much what it sounds like – a scoop of ice cream is breaded – usually in a mixture of crushed cornflakes, sometimes with coconut, sometimes cinnamon – and then quickly deep fried.  The ice cream is served with whipped cream, honey, chocolate sauce, or sometimes a caramel sauce.
This version is a lot easier, and healthier, because you are skipping the "fried" part.  Of course it's not the same as the fried version, but believe me – it's almost as good.  And it's worth it to me – because it means you get to eat 2 scoops instead of one!!
This Faux Fried Ice Cream would also be a great way to celebrate National Ice Cream Month.  July isn't quite over yet, so go crazy while you still have an excuse to celebrate!!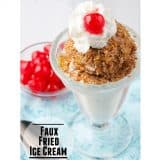 Faux Fried Ice Cream
---
Prep Time: 15 minutes
Total Time: 2 hours 15 minutes
Yield: 8-10 servings 1x
Description
An easier – and healthier – version of a Mexican restaurant favorite dessert – Fried Ice Cream. Ice cream frozen with coconut and sweetened cornflakes is served with whipped cream, honey and a cherry.
---
Scale
Ingredients
1 quart vanilla ice cream
2 ½ cups Honey Nut Corn Flakes
½ cup toasted sweetened coconut
1 ½ teaspoons cinnamon
Honey, whipped cream and maraschino cherries, for garnish
---
Instructions
Line a baking sheet with waxed paper. Scoop the ice cream out into scoops, and place on the baking sheet. Freeze until completely frozen, at least 1 hour.
Meanwhile, crush the cereal until semi-fine crumbs. Add in the coconut and cinnamon and mix. Place the mixture in a shallow bowl.
When the ice cream is hard, take each scoop and roll it in the corn flake mixture, pressing the mixture into the ice cream if needed. Return the scoops to the baking sheet and freeze.
Serve ice cream drizzled with honey and topped with whipped cream and a cherry.

Celebrate National Ice Cream month with some of these other frozen treats:
Honey Balsamic Roasted Peach Sorbet from Cafe Johnsonia
Mango Frozen Yogurt from Sweet Basil
Toasted Coconut Ice Cream from Taste and Tell
Blueberry Pie Ice Cream from She Wears Many Hats
Coconut Milk Ice Cream with Ginger and Lime from Honey and Butter