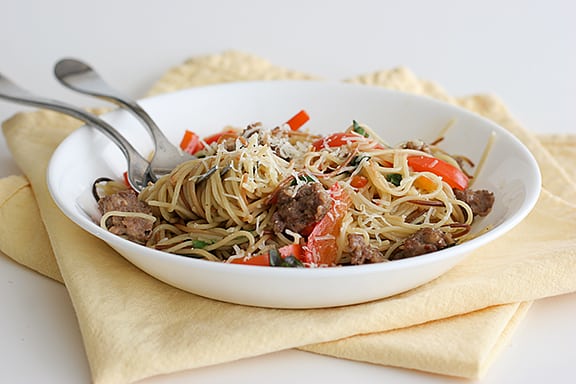 Since going back to work, fast meals have taken on a whole new meaning to me. I love to cook, but sometimes, the only thing I want to do when I get home in the evening is to play with my little girl and spend time with my husband. So as much as I loved fast meals before, I really love them now!
That is one reason I decided to pull out my Pampered Chef cookbook – 29 Minutes to Dinner. I've made a few recipes from this book, and they hadn't steered me wrong, and dinner in under 30 minutes is awesome!! This recipe was good, but it could have been amazing with a couple of changes. First of all, I rarely make a full recipe – I usually cut it in half since I'm only feeding the two of us and a toddler. So what in the world possessed me to make this full recipe – especially when it feeds 8? I guess it's so that I can tell you that if you make this full recipe, you will need a very big pan. Do you know how much 1 pound of pasta is? My pan is pretty big, but it was basically impossible to stir the pasta around enough for it to toast properly. Instead, I had some of it burn while other parts didn't toast at all. Luckily, I was able to pick out most of the burnt pieces, but it was a bit of a pain. Also, the bell peppers cook a little to long for my tastes. I like them when they still have a little bit and are still really red, but the bell peppers in this were a bit soft. So, I would add them in later than the recipe calls. But really, this was quite tasty, and I'm sure that with the couple changes, this would be awesome! And good thing this heats up well as leftovers, since I had enough to feed 8!
Toasted Angel Hair with Sausage and Peppers
from 29 Minutes to Dinner
serves 8
total time: 26 minutes
1 pound Italian sausage
2 medium red bell peppers
1 pound angel hair pasta
3 garlic cloves, pressed
5 1/4 cups chicken broth
1 cup fresh basil, divided
1 ounce Parmesan cheese
Slice the tops and bottoms off of the bell peppers. Remove and discard the seeds and stems. Finely chop the tops and bottoms and slice the rest into julienne strips.
Place the sausage in a large skillet. Cook over medium heat for 8-10 minutes, until cooked through, breaking into crumbles as it cooks. Remove the sausage from the skillet and set aside.
Add the pasta to the skillet and toast for 8-10 minutes, stirring every 2 minutes. Press the garlic over the pasta and add broth, the peppers, and the cooked sausage. Bring to a boil; cover, reduce heat and simmer for 5 minutes or until pasta is tender.
As the pasta simmers, chop the basil, reserving half for garnish. When the pasta is tender, remove from heat and stir in the basil.
Serve with the Parmesan cheese and some of the reserved basil.