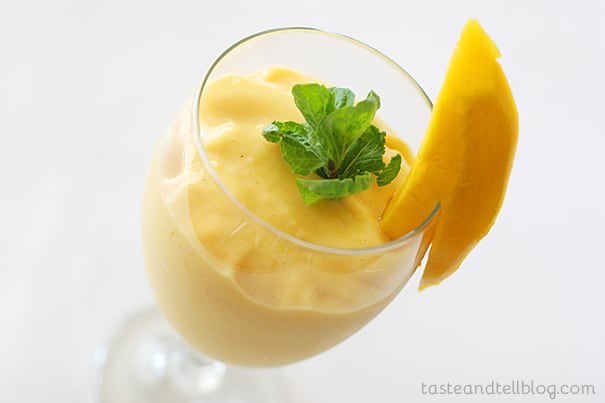 What do you do when the temperature outside is pushing 100F and your air conditioning still doesn't work? You definitely don't make anything that requires the oven!!
I'll admit – this isn't a recipe I would have chosen for a Cookbook of the Month post normally. But there was no way I was making anything that would heat the house up even more. We've been surviving on sandwiches and cereal. But I'm glad that I was forced to find a recipe that would cool me down, because this was absolutely delicious and refreshing. I would totally make this again, and I'm imagining lots of other fruits and fruit combinations would work just as well!
Recipe rating: 4.5 out of 5

Fresh Fruit Batidos
from Food Network Favorites
Makes 1 serving
1 cup mango sorbet
1/2 cup vanilla ice cream
1/2 cup chopped fresh mango, plus mango slice for garnish
1/2 cup cold milk
1-2 tablespoons honey, or more to taste
mint sprig, for garnish
Put all ingredients (except garnish) into a blender and blend until smooth. Pour into a glass and serve immediately. Garnish with mango slice and mint, if desired.