Indulge in this Toasted Coconut Ice Cream – a creamy custard based ice cream filled with coconut flavor and bits of toasted coconut.
If you love coconut, you'll want to check out these recipes: Toasted Coconut Carrot Cake Sheet Cake, Coconut Snowball Cupcakes, Coconut Bread, Crazy for Coconut Bundt Cake, and Coconut Cream Pie.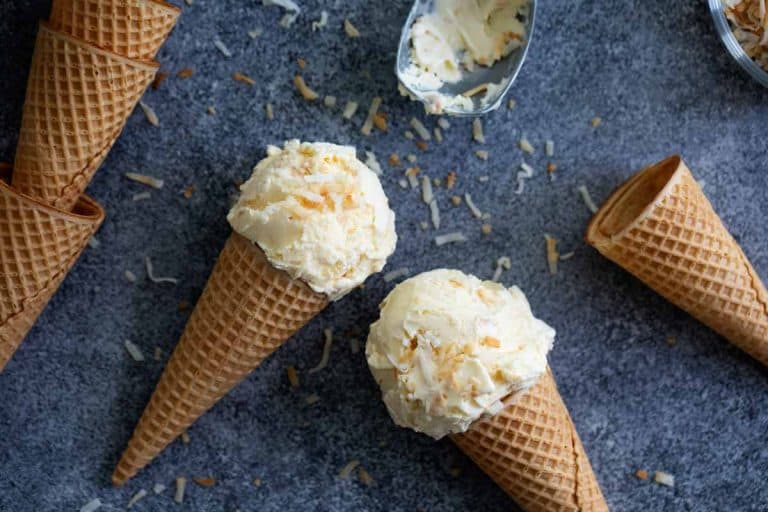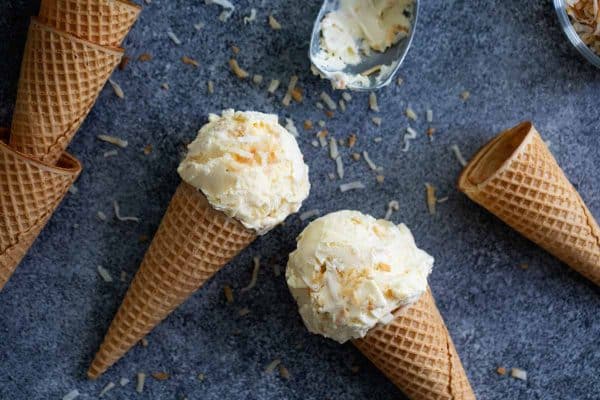 If I had to choose my favorite flavor, coconut would be right up there at the top. Tied with lemon, but I don't know if I'd be able to choose between the two. But yes – one of my top 2 flavors.
So it's no surprise that of all the ice cream flavors, coconut is one of my favorites. Make that toasted coconut, and it moves up even further. You can say that this ice cream makes all of my ice cream dreams come true.
I've talked about this before, but as much as I love the ease of a no churn ice cream, nothing quite beats a good custard based ice cream. Sure, it's a little more work. And you run the risk of scrambled eggs in your ice cream (don't skip the straining step!), but the minute you take a bit of this ice cream, you'll be sold. It's so rich and creamy – so much better than the fancy pints of ice cream at the grocery store!
Don't be surprised if you see me sneaking to the freezer for bites of this heavenly ice cream!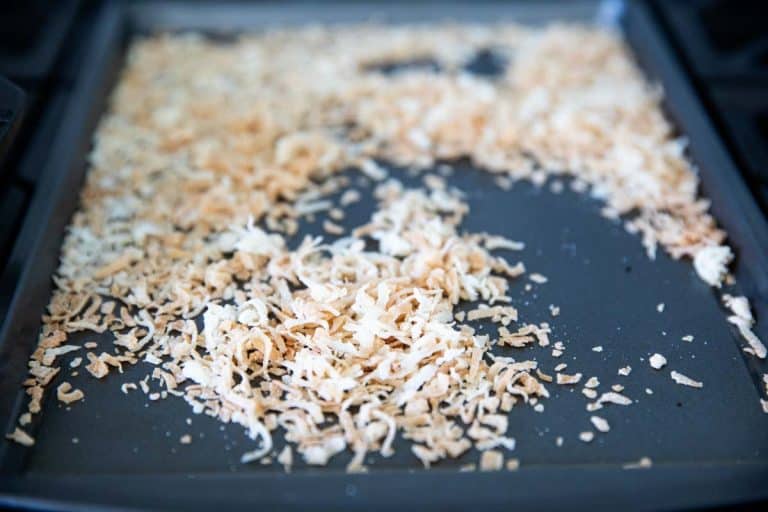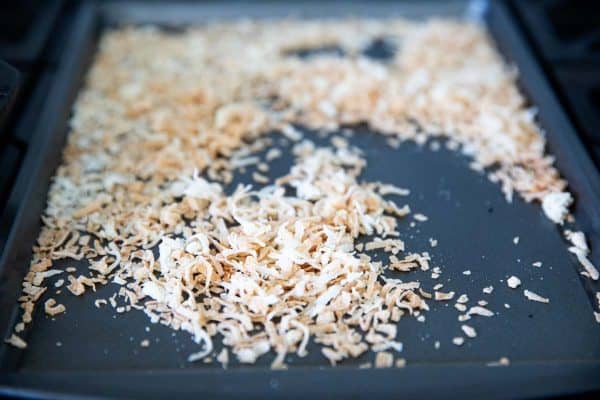 What You'll Need
Here are the ingredients you'll need for this coconut ice cream:
Shredded, Sweetened Coconut: You'd probably be able to use unsweetened as well, but I've only made it with sweetened.
Whole Milk: You need whole milk because fat = smoother, richer ice cream. It would probably work with 2%, but wouldn't be nearly as good.
Heavy Whipping Cream: Same as above – you need the fat for optimal texture and richness.
Sugar: regular granulated sugar will do.
Salt: Don't skip out on the salt – it's needed to balance and bring out the other flavors.
Vanilla Bean: The original recipe calls for a vanilla bean, and I used to make this with a vanilla bean. But with the prices being so high the last year, I have stopped adding the vanilla bean and it is still delicious! But feel free to add it in if you have one!
Egg Yolks: I use large eggs.
Vanilla Extract: Especially important if you leave the vanilla bean out.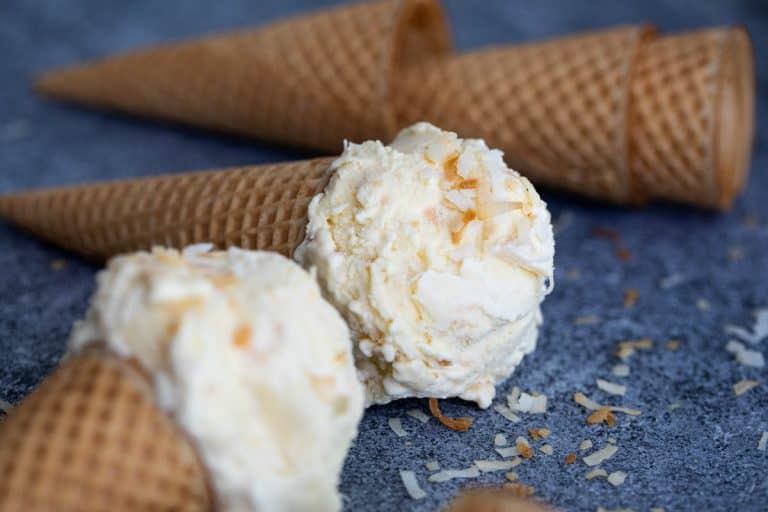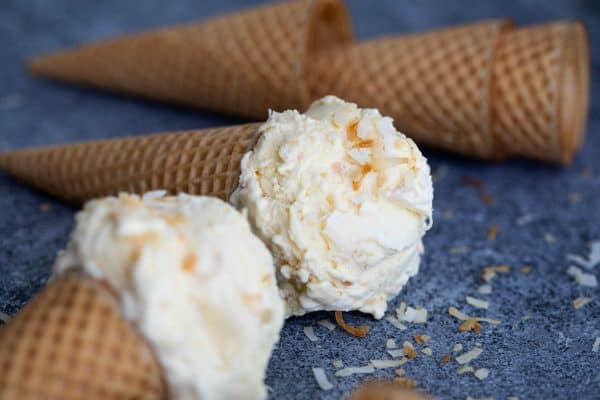 Tips for Making this Toasted Coconut Ice Cream
This ice cream recipe gives you a double dose of coconut – the base itself is steeped with toasted coconut, and then you add in some more toasted coconut at the end. If you don't love the texture of the coconut, feel free to leave the second addition out.
This does take some time to make, but try not to speed through it. The base is best if it is refrigerated overnight (although 4 hours will work if you're in a pinch). And then you'll want to let it hang out in the freezer and freeze completely. It takes patience, but it's all worth it!
For maximum flavor and for the best consistency, leave the ice cream out on the table for about 10 minutes before serving it.
Don't skip the straining, especially after cooking the custard. Even if you think you've managed to make the custard without scrambling any of the eggs, you'll still most likely find a few stray bits of egg when you strain it.
Make sure to store the ice cream in a covered container in the freezer. As long as it's covered, it should last 1-2 months in the freezer. (Although I'm guessing you'll eat it way faster than that!)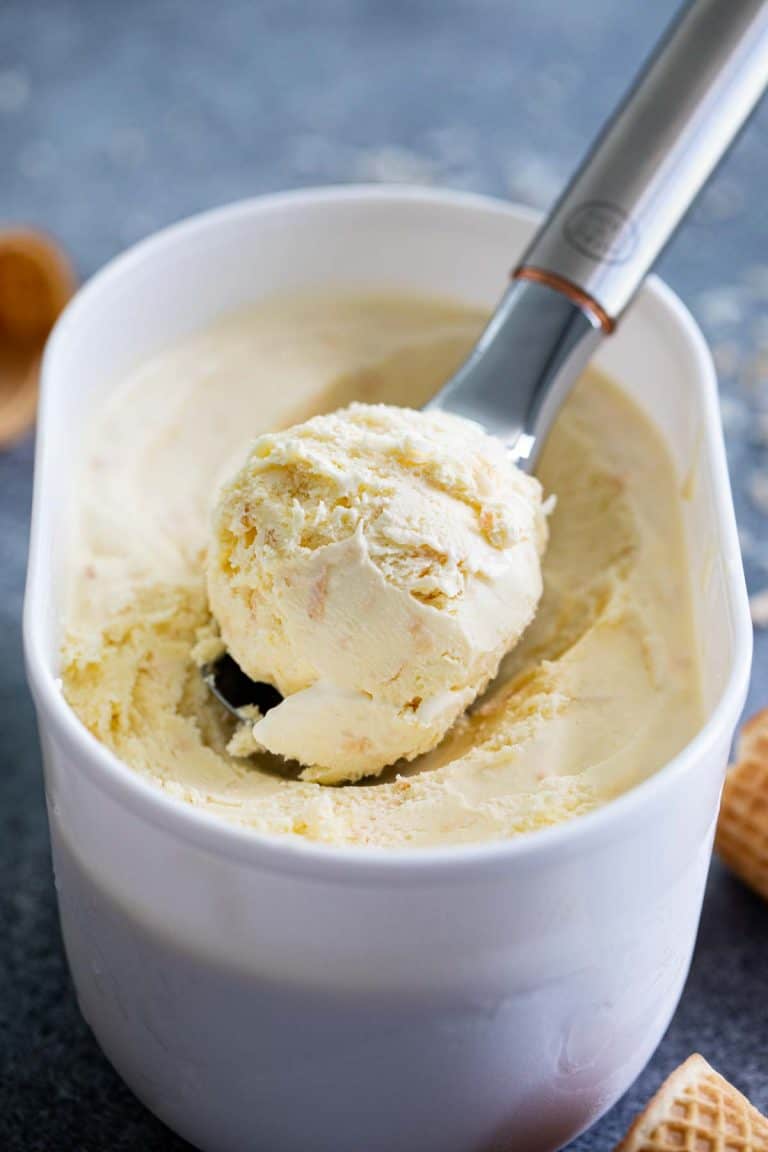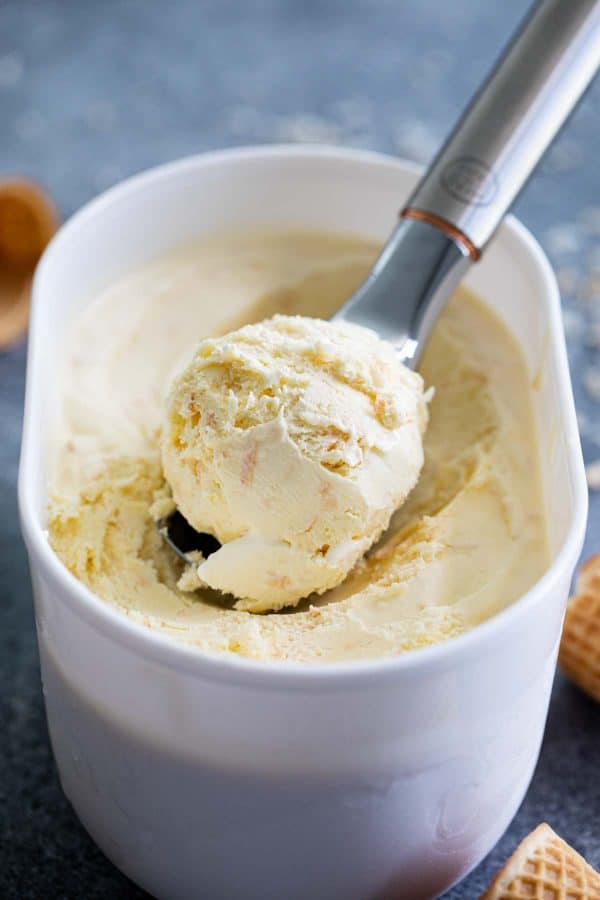 More Homemade Ice Cream Recipes
Homemade Vanilla Ice Cream
Salted Caramel Ice Cream with Fudge and Toasted Coconut
Red Velvet Ice Cream with Marshmallow Swirl
Pumpkin Toffee Ice Cream
Sweet Corn Ice Cream with Salted Caramel Sauce
Mango Sorbet
Useful Tools
You do need an ice cream maker to make this recipe. I just have this Cuisinart model and it has worked really well for me. If you like to make homemade ice cream, I suggest also getting a second bowl so that you can have one in the freezer at all times since they take about 24 hours to freeze.
Another useful item to have on hand is a reusable ice cream container. I picked mine up at Target, but this one from Amazon gets great reviews as well.
Don't forget the scoop! I haven't had good luck with scoops with a trigger. Instead, I like a heavy duty scoop with a spade shaped scoop.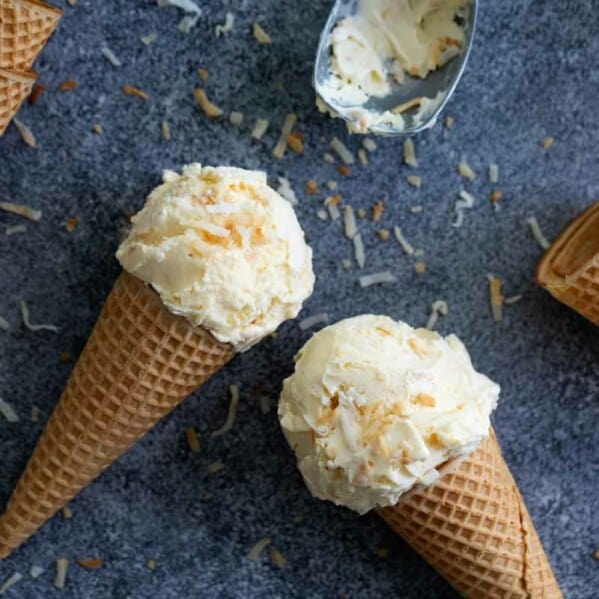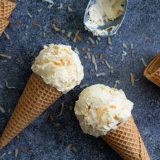 Toasted Coconut Ice Cream
---
Author:
Prep Time: 30 minutes
Cook Time: 30 minutes
Total Time: 1 day, 8 hours
Yield: 1 quart, 8 servings 1x
Category: Dessert
Method: Stove Top
Cuisine: Amereican
Description
Indulge in this Toasted Coconut Ice Cream – a creamy custard based ice cream filled with coconut flavor and bits of toasted coconut.
---
Scale
Ingredients
1 1/2 cups shredded, sweetened coconut, divided
1 cup whole milk
2 cups heavy whipping cream, divided
3/4 cup sugar
Pinch of salt
1 vanilla bean (optional)
5 large egg yolks
1/2 teaspoon vanilla extract
---
Instructions
Preheat the oven to 350ºF. Spread the coconut on a baking sheet and bake for 5-8 minutes, stirring when needed, or until toasted evenly. Watch it carefully, it will burn quickly. Once toasted, remove from the oven and immediately remove from the baking sheet or it will continue to bake.
Combine the milk, 1 cup of the cream, the sugar, salt and 1 cup of the toasted coconut. Heat over medium heat until warmed.
If using a vanilla bean, use a paring knife to slice the bean open, then scrape the seeds from the pod and add them to the milk mixture. Add the pod to the milk, as well. Cover the pan, remove from the heat, and let the mixture steep at room temperature for 1 hour.
Rewarm the milk mixture, then set a strainer over another saucepan. Strain the milk mixture through the strainer. Press down on the coconut with a rubber spatula to release as much of the flavor as possible. Discard the coconut. (If desired, you can rinse the vanilla bean pod and reserve for another use.)
Pour the remaining 1 cup of heavy cream into a large bowl. Fill a larger bowl halfway with ice water. Set aside.
Place the egg yolks in a medium bowl and whisk until combined. Slowly whisk the warmed milk mixture into the egg yolks, then pour the mixture back into the saucepan.
Place the saucepan back over medium heat and cook, stirring the mixture constantly with a spatula to ensure that the mixture doesn't burn. Cook until the mixture thickens enough to coat the back of a spatula.
Pour the mixture through the strainer into the cream and stir to combine. Stir in the vanilla extract. Place the bowl in the ice water, making an ice bath. Stir over the ice bath until the mixture is cold.
Cover the bowl, or transfer to a container with a lid, and refrigerate for at least 4 hours, preferably overnight.
Freeze the custard according to the manufacturer's instructions for your ice cream maker, stirring in the reserved 1/2 cup of toasted coconut at the very end.  Freeze the ice cream until hardened before serving.
Recipe Notes:
adapted from The Perfect Scoop
Nutrition information provided as an estimate only. Various brands and products can change the counts. Any nutritional information should only be used as a general guideline.
Nutrition
Serving Size: 1/2 cup
Calories: 414
Sugar: 28 g
Sodium: 118 mg
Fat: 31 g
Saturated Fat: 22 g
Unsaturated Fat: 3 g
Trans Fat: 0 g
Carbohydrates: 34 g
Fiber: 2 g
Protein: 3 g
Cholesterol: 200 mg
Keywords: coconut ice cream