You can't go wrong with a classic! This Vanilla Ice Cream recipe is a custard based ice cream recipe with real vanilla bean flecks and lots of vanilla flavor throughout.
Homemade ice cream is the perfect summertime treat! Serve this vanilla ice cream up with a slice of warm Cast Iron Peach Crostata or Blueberry Cobbler, or even simply on its own!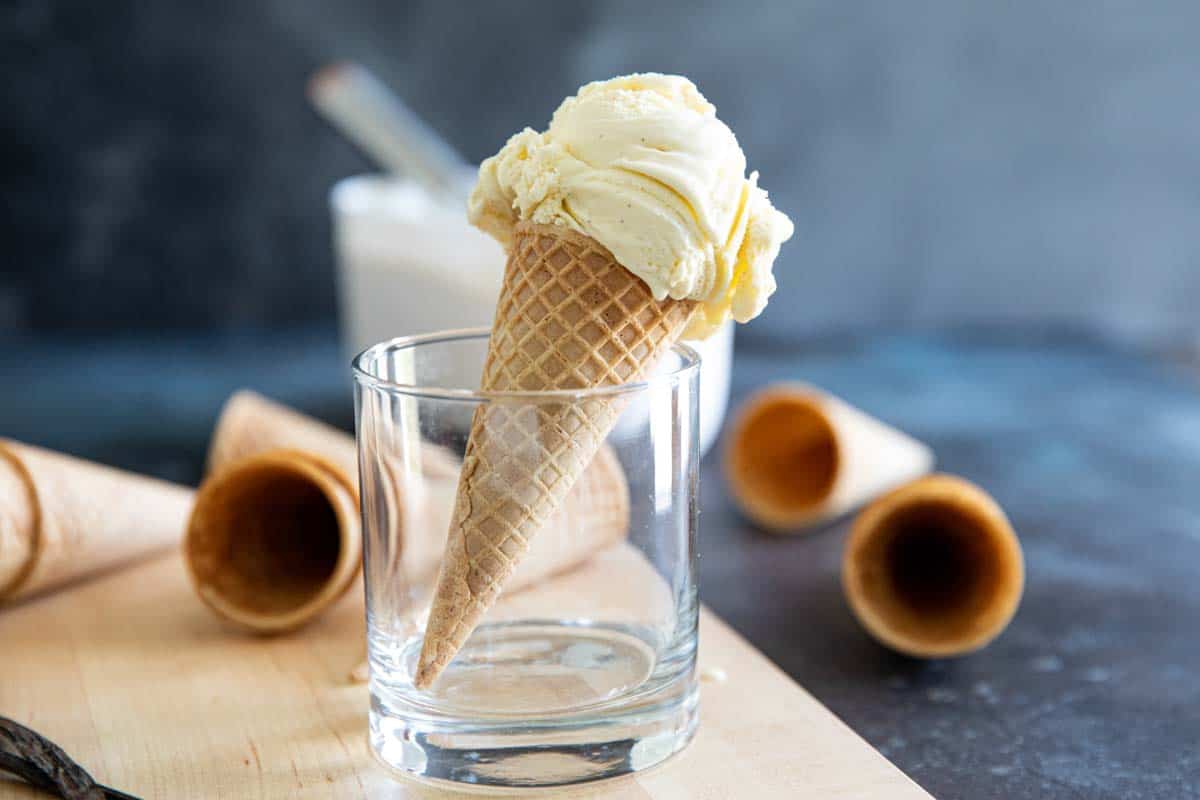 Every once in awhile, I like to step back from the creative mode and go back to basics. Because really, what it all comes down to is that everyone loves the classics, and you really do need a collection of all of the best basic recipes.
And everyone needs a good vanilla ice cream recipe in their repertoire. This homemade Vanilla Ice Cream is definitely a classic you need to add to your collection!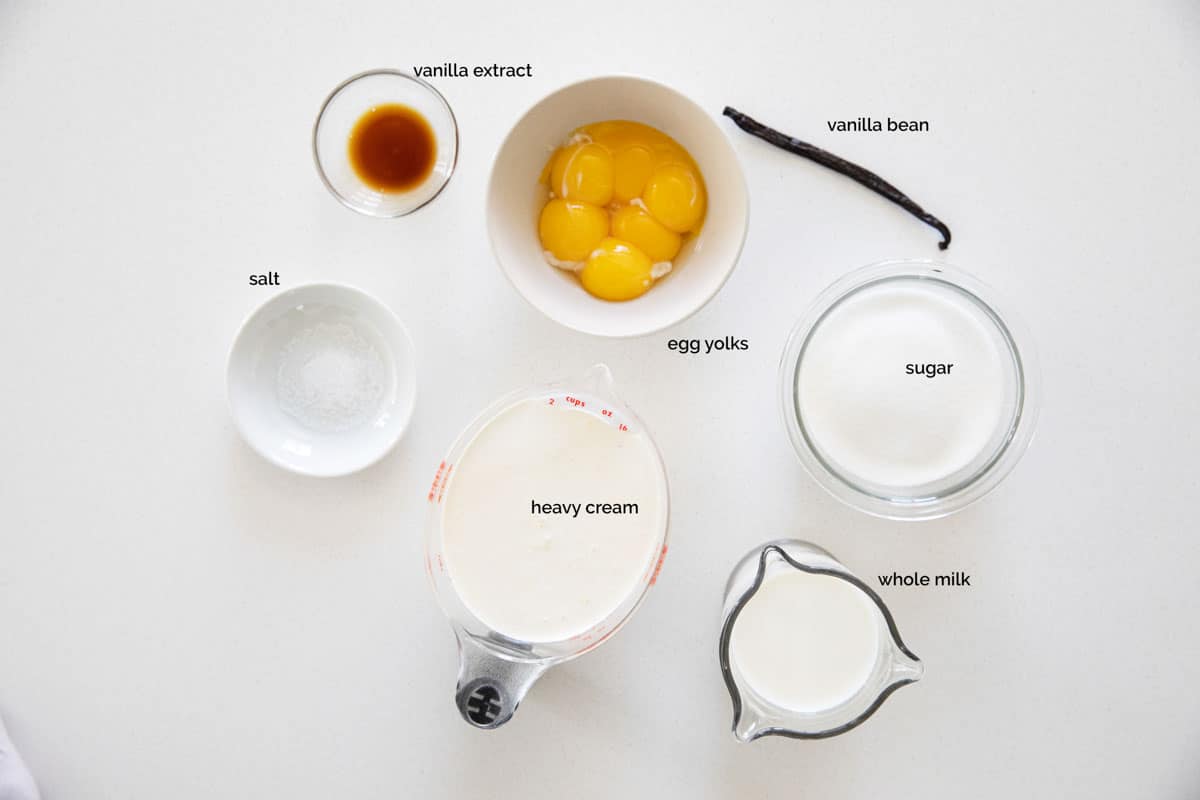 What You'll Need
This vanilla ice cream only takes a handful of ingredients and comes together really quickly. Here is what you need:
Whole Milk – I have actually made this with 2% milk before. It works, but it is definitely better with whole milk.
Sugar – Just regular granulated sugar for this.
Heavy Cream – This is sometimes listed as Heavy Whipping Cream. The fat content should be at least 36%.
Salt – a pinch of salt will help to magnify the flavors and counteract some of the sweetness.
Vanilla Bean – I know vanilla beans can be super pricey at times, so you can also just opt for vanilla extract – I'd up the amount called for in the recipe by 3. It won't be the same, but it will work in a pinch.
Egg Yolks – this is the egg part of the custard that I talk about below. They will be cooked – from the heat of mixture – so don't worry about raw eggs.
Vanilla Extract – We talked about vanilla above!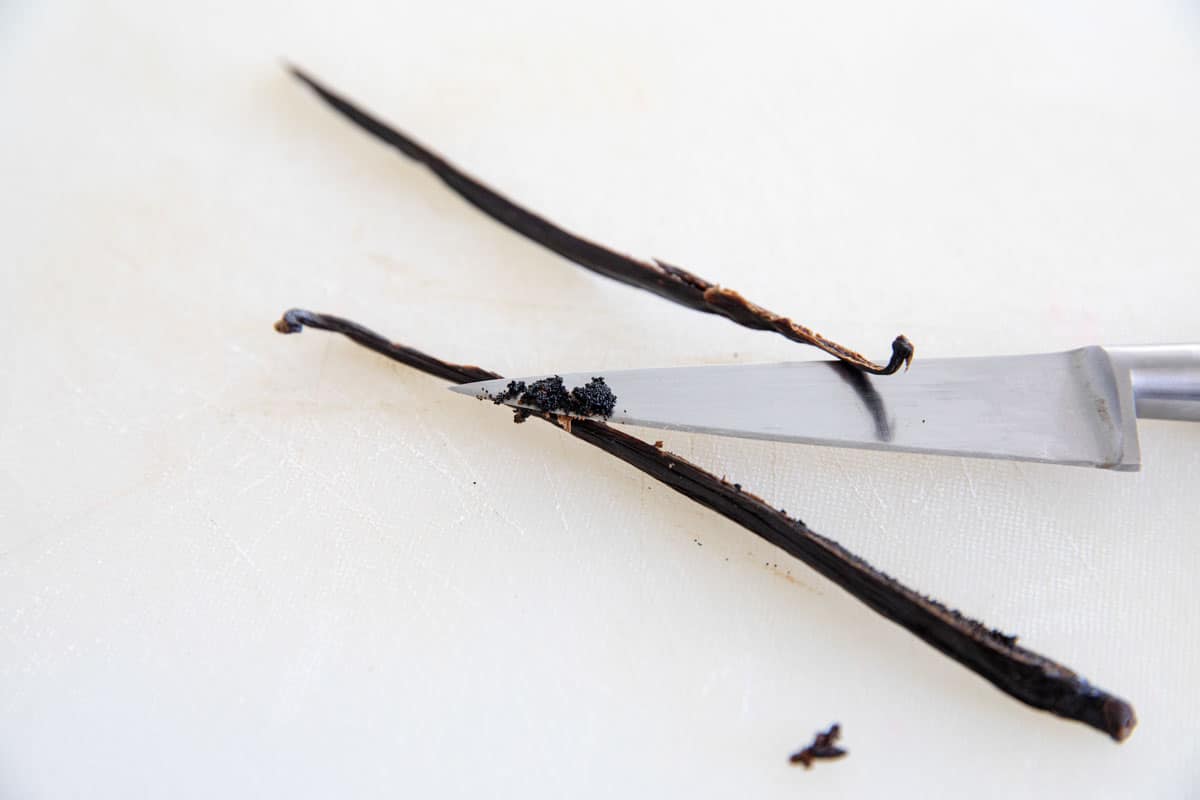 Using Vanilla Beans
If you've never used fresh vanilla beans before, this is the recipe to try them with. The vanilla flavor really shines. But don't be intimidated by using them – they are actually quite easy!
Your vanilla bean should be soft and pliable. To scrape the seeds from your vanilla bean, start by taking a sharp paring knife and use the tip to cut the bean in half lengthwise. Use the either the tip of your knife or the back of the knife to scrape alongside the inside of the pod, collecting all the seeds.
In this recipe, you'll add the seeds and the whole pod as you are making the custard. Before freezing the ice cream, you remove the pod. This way, you are extracting as much of the flavor from the vanilla bean as possible. You can technically rinse the pod off after you have used it and reuse it (I like to put them in a jar with sugar to make vanilla sugar), but honestly, a lot of the flavor is gone from the bean in this recipe. So when using a vanilla bean for this ice cream, I'll usually discard the pod.
When I first made this ice cream many years ago, I was pretty naive and bought my vanilla beans at the grocery store. Unless you just have money to spare, please don't do this, as they are completely overpriced and usually dried out because no one buys vanilla beans at the grocery store. I like to order mine online or get them at a reputable kitchen store – you can get better beans for a better price. You could also use a vanilla bean paste, as well.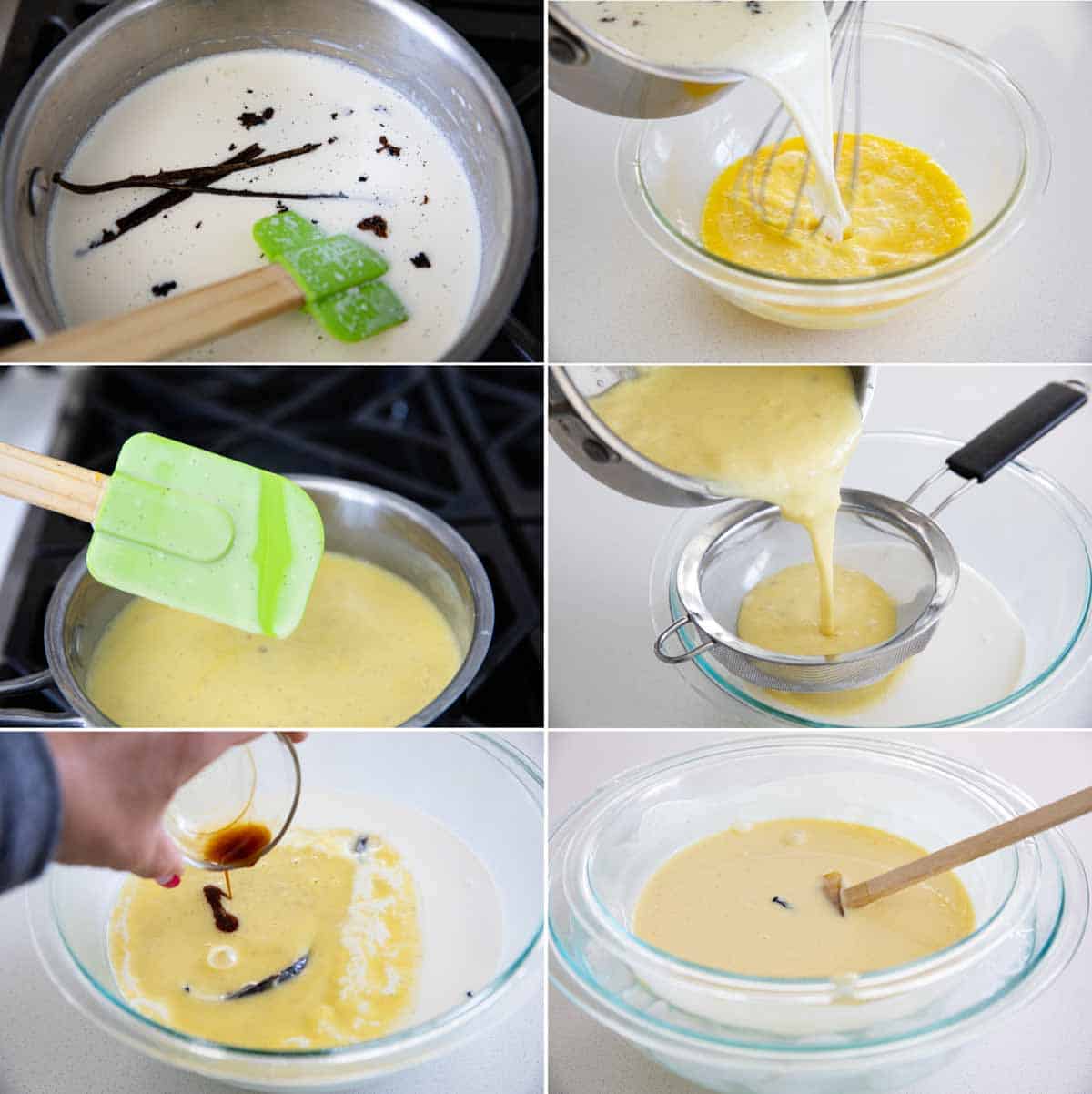 How to Make It
(Make sure to scroll down below to the recipe card for full instructions.)
To make the custard:
Combine the milk, sugar, 1 cup of the cream and the salt. Add the vanilla bean seeds and the pod and place over medium heat. Once heated through, cover, remove from the heat and let it steep for 30 minutes.
Whisk the warm mixture into your egg yolks.
Return it all to the heat and cook until it is thick enough to coat the back of a spoon.
Pour the mixture into the remaining cream through a mesh sieve. (You'll want to use this to get rid of any cooked bits of eggs.)
Add the vanilla extract.
Place the custard in another bowl filled with ice water to form an ice bath to quickly cool the custard down.
Refrigerate the custard until fully chilled. I like to do this overnight.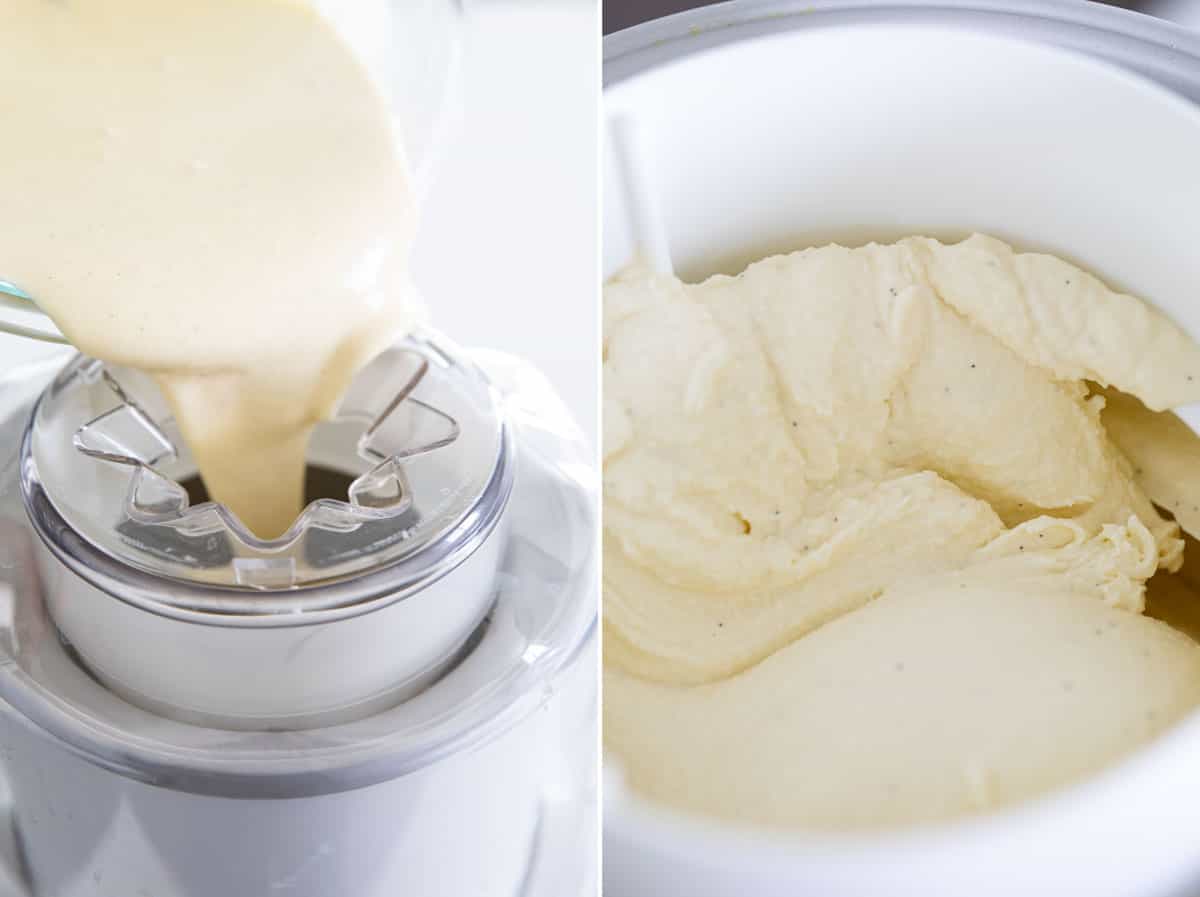 Churning the custard:
When the custard is cold, add it to your ice cream maker and freeze according to the manufacturer's instructions. This will vary depending on your ice cream maker.
Once it is churned, it will probably still look like soft serve, so I transfer mine to a freezer safe container and place it in the freezer to freeze completely.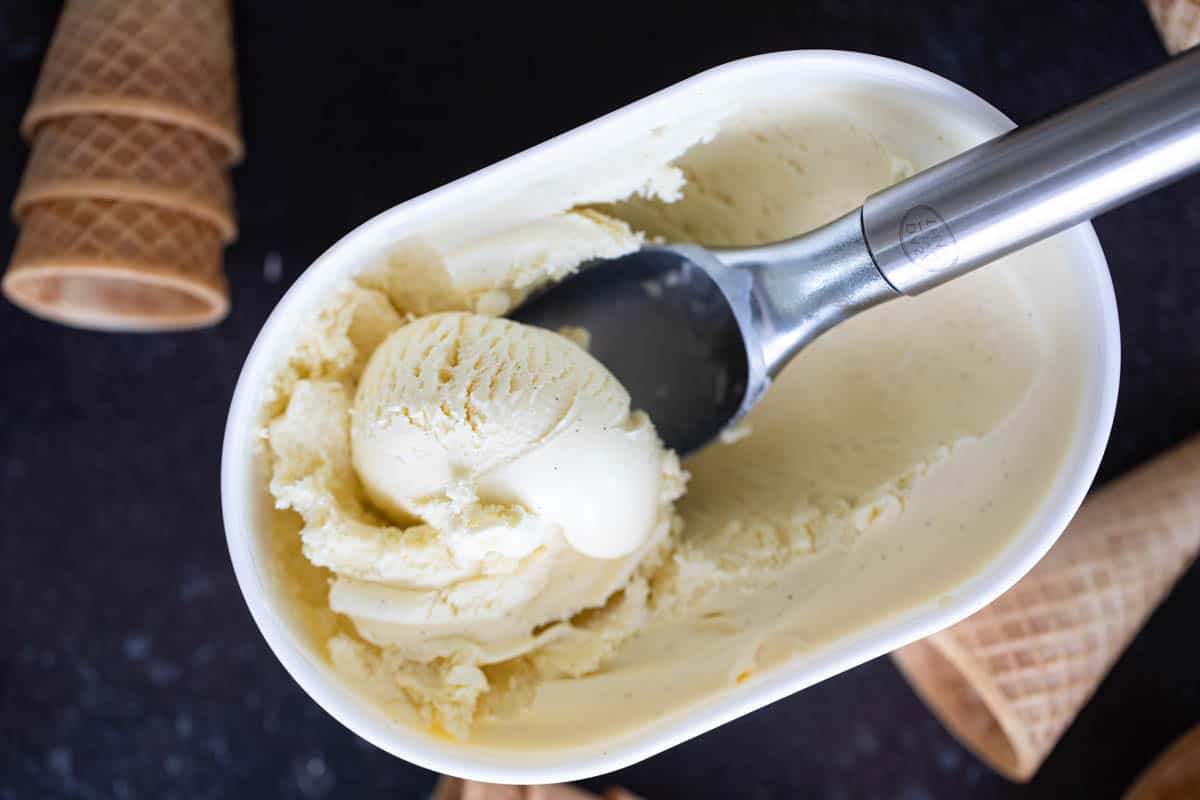 Philadelphia Style Ice Cream vs French Style Ice Cream
This is a custard based ice cream – aka French style ice cream, which I have really been loving lately. As much as I can get behind the idea of the no-churn ice cream (and really, it is pretty good), nothing really beats a good, custard based ice cream when you really want the good stuff. And when you are going with something as basic as vanilla, you really need a recipe that shines. And this recipe does just that.
So what is the difference between a custard based ice cream and one that is not?
French Style Ice Cream
– This is a custard based ice cream, which means it is made with eggs. It is typically thicker and richer. But with this comes a few extra steps, as well.
Philadelphia Style Ice Cream (or American Style Ice Cream)
– This ice cream is usually made with just milk, cream, and sugar. It is a bit lighter, and also easier to make.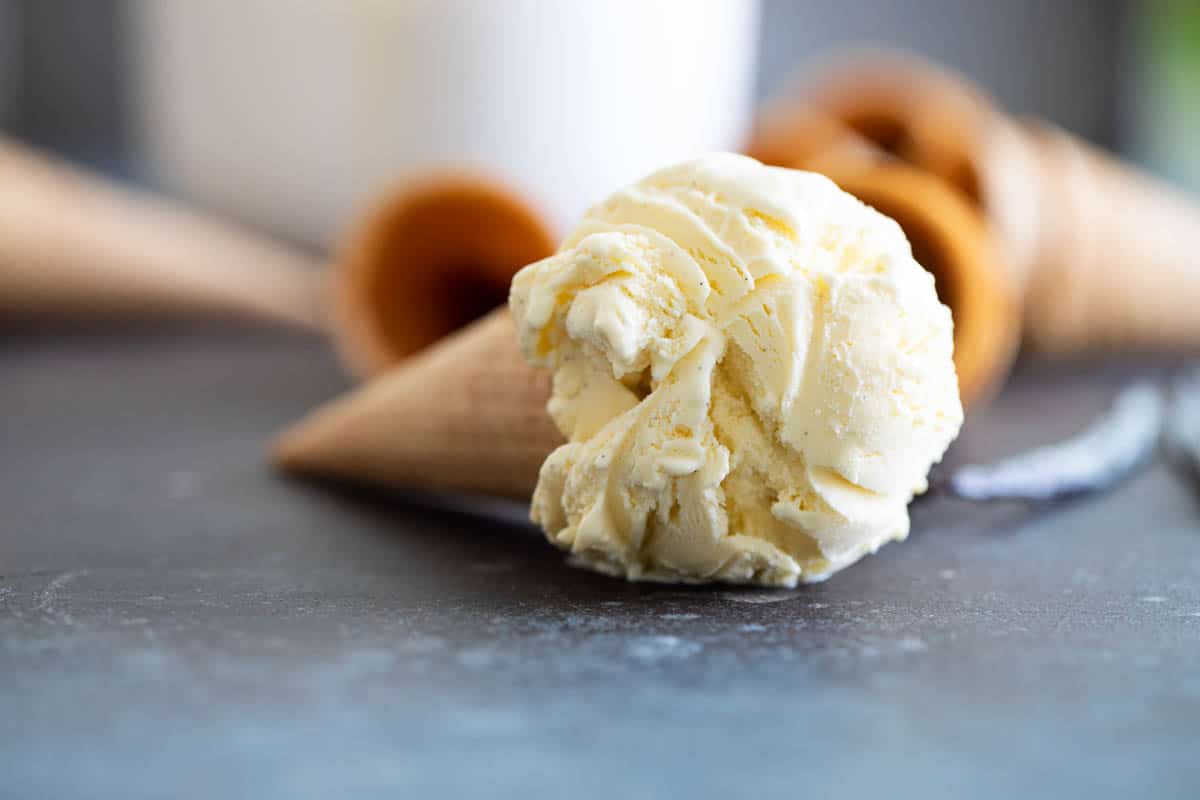 Make it Your Own
This ice cream is a favorite at our house, so it is usually inhaled before we can even do anything different with it. But here are some ideas for great ideas to take your vanilla ice cream to the next level!
Serve it with chocolate sauce or caramel sauce.
Add in crushed Oreos after churning it, before freezing it.
Instead of Oreos, try chopped candy bars.
Top it with Coconut Syrup and toasted coconut.
Make banana splits.
Serve with warm blondies.
Set up an ice cream bar with lots of toppings and whipped cream and let everyone top their own.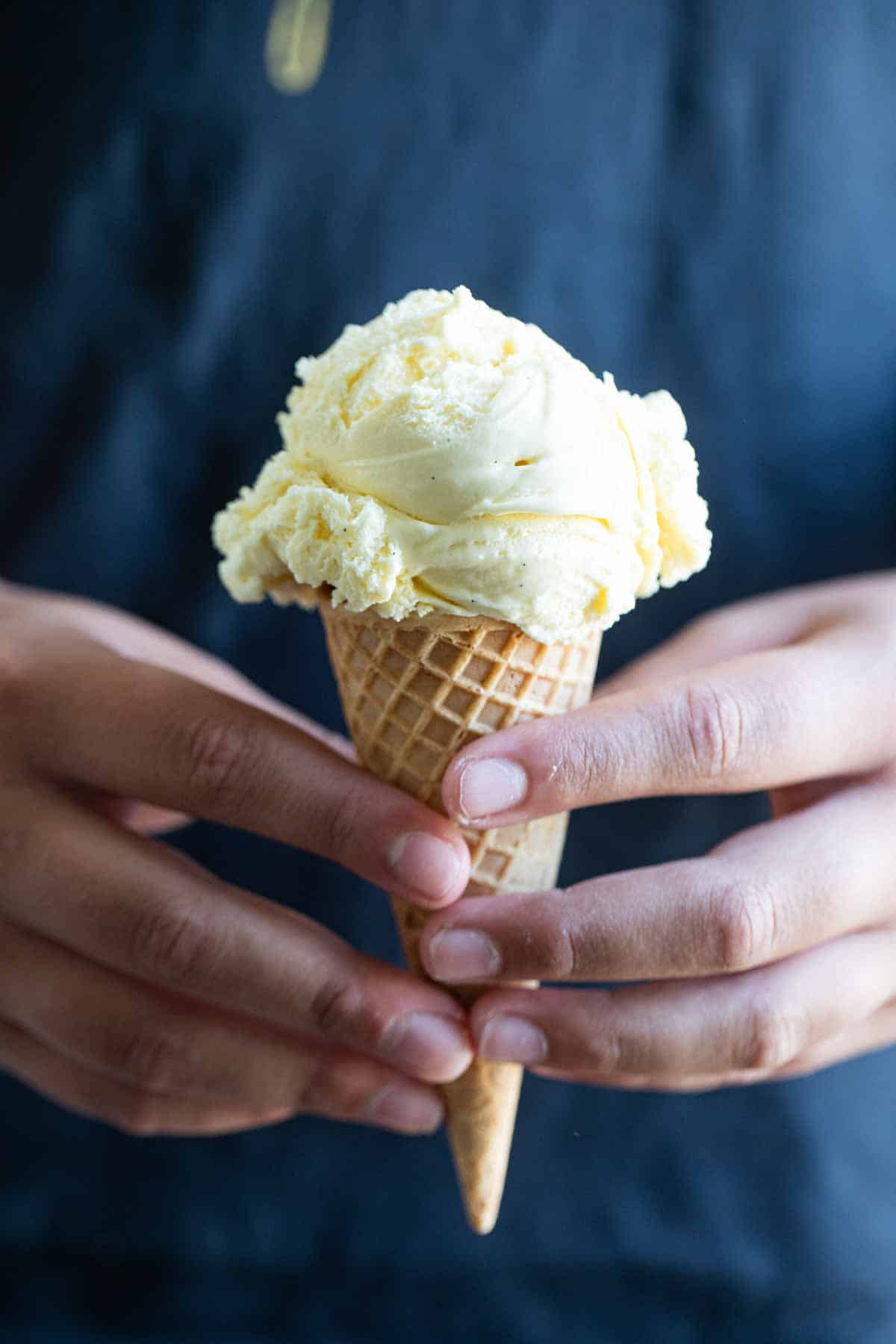 More Ice Cream Recipes
This Salted Caramel Ice Cream with Fudge and Toasted Coconut is a copycat from some ice cream that I tried in Portland many years ago. I'm so glad I can make it at home!
Try this Red Velvet Ice Cream with Marshmallow Swirl if you're looking for a no-churn ice cream that super simple to make, yet high on the "wow" factor.
If you are a coconut lover like me, you'll love this Toasted Coconut Ice Cream.
Yes, you can make Fried Ice Cream at home!
While not technically ice cream, this Mango Sorbet is the perfect summer treat.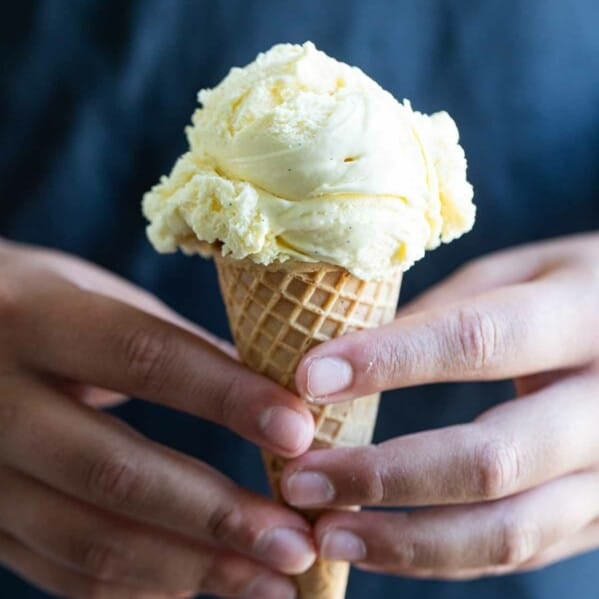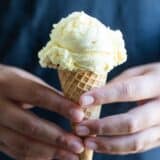 Vanilla Ice Cream
---
Author:
Prep Time: 10 mins
Cook Time: 15 mins
Total Time: 9 hours 30 minutes
Yield: 1 quart, 8 servings 1x
Category: Dessert
Method: Stove Top
Cuisine: American
Description
You can't go wrong with a classic! This Vanilla Ice Cream recipe is a custard based ice cream recipe with real vanilla bean flecks and lots of vanilla flavor throughout.
---
Scale
Ingredients
1 cup whole milk
3/4 cup sugar
2 cups heavy cream, divided
pinch of salt
1 vanilla bean
6 large egg yolks
3/4 teaspoon vanilla extract
---
Instructions
Combine the milk, sugar 1 cup of the heavy cream and salt in a medium saucepan.
Cut the vanilla bean in half lengthwise and scrape the seeds out of the center. Add the seeds and the bean to the mixture and place the pan over medium heat.
Cook the mixture until it is warmed through, then cover the pan, remove it from the heat, and let it steep for 30 minutes.
Pour the remaining cup of cream into a large bowl and set a mesh strainer over the top.
In a medium bowl, whisk the egg yolks. While whisking, pour the vanilla bean mixture (it should still be somewhat warm at this point) into the egg yolks and whisk completely, then pour the mixture back into the saucepan.
Place the saucepan back over medium heat. Stir the mixture constantly with a heatproof spatula, making sure to scrape the bottom of the pan as you stir. Cook until the mixture thickens enough to coat the back of a spoon.
Prepare an ice bath by putting ice and water about 1/3 full in a large bowl – just larger that the bowl that your cream is in.
Pour the mixture into the strainer and stir into the cream. Remove the vanilla bean from the strainer and add it to the custard. Stir in the vanilla extract, then place the bowl in the prepared ice bath and carefully stir until cooled, making sure to not get any of the water into the custard. Once cooled, cover and refrigerate until fully chilled, preferably overnight.
When the mixture is fully chilled, remove the vanilla bean from the custard. Freeze the ice cream according to your ice cream maker's manufacturer instructions.
*At this point, my ice cream is the consistency of a soft serve ice cream, so I like to place it in a freezer safe container and freeze until fully set up. Your ice cream maker may freeze it further, but be prepared to let it freeze longer, if needed.
Recipe Notes:
I like to take a few days to make this ice cream. Day one I will make the custard and refrigerate it. Day 2 I will churn it in my ice cream maker and then transfer it to the freezer. By daay 3 it has set up and is ready to eat!
Recipe source: The Perfect Scoop
Nutrition information provided as an estimate only. Various brands and products can change the counts. Any nutritional information should be used as a general guide.
Nutrition
Serving Size: 1/2 cup
Calories: 339
Sugar: 22 g
Sodium: 60 mg
Fat: 26 g
Saturated Fat: 15 g
Unsaturated Fat: 9 g
Trans Fat: 0 g
Carbohydrates: 22 g
Fiber: 0 g
Protein: 4 g
Cholesterol: 223 mg
Keywords: homemade vanilla ice cream, vanilla ice cream, ice cream, frozen, dessert