Say hello to summer with this salted caramel ice cream with toasted coconut flakes and salted caramel and fudge ribbons swirled throughout.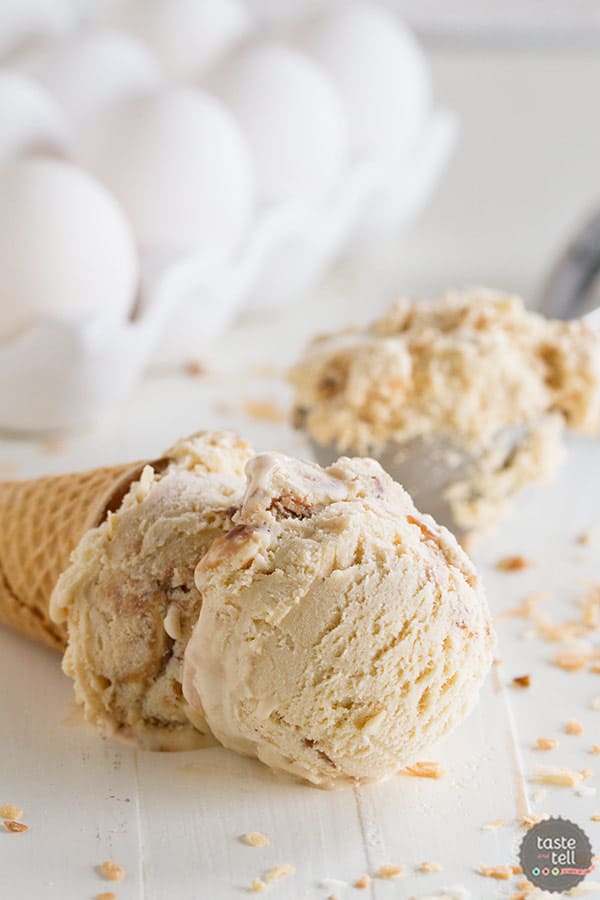 When it comes to creating recipes, I would have to say that my number one inspiration is always food that I've eaten at restaurants or that I've seen on restaurant menus and wanted to recreate. Especially when I'm traveling.
Last month, I spent a weekend in Portland for a food blogging conference. And I definitely ate my way through that city in the short amount of time that I was there. After I flew in, a group of us went to lunch, and then went to get ice cream at place that we spotted across the street called Ruby Jewel Scoops. There were quite a few flavors that were calling to me, but I ended up going with a caramel with salted chocolate ice cream, on a cone, with candied coconut. It was delicious – I loved the flavor combination – but I had eaten so much at lunch, and my cone was melting like crazy as we stood on the street visiting, so I didn't even make it through all of my ice cream. But once I got home, I knew I had to try that flavor combination again.
Now, let's talk ice cream. I've made ice cream several different ways before. I've gone the easy way, with a no-churn ice cream, but when I am craving some really good, creamy ice cream, I know there are no shortcuts. And the way to get the best ice cream at home is with a custard base.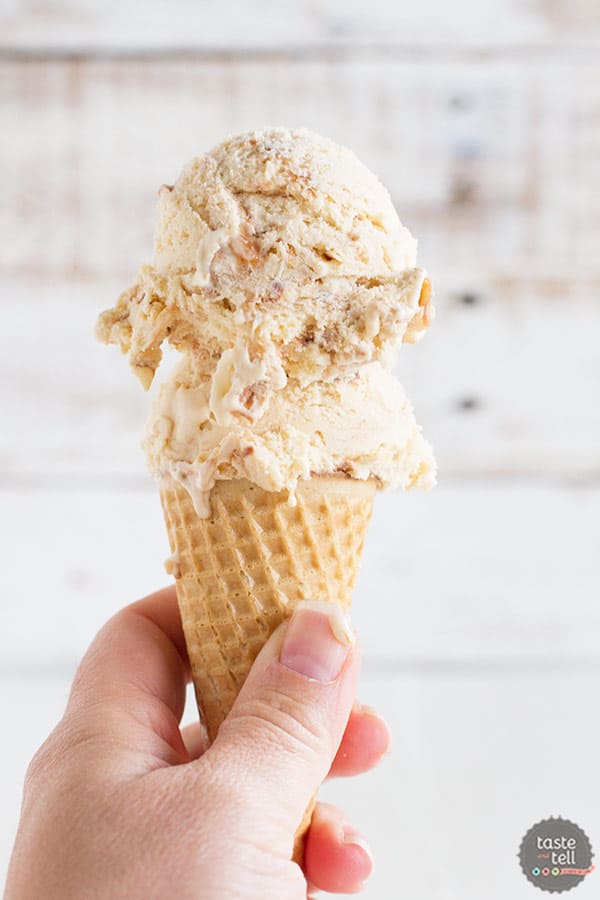 What exactly is that? Well, the secret lies in making a custard – heating milk and/or cream, and whisking it into egg yolks, and then cooking the mixture until it starts to thicken. The egg yolks keep your ice cream velvety, and help to keep your ice cream from forming ice crystals. They give you a texture that you just can't achieve with any other method. And the richness that you get from the egg yolks can't be beat in this flavor combination.
Making the custard base might seem a little tricky at first. Hot milk in egg yolks? Aren't you going to end up with scrambled eggs? But it really is quite easy. Just make sure your milk mixture isn't too hot, and that you are vigorously whisking the eggs when you slowly add the milk. If you are worried about bits of egg, you can strain your mixture after it has cooked. You will also want to make sure your base mixture is completely cold before you churn it in your ice cream maker. Refrigerate it for at least 3 hours, but overnight is preferred.
The ice cream at Ruby Jewel was a little unique – while you often hear of salted caramel, that ice cream had salted chocolate. While I loved the idea, I knew it would be easier to stick with salted caramel for this recipe, so I stuck with the easy way. Also, for ease, I used jarred hot fudge sauce, but you could always use homemade as well. And while my cone had candied coconut on the outside (I'm pretty sure it was just toasted sweetened coconut), I decided to stir the toasted coconut into the ice cream, so that you got some in every bite.
This ice cream recipe is so creamy and velvety and amazing – I had a hard time not going back for another scoop. I'm pretty sure I need some of this on a nightly basis, now!!
I am so excited to bring you this delicious recipe in partnership with the American Egg Board's Good Egg Project. America's egg farmers are proud to provide Americans with affordable and nutritious food. Visit incredibleegg.org/good-egg-project to learn about egg farmers' products, family-owned and operated businesses and the carefully developed practices for delivering the safest, most nutritious, great-tasting, wholesome eggs to America's breakfast tables.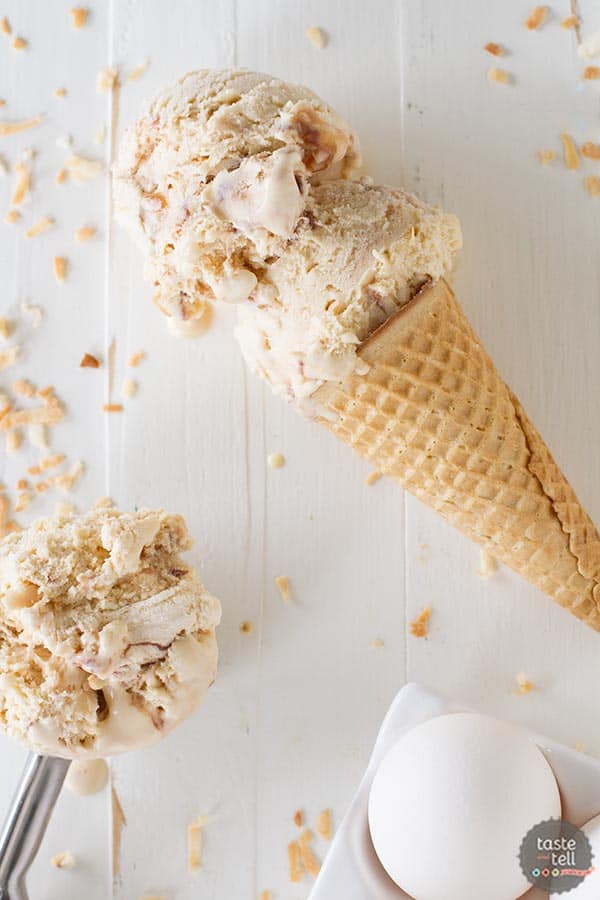 Like what you see here? Make sure you are following Taste and Tell for more recipes and ideas!
Facebook | Pinterest | Instagram | Twitter | Google+ | Weekly Newsletter | Feedly | Bloglovin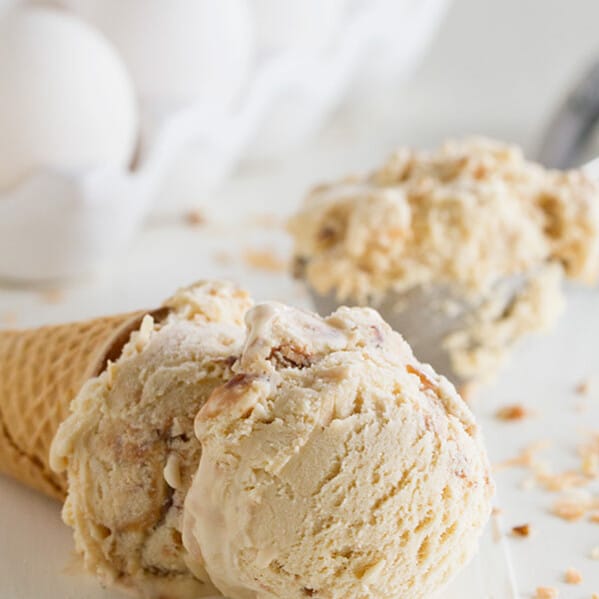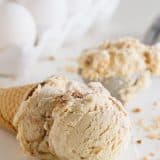 Salted Caramel Ice Cream with Fudge and Toasted Coconut
---
Prep Time: 20 mins
Cook Time: 20 mins
Total Time: 40 mins
Yield: about 1 quart 1x
Description
Say hello to summer with this salted caramel ice cream with toasted coconut flakes and salted caramel and fudge ribbons swirled throughout.
---
Scale
Ingredients
Caramel
1 1/2 cups sugar
1/2 cup water
1 cup heavy cream
1 teaspoon kosher salt
Ice Cream
2 cups heavy cream
1 cup milk
3/4 cup sugar
pinch of kosher salt
5 egg yolks
1 cup toasted coconut
2/3 cup hot fudge sauce
---
Instructions
Make the caramel:
Place the sugar in the bottom of a large saucepan. Pour the water over the top and let it sit until the sugar has been saturated with the water. (Do not stir.) Place the saucepan over medium heat and let it cook until it comes to a boil, and then the mixture turns to an amber color. Slowly pour in the cream, whisking the mixture, until it comes together. (Be careful, the mixture will boil up and seize – just continue to whisk.) Stir in the salt. Remove from the heat and transfer half of the caramel to a bowl. Refrigerate the caramel in the bowl until needed, and set the other half to the side.
Prepare a ice bath.
In another saucepan, combine the 2 cups heavy cream, 1 cup milk, sugar and salt. Heat just until it starts to bubble around the edges. While the milk mixture heat, place the egg yolks in a large bowl and whisk lightly. When the milk mixture has started to bubble, slowly pour about 1/2 cup into the egg yolks, whisking vigorously the whole time. Continue to add about half of the milk mixture, whisking the whole time. Pour the egg mixture into the saucepan, and return to the heat. Cook until the mixture thickens enough to coat the back of a spoon. Remove the mixture from the heat and pour back into the large bowl. Pour the reserved half of the caramel into the mixture and stir to combine. Place the bowl in the ice bath and allow the mixture to cool, stirring a few times. Once cool, cover and refrigerate until completely chilled, at least 3 hours, but preferably overnight.
Once the mixture is completely chilled, process in an ice cream maker according the manufacturer's instructions. Once the ice cream has churned, stir in the coconut. Heat the reserved salted caramel for about 30 seconds in the microwave. Heat the hot fudge for 1 minute on 50% power. Pour half of the ice cream into a 9×5-inch loaf pan. Drizzle half of the caramel and half of the hot fudge over the top. Top with the remaining ice cream, then drizzle on the remaining caramel and hot fudge. Use a butter knife to swirl the caramel and fudge into the ice cream, then cover and transfer to the freezer to freeze solid.
Recipe Notes:
*Total time does not include refrigerating and freezing time.
Don't miss a thing! Follow me on Pinterest to see what I'm pinning!
Visit Taste and Tell's profile on Pinterest.




I am in a working relationship with the American Egg Board, and this post has been sponsored. I'm so glad to be able to work with companies and organizations that I truly believe in. Thank you for supporting them, too.