Fresh mangoes and lime juice come together to make a perfectly tropical Mango Sorbet.
Give me all the frozen treats – especially when it is warm outside! This Mango Sorbet is super refreshing – but also check out this Iced Chocolate, Red Velvet Ice Cream Cake, or Pineapple Dole Whip for something a little different!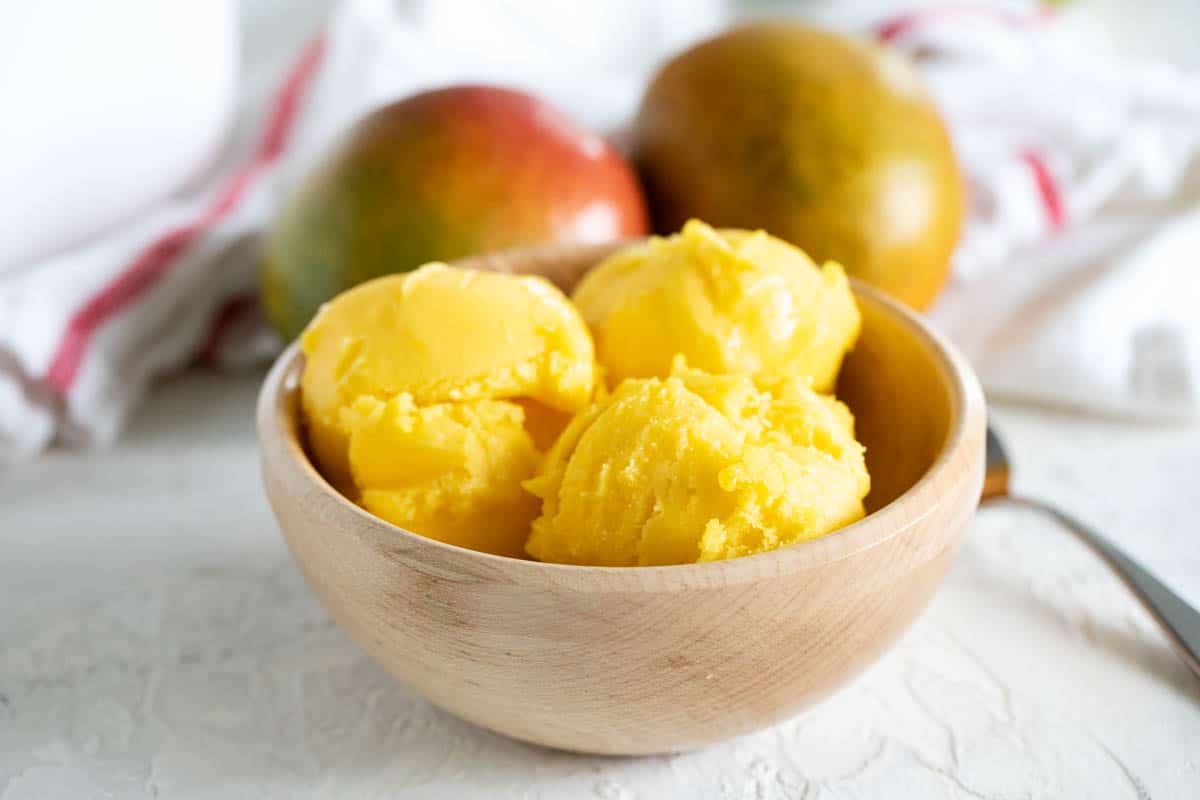 There is nothing like homemade ice cream or sorbet. Once I started making it years ago, I realized that store bought just really doesn't compare.
I know that sometimes the recipes can be more complicated or time consuming, but this Mango Sorbet is not! Well, it does take some time, but the majority of that is hands off time. In fact, you only need about 10 minutes of hands on time, and then you let the fridge, ice cream maker, and freezer do the rest!
This Mango Sorbet is so creamy and flavorful – you'll want some in the freezer at all times!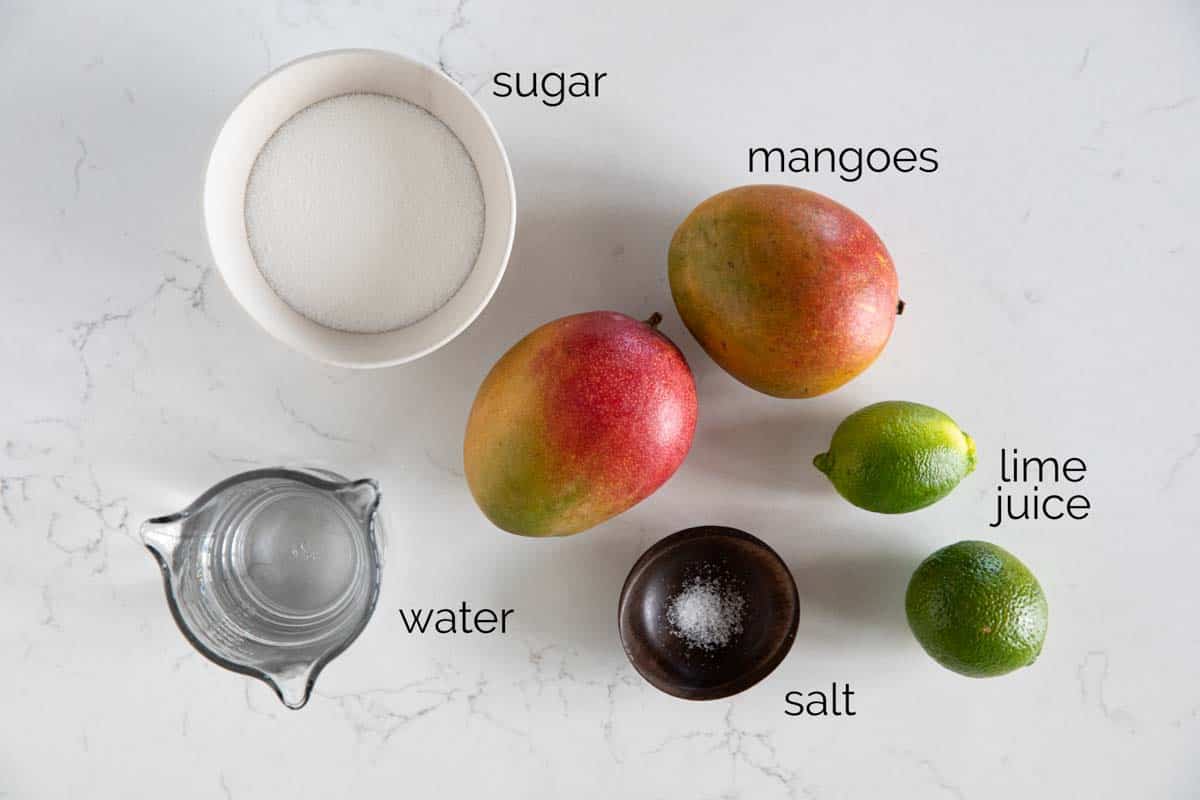 Ingredients
Mangoes: You'll want mangoes that are nice and ripe. And while I have made this recipe multiple times with fresh mango, I have never tested it with frozen mango so I'm not sure how that would work.
Sugar: Just regular granulated sugar.
Water: Since this is a sorbet, there is no dairy. You could use coconut water if you want to play on the tropical vibe, but regular water works just fine.
Lime Juice: I like to add a little bit extra lime juice, but it is a personal preference. Use fresh lime juice, not bottled, as it has additives and preservatives.
Salt: You only need a dash of salt to balance the sweetness.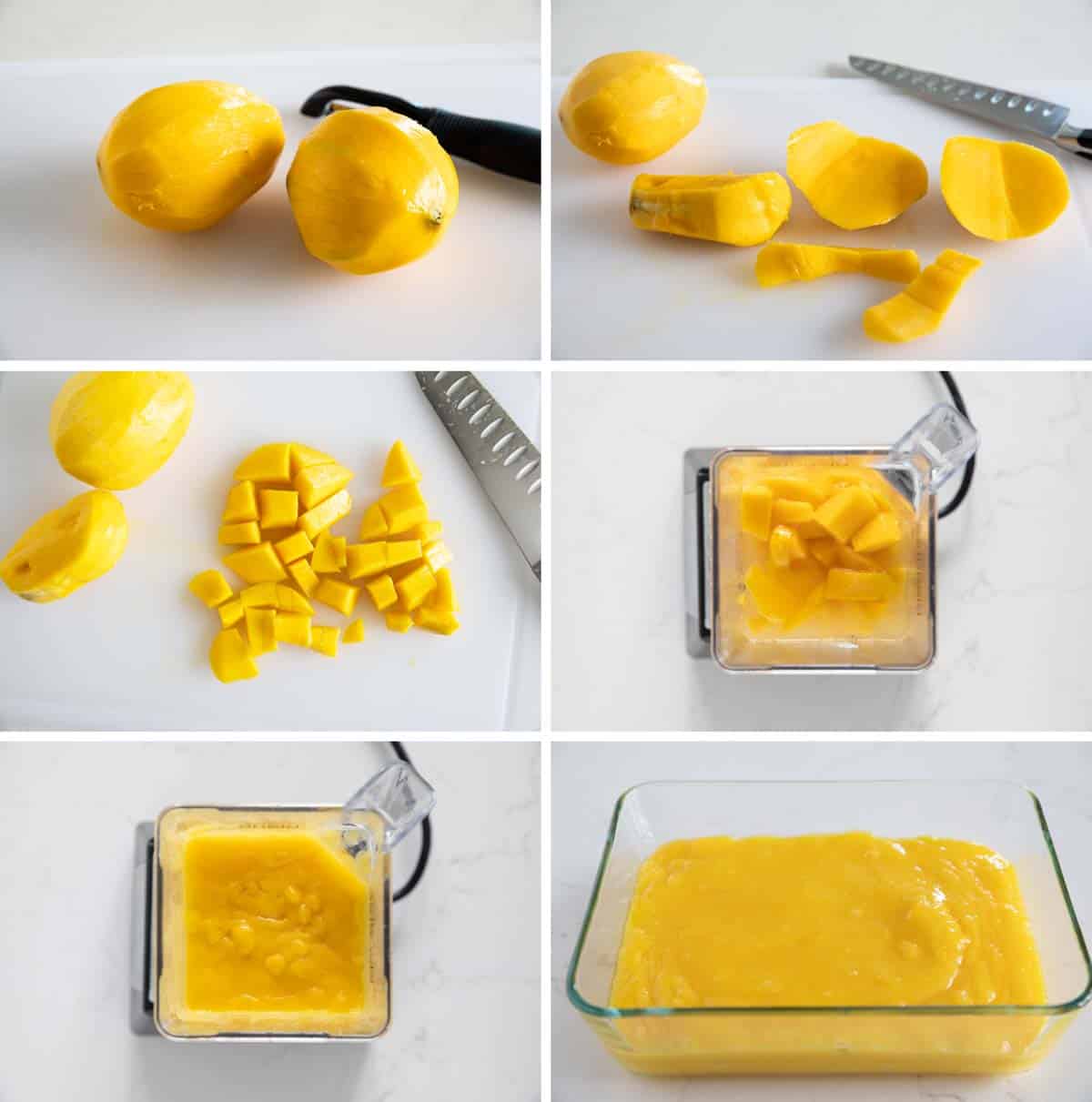 How to Make Mango Sorbet
1: You want to start by dicing the mangoes. I do this a little differently than most people, but it is what works for me! I like to peel the mango with a vegetable peeler first.
2: Once you have removed the peel, slice around the pit, getting as much of the fruit as possible from the pit.
3: Take that and dice it into chunks.
4: Place the mango chunks as well as the rest of the ingredients into a blender or food processor.
5: Process until the mixture is smooth.
6: Transfer to a container with a lid and refrigerate. You want to make sure it is completely chilled, so at least 4 hours, but preferably overnight.
7: Once chilled, you can turn it in your ice cream maker. The instructions here will depend on the ice cream maker you have, so read the manufacturer's instructions. Mine will churn the sorbet into a soft mixture, similar to soft serve, and then I freeze again until hardened to a more frozen texture.
Tips and Tricks
The original recipe tells you to take the pit and squeeze any excess juice from it into the blender. I don't usually do this, but you can if you want to get every last bit of flavor!
The sorbet will last about a month in the freezer before it will start to get icy.
I like to store mine in a reusable ice cream container. Keep a couple on hand so you can always have homemade ice cream or sorbet in the freezer!
Some people swear by adding a tablespoon or two of alcohol to prevent the sorbet from getting icy. I have never tried this, but I also haven't had an issue with this mango sorbet getting icy quickly.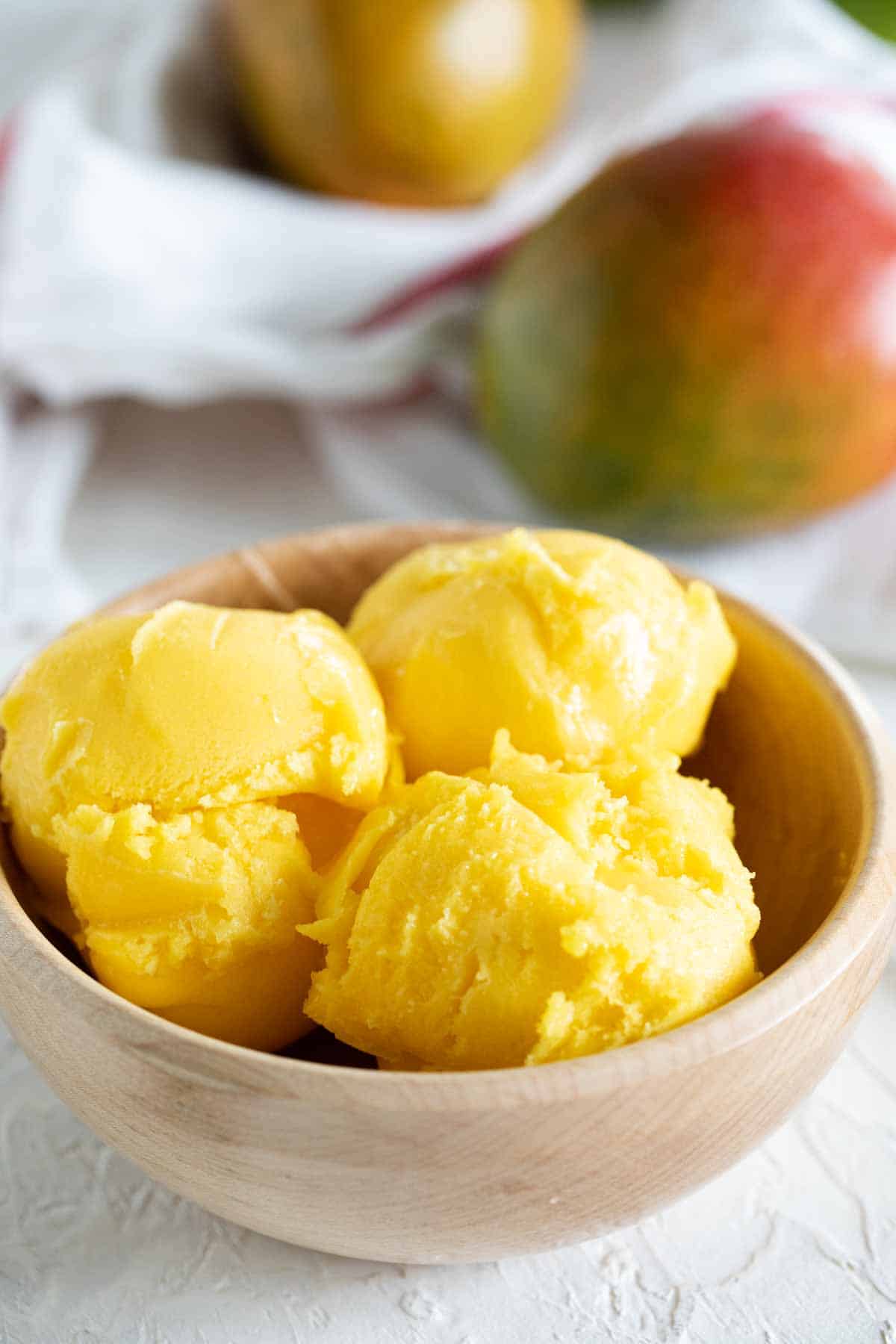 More Frozen Treats
Vanilla Ice Cream
Fried Ice Cream Recipe with Cinnamon Sugar Tortilla Bowls
Toasted Coconut Ice Cream
Lemon Ice Cream
Fruit Batido
Salted Caramel Ice Cream with Fudge and Toasted Coconut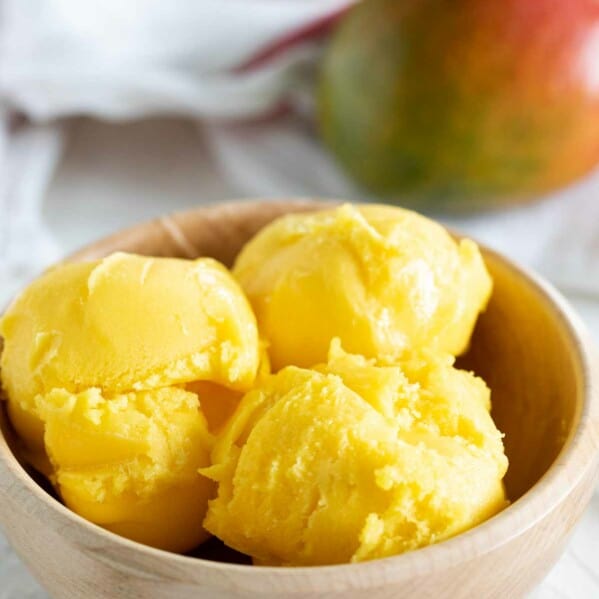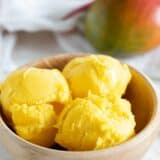 Mango Sorbet
---
Author:
Prep Time: 10 minutes
Refrigeration/Freezing Time: 6 hours
Total Time: 6 hours 10 minutes
Yield: 1 quart 1x
Category: Dessert
Method: Frozen
Cuisine: American
Description
Fresh mangoes and lime juice come together to make a perfectly tropical Mango Sorbet.
---
Scale
Ingredients
2 large, ripe mangos
2/3 cup sugar
2/3 cup water
4 teaspoons freshly squeezed lime juice (plus more to taste)
Pinch of salt
---
Instructions
Cut the mangoes into chunks, removing peels and the pit. Add the chunks to a blender.
To the blender, also add the sugar, water, lime juice and salt. Puree the mixture until smooth.
Transfer the mixture to a container with a lid and refrigerate until completely chilled, at least 4 hours, but preferably overnight.
Once chilled, freeze in your ice cream maker according to the manufacturer's instructions.
Recipe Notes:
Adapted from The Perfect Scoop
Nutrition information provided as an estimate only. Various brands and products can change the counts. Any nutritional information should be used as a general guide.
Nutrition
Serving Size: 1 cup
Calories: 198
Sugar: 49 g
Sodium: 39 mg
Fat: 0 g
Saturated Fat: 0 g
Unsaturated Fat: 0 g
Trans Fat: 0 g
Carbohydrates: 51 g
Fiber: 2 g
Protein: 8 g
Cholesterol: 192 mg