Fresh mangoes and lime juice come together to make a perfectly tropical Mango Sorbet.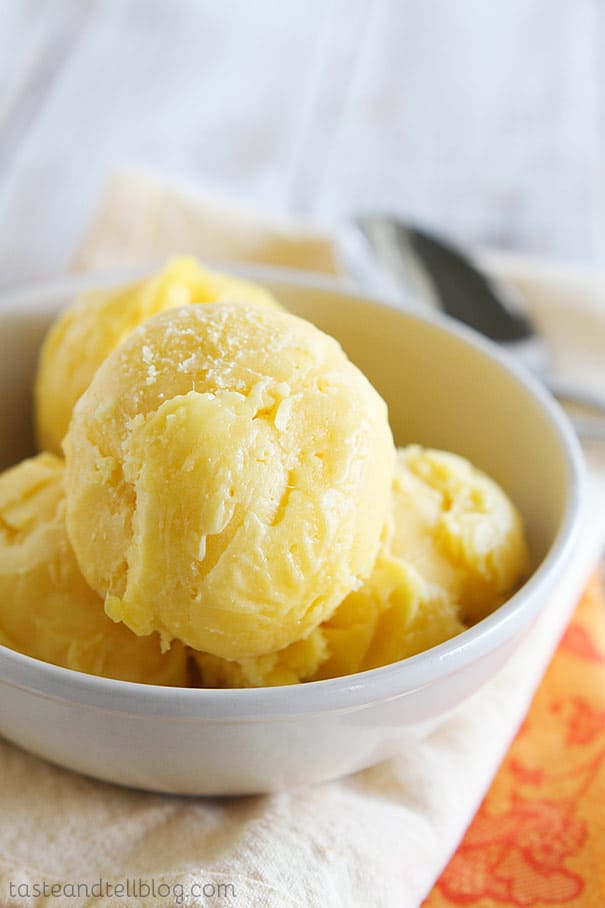 Seriously, if I was not married and in love with my husband, I would be stalking David Lebovitz. I can just imagine it now, him creating and making all of my favorite ice creams while I eat them all happily. Granted, I don't know anything about David except through his cookbook The Perfect Scoop, but I can imagine that all a relationship needs to succeed is ice cream. I am easy to please, after all.
I made my second recipe this week. I haven't even had the book a week yet, but I have already tried 2 of them!! (And the ice cream maker is in the freezer awaiting recipe number 3….) I wanted to try a sorbet because I have never made one at home before. I decided on the Mango Sorbet because I had 2 mangoes that were almost past their prime sitting on my counter begging to be used. Confession time – I have never used fresh mangoes in any of my cooking. I have always been frightened by all of the online tutorials, teaching how to cut a mango the "right" way. It's all a little daunting, knowing that you can't just slice into it. But truth be told, it was a lot easier than I anticipated. And fun, too, as I was able to squeeze the mango pit with my hands to release all of the juice and pulp into the blender (and lick my hands clean afterwards!!)
This recipe is so easy – I can't imagine anyone having problems with it. I didn't add the rum that was called for in the original recipe, but used a generous amount of lime juice. (I am trying to use as much citrus as I can right now – I have heard that citrus prices will be skyrocketing soon because of unfavorable weather conditions.) This was very delicious, nice and smooth with a great tang of lime. I also didn't feel as guilty about eating it, as there is no cream, just a bit of sugar. Ohhh, what to try next???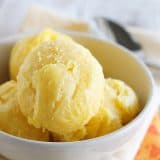 Mango Sorbet
---
Prep Time: 15 mins
Total Time: 15 mins
Yield: 1 quart 1x
Description
Fresh mangoes and lime juice come together to make a perfectly tropical Mango Sorbet.
---
Scale
Ingredients
2 large, ripe mangoes
2/3 c sugar
2/3 c water
4 t freshly squeezed lime juice, plus more to taste
pinch of salt
---
Instructions
Cut the mangoes into chunks and add to a blender, discarding the peels. Squeeze the mango pit over the blender, extracting as much of the pulp and the juice from the pit as possible. Add the sugar, water, lime juice and salt. Puree the mixture until smooth.
Chill the mixture thoroughly, then freeze in your ice cream maker according to the manufacturer's instructions.
Recipe Notes:
*the original recipe calls for 1 tablespoon of dark rum. Since I don't drink, I don't keep it on hand, so I simply leave it out. It does make the sorbet easier to scoop, so if you choose to leave it out, you may need to leave the sorbet at room temperature for a bit to soften it enough to scoop it.
slightly adapted from The Perfect Scoop