I didn't make any New Year's resolutions this year. I'm not sure why – but I never took the time to sit down and write out any goals or resolutions. But that doesn't mean that I haven't been thinking of changes I want to make this year, recipes that I want to try. One thing I've been really wanting to get much better at this year – and this has been a goal of mine for awhile but I've failed in the past – is to have a lot less waste. I'm notorious for letting things go to waste. It's horrible. And with the cost of groceries these days, I think it's pretty important that we learn how to use every last bit of everything that we buy.
The year is off to a good start. (Yeah, I know it's only the 12th, but I've got to start somewhere, right?) My husband brought home a ham that he got from work a few weeks ago. I was pretty proud of myself, because I was able to whip up a whole ham dinner that night, all from things we had on hand. Ham, roasted root vegetables, scalloped potatoes and rolls. It was delicious, but when we were finished eating, there was still a whole lotta ham left. It was a good time to make good on that goal, and to make sure none of that ham went to waste!
First up was the Ham and Bean Soup that I posted yesterday. And yes, I'm bringing another ham and bean soup today, but this one is completely different. I can never have too much soup in the winter, and I actually used the last of the ham on another soup, (which I won't subject you to because although edible, it didn't work out quite how I wanted it to.) But this soup was so delicious, fast and easy that I just had to share it with you.
When I first saw this soup on Heather's blog, I knew I wanted to try it. And since I had ham to use up, it was perfect timing. I actually wasn't even planning on sharing this recipe, but it was so good that I couldn't help but post it. A simple black bean soup, spiced up with cumin and chili powder, and flavored with chunks of ham. Top it off with cheese, sour cream and salsa, and this is a soup you won't want to pass up. I fed my mom and dad, and all three of us went back for seconds. This was definitely a winner!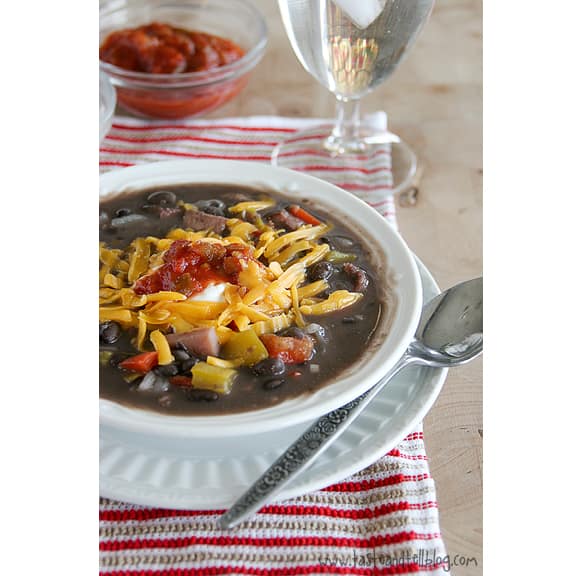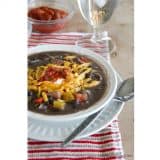 Black Bean and Ham Soup
---
Prep Time: 10 minutes
Cook Time: 30 minutes
Total Time: 40 minutes
Yield: 4-6 servings 1x
Description
A black bean and ham soup, full of flavor, that comes together quickly.
---
Scale
Ingredients
2 tablespoon vegetable oil
1 medium onion, chopped
1 red bell pepper, chopped
1 yellow bell pepper, chopped
1 jalapeno, seeds removed and minced (optional)
3 garlic cloves, minced
2 (15.0 ounce can) black beans, divided
1 (14.0 ounce can) chicken broth
2 cups cooked ham, cubed
1/2 teaspoon cumin
1/8 teaspoon chili powder
1/2 teaspoon salt
1/2 teaspoon ground black pepper
1 cup cheddar cheese, shredded, for serving
1 cup sour cream, for serving
1 cup salsa, for serving
---
Instructions
Heat the oil in a large soup pot or Dutch oven. Add in the onion, bell peppers and jalepeno (if using) and saute until softened, about 5 minutes. Stir in the garlic and cook an additional minute. Add in one can of beans and the chicken broth.
Put the remaining can of beans in a food processor or blender and puree until smooth. Alternately, put the beans in a bowl and mash with a potato masher until smooth. Add pureed beans to the soup. Bring to a boil, then reduce heat to low.
Add in the ham, cumin, chili powder, salt and pepper. Simmer for 20 minutes. Serve with cheese, sour cream and salsa.
———————–
adapted from Kitchen Concoctions , who adapted it from Food on the Table
———————-
Check out these other delicious bean soups:
Vegetarian 15-Bean Soup from My Creative Flavors
Smoky Black Bean Soup with Andouille Sausage from Good Life Eats
Curried Navy Bean Soup from eCurry