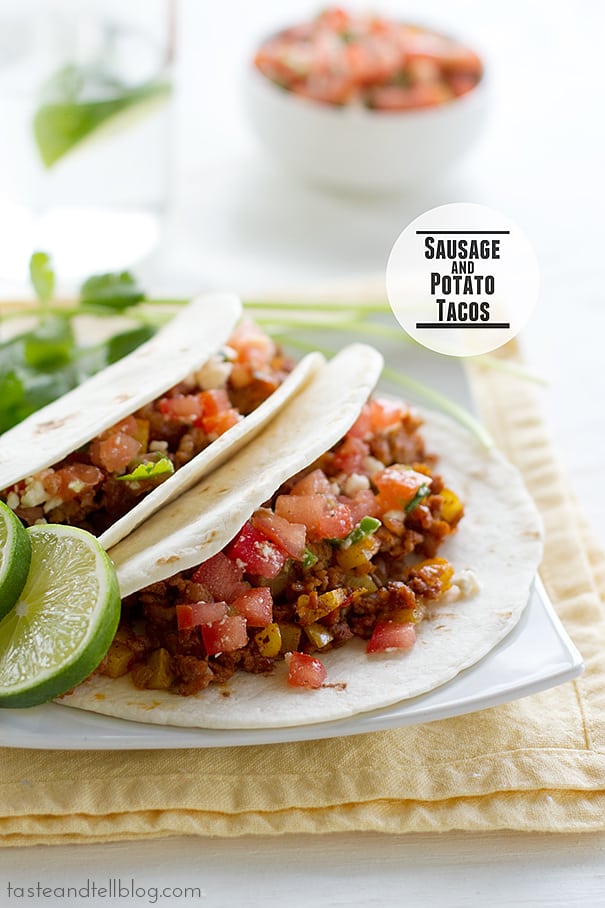 I have had a little bit of an obsession lately. With tacos. Seriously. I cannot get enough of them. I have a few recipes for them waiting in the wings for you all, but I'm at the point where I could make a new taco recipe once or twice a week and be totally fine with it.
It doesn't help that I feel like no matter the line I stand in at any grocery store, there are pictures of tacos staring back to me. Maybe it's because Cinco de Mayo just passed, or maybe the magazine execs are just going off of the fact that people love Mexican inspired food. And in my opinion, you just can't go wrong when you cook up some delicious ingredients and then throw them into a tortilla or a taco shell. Crowd pleasing. Kid pleasing. Me pleasing.
These tacos are a great way to change things up just a little bit. They are sausage and potato tacos. This is definitely not a combo that I would have ever thought would be good together in a taco, but let me tell you. Sausage and potatoes were meant to go together in a taco. Throw on some of the fresh salsa and you have got a pretty perfect taco.
These tacos make me want to turn every night into a taco night!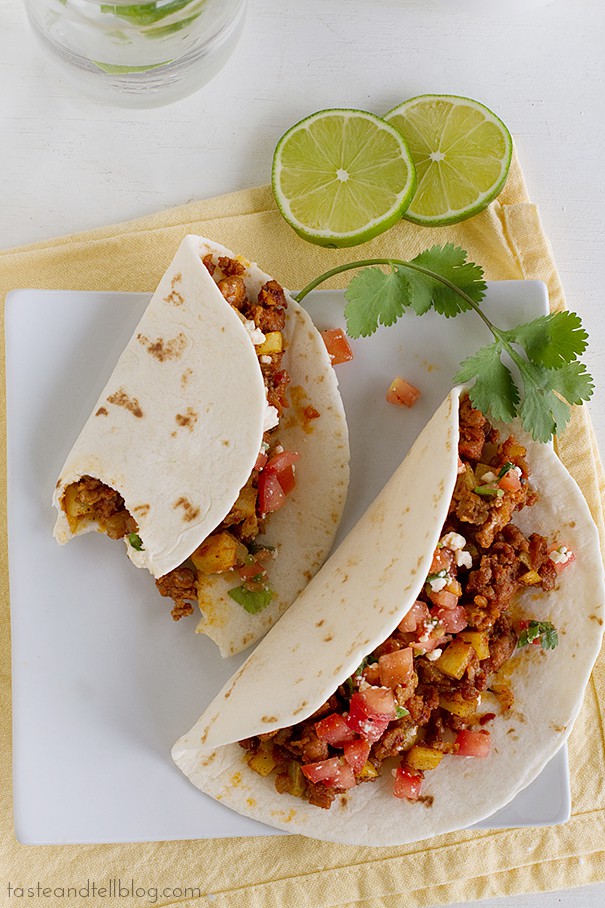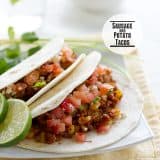 Sausage and Potato Tacos
---
Prep Time: 20 minutes
Cook Time: 20 minutes
Total Time: 40 minutes
Yield: 4 servings 1x
Description
These sausage and potato filled tacos are a great way to put a spin on taco night.
---
Scale
Ingredients
Tacos
1 tablespoon olive oil
8 oz Yukon gold potatoes, cut into 1/4 inch pieces
1 lb sweet Italian sausage
1 cup chopped onion
2 teaspoons paprika
1/2 teaspoon cumin
1/2 teaspoon oregano
1/2 teaspoon chili powder
1/4 teaspoon salt
1/4 teaspoon pepper
8 6-inch flour tortillas
Salsa
4 plum tomatoes, diced
1 small jalapeno, seeds and ribs discarded, finely diced
2 tablespoons lime juice
salt and pepper
1/4 cup cilantro, chopped
2 oz feta cheese, crumbled
---
Instructions
For the tacos:
Heat the olive oil in a large skillet over medium heat. Add the diced potatoes and cook, stirring occasionally, until golden and brown on all sides. Remove from the skillet.
In the same skillet, add the sausage and onion. Cook, breaking up the sausage as it cooks, until browned and cooked completely and the onion is tender, about 10 minutes. Add in the paprika, cumin, oregano, chili powder, salt and pepper. Cook for one more minute. Add the potatoes back in and stir to combine.
For the salsa:
Combine the tomatoes, jalapeno and lime juice. Season to taste with salt and pepper, then stir in the cilantro and cheese.
To serve:
Top the tortillas with some of the sausage and serve with the salsa.
More twists on the taco:
Baja Style Fish Tacos
Loaded Mini Taco Pizzas
Buffalo Chicken Tacos
Around the Web:
Blackened Salmon Tacos with Avocado Corn Salsa & Cilantro Lime Dressing from Alaska From Scratch
Chicken Mango Tacos from Culinary Covers
Stewed Chicken Tacos from FoodieCrush