Change up burger night with these Salmon Burgers with Ginger Wasabi Mayonnaise. A delicious dinner with a ton of flavor – perfect for fish lovers!
We love burger night, and will often just fall back on regular beef burgers, like these Blue Cheese Burgers or Tex-Mex Bacon Cheeseburgers. But sometimes you need to change that up, and these Salmon Burgers are that change you need!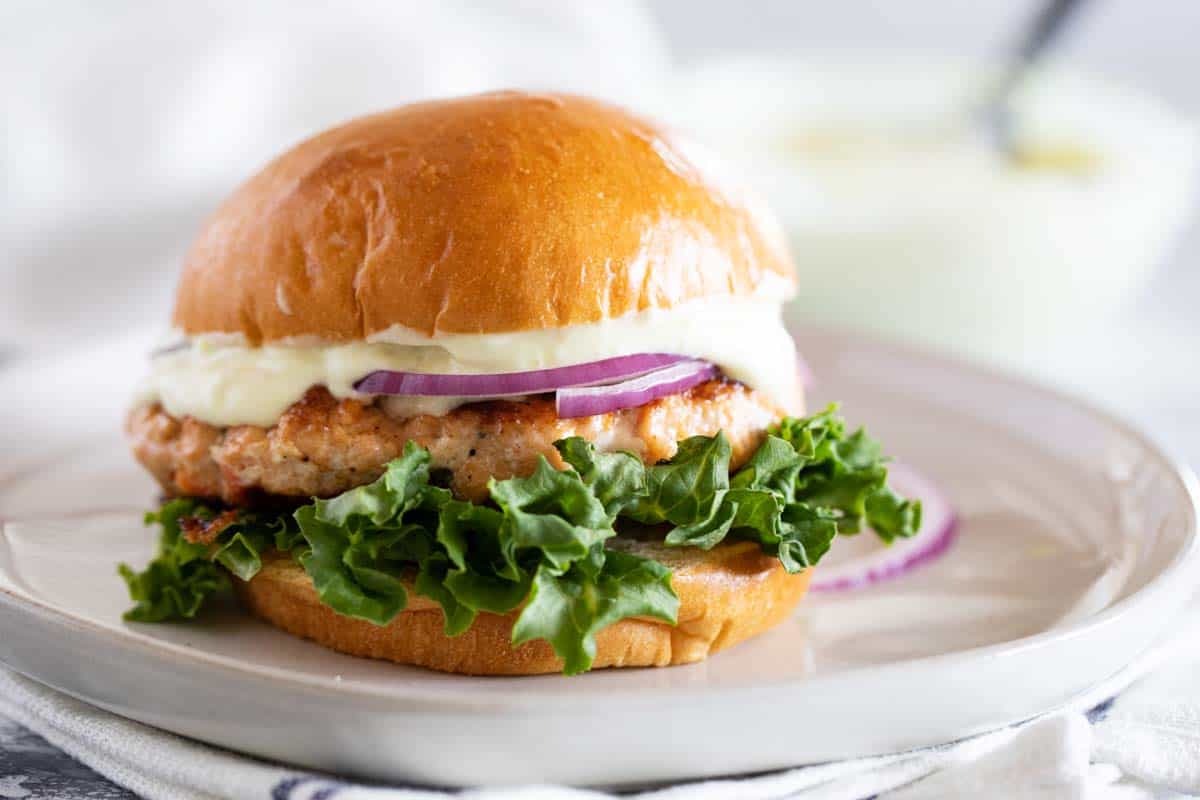 I love fish, and am always looking for different ways to prepare it. And I'm always in the mood for burgers.
So of course these Salmon Burgers are a great meal to turn to!
I love this recipe because not only is it done in 30 minutes, but I love the Asian twist with the ginger and soy sauce, and the ginger wasabi mayo just brings it all together.
This is a great weeknight dinner with a ton of fresh flavor. Plus you get lots of veggies in the salmon patties, and I always consider that a win!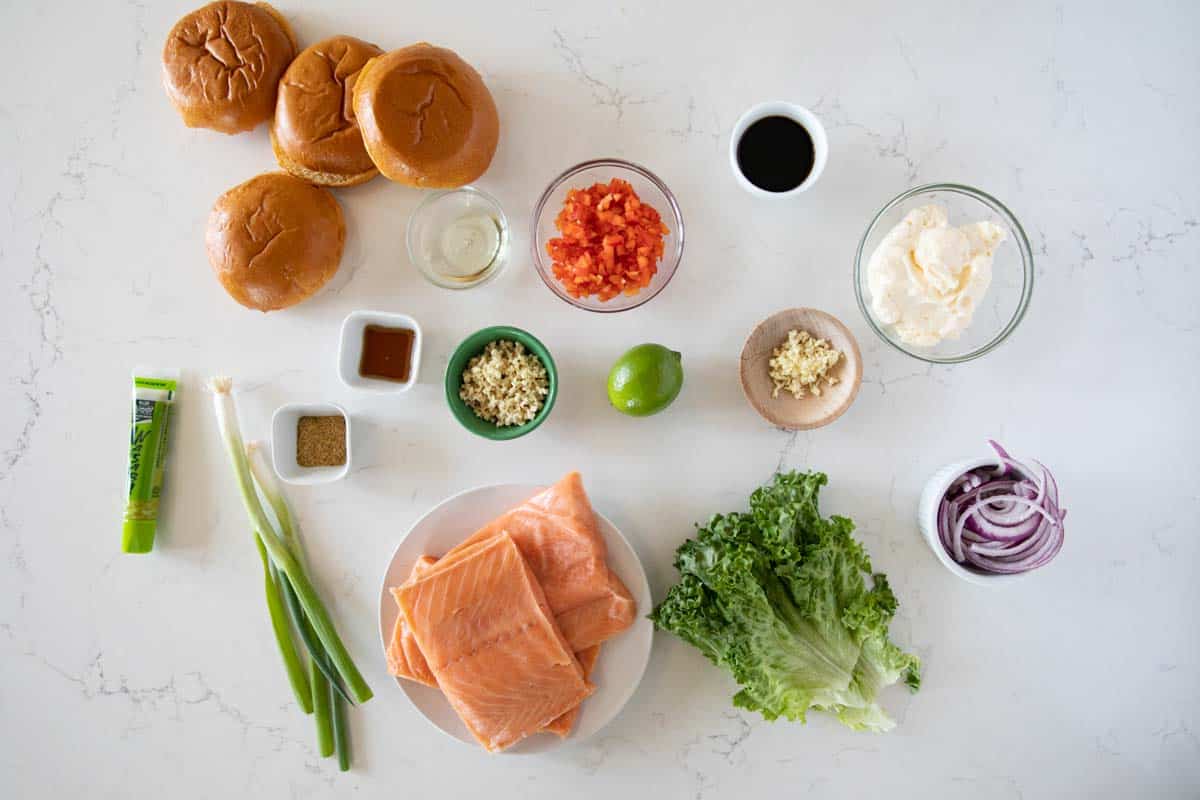 Ingredients
Salmon: I love this recipe because you can use fresh or frozen salmon. Canned salmon may even work, although I have not tried it. Just make sure the skin is removed, as well as any pin bones.
Bell Pepper: A red bell pepper works well here because it is slightly sweeter than a green bell pepper, but really any color will work.
Garlic: Mince this fine so that it mixes in well.
Ginger: You'll use ginger in both the burger and the mayo. You want fresh ginger for the best flavor – not ground.
Soy Sauce: The soy sauce will add to those Asian flavors.
Green Onions: These go into the patties as well, so don't slice them too big.
Sesame Oil: Another great Asian flavor!
Grill Seasoning: There are a lot of different grill seasonings out there. I suggest using one that is pretty versatile.
Pepper: For flavor.
Oil: This is keep the patties from sticking to your pan. You can use any light colored oil – vegetable, canola, avocado, etc.
Mayonnaise: I have only ever used full fat mayonnaise in this recipe, but it should work with light if you want to cut back on calories and fat.
Wasabi Paste: Wasabi paste is actually pretty easy to find. Just look in the international aisle at the grocery store, or you can buy it online.

If you are sensitive to wasabi, I would suggest cutting the amount in half.

Lime: You can use the juice from the whole lime, or just to taste.
Buns: I like to use a brioche bun, but any hamburger sized bun should work.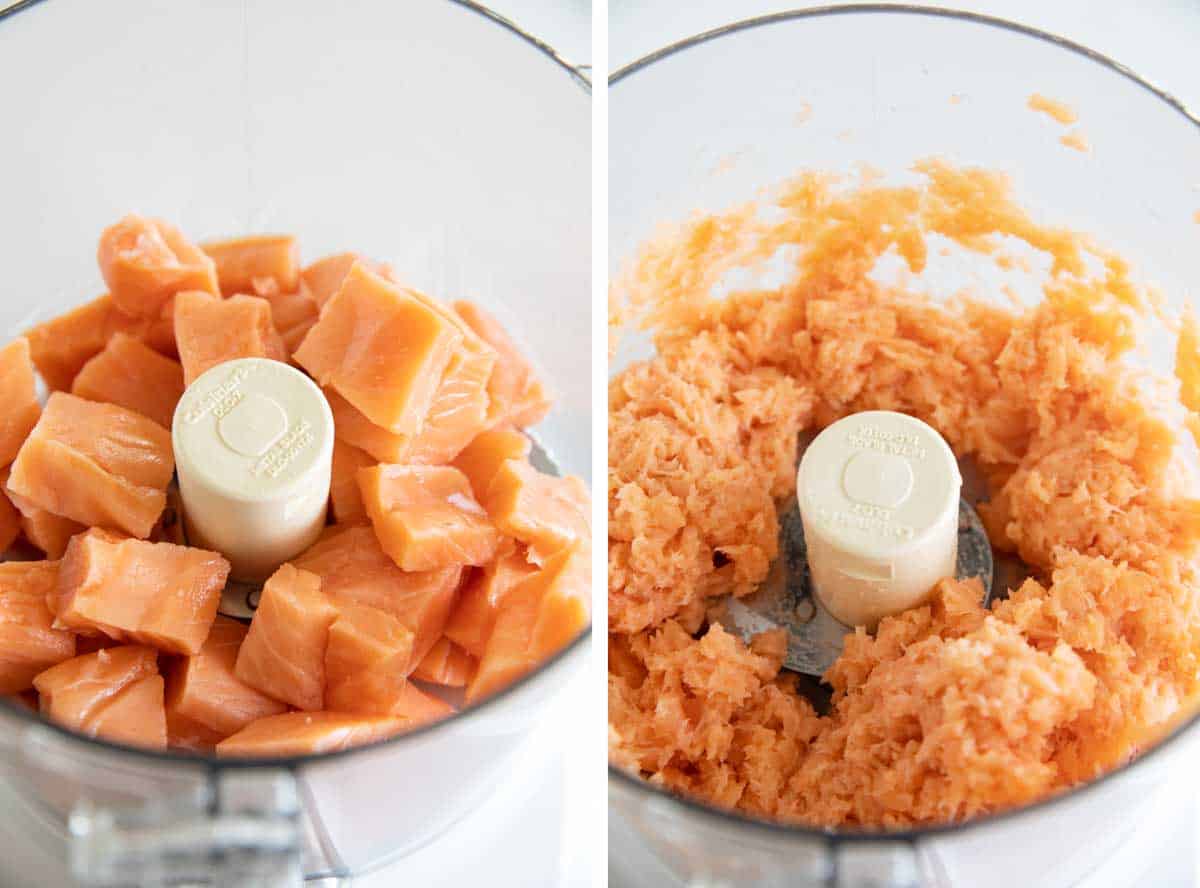 How to Make Salmon Burgers
1: Cut the salmon into chunks and place in a food processor.
2: Process just until it is coarsely ground – you don't want to take it too far!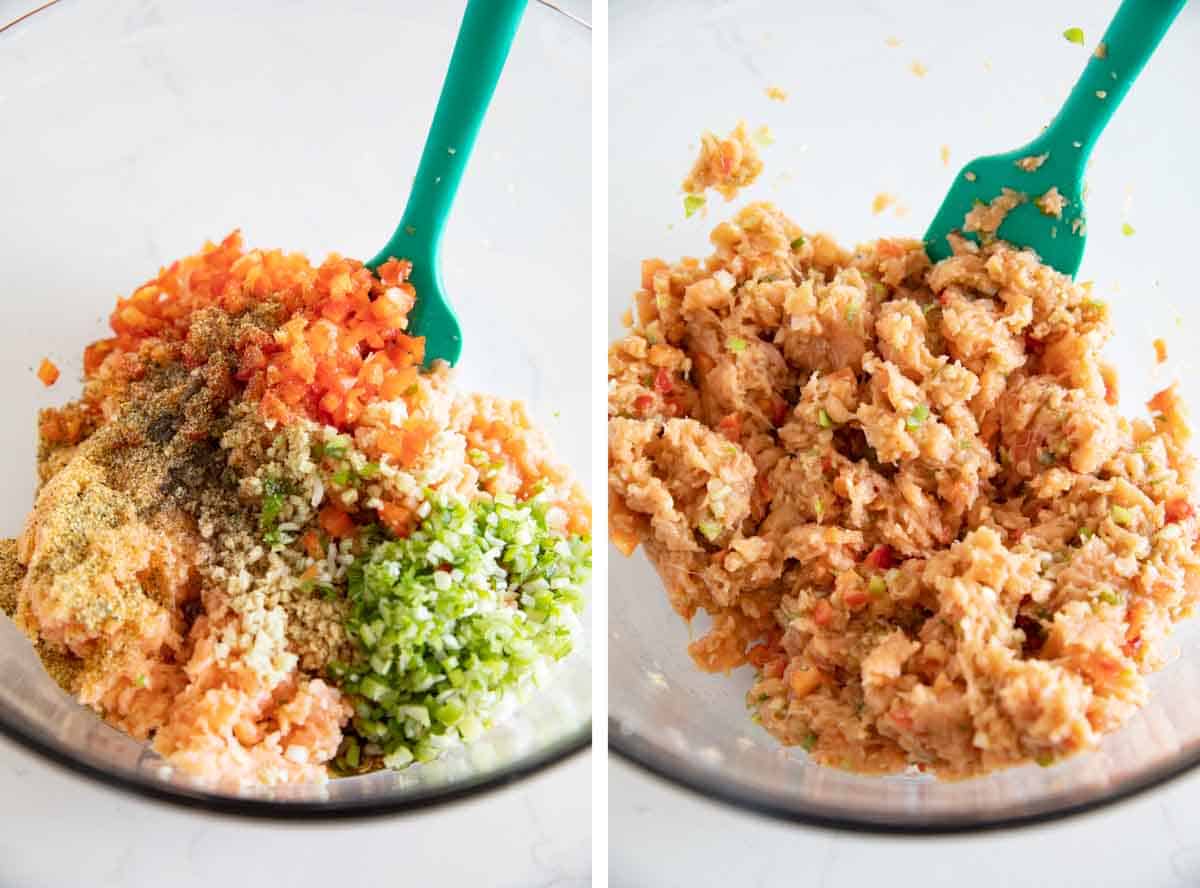 3: Combine the salmon with the bell pepper, garlic, 3/4 of the ginger (you'll use the rest in the mayo), the soy sauce, green onions, sesame oil, grill seasoning, and pepper. Mix to combine.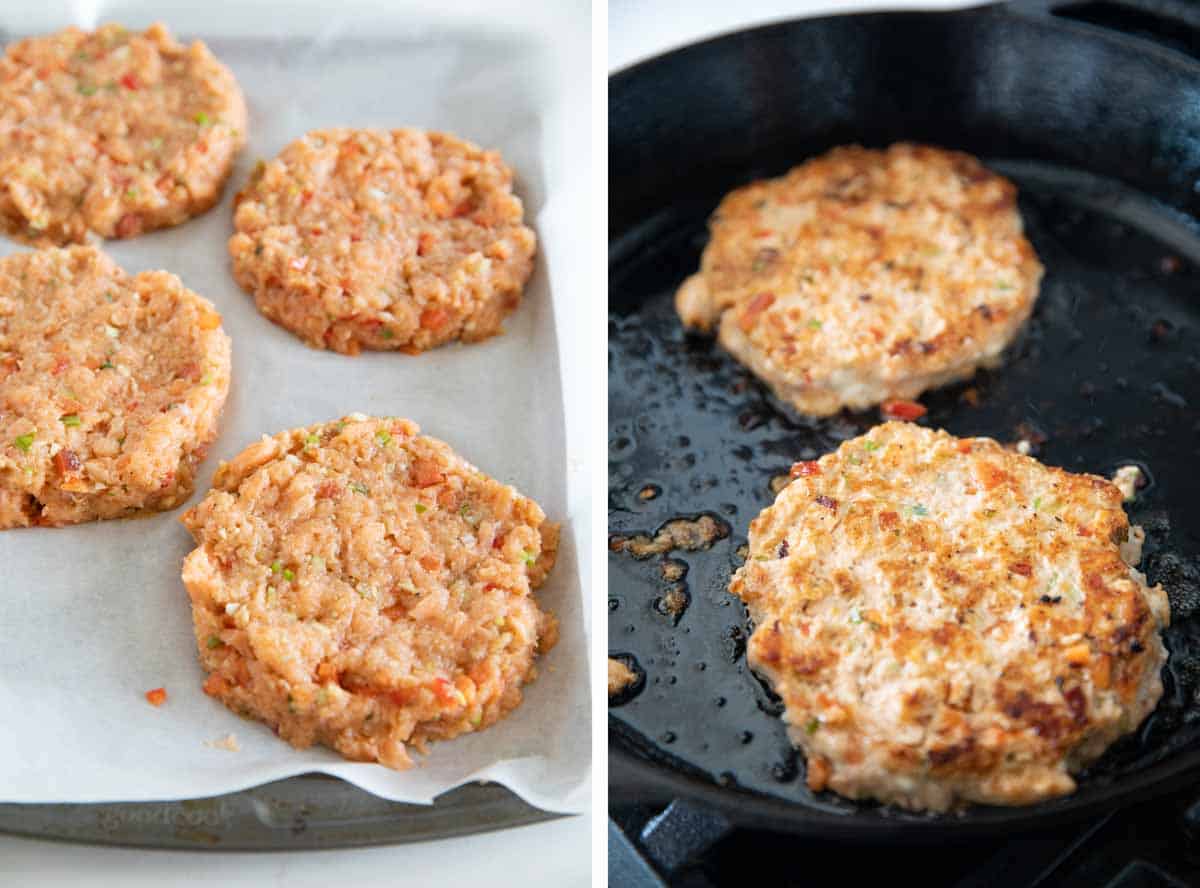 4: Divide the mixture into fourths and form each into a patty. TIP: Since there are no breadcrumbs or eggs to hold everything together, these patties are a little bit fragile. Stick in the fridge for 30 minutes to firm up if they are having a hard time sticking together.
5: Drizzle the patties with oil and cook in a skillet until they are golden brown, about 5 minutes per side.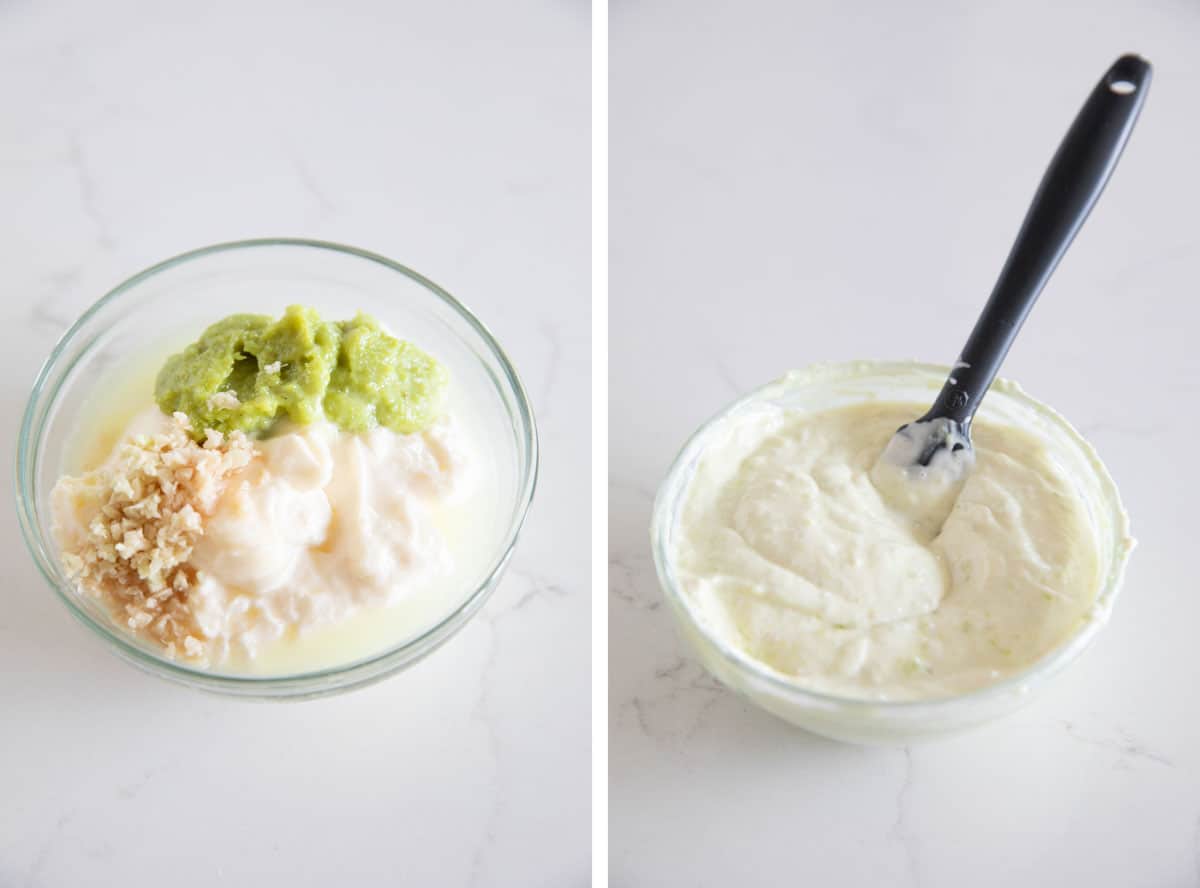 How to Make the Ginger Wasabi Mayo
This is the easiest part of the recipe – simply stir all of the ingredients together! I like to put it back in the refrigerator while the salmon burgers are cooking so that the flavors can combine and the mayo will set up a bit.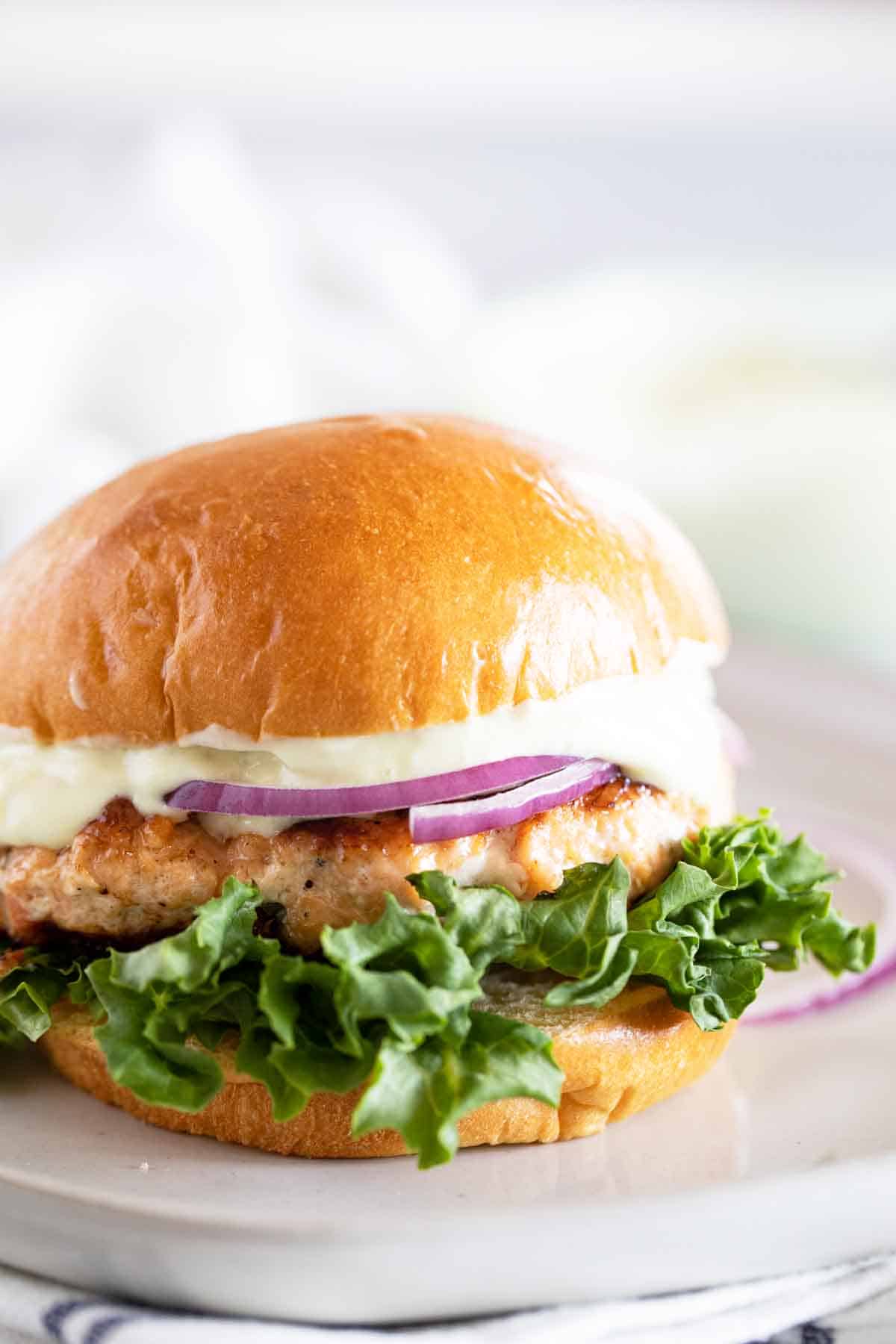 Frequently Asked Questions
What if I don't have a food processor?
No problem! You'll just need a sharp knife and you can mince the salmon by hand.
What toppings go on salmon burgers?
I like to keep it simple with just the ginger wasabi mayo, lettuce, and onion. But get creative as you'd like! I like to make sure the topping still fit with the Asian flavors, so cucumber or cilantro would also be a nice addition.
How do you know when salmon burgers are done?
Salmon cooks pretty quickly, so you are more likely to overcook it than undercook it. You want to cook the patty until it is 145ºF in the center. If you don't have a thermometer, then watch for the burgers to be browned on the outside, but if you break one open it should not look raw but should still be pink. I find that 5 minutes per side is good, and if you like it more rare, try 4 minutes per side.
Are salmon burgers good for you?
Salmon on its own is very heart healthy and high in protein. It is higher in fat, though. This does have the ginger wasabi mayo and the bun that will add on the calories and fat, so if you are wanting to make this more of a healthy meal, you can serve the patty over lettuce and use a smaller portion of the mayo. These salmon patties don't have a lot of fillers like breadcrumbs or mayo in them, though, so the patties on their own are quite good for you.
Can you cook the salmon patties on a grill?
These patties are a little bit fragile since they don't have any heavy binders, so if you want to cook it on a grill, I would suggest cooking it over foil that has been sprayed with nonstick cooking spray.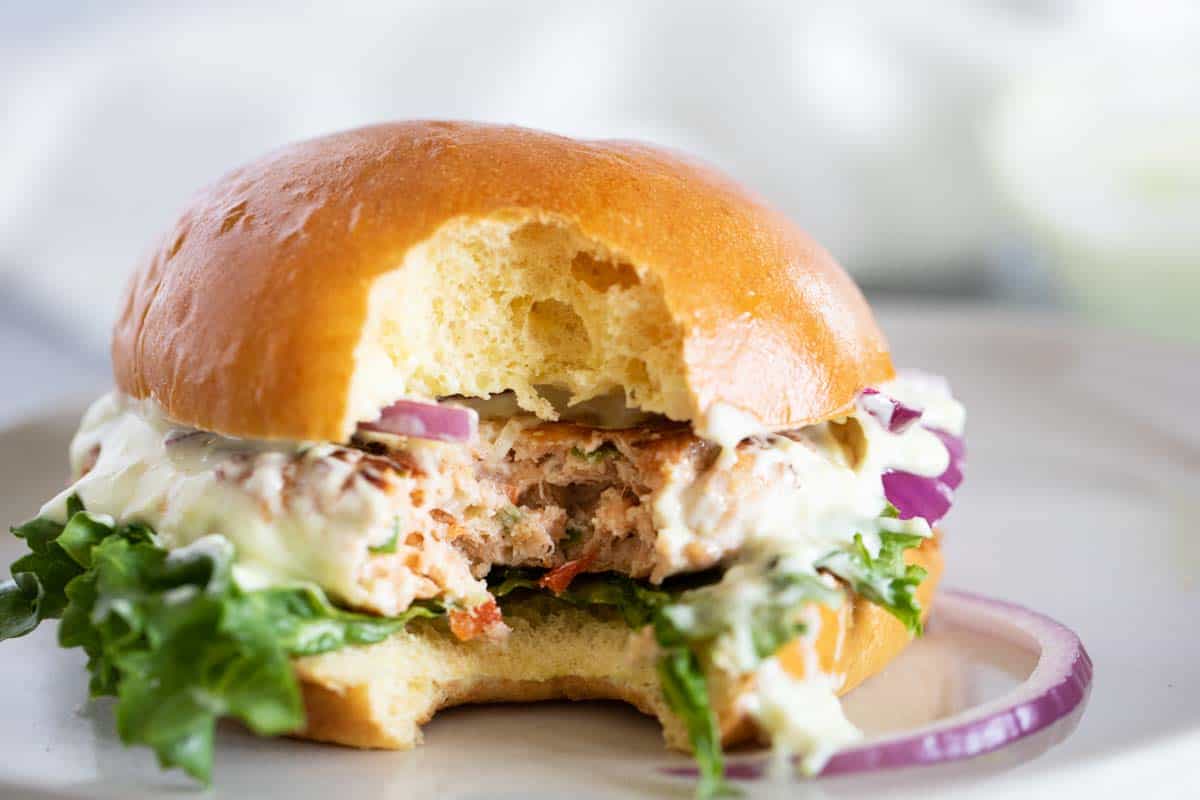 More Salmon Recipes
Crispy Baked Salmon with Homemade Tartar Sauce
Blackened Salmon Tostadas
Pan Fried Salmon with Remoulade
Honey Mustard Salmon
Soy Ginger Salmon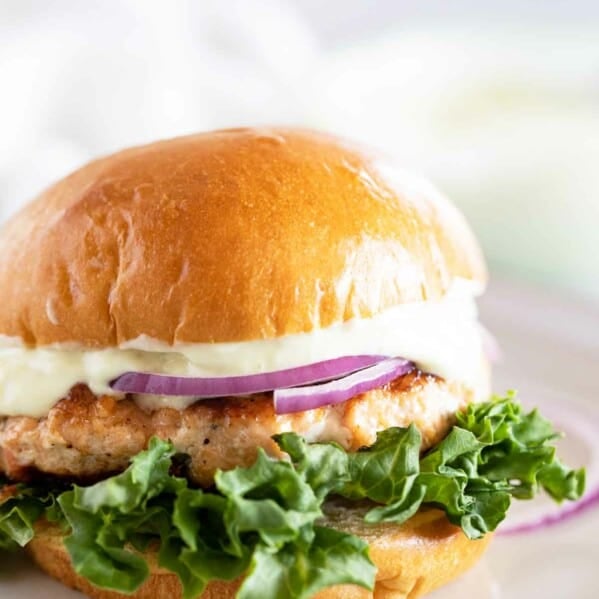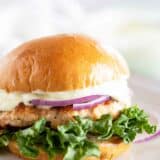 Salmon Burgers with Ginger Wasabi Mayo
---
Author:
Prep Time: 15 minutes
Cook Time: 15 minutes
Total Time: 30 minutes
Yield: 4 servings 1x
Category: Main Dish
Method: Stove Top
Cuisine: Asian
Description
Change up burger night with these Salmon Burgers with Ginger Wasabi Mayonnaise. A delicious dinner with a ton of flavor – perfect for fish lovers!
---
Scale
Ingredients
1 1/2 pounds salmon fillets, pin bones and skin removed
1/4 finely cup chopped red bell pepper
2 cloves garlic, minced
3 inch piece of ginger, peeled and minced or grated, divided
3 tablespoons soy sauce
2 green onions, sliced
2 teaspoons sesame oil
2 teaspoons grill seasoning
1/4 teaspoon pepper
1 tablespoon light oil (vegetable, canola, etc)
1/2 cup mayonnaise
2 teaspoons wasabi paste
Juice of 1 lime
4 hamburger buns or brioche buns
Lettuce and sliced red onion, for topping
---
Instructions
Cut the salmon into cubes and place in a food processor. Process until it is coarsely ground. You want it to be the texture of ground beef – don't take it too far. 
Transfer the salmon to a large bowl. To the bowl, add the bell pepper, garlic, 3/4 of the ginger, soy sauce, green onions, sesame oil, grill seasoning, and pepper. Stir until combined.
Form the mixture into 4 equal sized patties that are about 1 to 1 1/2 inches thick. Drizzle with the oil.
Heat a large nonstick skillet or griddle over medium-high heat. Add the patties and cook until golden brown, about 5-6 minutes, then carefully flip and cook the second side, another 5 minutes.
While the patties are cooking, combine the mayonnaise, wasabi paste, lime juice, and remaining ginger.
To serve, spread the ginger-wasabi mayonnaise on the buns and top with a salmon burger, lettuce,  and sliced onion.
Recipe Notes:
adapted from Rachael Ray Book of 10
Nutrition information provided as an estimate only. Various brands and products can change the counts. Any nutritional information should be used as a general guide.
Nutrition
Serving Size: 1 burger
Calories: 714
Sugar: 6 g
Sodium: 1226 mg
Fat: 42 g
Saturated Fat: 4 g
Unsaturated Fat: 22 g
Trans Fat: 0 g
Carbohydrates: 31 g
Fiber: 3 g
Protein: 50 g
Cholesterol: 109 mg
Keywords: Salmon burgers, salmon patties, salmon burgers recipe