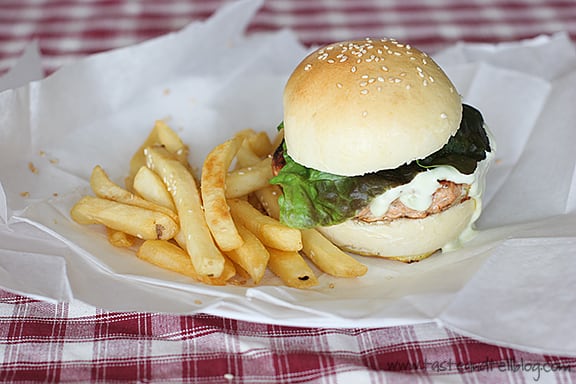 One thing I love about the summer is that we watch a lot less tv. One thing I don't like about summer is all the re-runs. This morning, I was feeling like I'm having a Rachael Ray withdrawl because there hasn't been a new episode of her talk show on in a few weeks. I guess this is a good time to work through some of her recipes off my list that is ridiculously long…
And a good time to start cooking from those cookbooks I got a few weeks back!! This recipe comes from her Book of 10. I actually really like the way this book is laid out – into groupings of her "top 10". Top 10 comfort foods, top 10 most requested – and top 10 Figure Friendly Faves – the chapter that this recipe came out of. Granted, I would probably skip the fries to make it "figure friendly", but the fries are a perfect accompaniment to this recipe!
I love Asian flavors, and this burger is packed with them. You cannot skip out on the ginger-wasabi mayo – it is what really makes this meal. In fact, the recipe made quite a bit of it, so I used the extra to dip my fries in. Pure deliciousness!!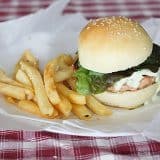 Salmon Burgers with Ginger Wasabi Mayo
---
Prep Time: 15 minutes
Cook Time: 15 minutes
Total Time: 30 minutes
Yield: 4 servings 1x
Description
Change up burger night with salmon burgers. And don't forget the ginger-wasabi mayo for an Asian twist.
---
Scale
Ingredients
1 16-to 18-ounce package frozen french fries
4 tablespoons sesame seeds
1 1/2 pounds fresh salmon fillets, pin bones and skin removed
2 garlic cloves, chopped
3-inch piece of fresh ginger, minced or grated
3 tablespoons tamari
2 scallions, white and green parts, chopped
1/2 small red bell pepper, cored, seeded and finely chopped
2 teaspoons sesame oil
2 teaspoons grill seasoning
coarse black pepper
1 tablespoon light oil (canola, safflower or peanut)
1/2 to 3/4 cup mayonnaise
2 tablespoons wasabi paste
juice of 1 lime
4sesame kaiser rolls, split and toasted
red leaf lettuce
---
Instructions
Preheat the oven according to the directions on the package of fries. Spread the fries out on a baking sheet and cook according to the package directions. 3 minutes before they are done cooking, remove them from the oven, sprinkle them with the sesame seeds, and return to the oven for the remaining 3 minutes to toast the sesame seeds.
Cube the salmon into bite sized pieces. Place in a food processor and process until it is coarsely ground. (It should take on the consistency of ground beef or turkey.) Transfer the salmon to a bowl. Add in the garlic, three-fourths of the ginger, the tamari, scallions, red bell peppers, sesame oil, grill seasoning and black pepper. Combine and form into 4 large patties, 1 1/2 inches thick. Drizzle the patties on both sides with the oil.
Preheat a nonstick skillet or grill pan over medium-high heat. Add the salmon burgers and cook for 5-6 minutes on each side for well done.
Meanwhile, combine the mayo, wasabi paste, lime juice and remaining ginger.
Spread the ginger-wasabi mayo on the buns and top with a salmon burger and red leaf lettuce. Serve with the sesame fries.
Recipe Notes: