A must-have in your refrigerator – this tomatillo salsa recipe is so easy and flavorful that you'll wonder why you haven't always been making it!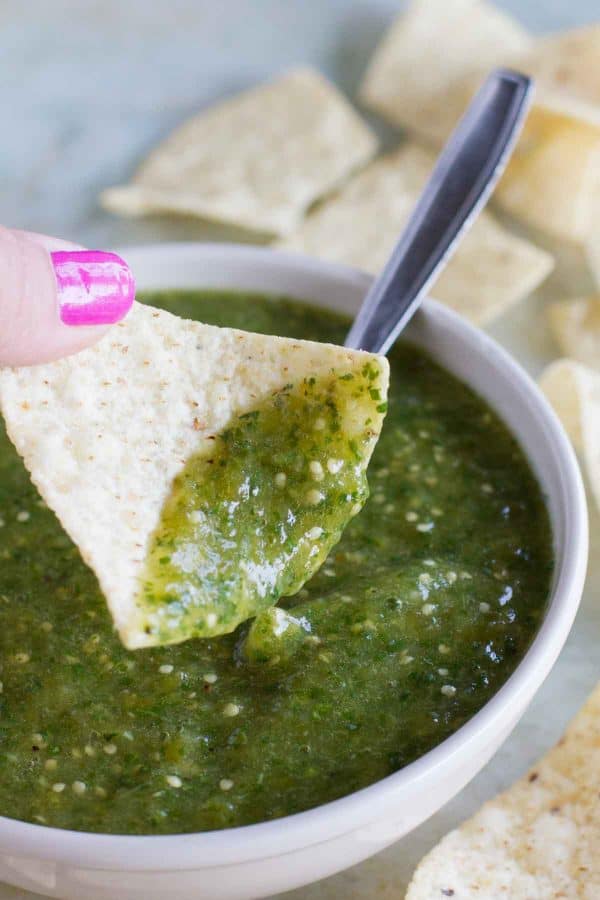 Originally posted June 20, 2008: I originally posted this nearly 8 years ago, and one thing is still true – I love chips and salsa. I was craving some tomatillo salsa not long ago, so I dug this Tomatillo Salsa recipe up from the archives and made it again. I love how simple this recipe is, and that it only takes 4 ingredients, plus some salt and pepper. And I especially love that it can be ready in 20 minutes. You definitely can't beat that! I knew that I needed to share it with all of you again, since we can all use easy, fast, tasty recipes!
The original post from 2008 follows: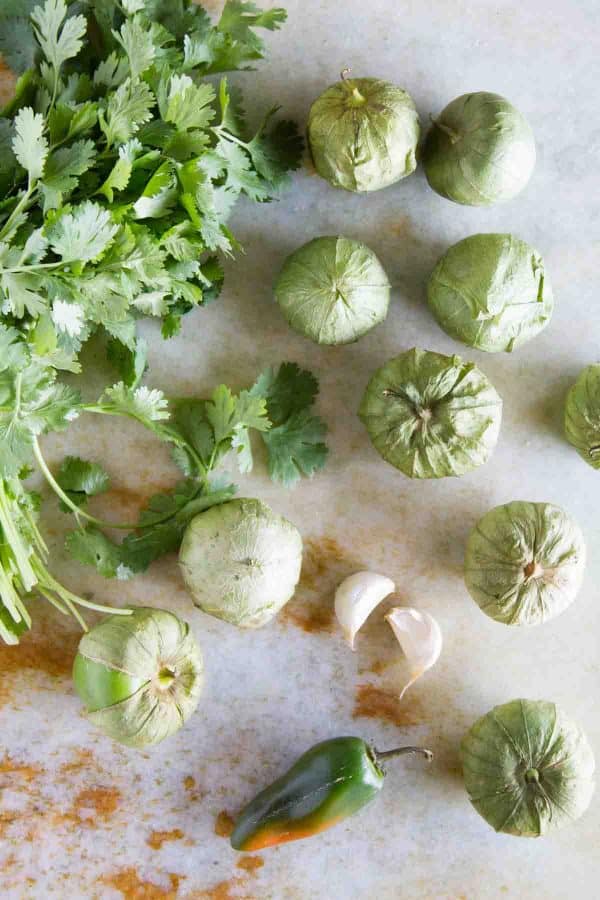 I am a salsa lover. If I had to name my top 5 snacks, chips and salsa would definitely be on that list. It's pretty surprising to ever find my refrigerator without any salsa in it. But I'm usually a tomato based salsa kind of girl. Until lately.
If you remember the crab cakes I made a few months ago, they were served with a tomatillo salsa. Well, that recipe made way more salsa than we needed for the crab cakes, so I had the remainder sitting in my fridge. Most weekdays, for breakfast I scramble up a couple of eggs and eat them on a tortilla with salsa and sometimes cheese – kind of breakfast burrito style. One morning, I decided to substitute my normal salsa with some of the leftover tomatillo salsa. What a great change it was! The tomatillo salsa went so well with eggs – I started using it every morning until that salsa was gone.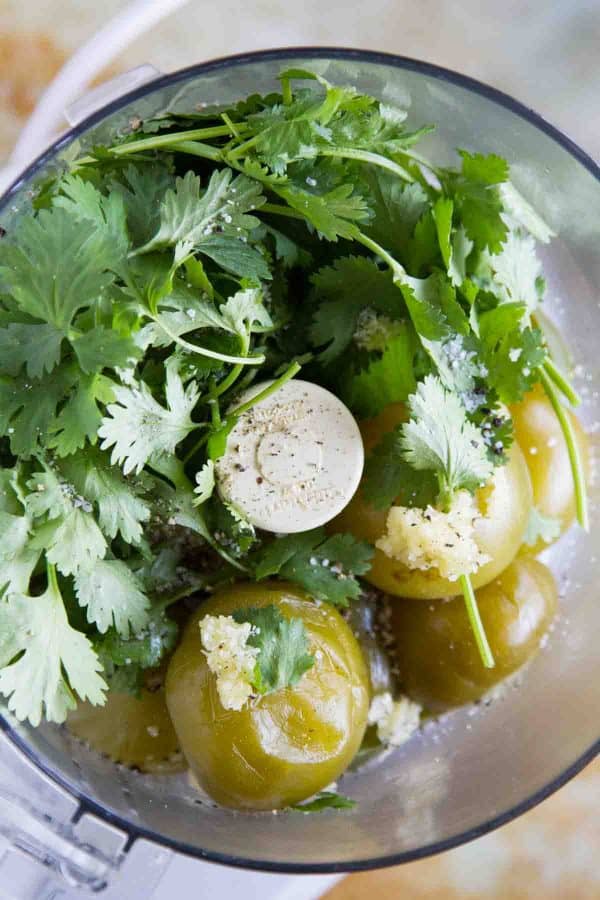 So while trying to decide what recipe to make this week, I came across a recipe for tomatillo salsa. I immediately got excited, missing that salsa from my morning breakfasts. This recipe is quite a bit different from the first salsa I made. In the first one, the tomatillos are roasted, while in this one, they are boiled. The first recipe was a bit sweeter from the addition of roasted onions, while this one is spicier with a jalapeño thrown in. If you don't care for cilantro, this wouldn't be the recipe for you, as the end result has strong cilantro flavor. I couldn't tell you which one I like better, though – as the end result is surprisingly different. But I am really enjoying the kick of heat from the jalapeño on this one, so it might have a small advantage over the other.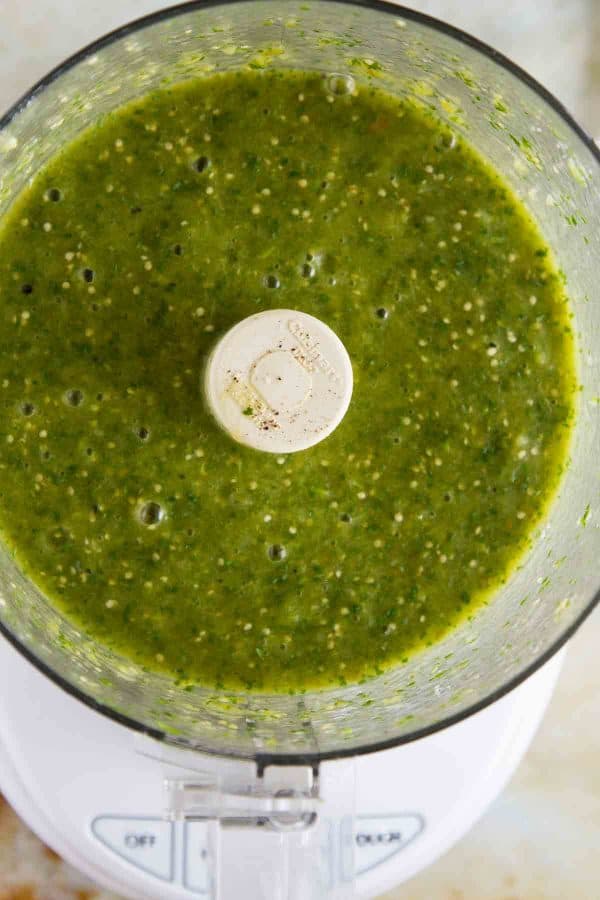 I learned a few things about tomatillos that I thought was quite interesting.
*Tomatillos are actually a fruit, not a vegetable.
*One tomatillo plant will not produce fruit on it's own. There must be two or more plants for proper pollination.
*Tomatillos can be kept in the refrigerator for up to 2 weeks. They will last even longer if the papery skin is removed before storing.
*Tomatillos can actually be found in many colors – yellow, green, red, and even purple!
So if you've never experimented with a tomatillo salsa, this would be a great place to start!!
SEE HOW TO MAKE THIS TOMATILLO SALSA HERE: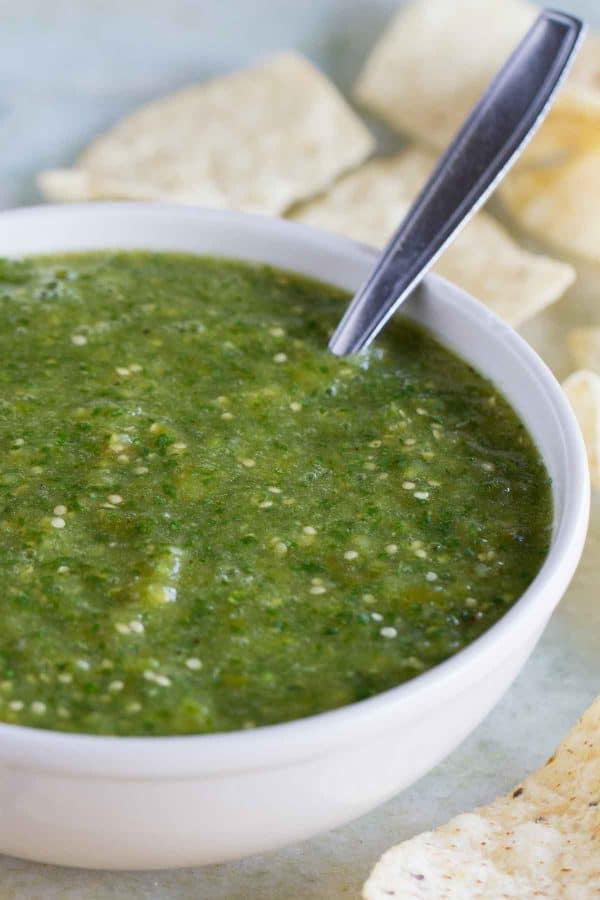 Want more delicious salsa recipes? These are some of my favorites!
Quick and Easy Salsa with Baked Tortilla Chips
Kiwi and Tangerine Salsa
Tomato and Basil Salsa
Or these from around the web:
Strawberry Jalapeno Salsa from Jessica in the Kitchen
Mango Avocado Salsa from Cupcakes and Kale Chips
Mango Avocado and Black Bean Salsa from Aggie's Kitchen
Like what you see here? Make sure you are following Taste and Tell for more recipes and ideas!
Facebook | Pinterest | Instagram | Twitter | Google+ | Weekly Newsletter | Feedly | Bloglovin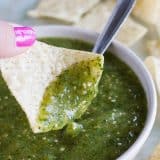 Tomatillo Salsa Recipe
---
Author:
Prep Time: 10 mins
Cook Time: 10 mins
Total Time: 20 minutes
Yield: approximately 2 cups 1x
Description
A must-have in your refrigerator – this tomatillo salsa recipe is so easy and flavorful that you'll wonder why you haven't always been making it!
---
Scale
Ingredients
10 tomatillos
1 jalapeño, stemmed, seeded and ribs removed (keep ribs and seeds if you want it hotter)
2 garlic cloves, minced
1 bunch cilantro
salt and pepper to taste
---
Instructions
Remove the husks from the tomatillos and rinse. Place the tomatillos and the jalapeño in a pan and cover with water. Place over medium-high heat and boil until the tomatillos are fully cooked and are a dull olive green color, about 10 minutes.
Strain the mixture, then place the tomatillos and jalapeño in a food processor. Add the garlic and cilantro and process until smooth. Season to taste with salt and pepper.
SHOP THIS POST:
Don't miss a thing! Follow me on Pinterest to see what I'm pinning!