A must-have in your refrigerator – this Tomatillo Salsa recipe is so easy and flavorful that you'll wonder why you haven't always been making it!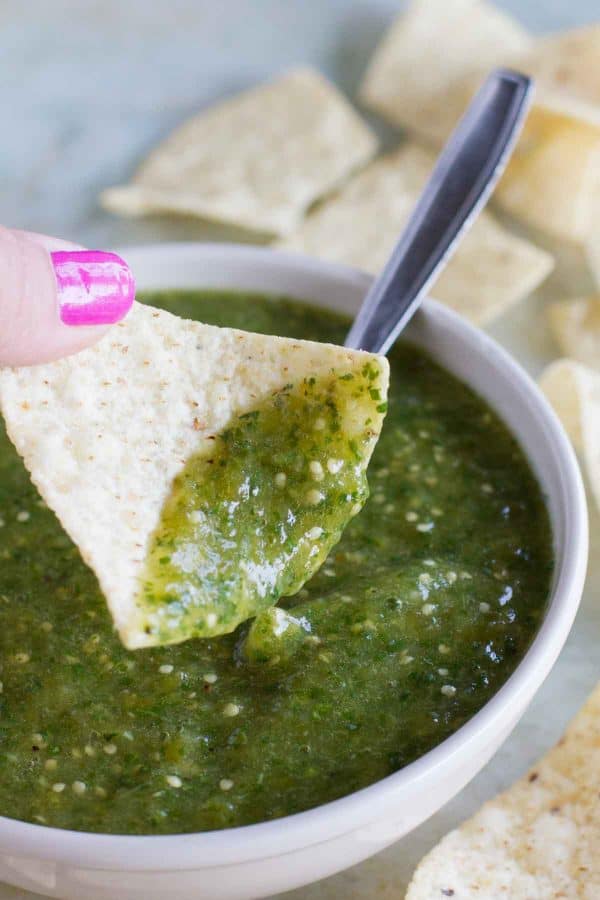 I originally posted this many years ago, and one thing is still true – I love chips and salsa.
I was craving some tomatillo salsa not long ago, so I dug this Tomatillo Salsa recipe up from the archives and made it again. I love how simple this recipe is, and that it only takes 4 ingredients, plus some salt and pepper. And I especially love that it can be ready in 20 minutes. You definitely can't beat that!
Tomatillo Salsa, also known as Salsa Verde, is a (usually) mild salsa made with tomatillos instead of tomatoes. While I love a traditional salsa, I think my heart really belongs to tomatillo salsa!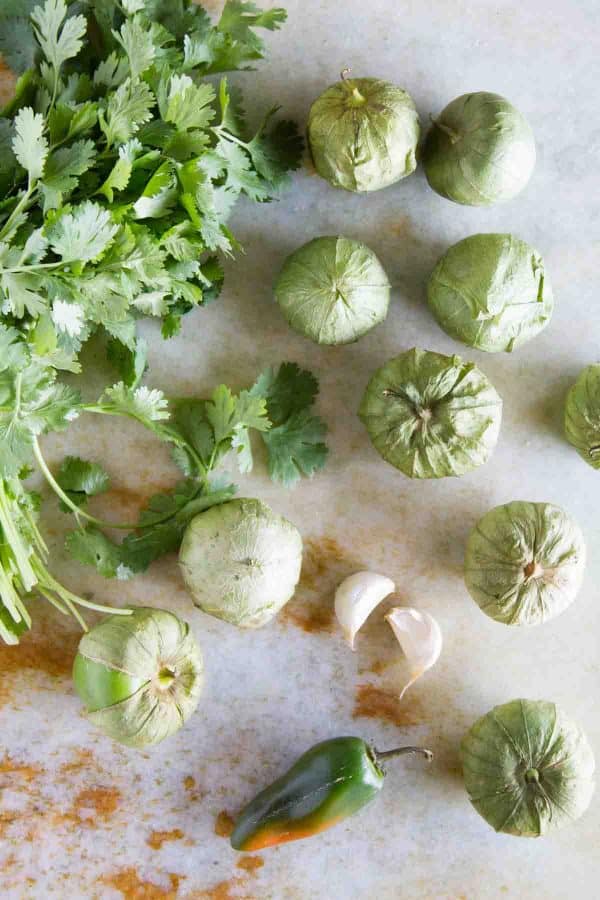 What are Tomatillos?
Here are a few facts about tomatillos:
Tomatillos are actually a fruit, not a vegetable.
People sometimes look at them as green tomatoes, but they are actually closer to a gooseberry than a tomato.
One tomatillo plant will not produce fruit on it's own. There must be two or more plants for proper pollination.
Tomatillos can be kept in the refrigerator for up to 2 weeks. They will last even longer if the papery skin is removed before storing.
Tomatillos can actually be found in many colors – yellow, green, red, and even purple!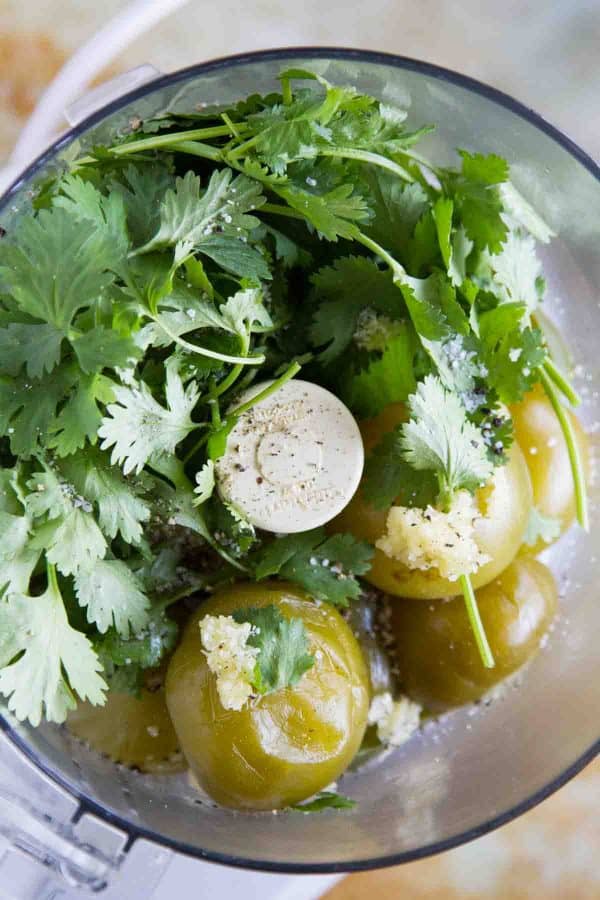 Where to Find Tomatillos
Most tomatillos are native to Mexico, but you'll also see them grown throughout the western United States.
These days, you can usually find tomatillos in any major grocery store. Look in the produce section. If you are having a hard time finding them, try your local Mexican grocer.
How to Make Tomatillo Salsa – Video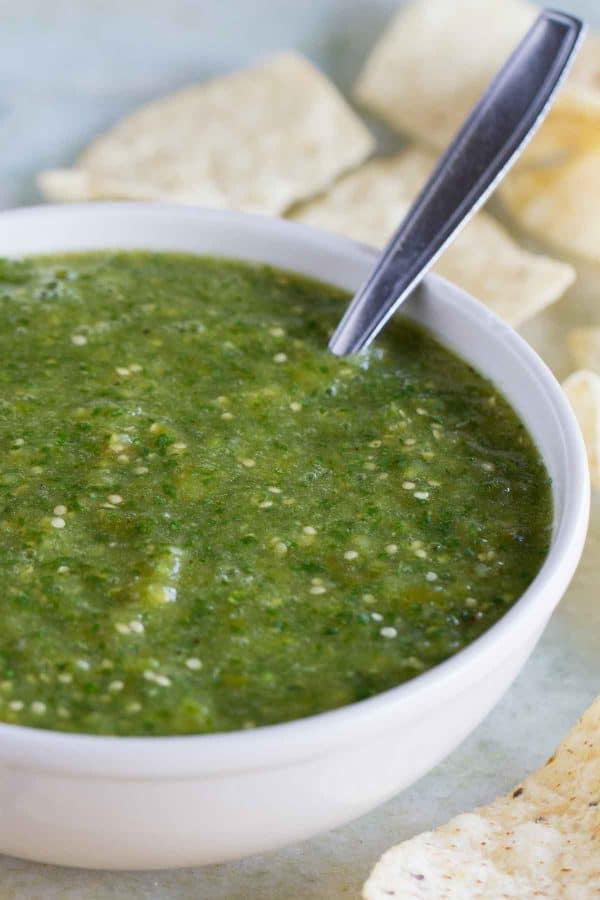 Recipes That Use Salsa Verde or Tomatillo Salsa
Salsa Verde Steak Sandwiches
Salsa Verde Chicken
Slow Cooker Chicken Tacos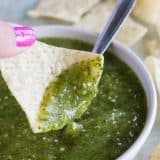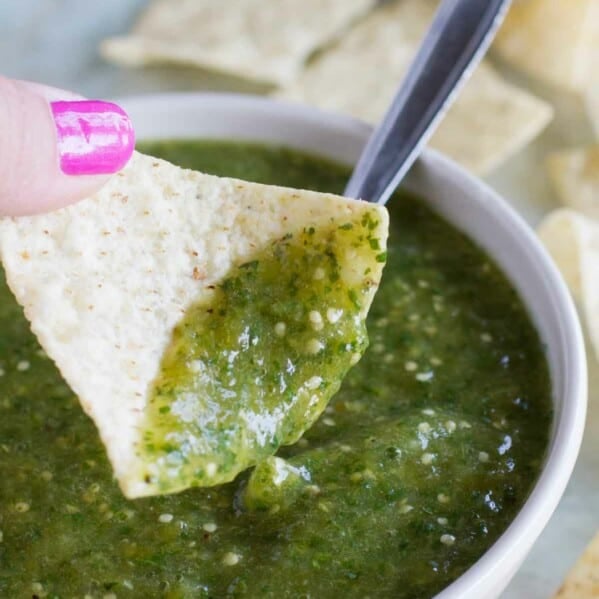 Tomatillo Salsa Recipe
---
Author:
Prep Time: 10 mins
Cook Time: 10 mins
Total Time: 20 minutes
Yield: approximately 2 cups 1x
Category: Dips/Sauces
Method: Stove Top
Cuisine: Mexican
Description
A must-have in your refrigerator – this tomatillo salsa recipe is so easy and flavorful that you'll wonder why you haven't always been making it!
---
Scale
Ingredients
10 tomatillos
1 jalapeño, stemmed, seeded and ribs removed (keep ribs and seeds if you want it hotter)
2 garlic cloves, minced
1 bunch cilantro
salt and pepper to taste
---
Instructions
Remove the husks from the tomatillos and rinse. Place the tomatillos and the jalapeño in a pan and cover with water. Place over medium-high heat and boil until the tomatillos are fully cooked and are a dull olive green color, about 10 minutes.
Strain the mixture, then place the tomatillos and jalapeño in a food processor. Add the garlic and cilantro and process until smooth. Season to taste with salt and pepper.
Nutrition
Serving Size: about 1/4 cup
Calories: 16
Sugar: 2 g
Sodium: 38 mg
Fat: 0 g
Saturated Fat: 0 g
Unsaturated Fat: 0 g
Trans Fat: 0 g
Carbohydrates: 3 g
Fiber: 1 g
Protein: 1 g
Cholesterol: 0 mg
Keywords: tomatillo salsa, salsa verde