Creamy and coconutty, this Coconut Cheesecake Pie is the perfect dessert for when you can't decided between cheesecake and pie!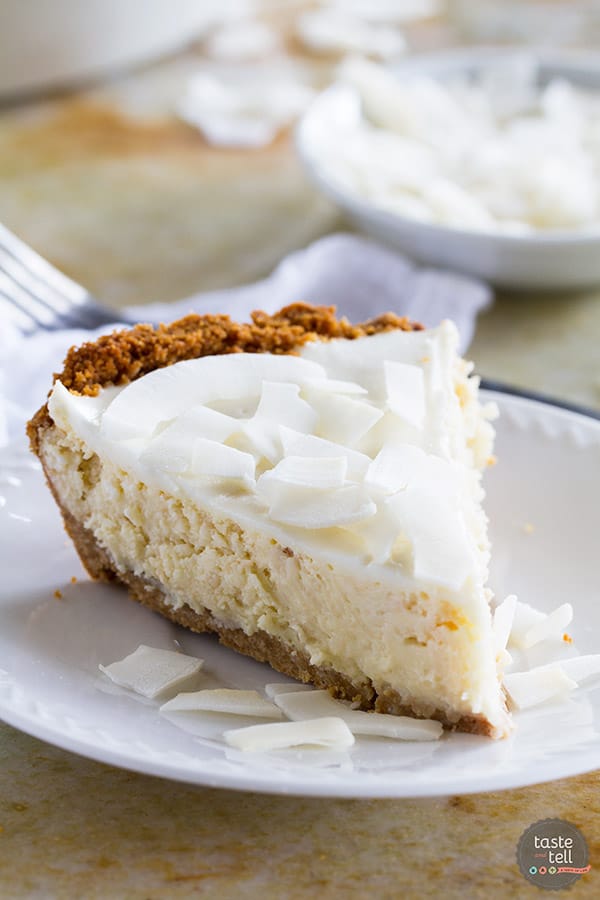 I have decided that the Year of Pie is one of my better ideas. I've always said that pie is one of my very favorite desserts, and that I'd choose it over pretty much anything else if given the chance. Except for maybe donuts. But they belong in their own category because they aren't really a true dessert. Right?
But right up there with pie is another favorite dessert. Cheesecake.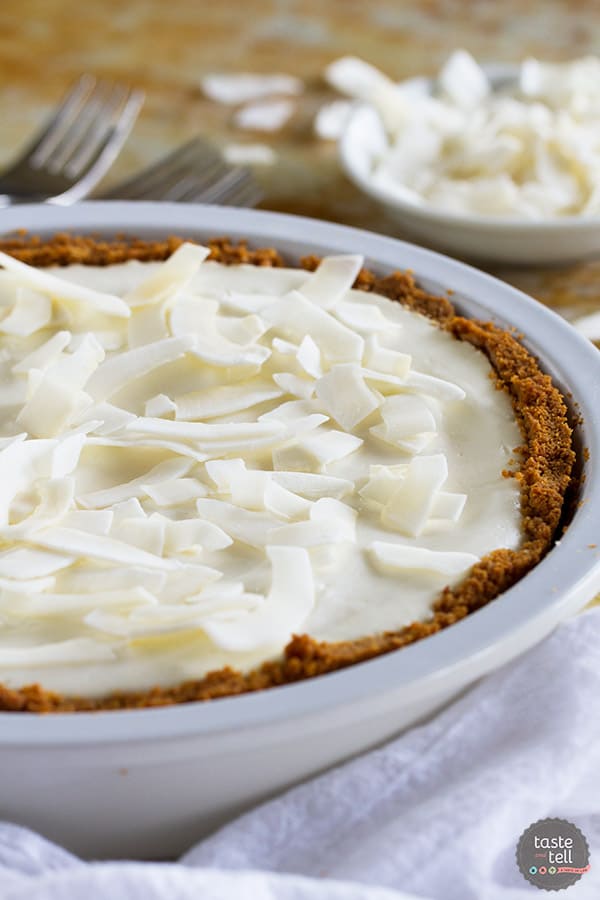 So naturally, when I have the chance to combine the two, I'm going to take that chance. Because it would be pretty stupid not to. So we've got pie. And cheesecake. And coconut. Because, well, coconut is right up there with my favorites, too. (Man, I have a lot of favorites, don't I?)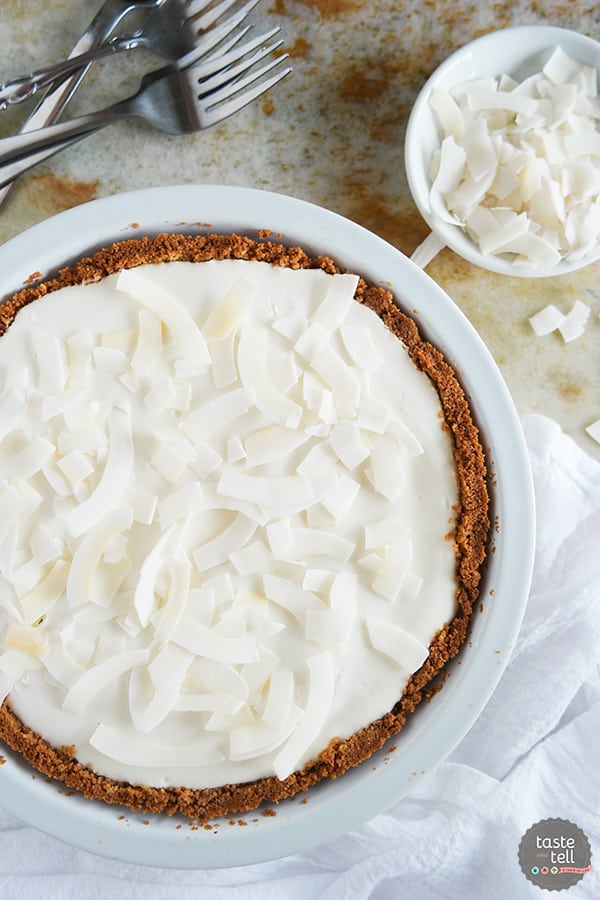 But really. Coconutty cheesecake pie goodness. Heaven in a pie plate. And it's pretty, too! After finding some big, beautiful coconut flakes at Trader Joes, I knew I needed them on top of my pie. They barely made it on there because they were so good that I wanted to just eat them all. But they were perfect for this pie. And I don't normally use unsweetened coconut when it comes to baking, but I decided to go for it, and I'm glad I did. There is still plenty of sweetness, so I thought the unsweetened coconut was perfect.
I may have even eaten more than one slice…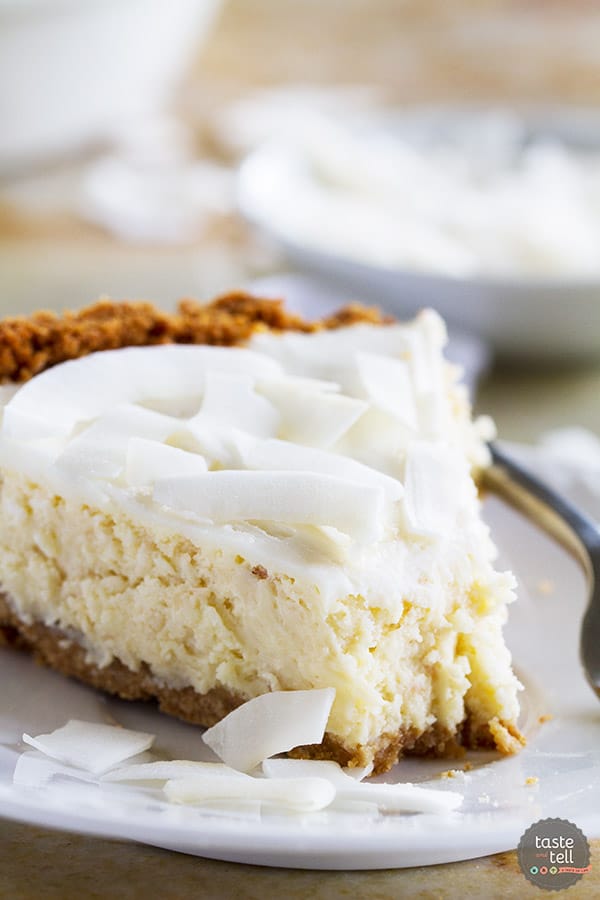 Like what you see here? Make sure you are following Taste and Tell for more recipes and ideas!
Facebook | Pinterest | Instagram | Twitter | Google+ | Weekly Newsletter | Feedly | Bloglovin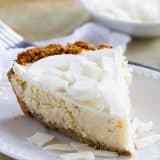 Coconut Cheesecake Pie
---
Author:
Prep Time: 20 mins
Cook Time: 50 mins
Total Time: 1 hour 10 mins
Yield: 8 servings 1x
Description
Creamy and coconutty, this Coconut Cheesecake Pie is the perfect dessert for when you can't decided between cheesecake and pie!
---
Scale
Ingredients
1 1/2 cups unsweetened coconut, toasted
1 1/2 cups graham cracker crumbs
6 tablespoons butter, melted and cooled
3/4 teaspoon salt
1 (14 oz) can unsweetened coconut milk (do not shake or stir)
1 (8 oz) package cream cheese, at room temperature
3/4 cup plus 2 tablespoons sugar
1 1/2 tablespoons flour
1 teaspoon vanilla extract
2 eggs plus 1 egg yolk
1/3 cup sour cream
shaved coconut, for topping
---
Instructions
Preheat the oven to 350ºF.
Place 1/2 cup of the coconut in a food processor and process until it is finely ground. Add the graham cracker crumbs, butter, and 1/4 teaspoon of the salt. Pulse until the mixture is fully combined.
Press the mixture evenly into a 9-inch pie dish. Bake in the preheated oven for 10 minutes, then remove and let cool.
Open the coconut milk can and reserve 1/3 cup of the coconut cream that is at the top of the coconut milk. Whisk the remaining coconut milk and cream until smooth and blended.
Wipe out the food processor, then add the cream cheese, 3/4 cup of the sugar, the flour, vanilla and remaining 1/2 teaspoon of salt. Pulse until smooth. Add 1/2 cup of the mixed coconut milk, the eggs and the egg yolk. Pulse again until blended. Stir in the remaining 1 cup of coconut. Pour the mixture into the crust, and return to the oven. Bake until the pie is just set in the center, 35-40 minutes. Let the pie cool to room temperature.
In a bowl, combine the reserved 1/3 cup coconut cream with the sour cream and remaining 2 tablespoons of sugar. Carefully spread the mixture on the top of the pie, then refrigerate until the pie is set, about 3 hours. Top with shaved coconut, if desired.
SHOP THIS POST!
Don't miss a thing! Follow me on Pinterest to see what I'm pinning!
Visit Taste and Tell's profile on Pinterest.


More Coconut Love: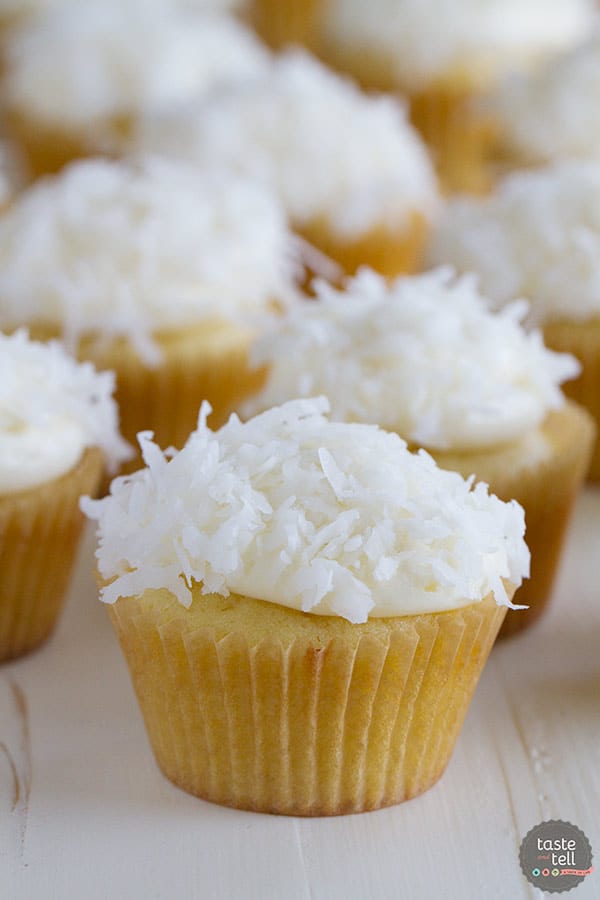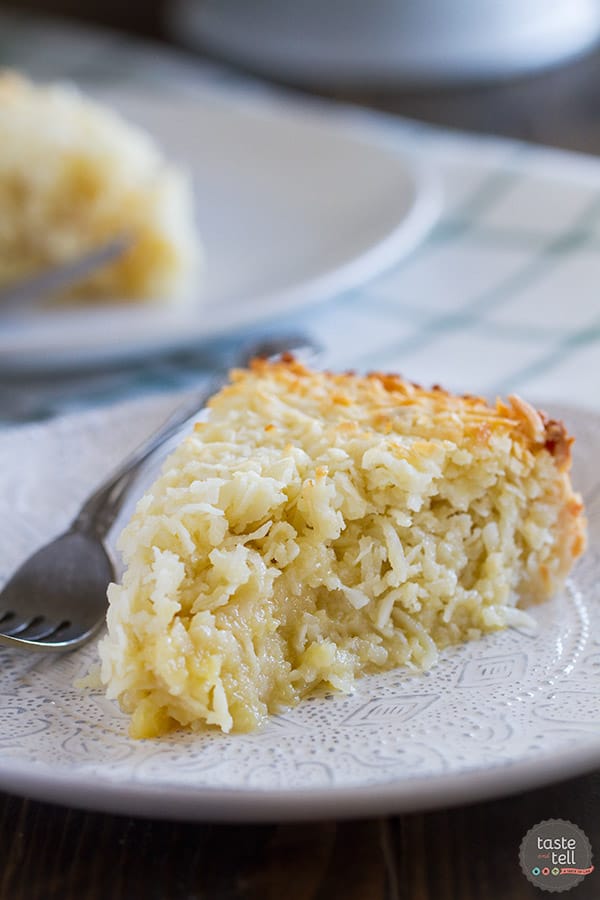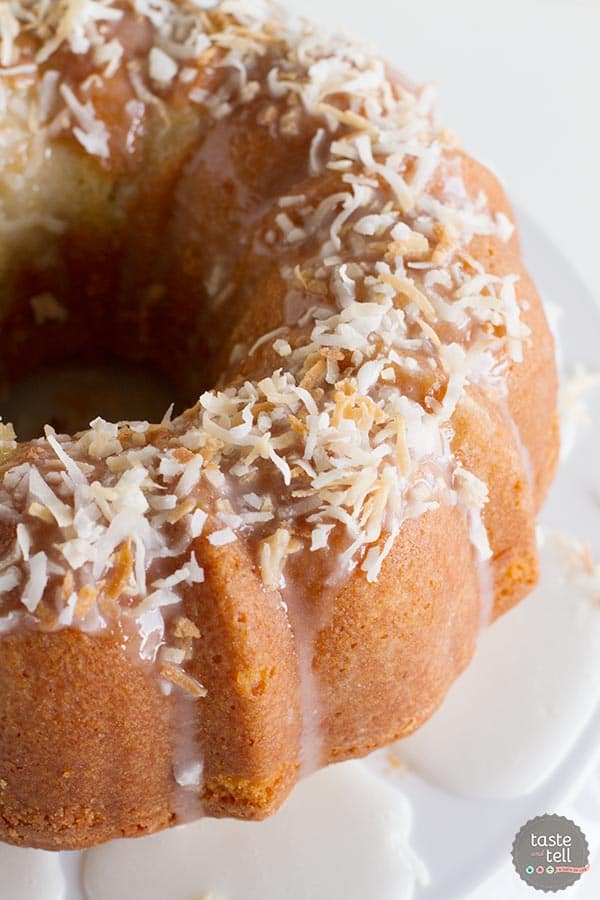 Around the Web:
Coconut Sugar Cookie Bars from Like Mother, Like Daughter
Coconut Lover's Oatmeal Cookies from Barefeet in the Kitchen
Old Fashioned Coconut Custard Pie from Beyond Frosting